On November 5, 2023, the National Cancer Society Malaysia (NCSM) announced a new milestone in its fight against breast cancer.
Coinciding with Breast Cancer Awareness Month, NCSM launched the Pink Unity 6600 Campaign, a mission to transform the landscape of breast cancer prevention and early detection in Malaysia.
This is done by disseminating crucial information about the importance of regular screenings, raising awareness regarding risk factors, and extending support to breast cancer patients.
Held from October 4 to November 4, 2023, the campaign successfully facilitated 6,600 breast cancer screenings within a month. The significance of the number 6,600 was chosen to commemorate 66 years of Malaysia's independence, symbolising a chance for early detection and the preservation of countless lives.
This also earned recognition from the Malaysia Book of Records. Specifically, the record for Conduction the Most Breast Cancer Screenings in a Campaign.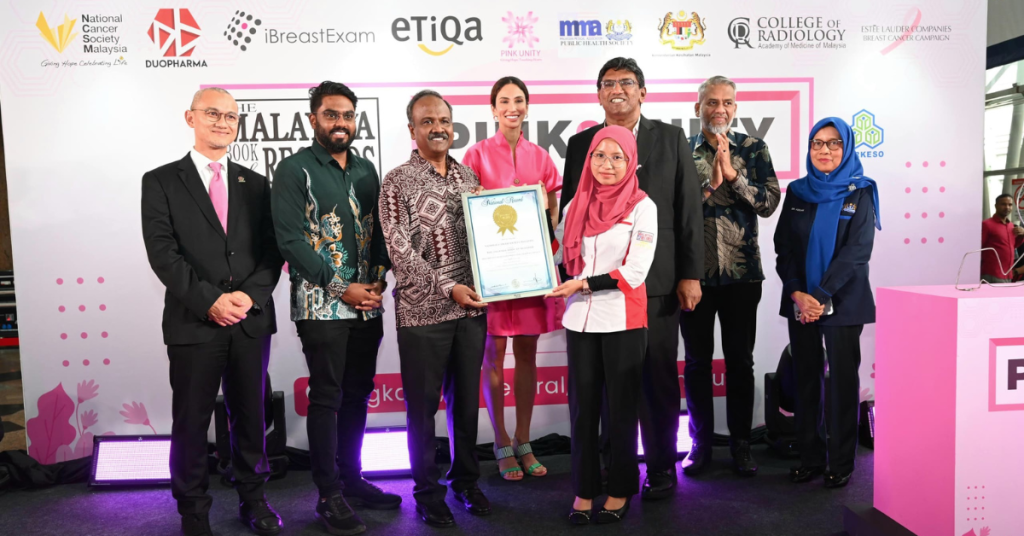 Conducted across various locations in Malaysia, the breast cancer screening methods included Clinical Breast Examination (CBE), mammogram, breast ultrasound, and iBreastExam—an FDA-cleared handheld portable device that allows health workers to identify breast lumps early. This is done in a few minutes, without any pain or radiation.
For those unaware, breast cancer is the most prevalent cancer in Malaysia and it has deeply affected countless lives.
According to Gleneagles Hospital Malaysia, almost half of the breast cancer patients are diagnosed at late stages (stages three and four). At which point, the survival rate greatly decreases to about 23%.
This was corroborated by NCSM's Managing Director, Dr Murallitharan Munisamy during the Pink Unity 6600 Campaign's closing ceremony. In his speech, he stated, "Over 50% of Malaysian cancer patients are detected after it has reached stage three or four, which is too late for treatment in some cases."
"This is because Malaysians are notoriously hard to convince, even more so when it comes to spending money on voluntary full health screenings at hospitals. But with iBreastExam, detecting breast cancer will not only be cheaper but more convenient for the women as they can get themselves screened for breast cancer at local clinics."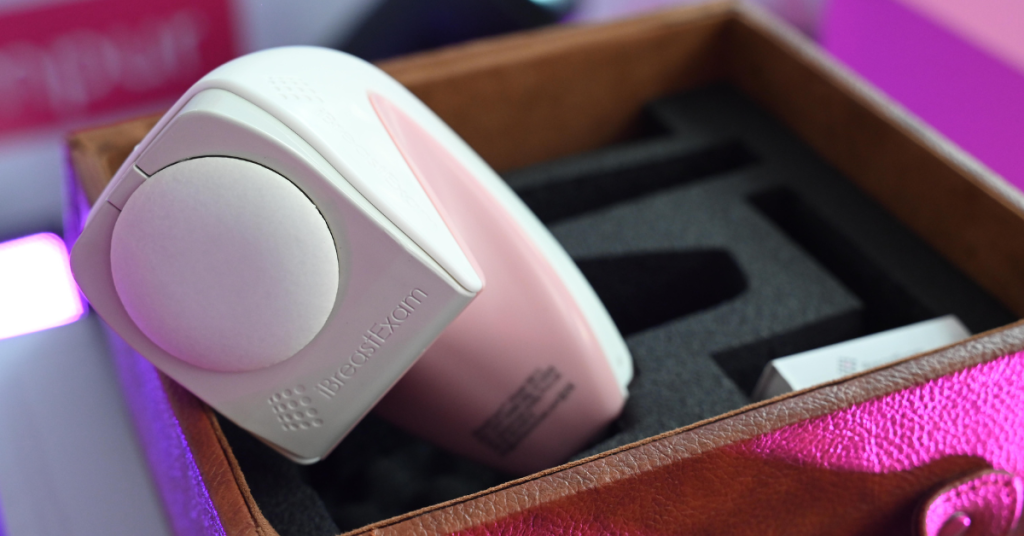 The iBreastExam device was introduced into several clinics earlier in August, which he deemed crucial for giving Malaysians an early warning indicator.
A new life-changing medical device for Malaysians
Although the iBreastExam device was only recently introduced to the Malaysian medical industry, it originates from the USA and was launched a few years prior. Invented at Drexel University, Philadelphia, iBreastExam is a more cost-effective breast cancer screening method.
How it works is the device assesses and identifies tissue elasticity differences between hard and stiff breast tumours versus normal breast tissue in real-time.
The explanation shared by Ari D. Brooks (Director of the Endocrine and Oncologic Surgery department at Pennsylvania Hospital) described the device as using basic principles of tactile examination.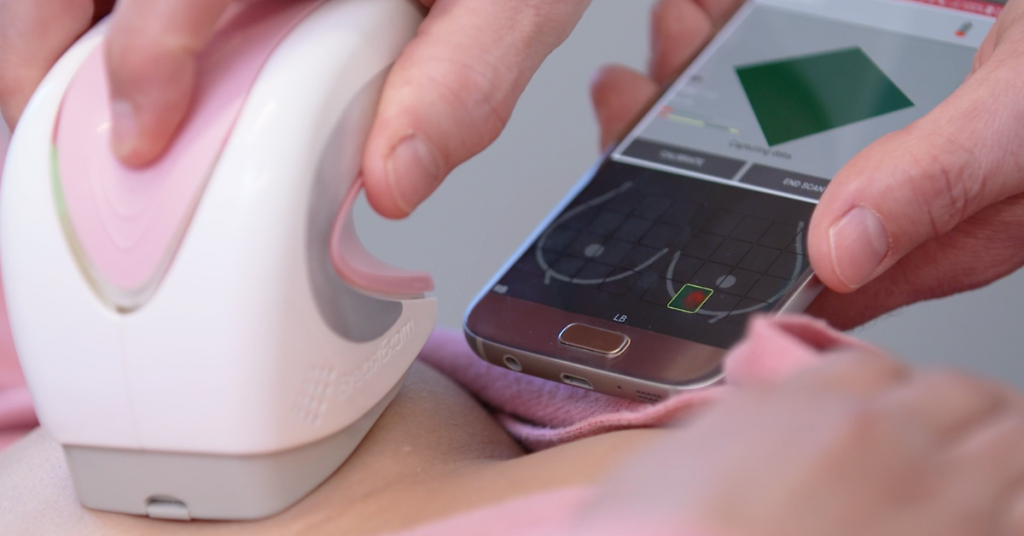 "Just like your fingers have pads and feel things, this [iBreastExam] device does the same thing. It does it electronically," he stated in a video. "The device has very similar characteristics to a well-trained clinical breast exam. It can be learnt without being a radiologist and it can be applied by healthcare workers, so that really lowers the barrier to access."
In terms of its accuracy and effectiveness as a medical device, several independent studies were conducted. One of them was a study published in 2019, where 936 women at Manipal Hospital, Bangalore were recruited to test the efficacy of the iBreastExam device.
Each woman was examined for breast cancer using three methods: iBreastExam, CBE, and Breast Imaging (either mammography or breast ultrasound). The results found that iBreastExam performed 19% better in terms of sensitivity than the CBE to detect breast lesions.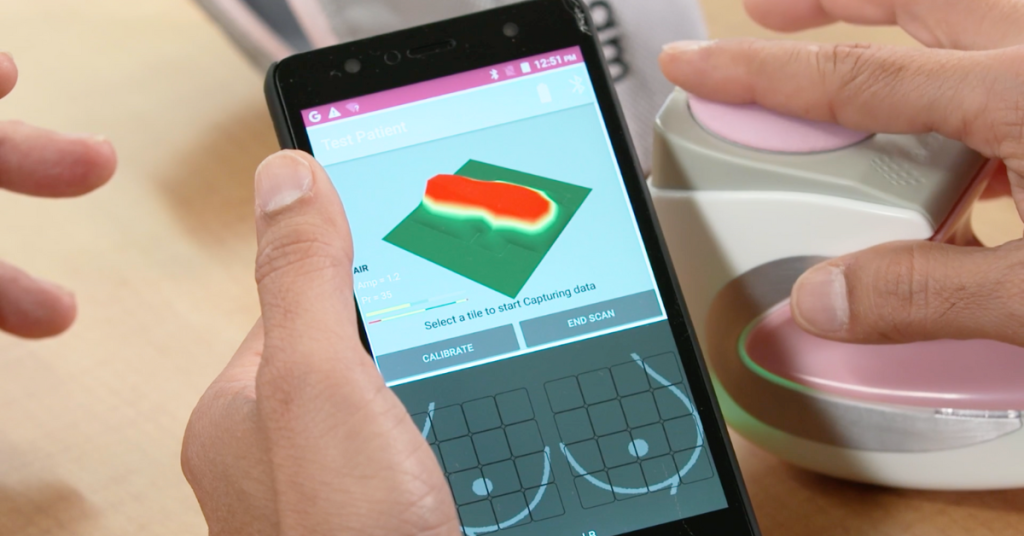 Another study published in 2022 concluded that the iBreastExam device can overcome issues of a shortage of specialists for early detection of breast cancer in Nigerian communities. Thus, showing potential to reduce incidence of advanced stage breast cancer and might lead to improvement in survival.
The study further deduced that with minimal training, inexperienced healthcare providers can use the iBreastExam device successfully.
Currently, the iBreastExam device is being commercialised and distributed to local clinics in Malaysia by local pharmaceutical company, Duopharma Biotech Bhd.
Wan-Amir Jeffery, the commercial CEO of Duopharma Biotech Bhd shared during the Pink Unity 6600 Campaign's closing ceremony that the device is available in 48 clinics now. But they're hoping to expand the list to over 100 clinics in the country by July next year.
Aside from Duopharma Biotech Bhd, The Pink Unity 6600 Campaign was organised together with Estee Lauder Companies (Malaysia), Pink Unity, College of Radiology Academy of Medicine of Malaysia, Malaysia Medical Association Public Health Society, Ministry of Health Malaysia (KKM), and Malaysia's Social Security Organisation (SOCSO).
Read articles we've written about Malaysian startups here.
Featured Image Credit: iBreastExam