With Malaysia home to a large Muslim population, it's common to see many brands offering products catered to the Muslim lifestyle. This could be in the form of modest clothing or halal food and beverages.
Over the years, these products have been developed to keep up with the needs and times of the people. Whether that is by making modest clothing more fashionable or by adaping non-halal cuisine to be Muslim-friendly (like dim sum).
But one thing that's often overlooked when it comes to innovation is sejadah (prayer mats).
So Adly Mukhtar figured it was time to change that. Muslims pray at least five times a day, making prayer mats a staple in their daily lives, so why shouldn't they be innovated?
Before you dismiss his idea as frivolous, hear him out on what his brand AMRU brings to the table.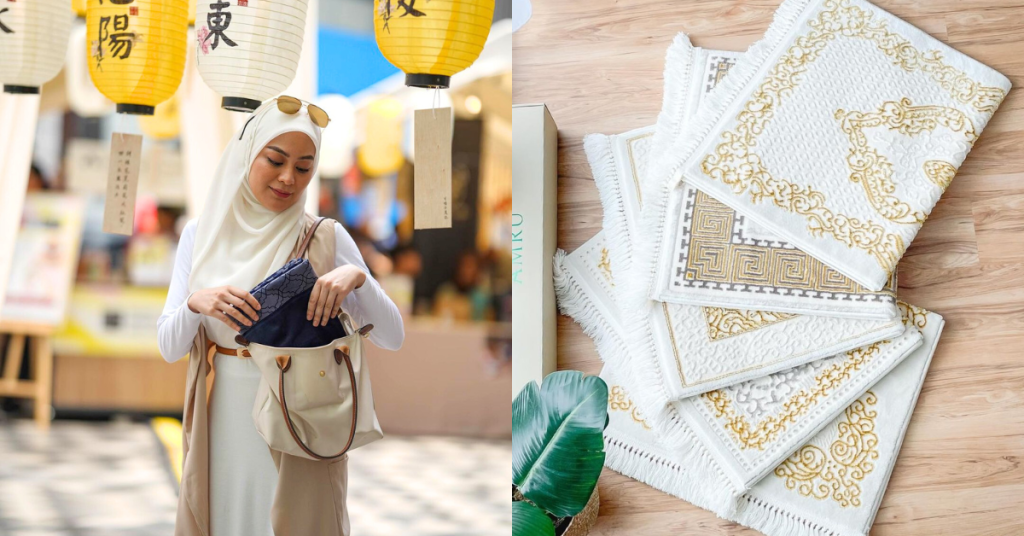 Addressing an overlooked pain point
Speaking to Vulcan Post, Adly shared that the idea for AMRU (a Kelantan-based brand) was born back in 2018 when he had an epiphany.
"Back then, you'd typically go to a general store and pick up a prayer mat without any brand loyalty. It struck me then—why shouldn't there be a go-to brand for prayer mats, synonymous with quality and trust?"
That was the vision for AMRU, to be a brand that people could turn to for their spiritual essentials.
At the same time, he realised that prayer mats could be improved. You see, the common ones typically found in Malaysia were thin and lacked comfort. He realised that this was particularly troubling for elders in the Muslim community who suffered knee pain during prayers.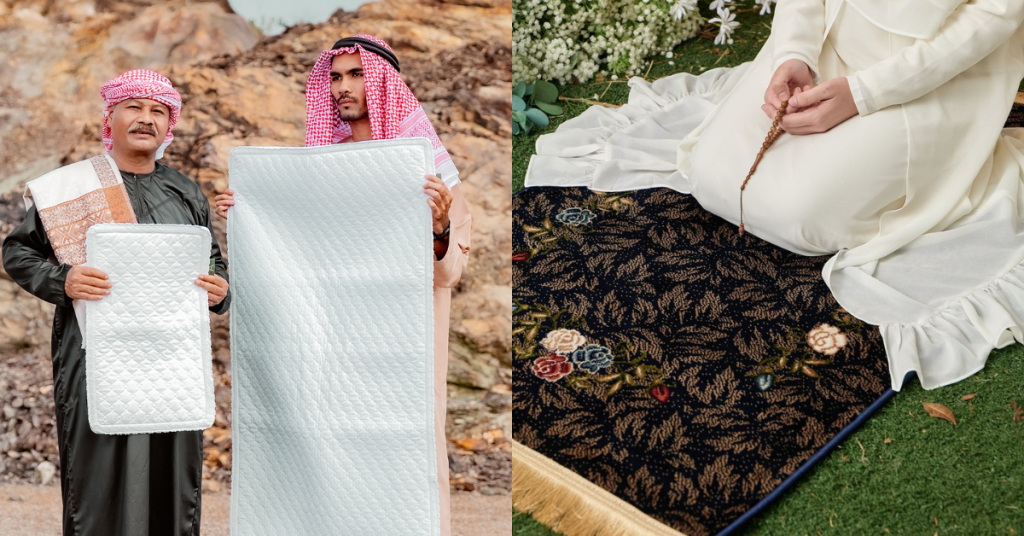 So Adly and his team decided to come up with a solution to address this, without sacrificing its aesthetic appeal or spiritual significance.
This is how AMRU's first product, a plain white minimalist prayer mat, came to be. According to Adly, they chose a special double-layered cotton filling for its pressure-absorbing qualities, crafting a balance between comfort and durability.
Comfortable yet financially accessible
From design to concept and material selections, all of its prayer mats are crafted in-house by AMRU's current team of 15 in Kota Bahru, Kelantan.
But understanding that Malaysia isn't known for this industry, the brand opted to collaborate with international manufacturers.
Most of AMRU's prayer mats are made in Turkey, which Adly explained is an industry leader in manufacturing carpets and prayer mats.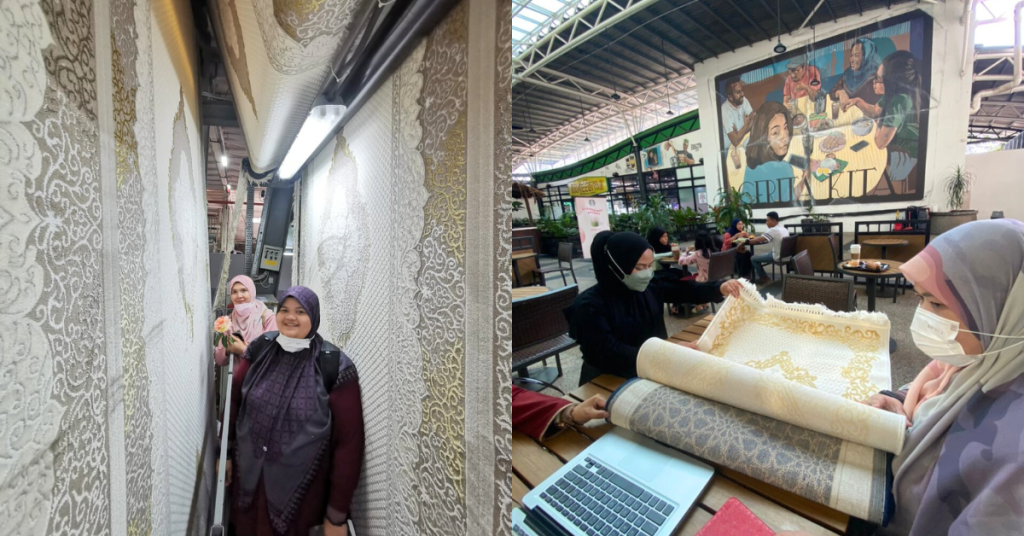 However, the brand also partners with manufacturers in other nations as well. Its Raudhah collection was made in collaboration with Al-Munawwara in Madinah, Saudi Arabia, whereas its Floral Sajada was produced in Thailand because the country is known for its latex production.
Despite its thickness, though, you can easily fold and carry most of AMRU's prayer mats wherever you go. The brand also reassured that its colours and designs won't fade with repeated washings.
At a price range of RM39 to RM499, the brand is focused on remaining accessible to customers of varying income groups.
To fulfil unspoken needs of the masses
"When addressing minimalist design and comfort, I made a bold bet," Adly stated. "There's wisdom in the idea that customers might not recognise their needs until they're presented with the solution."
This concept was what drove AMRU's philosophy.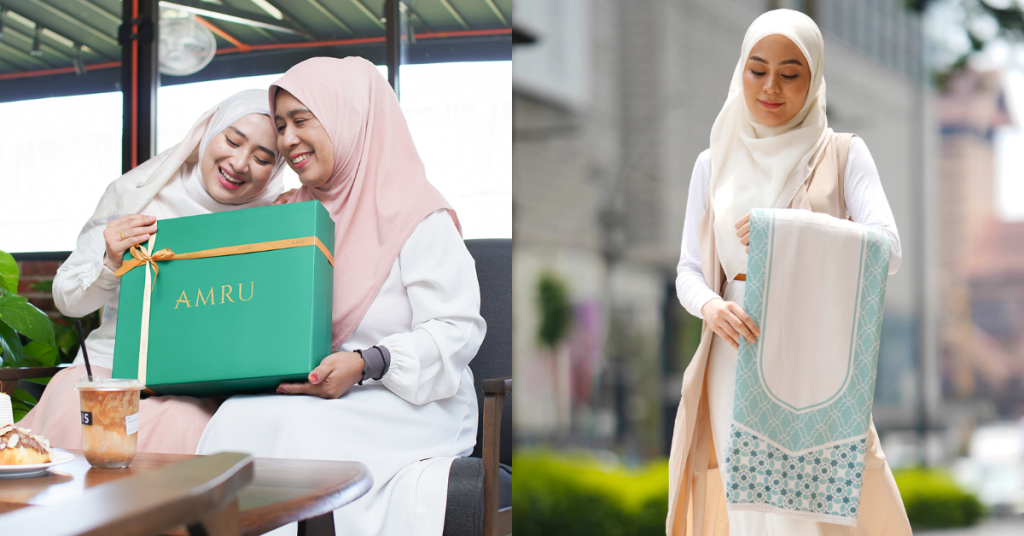 Instead of creating a new product for the sake of it, he was more interested in transforming an experience and fulfilling unspoken needs. "I believed that spirituality could harmoniously coexist with aesthetic simplicity and comfort that enriches devotion."
With this in mind, the brand has stayed true to its mission of helping Muslims around the world worship with greater ease and comfort.
Prayer mats are still AMRU's core focus, but its catalogue has since grown to include products like kopiah, pelikat, hand socks, rosaries, and perfumes.
However, the brand has no plans (for now) to enter the hijab and telekung market because it's already quite saturated. Some notable brands already available to the masses include Siti Khadijah and Naelofar.
Therefore, Adly shared that they prefer to focus on areas with fewer players and more room for innovation.
"Sharing knowledge is a lasting charity"
Aside from tangible products, the brand has also begun exploring content creation through "AMRU Presents". Adly shared that this is a crucial aspect of their corporate social responsibility (CSR) mission.
Offering a total of five segments promoting spiritual growth, AMRU's goal is to give back to the Muslim community with enriching and accessible content. As such, they're not for the purpose of generating income.
Rather, it's a free platform providing spiritual guidance. And this has been well received by the Muslim community, with the brand stating that over 100,000 readers engage with it monthly.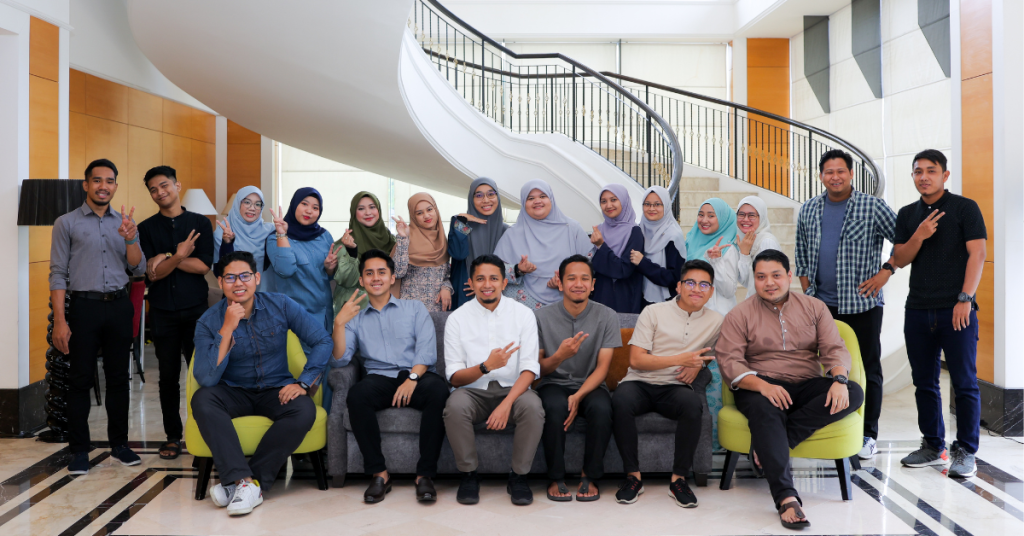 He also reassured that they source the information responsibly, often consulting religious scholars for accuracy.
Another service by the team is waktusolat.com, a site that allows for free and easy access to local prayer times.
"It's like our own way of saying thanks and staying true to our values," Adly explained. "This effort is in harmony with the teachings of Prophet Muhammad (peace be upon him), who taught us that sharing knowledge is a lasting charity."
From ecommerce to physical retail
Once just an ecommerce company, AMRU's products can now be found at its first flagship store in Sunway Gandaria, Bangi. Besides that, the brand has partnered with AEON to establish its presence in AEON Mall Nilai and AEON Mall Wangsa Maju.
The reason for this was that the team understood the tactile nature of its products. By moving into the physical retail space, their customers would be able to touch and feel the prayer mats before purchasing.
This is a strategic move on the brand's part, as similar to clothing, people prefer to check the items out in person as the website may not do them justice.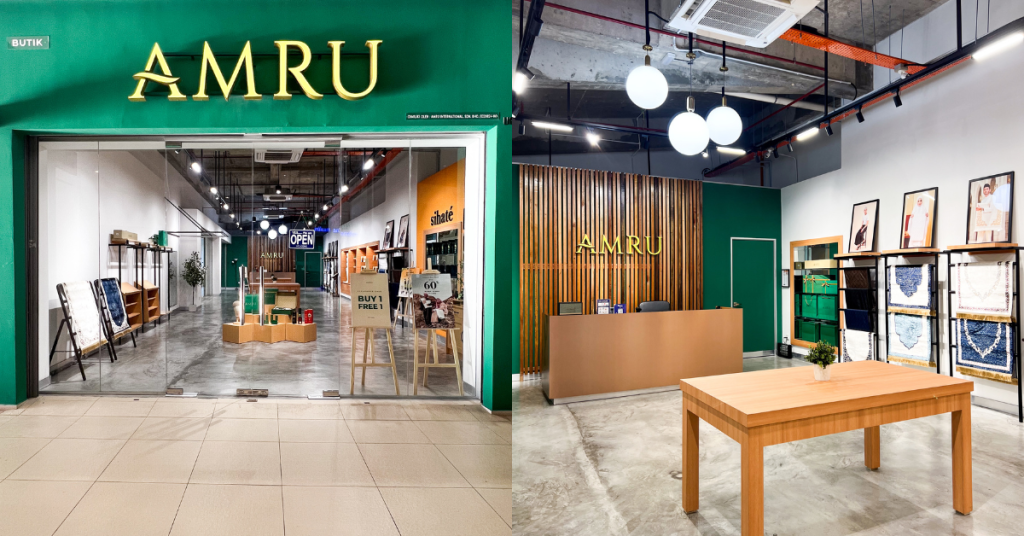 Looking further ahead, Adly shared that the brand would like to grow beyond Malaysian borders into Indonesia and Singapore.
"We believe in the power of partnerships and are considering collaborations with existing retailers in these countries to tap into new customer bases effectively," Adly shared. One example of the brand establishing its footprint through the latter method is through a collaboration with Swing Lifestyle Store. 
On a mission to benefit the global Muslim community
All that said, Adly acknowledged that the landscape for prayer mats has evolved since AMRU started. There are now more brands emerging with similar beliefs in quality and innovation. But this doesn't deter the brand.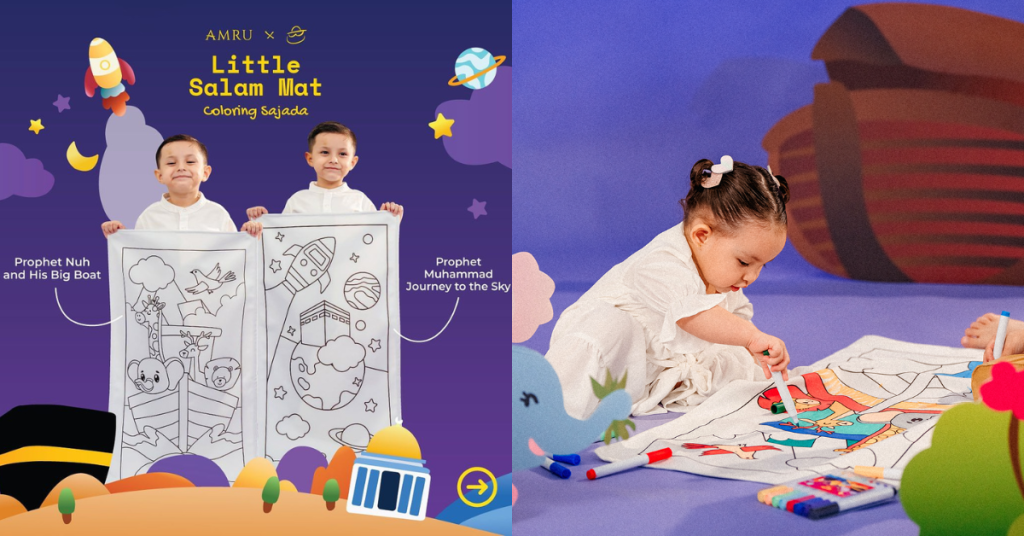 Instead, it's something they welcome. "It benefits the Muslim community by improving the prayer experience," Adly said.
In the same light, the co-founder shared with us that the vision for AMRU extends beyond prayer mats and is even more ambitious. "We're keenly exploring the needs of Muslims on their spiritual journeys to Makkah for Hajj or Umrah, focusing on essential items like ihram clothing and tawaf shoes."
Recognising the unique challenges people face during pilgrimage, the brand aims to develop better products to enhance comfort.
Which at the end of the day, aligns with AMRU's core mission of supporting the faithful in their most profound moments of devotion.
Featured Image Credit: AMRU