As a kid, Salina was always interested in illustrations and designing, to the point that she taught herself how to do it on Adobe software at 13 years old. 
But it wasn't until 2019 that she started practising her art skills more seriously.
At the time, Salina had a journal she would update frequently. But a recurring problem she faced was not being able to find products that matched her desired aesthetics.  
"I ended up drawing on papers and making them into stickers," she said, which led to good feedback from others.
So Salina decided to try making a business out of it. Thus, The Bouncy Jelly was born.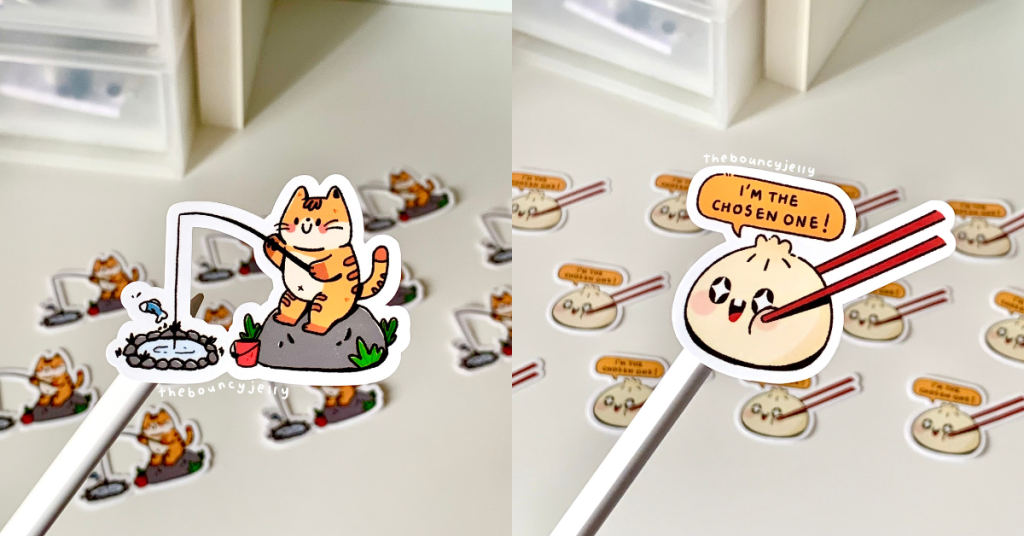 Bouncing into a new field
You might be wondering, what does "The Bouncy Jelly" mean? Is there a significant and personal anecdote paired with it?
"To be very honest, it was actually a random thing that came to my head when I was looking for names," Salina confessed. "I love cute things and always thought jellyfishes were cute and bouncy creatures."
The Bouncy Jelly currently offers a range of products featuring Salina's distinctive art style. This includes stickers, postcards, art prints, tote bags, keychains, a yearly planner, and more.
She's also collaborated with Galado, a custom iPhone case company, to design several phone cases.
Customers can soon expect to find washi tapes included in the list too. "I'm really excited for this product to be out," Salina exclaimed.
If you're keen on having more personalised artwork, Salina is open to accepting illustration requests for products in her shop. 
You can also get her to customise your business cards and the like, but will have to handle printing them out yourself.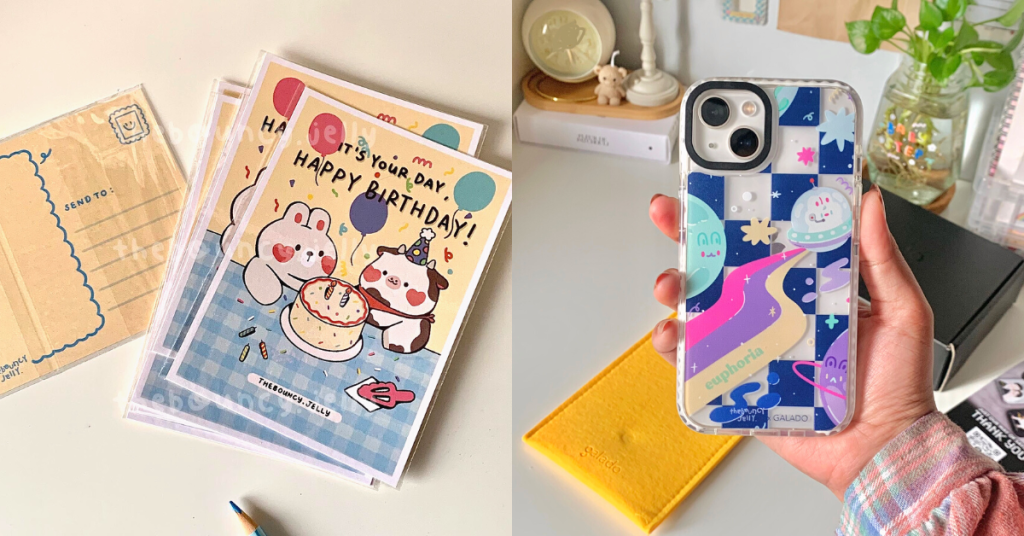 Getting out of a sticky situation
Despite having a degree in software engineering from UKM, Salina opted to make The Bouncy Jelly her full-time career.
She was part of the April 2020 graduating class, when jobs were rare and scarce. So she took the risk to go into self-employment.
She then chose to stay in the creative field because of the community. "I've gained so much positive energy and support (in this community) that I never thought I would get," she shared.
Personally, I can understand where Salina comes from because they're the same values that I look for when pursuing a career.
"I can see myself giving full commitment to The Bouncy Jelly for more years to come," Salina disclosed. "I don't have any plans to leave it in the next two or three years."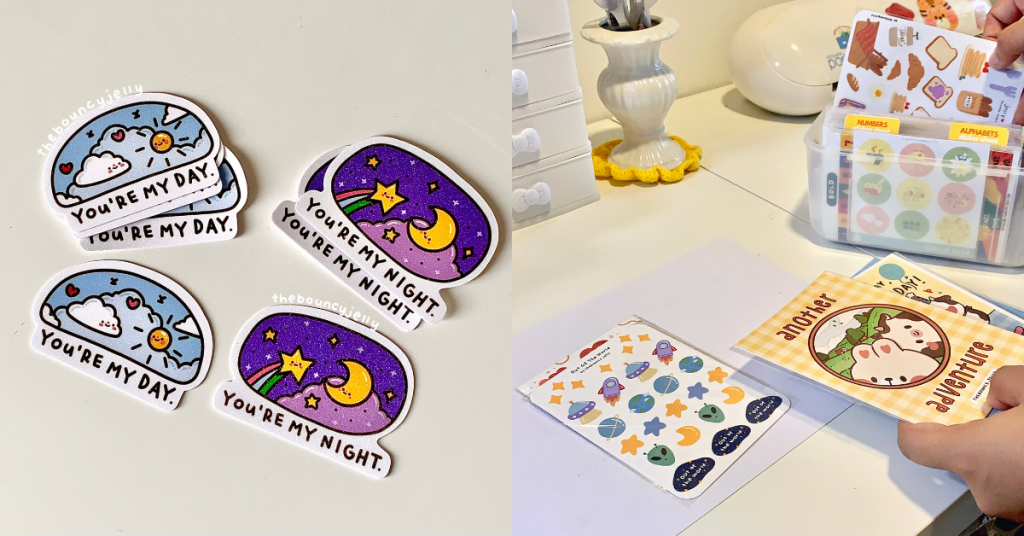 Her parents weren't always supportive of this decision though, as the freelance creative industry is not known for its stability. 
But they warmed up to the idea over time. "Probably because I'm already old enough to decide what I should do with my life," Salina joked.
On a more serious note, she could see how her parents tried to understand why she pivoted from the IT field. Sure, a creative career might be more financially unpredictable, but to her, passion is as equally important as profits. 
Understanding that the nature of this business is never consistent, Salina is focusing on expanding her operations offline.
"Boothing helps a lot in making more income because people are able to see, touch, and ask about the product face-to-face."
But of course, being online is also useful to reach a larger audience, especially those outside of KL.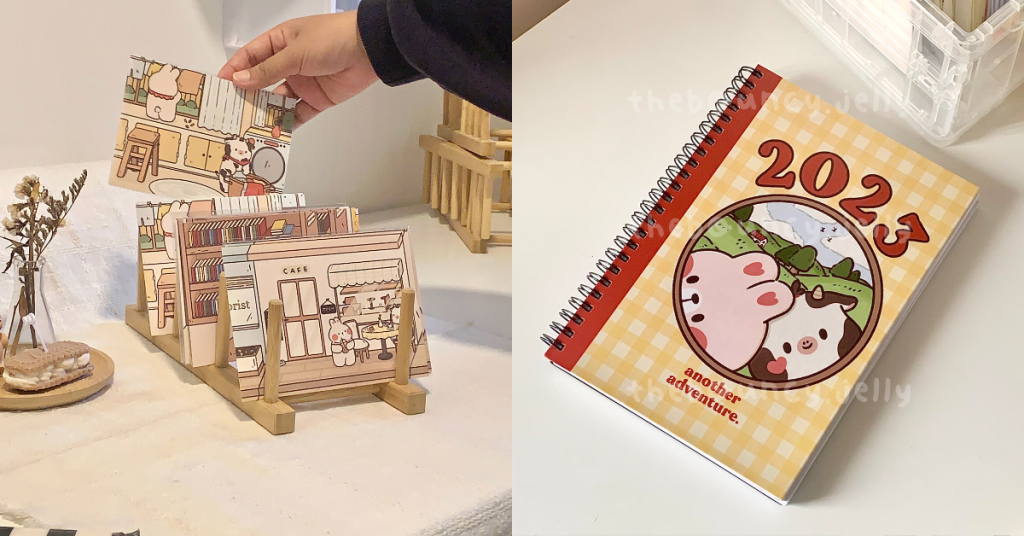 Another challenge she's faced is being a one-woman show. Handling everything from A to Z has been tough, but she learnt not to push herself too hard.
"I would overwork myself to the point of breaking down," she shared. Hence, she focused not too much on the income aspect, but more on "spreading happiness and positivity" to her audience.
You can't rush art
It typically takes Salina two to four weeks to create and finalise a new illustration. This takes into account occasional yet common "creative blocks" that most people in the industry would face.
As Salina said, "Everyone has their own creative juice limit."
That said, the manufacturing phase for non-sticker products adds another month to the process. So it's a total of about two months for each new batch of products.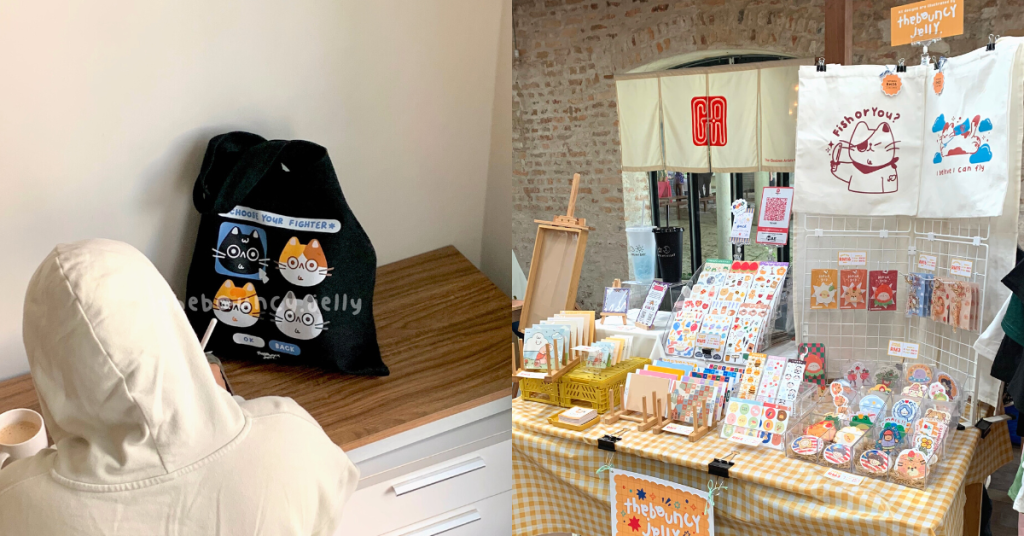 The brand can be seen participating in physical pop-up booths at events. Most recently it was at Comic Fiesta last year, where The Bouncy Jelly was able to further market itself to a more niche consumer base.
"Despite having a massive crowd during the event, which caused my business to be a little bit out of hand, I still had a good time there," Salina shared.
It was also a learning experience for the then-25-year-old, who got a glimpse of the importance of gauging customer expectations and having adequate manpower for the booth.
Sticking to what matters most
Speaking candidly, Salina opened up and said she wasn't fully confident to start a small business back then.
"Even today, there are times when I lose my confidence in managing my brand." But receiving supportive feedback for her artwork from customers and admirers alike keeps her going.
It's proven to be a worthwhile effort as she estimates The Bouncy Jelly earns up to RM4,000 per month.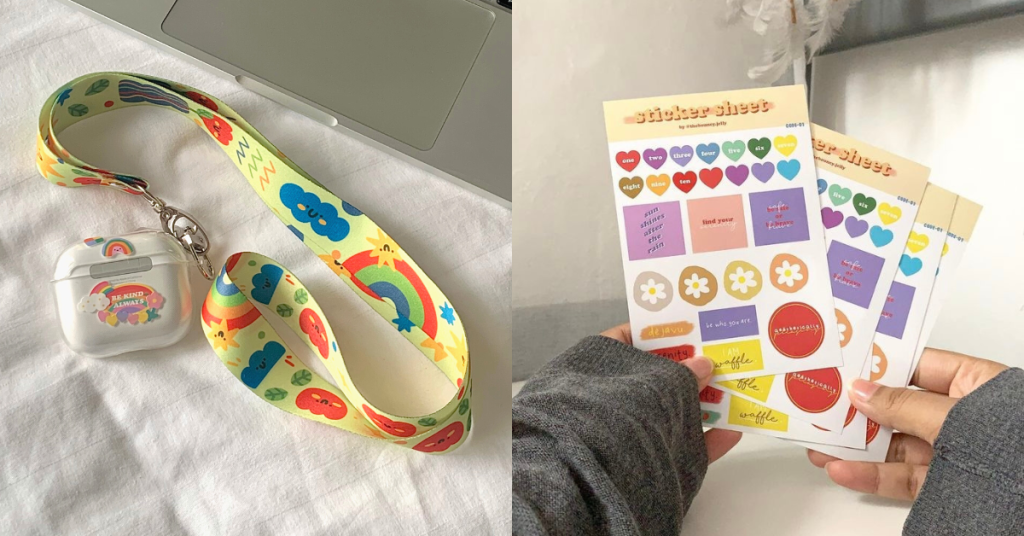 Her resolution for this year is to consign her products to a physical store. It's still in the early brainstorming phase, but she's determined to hit that goal.
Don't be surprised if you find her products at stores that specialise in stationery items, like Stickerrific at Jaya One, PJ. 
As a growing brand, it's interesting to see how far Salina and The Bouncy Jelly will propel forward in the coming years.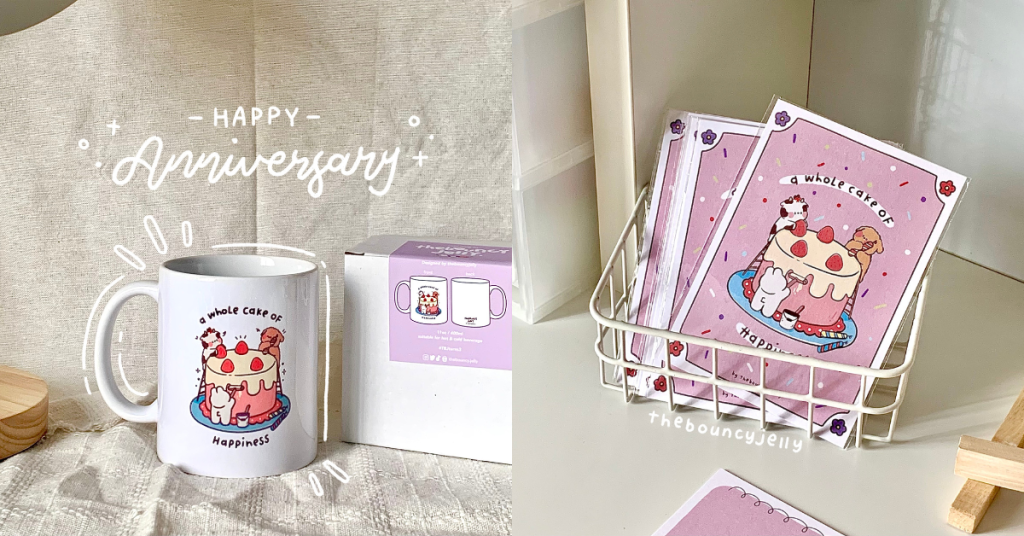 Who knows? She could be the next artist to watch in the creative industry.
Learn more about The Bouncy Jelly here.
Read other articles we've written about Malaysian startups here.