After writing our feature on Evolt Karting, an indoor electric go-kart centre based near Subang Airport, we grew more curious about what the experience of go-karting there would be like.
What could a go-kart centre designed by professional racing driver, Weiron Tan, be like? Surely, with his expert input, the experience would be a lot more polished? Not to mention, it's 600m long and boasts 23 corners, which, according to colleagues who've go-karted elsewhere, are quite a lot of twists and turns.
So, we reached out to see if they would be open to hosting our team for a session, and they graciously agreed. It was time to do some team-building with a healthy dose of competition, and at the same time, turn the experience into more content.
Thus, here's what you can expect from Evolt Karting, based on our experience.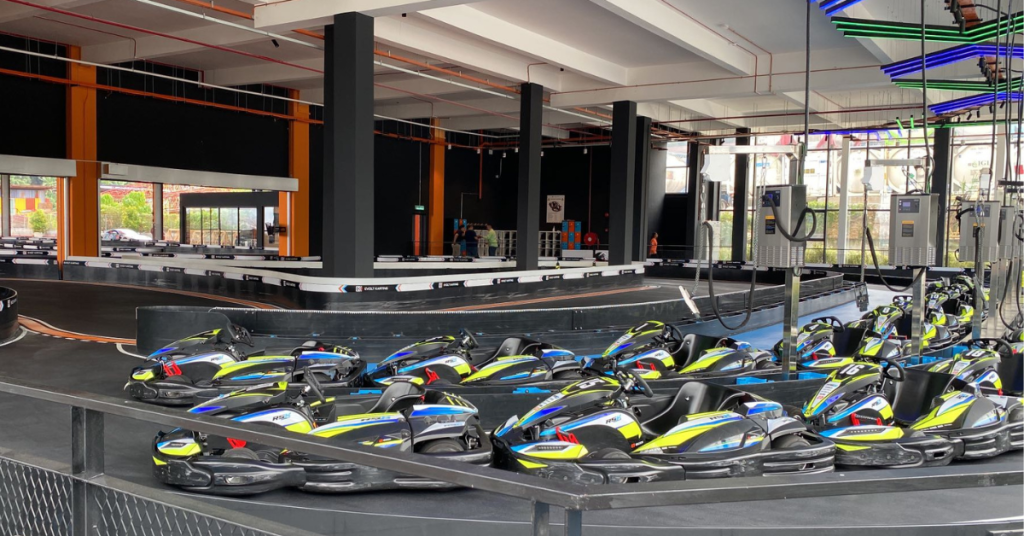 A room with a view
Evolt Karting is tucked away a slight distance from the main road, so the place doesn't lack space. There are ample parking spots so you and your family or friends don't have to worry about making rounds for parking, or having to park in an illegal area.
The first thing you'll see upon entering the warehouse-turned-track are the go-karts. Two long lines of them parked neatly one after the other. And in between them is a charging station, since they are powered by electricity.
Before we could hop in though, we had to register ourselves, so up we went to the self-service kiosks.
There were four automated registration kiosks, which asked for standard customer information as well as T&C agreements. The whole process took less than five minutes.
While registering, you'll be asked for your racing nickname and contact details so you can opt in or out of getting emails about your race results.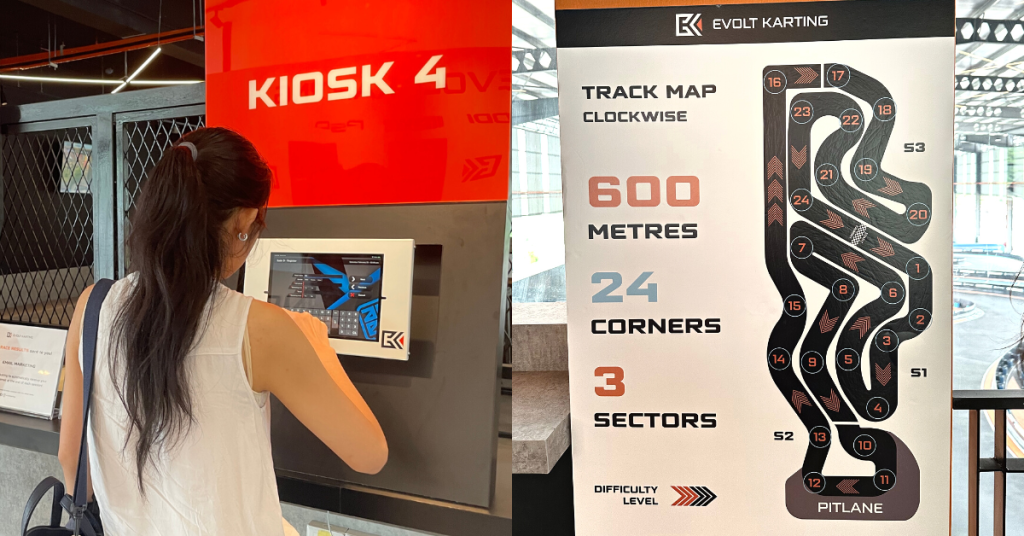 Across from the registration kiosks was a mini indoor track for children, since although there's no strict age limit to race with the big boys, there is a minimum 120cm height requirement. So, young ones will have to race on this smaller, safer track. Interestingly, there is no weight limit at Evolt Karting.
Once done with registrations, we went to the lounge area which doubled as a viewing deck. Here, you can see about 80% of the track, the other 20% (and where the pit stop is) hidden since it was directly under the viewing deck.
There are multiple screens in this area too so you can keep track of the active racers. It seems like each go-kart is equipped with tracking sensors, so you can see who's currently racing, their kart number, lap time, any penalties they've gotten, and overall current ranking for the race.
You'll get a ticket from the counter that tells you which race session you're in, and after we got ours, we were called to the briefing room downstairs shortly after. When we got our tickets, we were also given our balaclavas to be worn under our helmets later.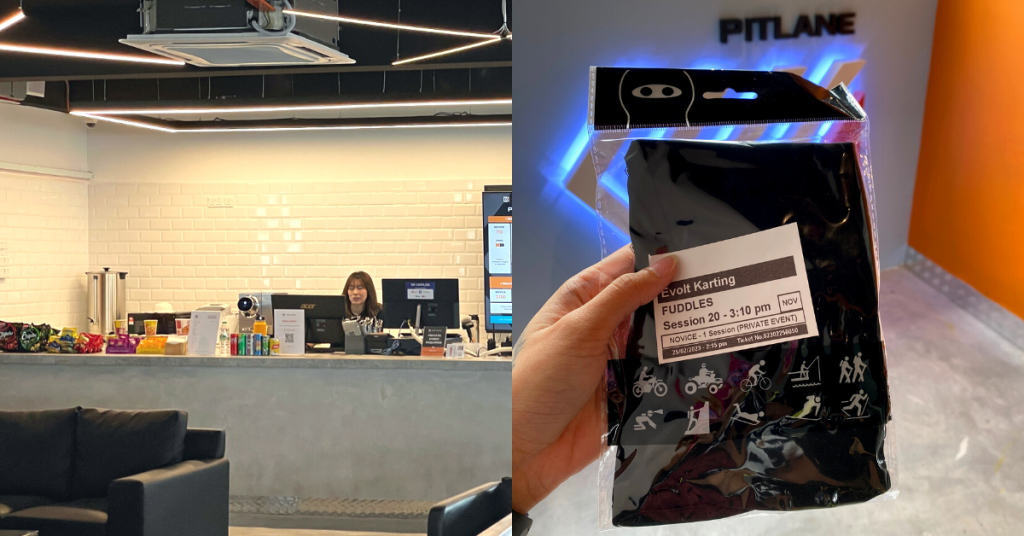 Pay attention to the flags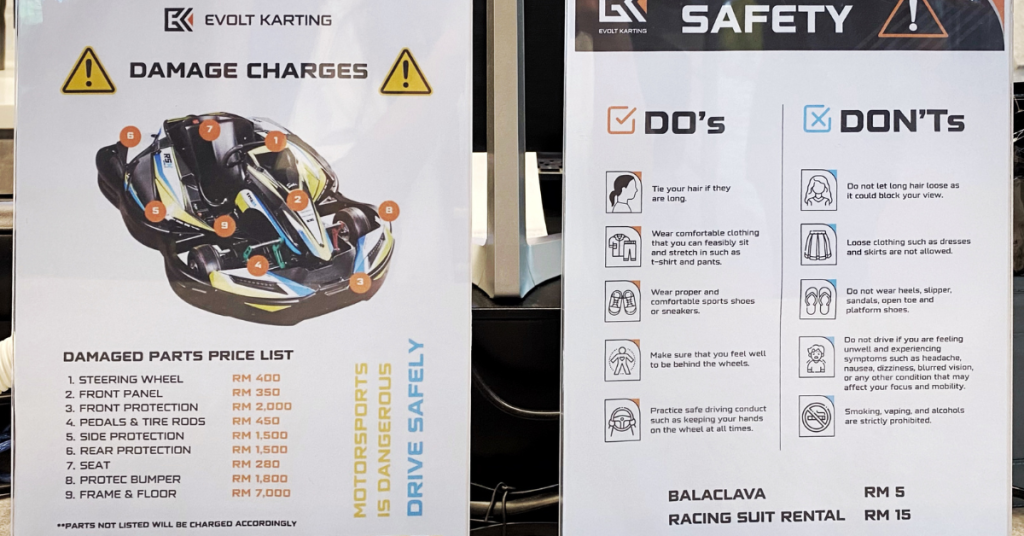 One of Evolt Karting's employees was in the briefing room waiting to inform us of the dos and don'ts.
He started off by reminding us to race safely. While the go-karts are powered by electricity, it didn't mean we should view them as bumper cars. To emphasise his point, he moved our attention to the large poster beside him about damage charges.
Personally, I found it a great tactic to deter rebellious racers as the price list made my eyes pop out.
He also made sure that we had the proper footwear on, as anything that's not covered AKA closed-toe shoes isn't permissible on the tracks. Clothing-wise, racers are advised against wearing skirts and dresses.
It's preferable to wear pants, sports shoes or sneakers, and a nicely fitted shirt. Those with long hair should tie it up to prevent vision obstruction or other mishaps.
Lastly, he shared what each coloured flag meant on the tracks:
Yellow: Slow down, no overtaking
Red: Stop racing, return to pits (in cases of too many penalties or serious accidents)
Green: Clear to race
Chequered: End of session, slow down and return to pit lane
Black: End of your individual race, return to your pits
Black and white: Last warning
Instead of actual flags, there are digital screens placed strategically around the track. He mentioned that the most commonly seen ones are yellow, green, and chequered.
The instructor also reminded us that staff members are always on the lookout for any issues, and if you begin feeling unwell while racing, you can slow down and return to the pit lane for help.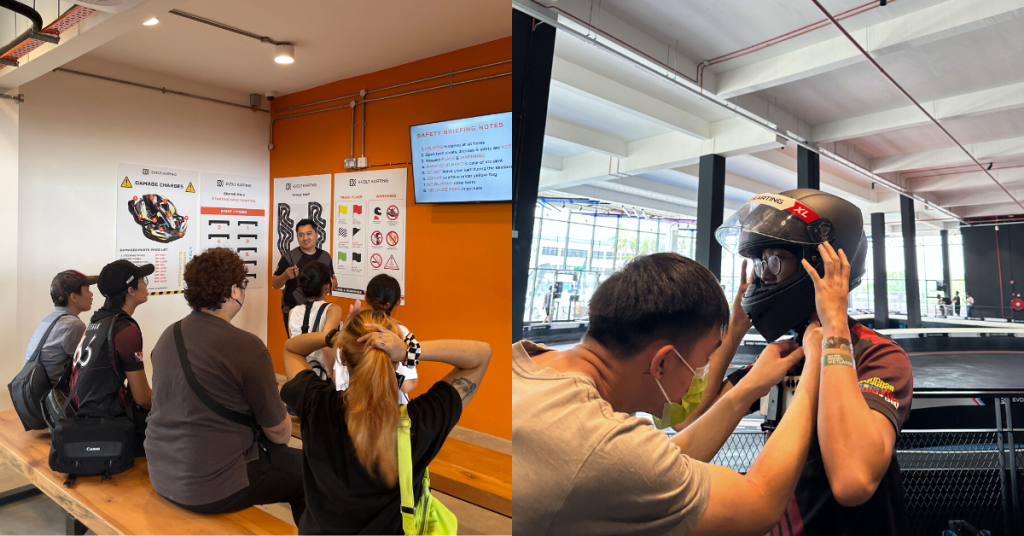 Afterwards, we were directed to the helmet selection area. There were two other employees there that assisted our team and other racers in choosing one that suited their head size best.
Don't worry if you have a smaller or larger-than-average head because Evolt Karting provides helmets from sizes XS to XL.
On that note, we recommend our visually impaired peers to wear contact lenses if possible. The reason being that not all spectacles sizes can fit inside the helmet, so there is a chance of you driving "blindly".
There is also a visor on the helmet that you can flip on or off, and although having it on might feel more restrictive, my colleagues who didn't pull it down reported that bits of tyre rubber and other debris would fly into their faces as they raced.
If you're carrying any bags or personal items, they can be stored at the provided free lockers by the helmet area.
When you're ready to get inside your vehicles, check out your go-kart numbers on the screen by the pit lane. They're predetermined by the system and show the other racers that are in the same session as you.
In other words, your session won't be a private one and could include strangers (unless your group is huge). But don't be intimated by this because you will typically be grouped according to your racing prowess.
To briefly explain, there are three different racing categories at Evolt Karting: Novice, Advanced, and Pro. Novice would be for first-timers or casuals, and to go from Novice to Advanced, drivers must achieve a lap time of below 48 seconds.
If you want to qualify for Pro, your Advanced lap time must be less than 42 seconds. Those with a valid Federation Internationale de l'Automobile (FIA) racing license do not have to meet those requirements.
We were given about five minutes to strap in. Evolt Karting's experienced crew was on standby to assist.
As someone petite, I initially could not reach the pedals. They had to add an extra detachable seat and helped me to adjust it, just like you would in a normal car. The pedals and steering are also adjustable, so you can get help to do so.
It was finally go time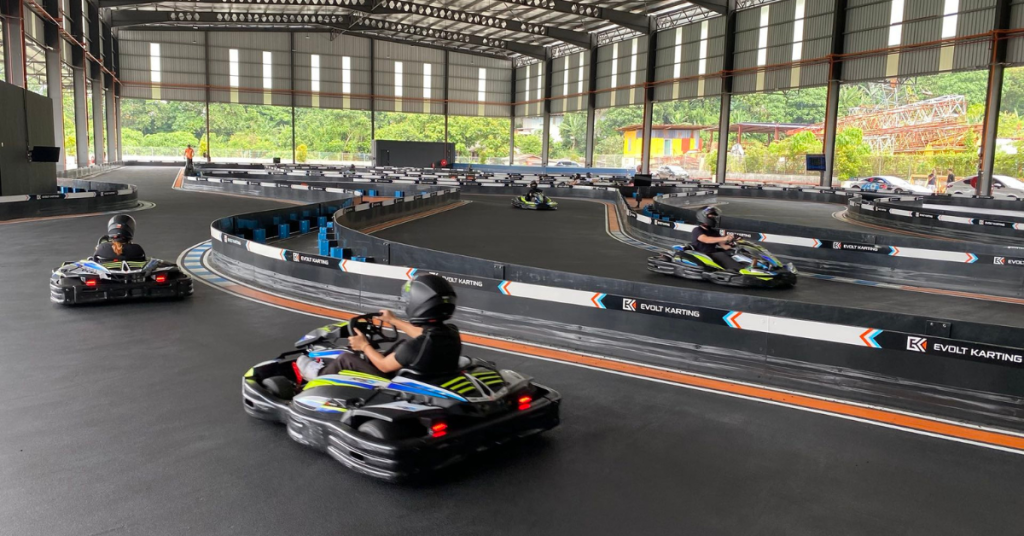 The pedals were easy enough to control (red left pedal for braking, green right pedal for accelerating) and the track started off in a pretty straight line. The first few corners were quite manageable as well, even for a first-timer like me.
Take this time to go slow and get a feel for how the go-kart handles, and once you're confident enough, you can accelerate and have some real fun.
The track was corner after corner, turn after turn. Some were wide while others were quite tight. Since go-karts don't have power steering, it felt like a workout for our arms, so maybe some stretching beforehand would be good.
It's an adrenaline rush for sure, and as long as you're not intentionally driving recklessly, the experience should be quite safe.
Evolt Karting's track is supposedly made with a special resin coating, which makes it more grippy and safer. My colleague could vouch for this, because there was an instance during which she had to suddenly brake in order to avoid crashing into the go-kart in front of her.
Instead of spinning out of control or hitting the sides of the track though, she barely skidded and was able to easily get her go-kart back in control to continue the race.
Another safety feature kicks in when the digital flags flash yellow, which makes everyone's go-karts automatically slow down until the issue is resolved. This prevents further mishaps and allows staff to safely extend help to affected racers.
While it's a good safety measure, it did eat up some of our limited time in the eight-minute session.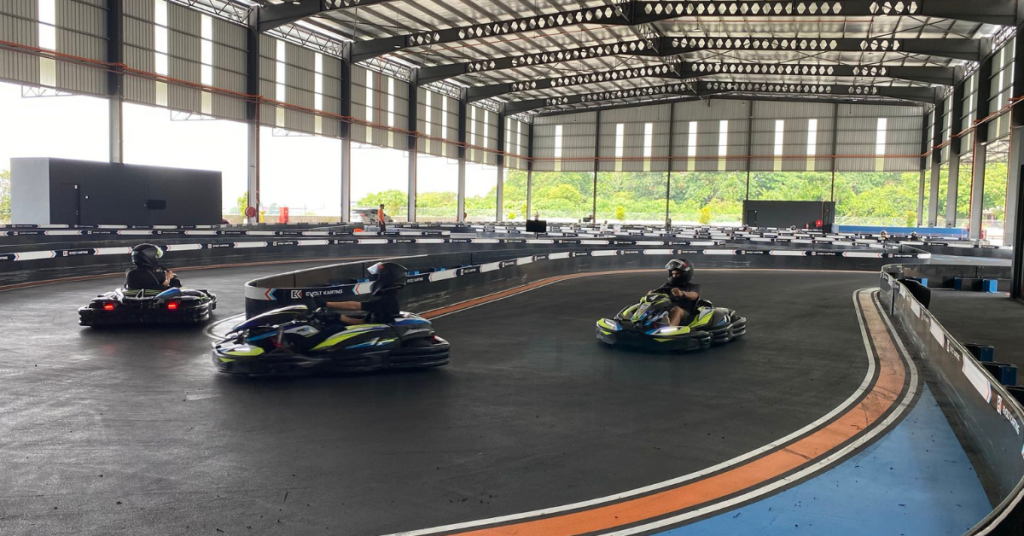 One advice that I kept in mind throughout the course was, "Brake late and accelerate before you exit a turn."
I didn't understand what that meant until we were zooming around the tracks. Finding a balance to not hit the barriers without losing momentum definitely tests your skills as a driver.
As it was my first experience, I was not speeding as much as I could. That said, I found my confidence in manoeuvering the vehicle increasing after each turn. It's similar to driving a car in that you get better with more practice.
So it was a little disheartening to see the chequered flag flashing on the screen, a sign that our session was up.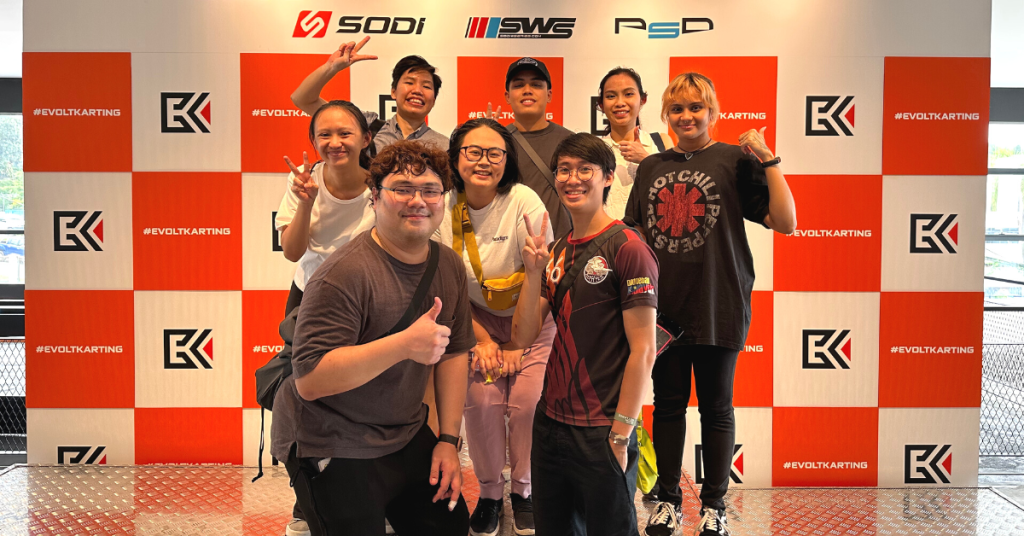 Karting into the future
After we were done, we received our scores via the email we keyed in during registration. True to my expectations, my scores were not high on the board at all. You likely won't see me becoming a pro racer anytime soon!
Back upstairs at the viewing deck after our race, you can see the overall rankings for best laps of the day, which are updated in real time. You can buy some snacks and drinks from the F&B counter too and lounge while watching other racers before making your move.
Overall, Evolt Karting's open "indoor" karting space served as good protection from heat stroke. The lack of a diesel smell also made the environment more inviting, especially for people just getting into the scene.
Not to mention, the attention to safety is commendable, as other diesel-based go-kart centres don't seem to be as advanced with safety features, according to my more experienced colleagues.
The staff were extremely helpful, the safety briefings were clear, and the go-karts and track were in mint condition, with safety features you might not appreciate until you need them.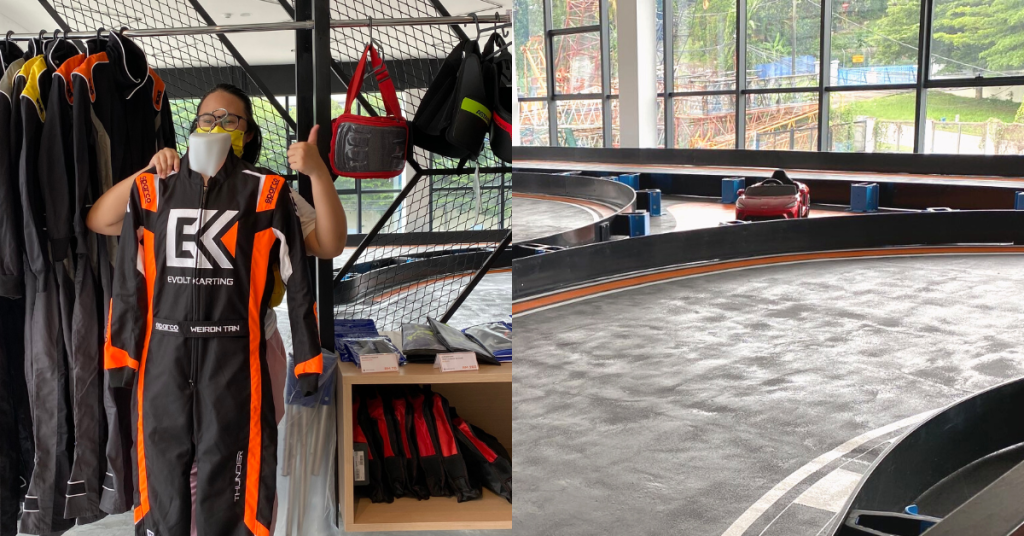 When we last spoke to Weiron, he shared that he and his team would like to open a racing academy in the future.
If the quality of the academy is anything like Evolt Karting's go-kart centre, we're confident that it'd be a great place to train up young Malaysians to be future racing talents, following in Weiron's footsteps.
Read other articles we've written about Malaysian startups here.