After graduating from hotel management in the age of the pandemic, Anqi began to actively seek jobs in the then-unstable hospitality industry.
"Most of the job descriptions were so dodgy," Anqi recalled. "I'm not sure whether I'm picky or just not qualified enough."
One of the most memorable interviews she experienced was for a purchasing role.
When she arrived at the interview, the employer told her that she needed to be a waitress to serve the customers when the cafe is busy and clean the toilets every day.
"I felt [that] this was so ridiculous and it wasn't listed in the job description, [we were] literally wasting each other's time," she expressed.
The silver lining was that Anqi realised she didn't actually like hotel management after graduating anyway.
"Imagination and reality are totally different, I just don't like it," Anqi expressed about the industry. "And I disagree that 'the customer is always right'."
After this incident, she decided to take a break. And out of boredom, she decided to start sharing her artwork online.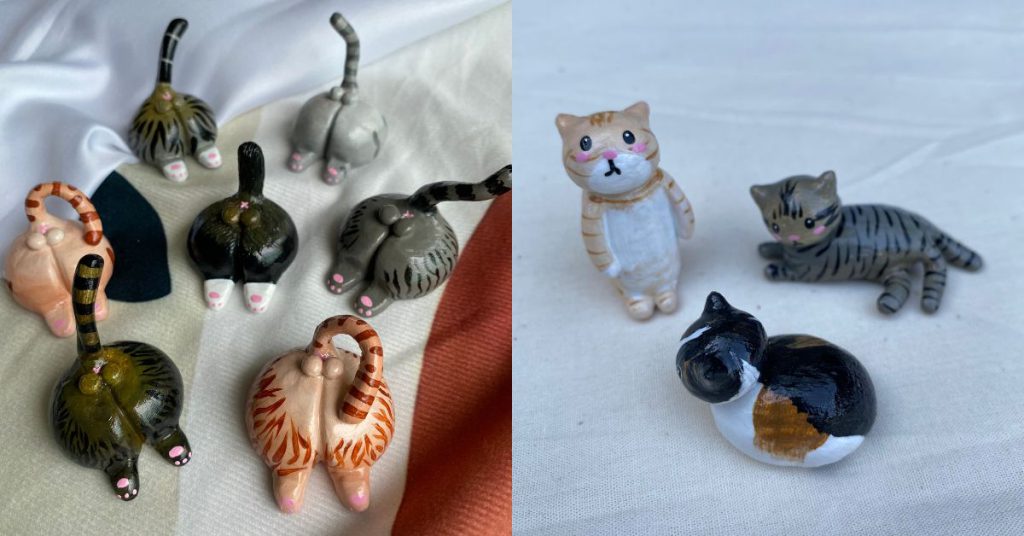 One thing led to another and from there, Cottipotty was born.
Leveraging her creative streak
Today, Cottipotty might be better known as an online brand selling adorable clay pieces such as trays and trinkets. However, as its name might suggest, it had initially begun as a business selling hand-painted pots.
Anqi started growing plants as a pastime to cure her restlessness. One day, after noticing that the terracotta pots she was using looked too dull, she decided to paint them.
She shared that she's always been a creative spirit who loves to doodle and paint.
As an artist, she's completely self-taught, describing her creative process as "kind of a game I play with myself". She's also inexperienced when it comes to running a business, too.
"I didn't have any entrepreneurial experience, I only shared my artwork online for fun and decided to sell my work because the response was good," she mused.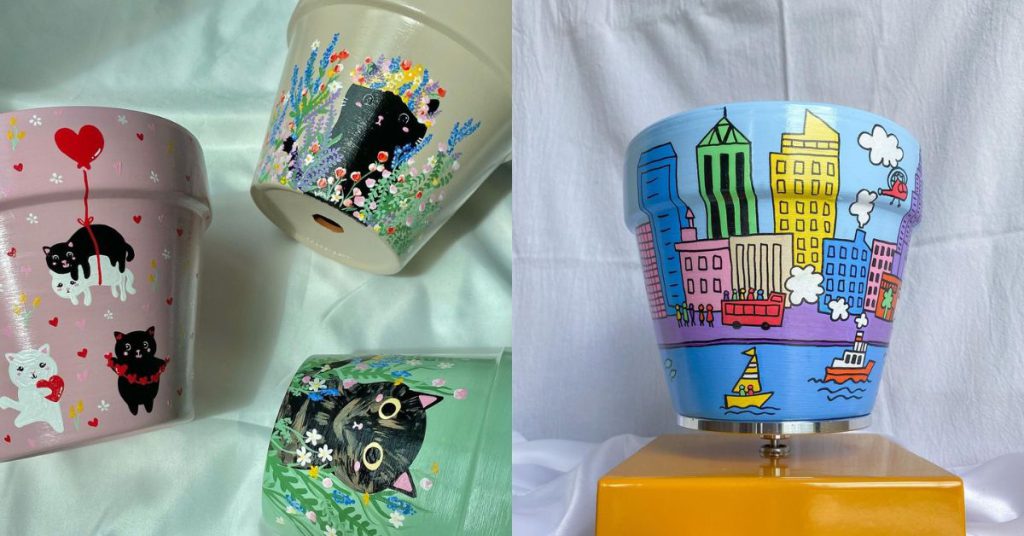 Although it started as a hobby, Anqi soon realised it allowed her to make a living, provided that she consistently worked on it.
With that, she started running Cottipotty in earnest, turning it into her full-time job.
While Anqi recalls that her start-up cost was around RM200 for all the materials needed, she has not been keeping track of the revenue generated by Cottipotty.
"I only count the first two months. I feel bad when I'm not earning enough because of the numbers I counted," she confessed.
"But honestly as a small business owner, it's very common if we get RM0 the whole week. Maybe I should set a financial goal after this!"
Keeping up with the trends
While Anqi still sells her hand-painted pots, she more frequently posts her clay creations nowadays. Her first product that went viral had been a clay frog incense holder, after all.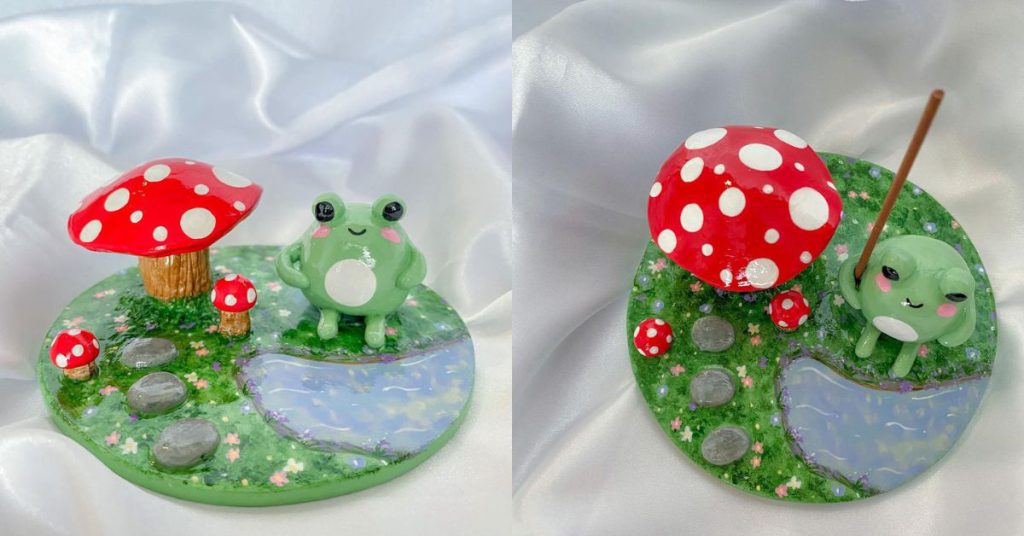 "Just one day I feel so bored painting pots," she said, explaining how she first started making clay art. "I easily lose interest if I keep doing the same things every day."
So, she opened the Shopee app to buy some air-dry clay and tried her hand at making cute stuff she came across on Instagram.
She posted it up, and just like how Cottipotty started in the first place, she ended up receiving good responses.
She mostly works on custom orders, but she does create ready-made items in her free time, including some pots, all the froggy trinket dishes, and miniatures.
Anqi shared that she gets inspiration everywhere, from pillowcases to nature. An animal lover, her creations often involve frogs as well as cats, as well as various interesting things.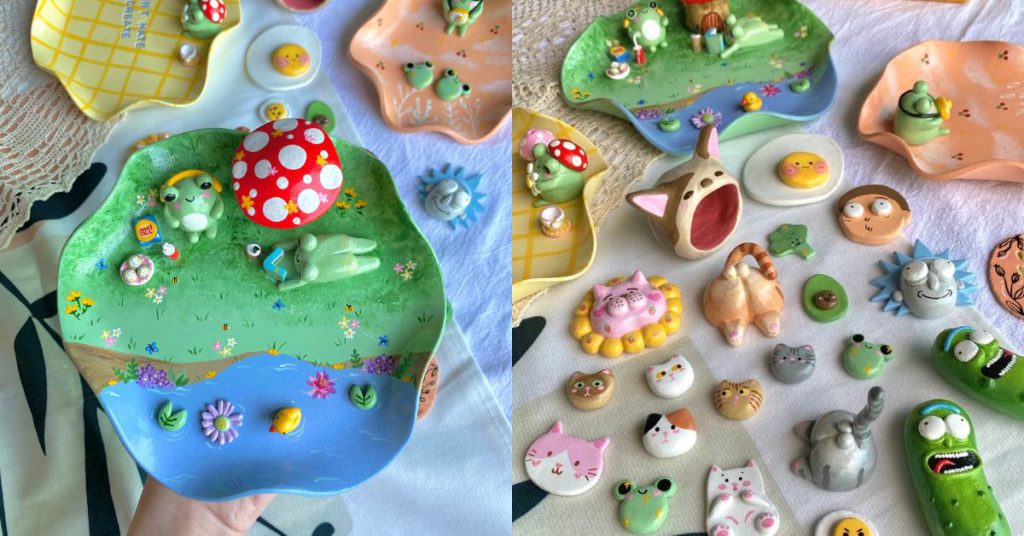 One such "interesting thing", it turned out, was the human body. A memorable design Anqi created a while back was a more R-rated one, which you can see for yourself here.
"The booby pot?" Anqi had asked when we brought it up. "I always wanted to make myself a booby pot and turned out my followers like booby too!"
Crafting the future one step at a time
When asked about whether she plans to ever return to hotel management, Anqi responded: "Maybe?"
She continued, "People easily lose interest if they keep doing the same things every day, maybe I'll go back because I want a change of environment."
For now, though, Anqi's ambitions are set somewhere else. She's thinking of starting another pottery business where she'll turn her art into food-safe tableware.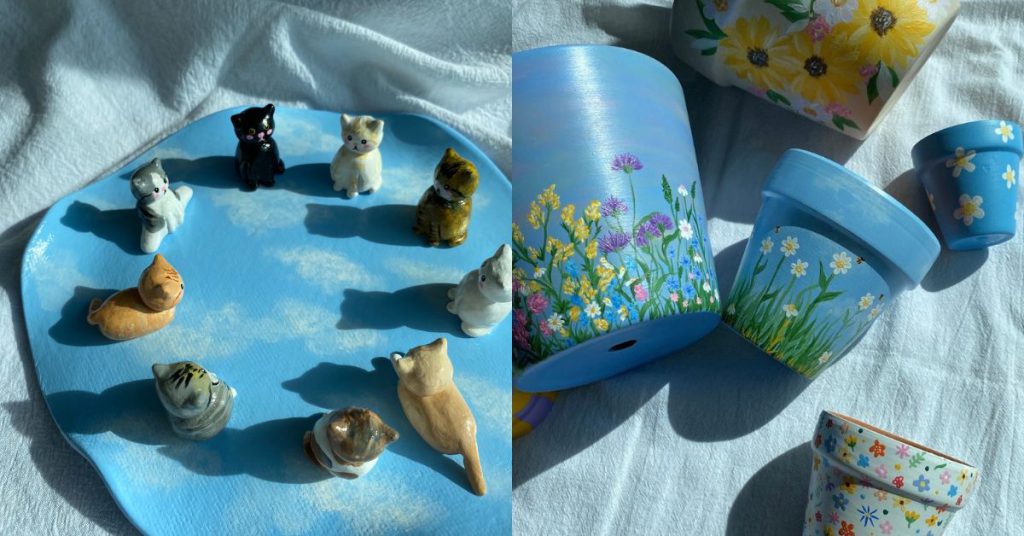 "The products I'm making now are using air-dry clay and acrylic paints," Anqi pointed out. "Food-safe tableware needs to be fired in a kiln with hot enough temperatures and using food-safe glaze."
This makes it more time-consuming and challenging compared to what Cottipotty is currently doing, but Anqi is up for the challenge. She plans on starting out with mugs and plates first and seeing where things might go from there.
It's a similar plan that another pair of clay artists we interviewed mentioned, so this might be where the trend is moving towards.
Interestingly, Cottipotty is only active on Instagram and doesn't have a Shopee or Lazada page. Anqi has also never participated in trader's markets or set up a pop-up store.
But that's about to change.
Anqi shared that she has plans to open a booth for the first time soon. She also hopes to be able to consign her products to a physical store should the opportunity present itself. With the way she's always run Cottipotty, you could say nothing is set in… clay?
Featured Image Credit: Cottipotty