It's almost that time of year again, when you can see pelita being lit (whether with actual fire or just electricity) and scrumptious lemang with rendang being served.
That's right, Hari Raya Aidilfitiri is just around the corner.
Some ways you'd typically be preparing are by baking festive cookies, shopping for your latest festive wear, and of course, getting ready to give out money packets.
You're probably thinking of using money packets that come free of charge when shopping, but those don't stand out from the crowd.
If you want to be more stylo and make an impression on your giftees, check out these exclusive Raya packets designed by seven Malaysian artists.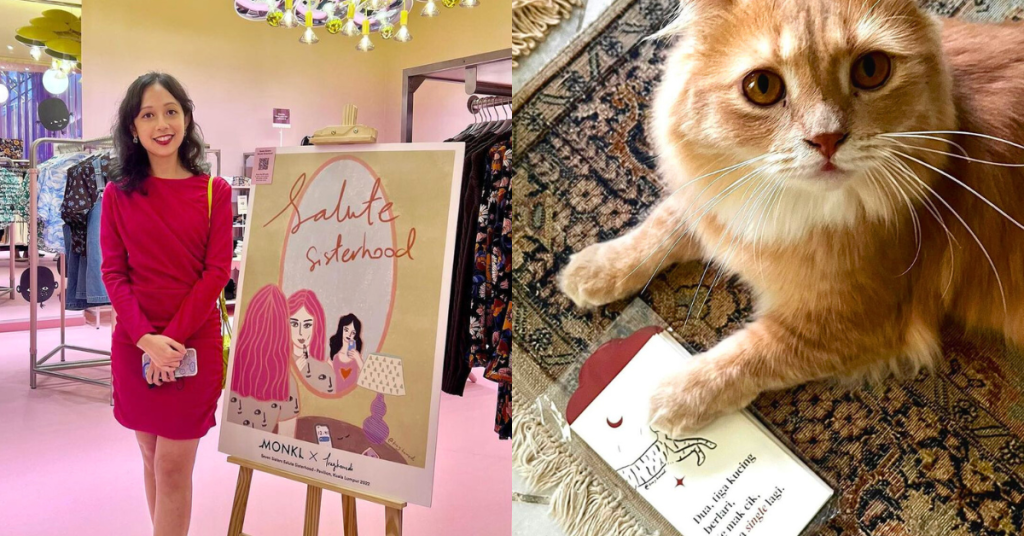 A one-woman show, Shari Jaffri is the creative mind behind Tragikomedi. Her signature illustrations are exactly what her brand name suggests—tragic yet comedic.
You'll find that her drawings err on the side of dark humour, but it's all in good fun.
"Honestly as cliche as it sounds, I'm inspired by everyday things. I use (sometimes terrible) humour to cope with life and connect with people," she stated.
"I read a lot, I draw inspiration from music, I'm heavily drawn to aesthetics. I love people-watching, listening to others, and meeting people. So I tend to absorb everything and process it in my own way."
This amusing take on life is also depicted in her latest money packet collection for Hari Raya Aidilfitri 2023. The two designs feature short and sweet pantun (poems) that are humorous and oh-so-relatable.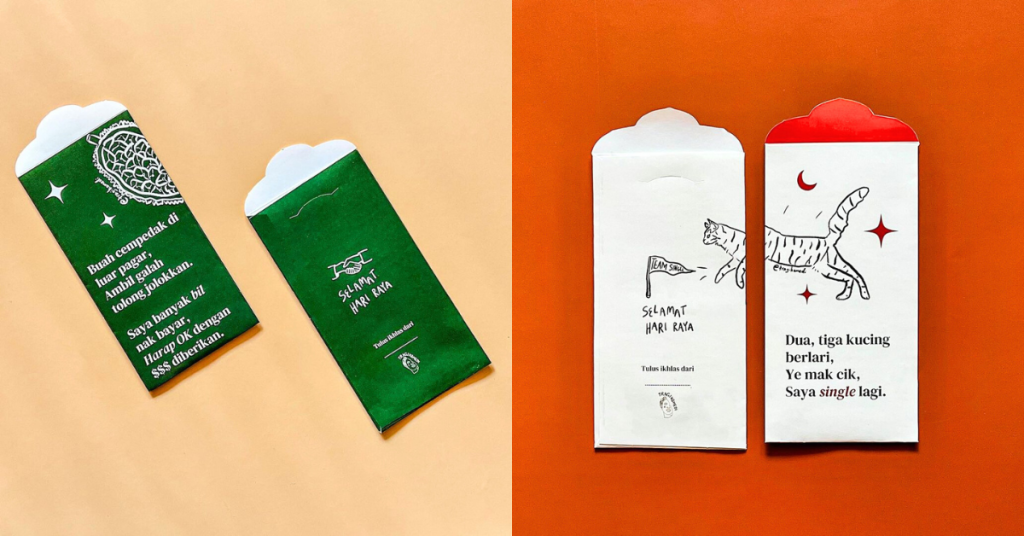 Where to buy: Website
Price: RM15 for a set of 10 packets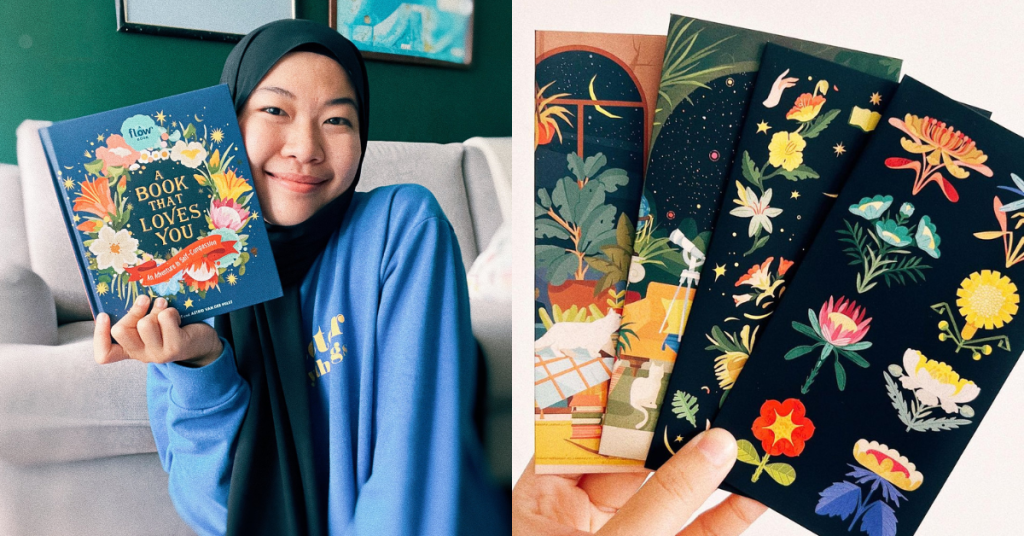 Similar to Tragikomedi, Eurekart Studio is also a solo venture, one that's run by Nur Ashikin Hussin.
According to her website, she describes herself as someone who loves translating her passion into products and stationeries.
The 27-year-old is a freelance illustrator and an aspiring small business owner based in Selangor, though she's originally from Batu Pahat, Johor.
Having artistic parents, she grew up being involved in the creative field since she was as young as seven.
This year, she's collaborating with Mossery to create a few designs of money packets. All of them feature a velvety finish that adds a luxurious feel to them.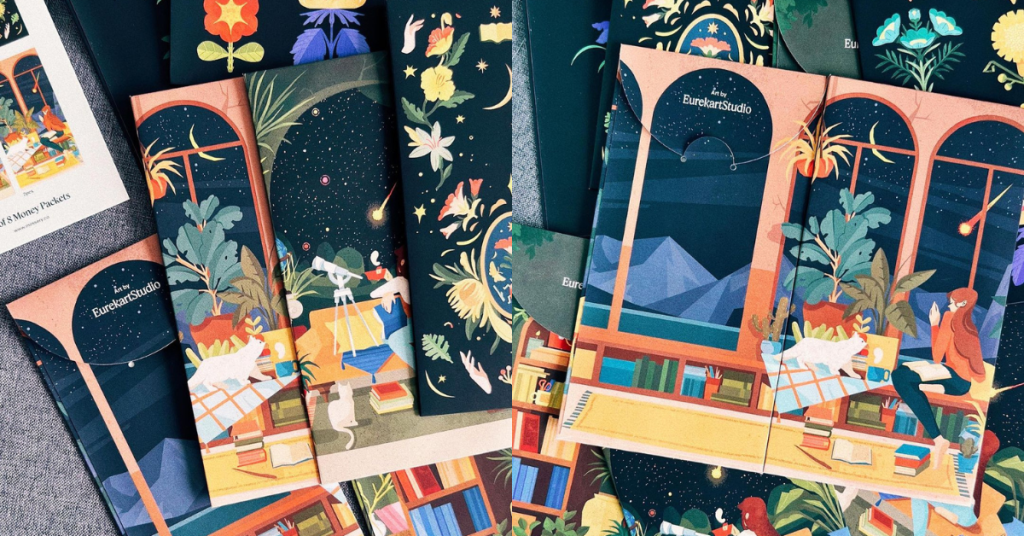 Some other partnerships she's engaged in are with local brands like Belhams to design clothes and scarves, and jigsaw puzzles with Piece & Love Puzzles.
Where to buy: Shopee
Price: RM24.90 for a set of 8 packets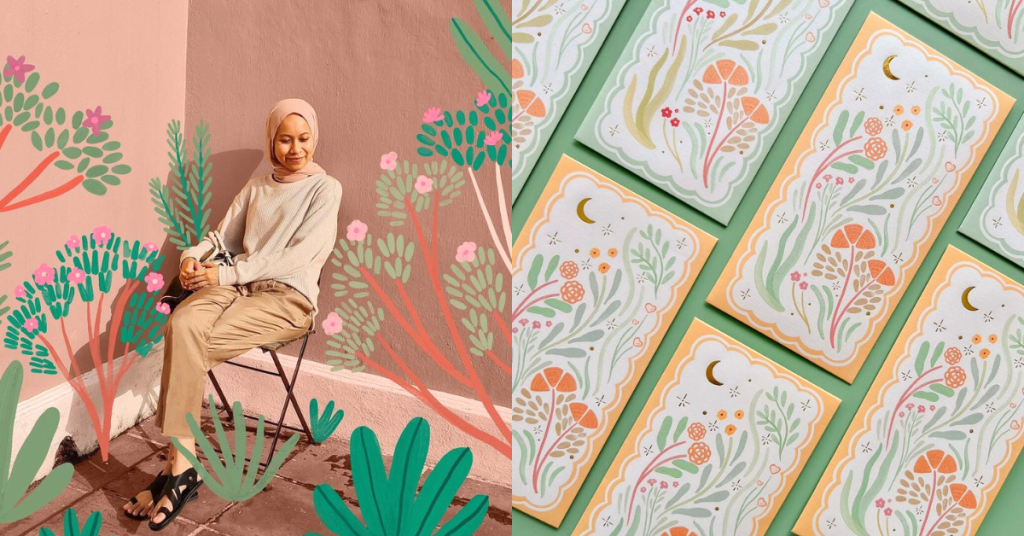 This architect-turned-artist might be familiar to Vulcan Post readers because we've previously covered her story last year.
Bunga dan Bintang's artworks are simplistic in nature, and she draws inspiration from those in her daily life. This includes her cat, her mum's plants, flowers, and festive events.
This Hari Raya Aidilfitri, she's decided to focus on the festive treats that one typically sees in cookie jars.
And like the majority of her other illustrations, this year's money packets are soft and pastel-themed.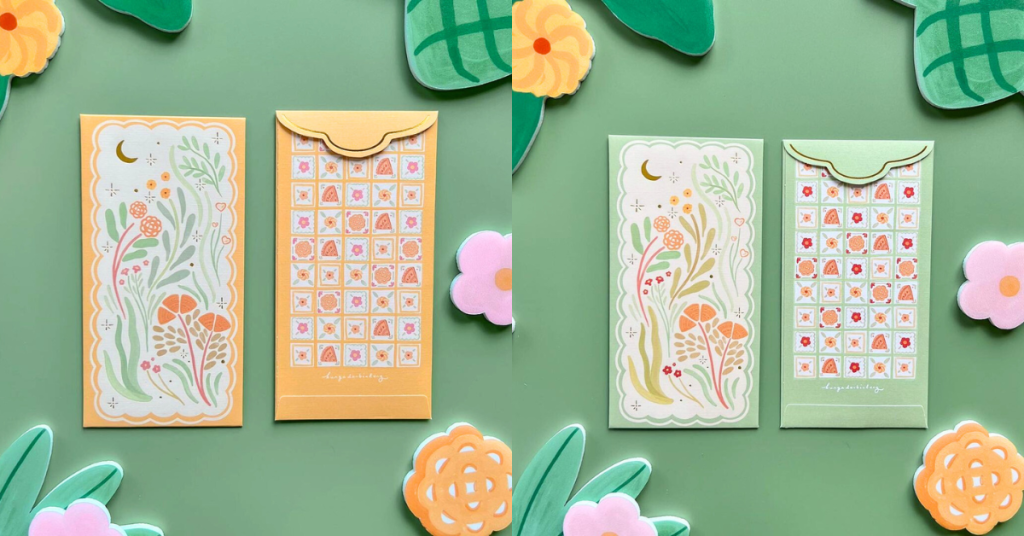 Besides designing her own money packets, she's also collaborated with other local brands like Bayu Somerset, whom we've recently featured, to design festive attire like baju kurung.
Where to buy: Website
Price: RM15 for a set of 8 packets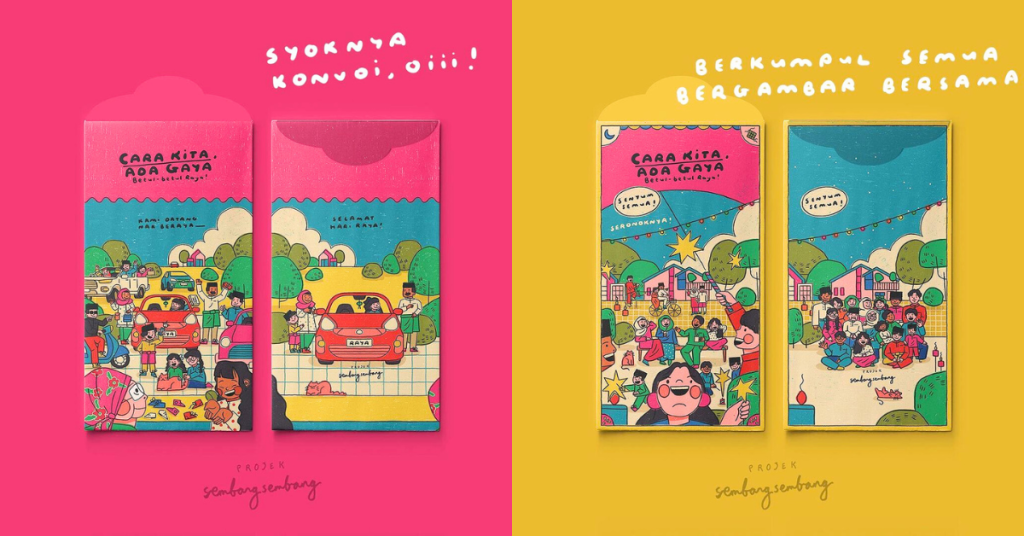 What initially started out as a hobby turned into a full-time job in 2018 for three Malaysians.
A trio of artists, Projek SembangSembang's founders describe themselves as a quirky team that consists of "the Merchandise Maker, the Dreamy Designer, and the Witty Writer" on their website.
They're passionate and interested in making "all things quirky", especially with the brand's signature handwritten font and colourful illustrations.
"Putting visual aesthetic and relatable content together will always be our priority," they stated.
Since 2019, they've been running their own office café space in Bandar Baru Bangi, called Mari!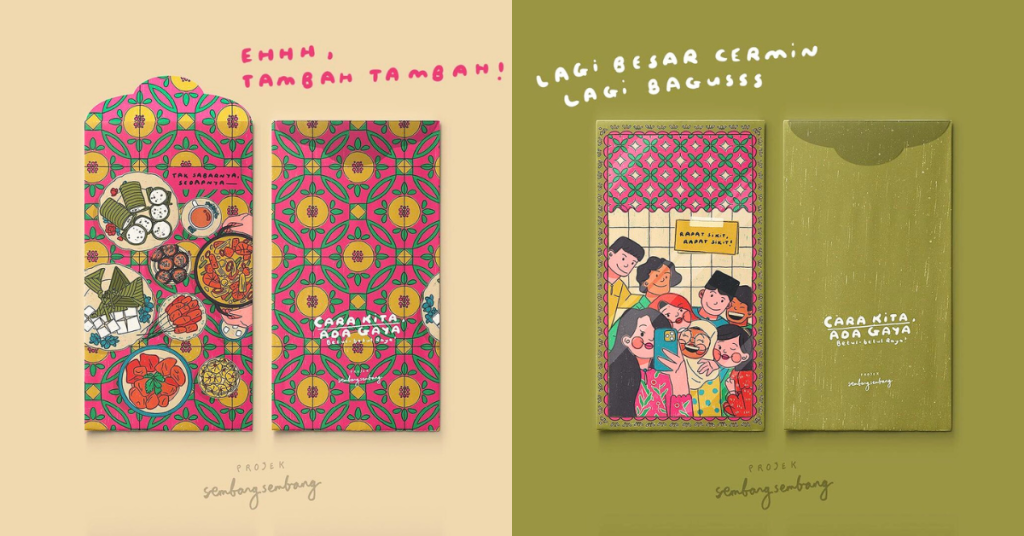 For this festive season, the brand created four colourful designs of money packets, each with its own Raya-related theme.
Where to buy: Shopee
Price: RM12 for a set of 12 packets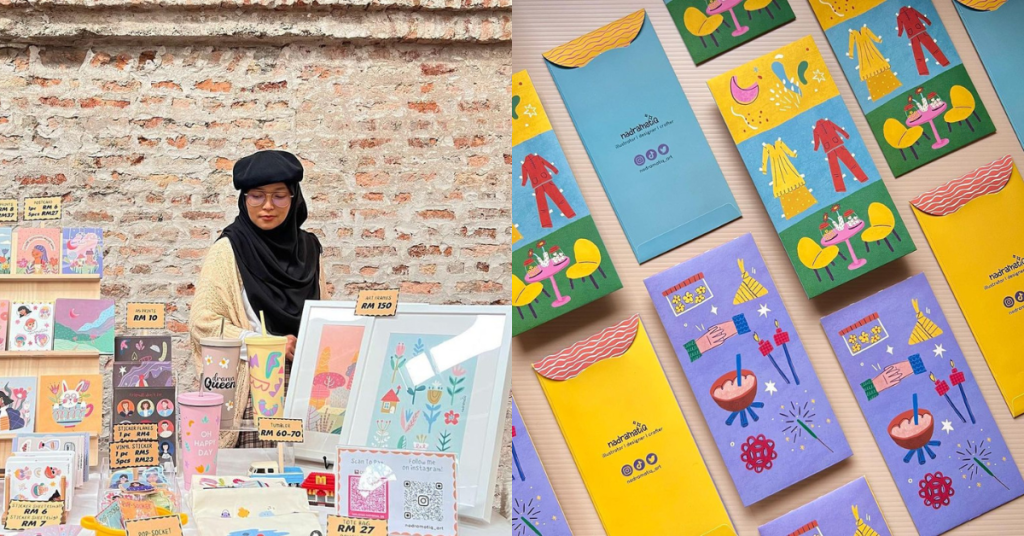 With over 19,000 followers on her TikTok account, Aida Nadia doesn't let motherhood stop her from doing what she's passionate about—illustrating.
The 28-year-old can also be seen in residential areas providing her professional services in interior designing.
Launched in 2021, Aida's illustrations typically feature pastel or muted colours. Some of her creations include merchandise like art prints, tumblers, and Stranger Things-themed stickers.
She's also collaborated with other local brands like Serationary to design a planner, Addon Case to design phone cases, and Ijmal to design packaging.
Her collection of money packets for Hari Raya Aidilfitiri this year features two designs, made of a different material that gives them a soft matte finish.
Where to buy: Shopee
Price: RM15 for a set of 8 packets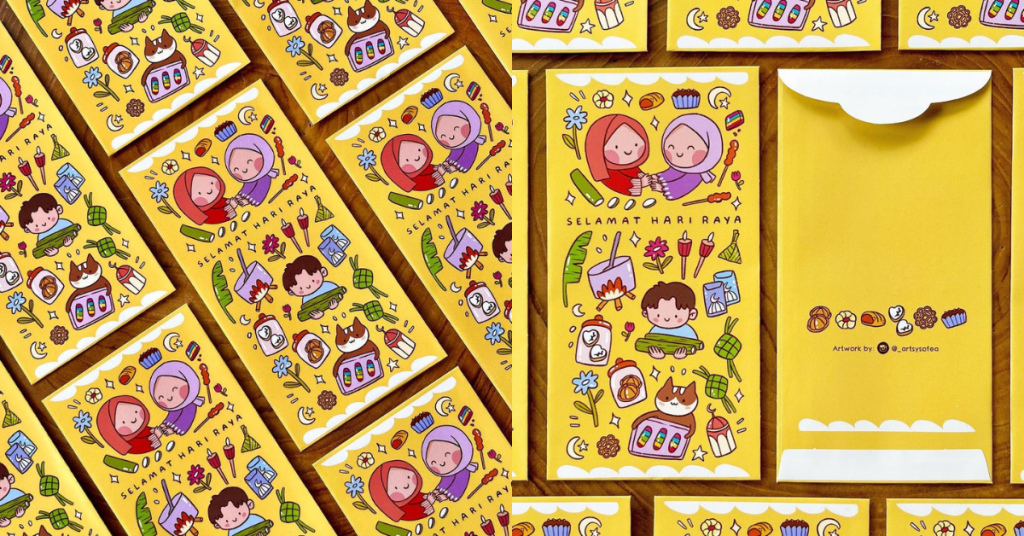 Another solo artist, Sofea is also a mother that chose to continue pursuing her interest in illustration and design.
Keeping with tradition, she chose to create more money packets up for grabs this festive season. It features an eye-catching shade of yellow that is sure to remind anyone of cheerful times.
Some of Sofea's other creations include postcards, stickers, and commissioned illustrations. The latter seems to be the most popular offering favoured by the public.
Looking at her anime-like styled artwork, I'm reminded of children's cartoons, and they're all just so adorable.
Where to buy: Shopee
Price: RM11 for a set of 10 packets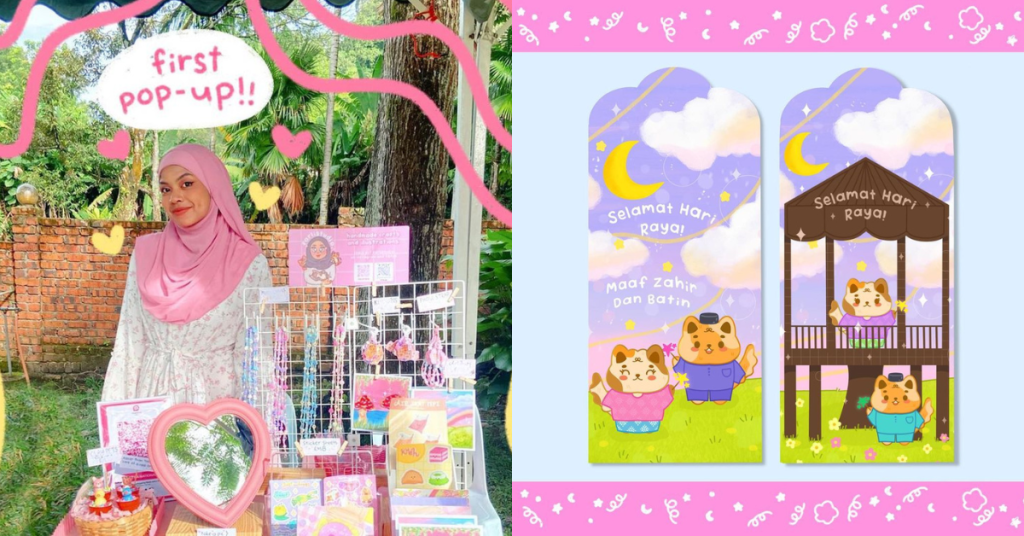 A self-taught illustrator, Farli is a 22-year-old artist who's passionate about learning new creative methods to indulge in art.
Like Sofea, she also does commissions on a freelance basis and creates Malaysian-themed designs. Some of her other products include stickers, keychains, and phone straps.
"I am very passionate about Malaysian culture, especially when it comes to food," she stated on her online portfolio.
"The delicious delicacies are what binds Malaysians together, a similarity of love and enjoyment within everyone. I created these illustrations to share with the world about the delicacies, while relating to all Malaysians."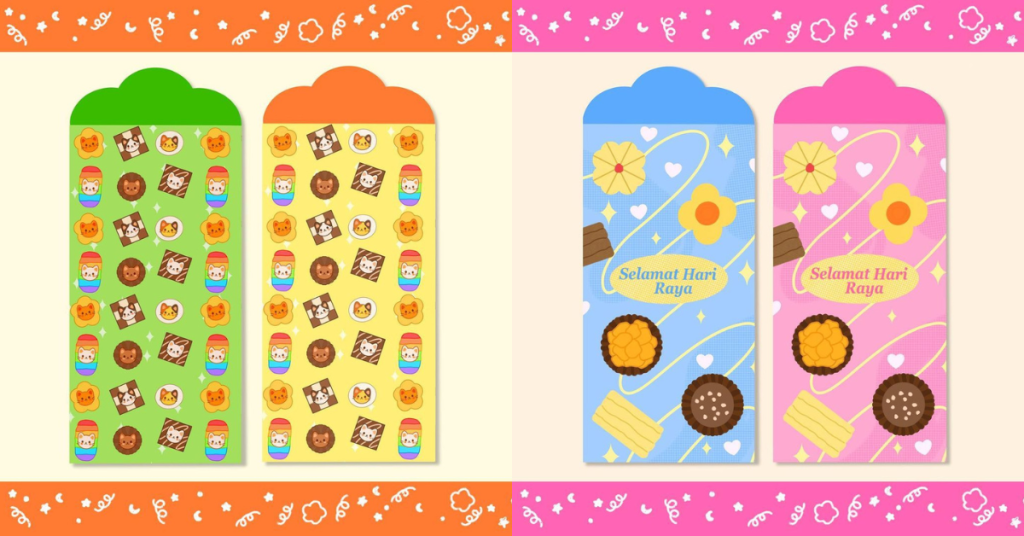 For this year's Hari Raya Aidilfitri, Farli created four sets of money packets that feature brightly-coloured and playful designs.
Where to buy: Shopee
Price: RM5 for a set of 6 packets, and RM7 for a set of 8 packets
-//-
All in all, each money packet is made with care and the personal touches of these local artists.
So while the insides of the packets do matter the most (as some may argue), the external beauty of the packets is certainly worth appreciating too.
With that, Selamat Hari Raya from us at Vulcan Post, and we wish you a safe journey if you're planning to balik kampung soon!
Read other articles we've written about Malaysian startups here.
Featured Image Credit: Projek SembangSembang / Nadramatiq / Bunga dan Bintang