Although we all love our sweets and candies, one type which is not widely available in Malaysia is freeze-dried candies, which completely changes the texture of ordinary candies.
Although such sweets have become quite common in the US, we can't say the same for Malaysia yet.
Which is why three Malaysians banded together to bring it to our shores with the launch of their brand, Sweegies.
A sweet tooth and her cravings
Sweegies is the brainchild of locals Audrey, Nin, and Shy Kit, who came up with the idea to bring freeze-dried candies to Malaysia.
Founded in October 2022, the brand all began when Audrey wanted to try making freeze-dried candies herself after noticing brands in the US share such candies on TikTok.
She eventually bought samples from a store in Singapore. Sharing them with her housemates, they became convinced that the candies were rather unique.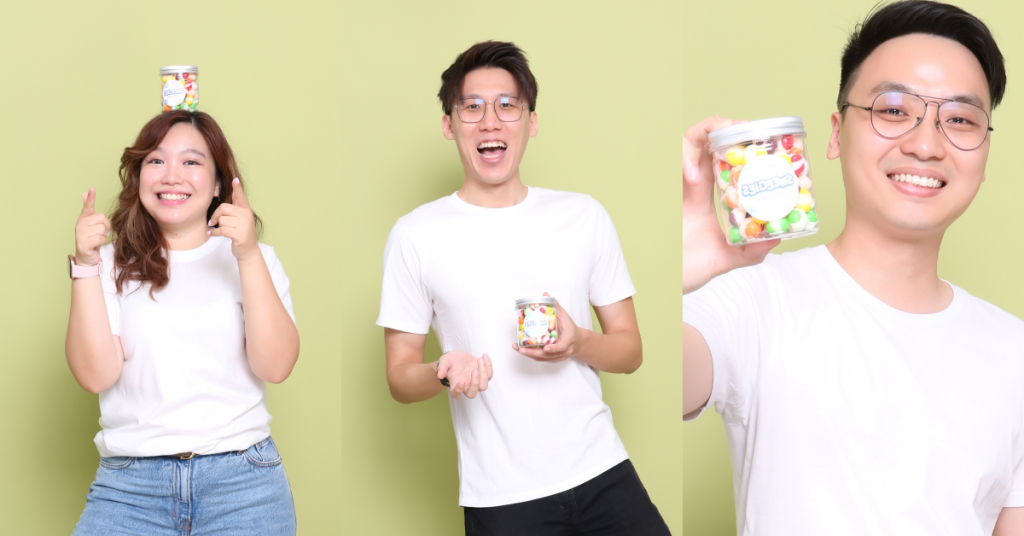 With her curiosity and enthusiasm, she then asked Nin and Shy Kit if they would be keen enough to buy the machine and try making it themselves here.
Turns out, they were all in for the idea.
"We decided to take the leap to sell it in Malaysia because we noticed that Malaysians are huge fans of sweets and always look for new ways of enjoying food," shared the trio.
"We were also confident in starting this business because Audrey has a great sense and eye for upcoming trends and opportunities globally and our ability to localise them to suit our local preferences."
Doing what they can(dy) to make it work
It took Sweegies six months to go from planning, researching, and experimenting as well as a startup cost of around RM40,000 to finally bring the product to market.
"We had to procure the freeze-drying machine, plan, test, and research the recipe, and make sure that everything was perfect before launching it to the public," they explained.
RM40,000 is certainly not a small sum to invest in a new business. When asked about the decision to put in so much capital, the trio shared, "Honestly, it was scary but we understand that we needed to take the calculated risk in order to provide accessibility of these candies to people in Malaysia and beyond."
Plus, the founders believe that there is a lot of potential they could unlock by freeze-drying local candies, which is a prospect that "excites rather than worries" them.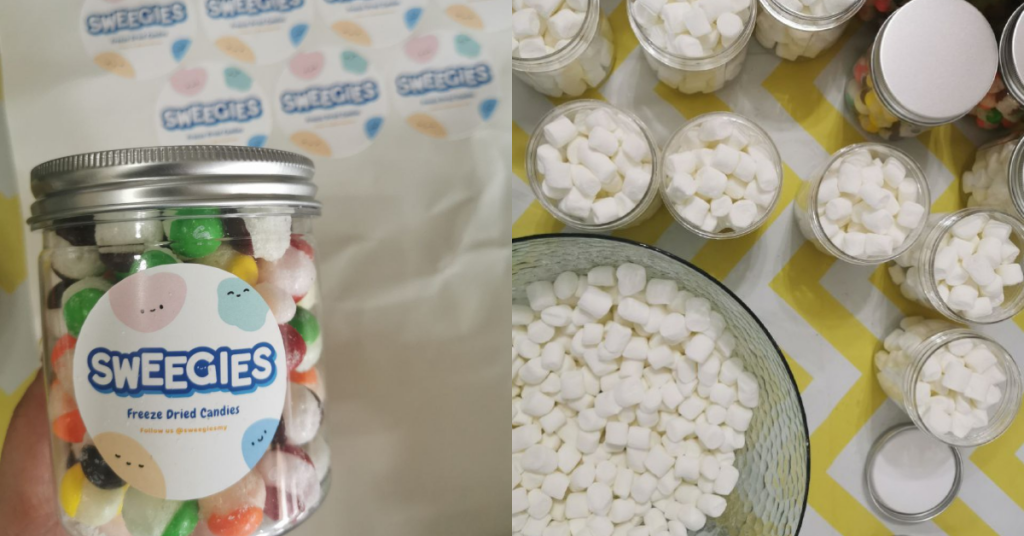 The brand currently only offers two variations, which are freeze-dried Skittles (60g) and marshmallows (22g) which are priced at RM18.90 a jar.
"We chose to freeze-dry Skittles and marshmallows because they are popular snacks and sweets that people already know and love," the team said.
Although I've never had freeze-dried candy myself, sources online claim that after the process, the texture of the candy feels lighter, crunchier, and melts in your mouth.
This means that you get the familiar taste but with an entirely different and enhanced experience.
For comparison purposes, a 45g bag of Skittles from supermarkets costs RM2.49, while a 100g bag of marshmallows cost around RM3.90.
But while Sweegies' prices seem to be marked up quite a bit, we must consider that freeze-drying different candies can take several hours up to days, not to mention that the specific machine used isn't cheap.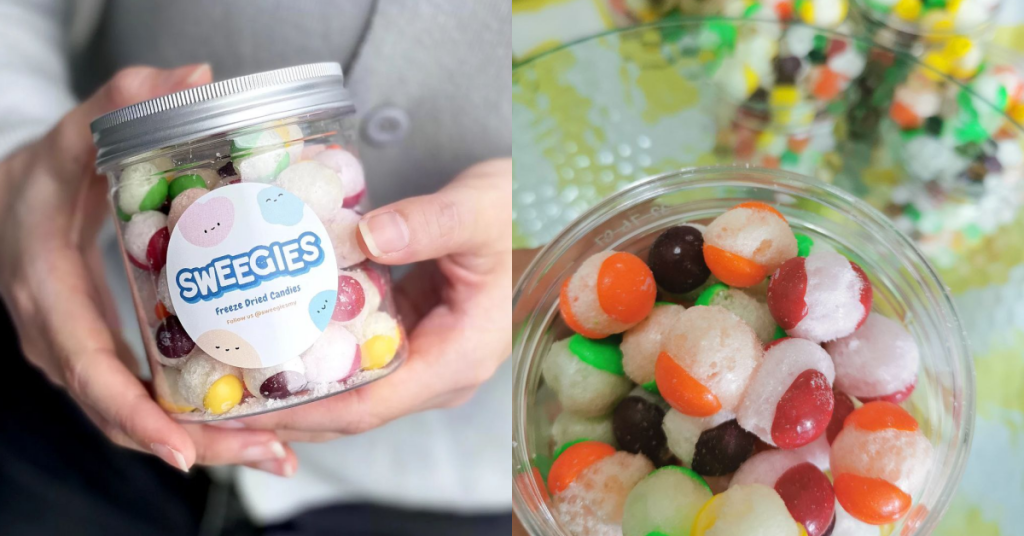 However, through Sweegies' countless trials on different recipes and processes for different candies, they were able to shorten the time required to around four hours per batch.
"Right now, our candies are homemade but we are planning to scale up our production capacity by five to 10 times very soon."
In regard to the limited variations they currently offer, they stated that they have started trying to freeze-dry candies of different varieties and characteristics (e.g., hard exteriors, soft and liquid contents, chewy candies etc.).
Leveraging their synergy for the venture
This was not the first time they had ventured into something together, as back in April 2020 during the height of the COVID-19 lockdowns, the trio had co-founded a social enterprise called SERUM to help provide supplies of face masks and hand sanitisers to communities in need.
"From housemates with similar passion for altruism, we decided to combine our passions and skill sets. Through SERUM, we realised we have great synergy as co-founders as we share similar drive and mindset but are individually equipped with different skill sets."
Despite the initial success of Sweegies, the three of them are still currently working full-time in various industries, namely financial tech, logistics, and management consulting.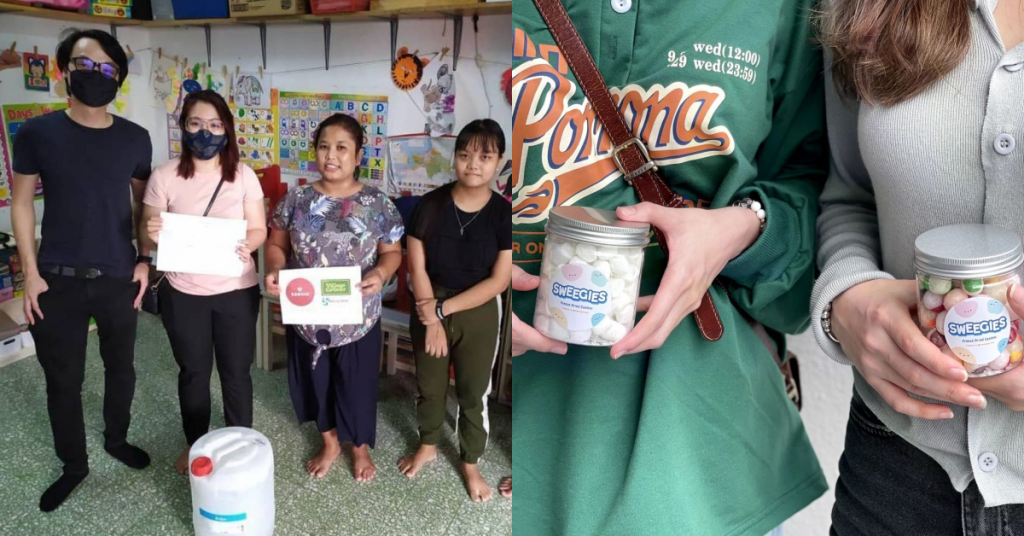 "One interesting reflection we have with our ventures is, we believe this is one of the new ways of working on side hustles while being employed," they shared.
They added, "The key is to over-invest our efforts on building a day-to-day operation team as early as possible and over-communicate among co-founders and the operation team."
Sweegies is also supported by three more team members in specific operations such as production, marketing, and customer service.
The sweet taste of success
Although they currently do not have the exact figures on how much they've earned as they only launched one month ago, they shared that their products typically sell out within one to two hours.
More recently, they launched on Shopee to make their products more accessible to candy lovers from other states. According to their Shopee listing, they have sold 23 jars of their freeze-dried Skittles.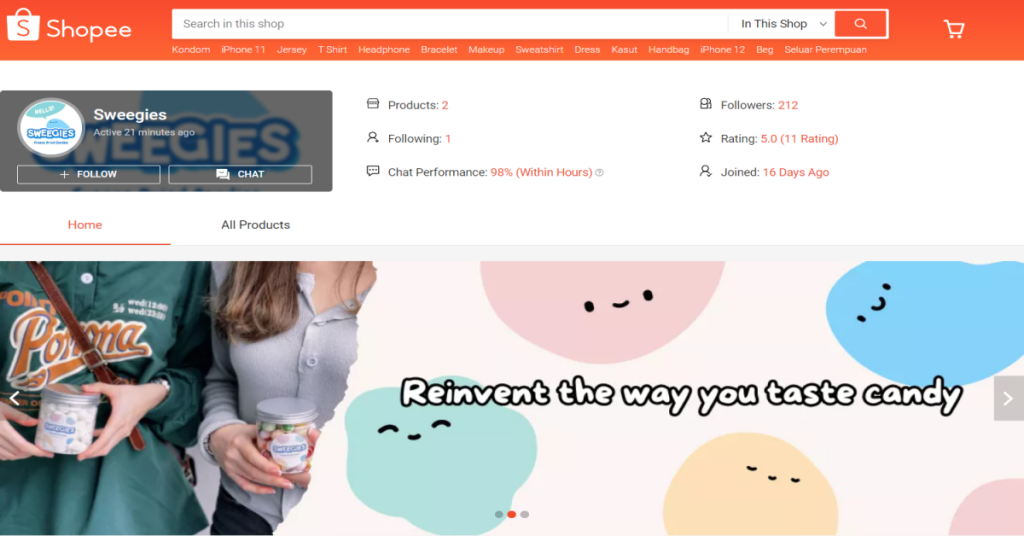 "We are also in the midst of making our freeze-dried candies accessible via offline channels such as grocery stores across different states."
"We are focusing on marketing and promotion to make sure that as many people as possible know about us and the fact that freeze-dried candies are finally available here in Malaysia," they said.
In the long term, they plan to expand their reach across Malaysia with a variety of new products, focusing on local candies first but also welcoming any overseas candies that compliments their freeze-drying process.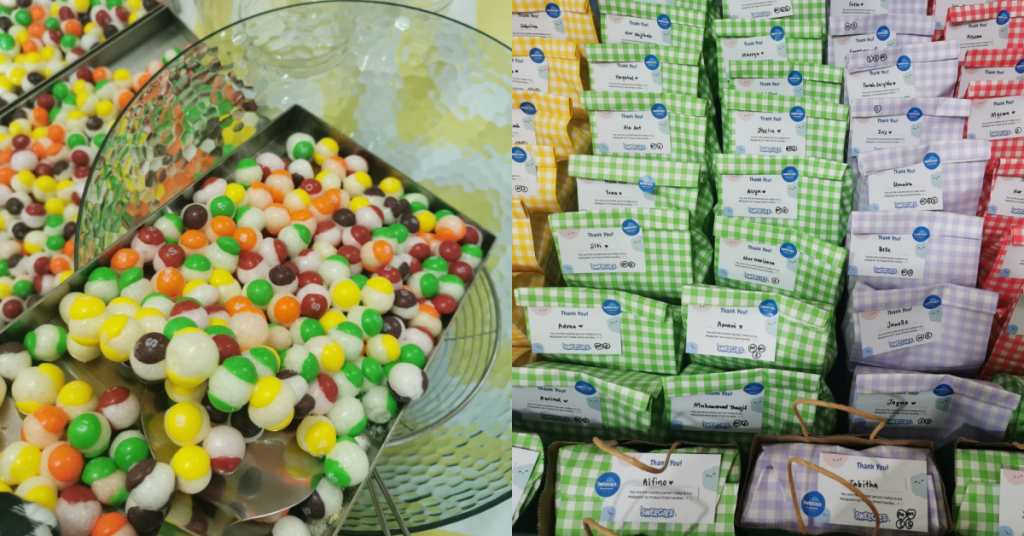 As they foresee freeze-dried candies to remain a content and social media-driven business and product, they are also on the lookout for curating new forms of content and collaborating with content creators.
Their biggest challenge currently is scaling up production capacity to meet customer demands and to make it more accessible across offline channels in Malaysia.
"Although we were able to formulate a new recipe that shortens the overall freeze-drying process, it still requires relatively long hours," they shared.
However, since the freeze-drying process removes all the moisture from the candy, freeze-dried candy can be considered more shelf-stable. Plus, there are lower chances it would melt when being shipped.
This makes shipping such treats across the country possible, meaning all Malaysians may one day be able to enjoy candy in this new way.
Featured Image Credit: Sweegies