Late last year, you might have noticed various marketing adverts by an American brand popping up and going viral on TikTok and Instagram.
In various videos, US-based FreeWater appeared to question the notion of why we should pay for drinking water.
Essentially, the company is trying to push the idea that everyone should be able to drink natural spring water for free, and that this would be made possible by having companies advertise on aluminium bottles and paper cartons.
Now, it seems that a Malaysian brand called DrinkFree is replicating the idea by offering free water in local areas.
Water you doing?
We recently spoke to Kyle, the founder of DrinkFree, where the 23-year-old law graduate from KL shared that he had dropped out of his Certificate in Legal Practice (CLP) course to start up DrinkFree. At that point, he already had a Bachelor of Law (LLB).
"The idea of DrinkFree came to mind in January, and it took roughly five months of preparation, where it finally launched on May 1."
Kyle shared that he had always wanted to start a business and that the "crazy" advertising idea and a drive to reduce plastic pollution triggered him to start it.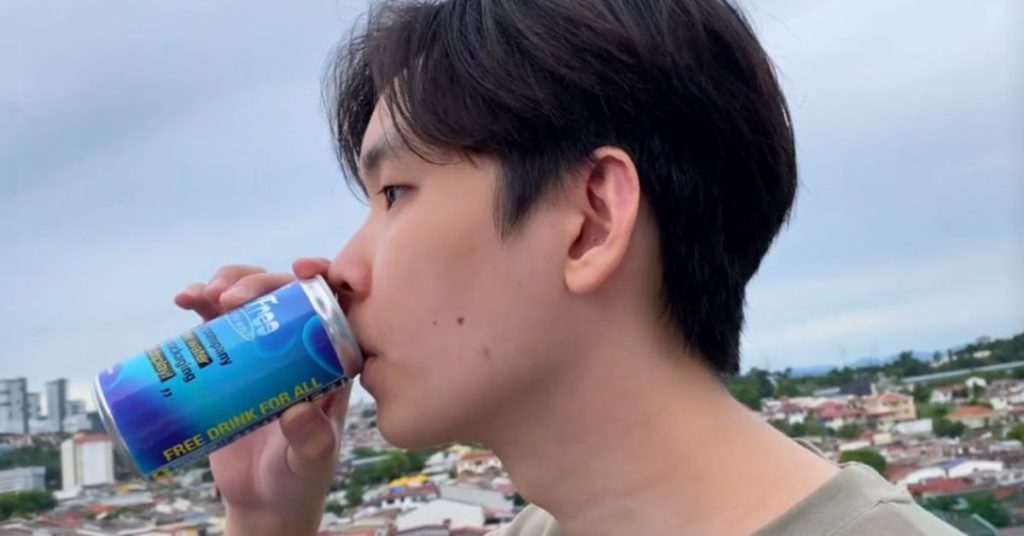 He admitted that the idea came from FreeWater in the US, but what truly inspired him was Elon Musk's quote, "Try to be useful, do things that are useful to your fellow human beings, to the world… It's hard to be useful".
As there was already precedence for him to adopt this idea, he was confident enough to choose to invest time and money in research and testing.
Although he chose not to disclose how much he invested into the business, Kyle shared that the capital came from his own savings.
Despite being a novel concept in Malaysia, Kyle is confident that the idea of DrinkFree will pop off here.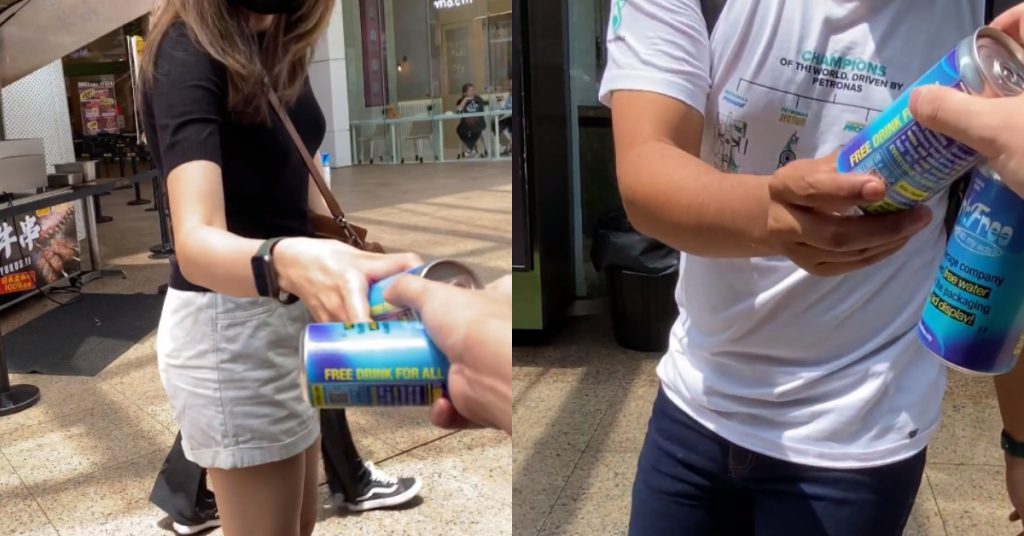 "Although people may not have heard of it and are afraid of new things, however, with time, people will accept it and start embracing the novel eco-friendly idea."
To further boost his confidence in the product, Kyle explained that he personally distributed the product in the Bukit Bintang area, and the results he got were excellent.
"It caught their attention and curiosity, some of the audience told us they support the interesting idea as they benefit from it, and that they do not mind reading the ads," he added.
Making water free
DrinkFree's free water is completely paid for by the ads they run. All the manufacturing for their products is done in-house too with the machinery Kyle purchased.
By doing so, they're able to provide more affordable advertising packages, which also encourages brands to adopt their concept.
Still, Kyle admitted that it has been hard attracting advertisers.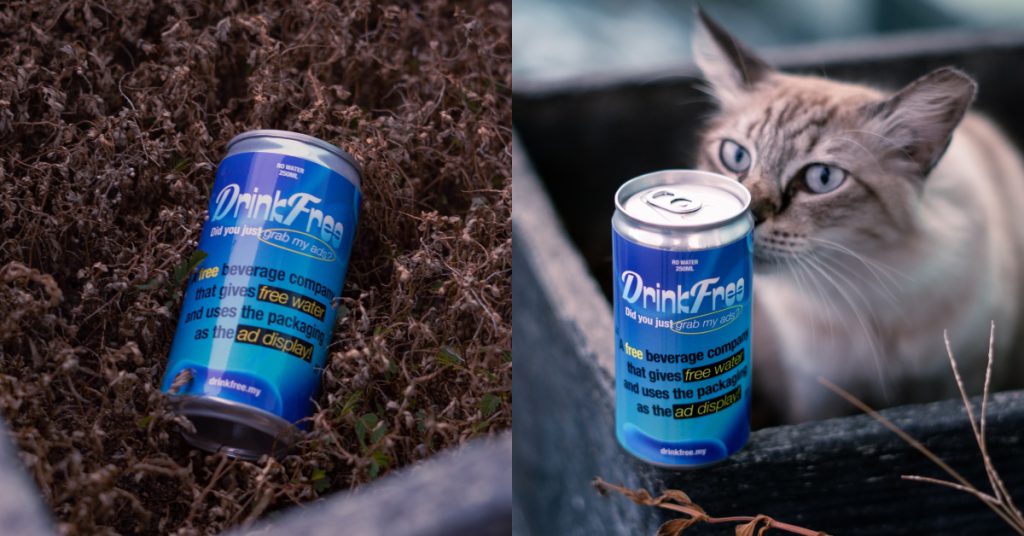 "I think what stops advertisers from taking this concept is that there is no [local] precedent, and people do not put confidence in new ideas, which is why getting advertisers at the early stage is harder."
But Kyle says that it can be guaranteed that after a few advertisers advertise with them, clients will increase.
Meanwhile, DrinkFree offers free distribution, which is included in the package (subject to package type).
The location will be determined and discussed with the advertisers for the best decision, and no permit is needed unless it is done on private property or under any special circumstances.
They offer packages of various rates for brands to advertise on their cans which ultimately depends on the number of cans they choose to go with, which is similar to the business model that FreeWater is working with. Drinkfree's rates range from RM1.90/can (5,000 units) to RM2.20/can (1,000 units).
Meanwhile, in terms of designs, DrinkFree provides templates for advertisers who choose to design themselves, or they can choose DrinkFree's in-house designer, with a rate of RM300.
Going with the flow
Unlike FreeWater, which offers water in paper carton boxes or aluminium bottles, DrinkFree only offers one product: natural spring water in cans.
Kyle said this is because canned water ensures durability, is easier to recycle, and is better-looking.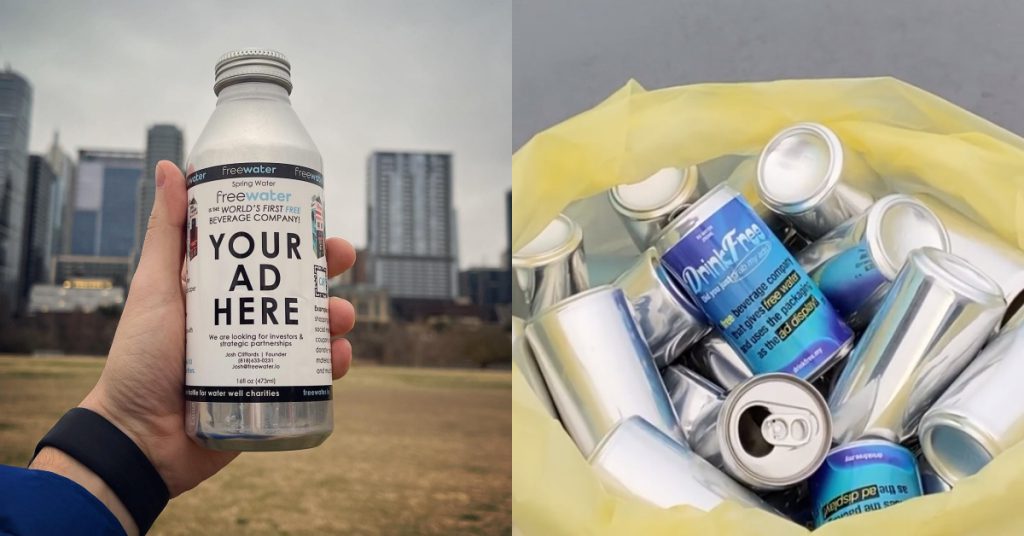 "Boxed water requires larger capital on machinery, and once a box is printed, it will be harder to be recycled."
He also explained that the biggest challenge for the business is that, as founder, he would need to be in charge of every single aspect, such as marketing, design, management, research, machine repair, and more. Not to mention, their profit margin is still low too.
But, despite the obstacles, Kyle is steadfast in the belief in DrinkFree as it aims to achieve the goal of being "low-cost, effective, efficient, eco-friendly, and beneficial to people".
In the future, they hope to reach a number of advertisers until there is free water everywhere in Malaysia so that people no longer need to pay for water stored in plastic bottles.
"Flyers are no longer effective, as people will either just refuse to take it or dump it into the bin and not look at it at all. This is really a waste of time and resources," he explained.
"(Additionally) due to the low rate of online ads, social media is being drowned by ads, and people would just ignore them when they know it is an ad. DrinkFree is here for the solution."
There remains the question of how effective DrinkFree's ads will actually be for brands and how that efficacy will be measured, so Kyle shared that he will be looking further into showing the impact of their ads soon.
Featured Image Credit: DrinkFree