Being a nice coffee shop with good food is often not enough anymore. Rather, the café-hoppers of today want something different, at least conceptually.
One café that might fall on these people's radar is ONI COFFEE.  
Located in Alam Damai, Kuala Lumpur, this is a new Muslim-friendly café that's all about onigiris.
While onigiris might be familiar to most as an on-the-go snack, ONI COFFEE has made it a delectable, sit-down dish to be enjoyed over coffee or tea.
Intrigued by this concept, we reached out to learn more about who started this new coffee shop—and why.
Fulfilling a childhood ambition
Growing up, Dave Tan has always been interested in food, which explains why he ended up pursuing a Bachelor of Culinary Arts and Foodservice Management at Taylors University College.
After graduating, he worked in a Japanese restaurant. Over the course of his eight-year career there, he managed to rise to the manager level, acquiring knowledge about Japanese cuisine along the way.
But Dave's ambition since childhood has always been to start his own restaurant or café.
"Since then, everything I did paved the pathway to the setup of my own entrepreneurship venture, which turned out to be ONI COFFEE," he said. "You may say that entrepreneurship is the hallmark and lifelong aspiration of my life."
Leveraging onigiris' familiarity
In case you haven't seen them in convenience stores such as 7Eleven or Family Mart, onigiris are Japanese rice balls, though they're often triangular shaped.
It can be enjoyed plain, but the white rice ball usually contains filling, whether it be salmon, unagi, or something else entirely. It's also typically wrapped in nori, or seaweed.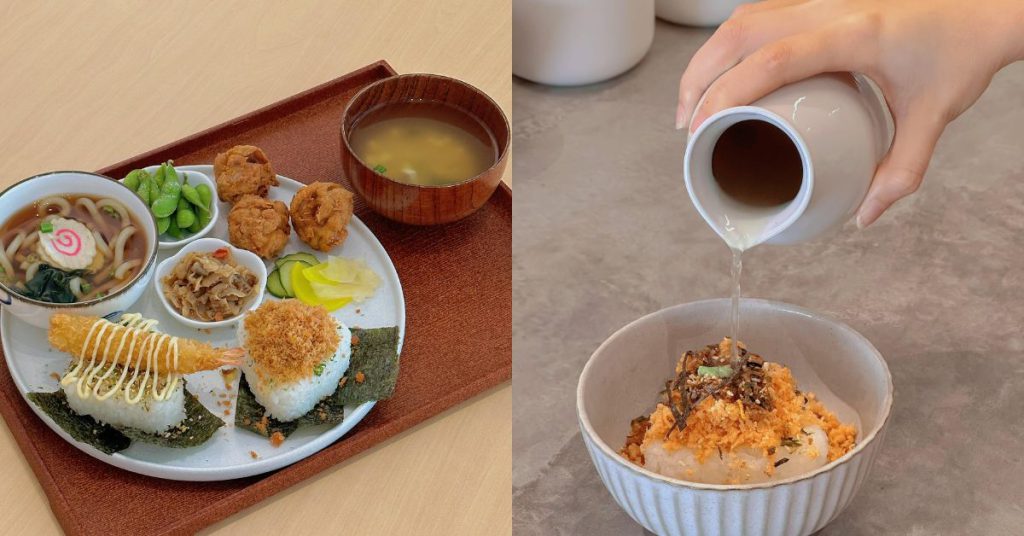 Onigiris have become popular as a snack in Malaysia in recent years, perhaps because of its portability and the ease of which one can enjoy them.
The popularity of onigiris is something Dave noticed as well. However, he found these store-bought options to be lacking in quality and flavours.
"Among the variety of Japanese foods, onigiri particularly interested me due to its potential and adaptability," Dave shared.
An onigiri may be very simple at its core, but it is precisely this simplicity that makes it easy to mess up.
I believe I'm not speaking just for myself when I say that biting into an onigiri where the rice is hard and overcooked, and the filling is overly mushy and stale is not the best experience. Unfortunately, this is something I've encountered by buying premade onigiris.
Those who relate to this will likely understand why ONI COFFEE takes freshness so seriously.
All onigiris served at ONI COFFEE are made fresh upon order, meaning the rice and the filling isn't just sitting together. All the prep work is done in the morning of each day. It takes them a good hour to two hours to get the ingredients ready.
Strictly no leftovers are allowed, Dave said.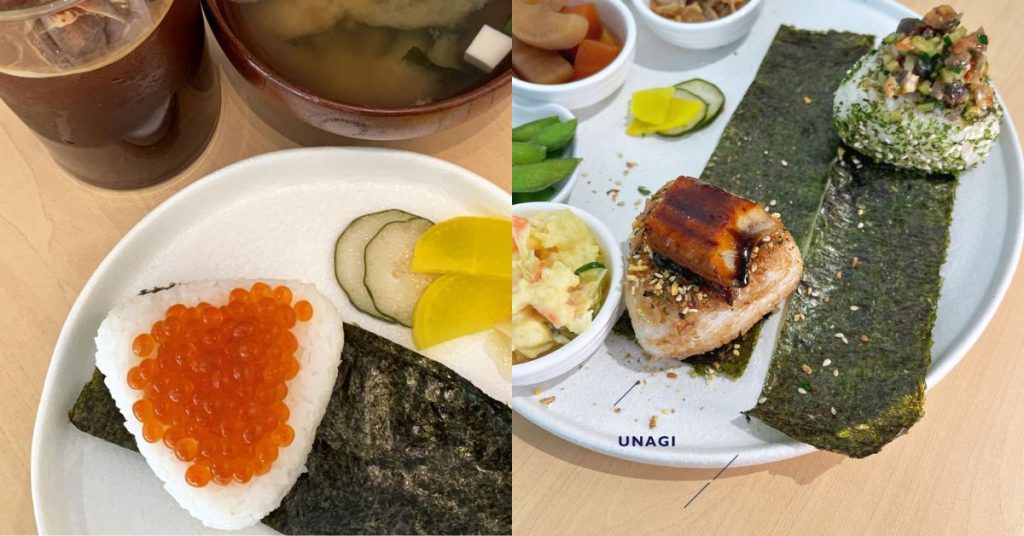 "You wouldn't believe how much difference there is from using freshly cooked rice versus using leftovers," he said. "The most important ingredient in onigiri is quality Japanese rice."
Its this care for quality that sets the café's onigiris apart from other options. At least, that's what the founder believes.
"All our onigiris are freshly made when we got the order, this is why we can't stress more about delivering only the freshest onigiris, and not the mass made ones you would find in convenient shops," he insisted.
Options for days
Currently, the café offers 11 types of onigiris.
This includes more common options such as unagi onigiri and ikura (salmon roe) onigiri, but also lesser found flavours such as salmon chazuke onigiri and ebi fry onigiri.
Other than those, there's also onigiris that are filled with okaka (bonito flakes), tuna salad, tori karaage (Japanese fried chicken), and more.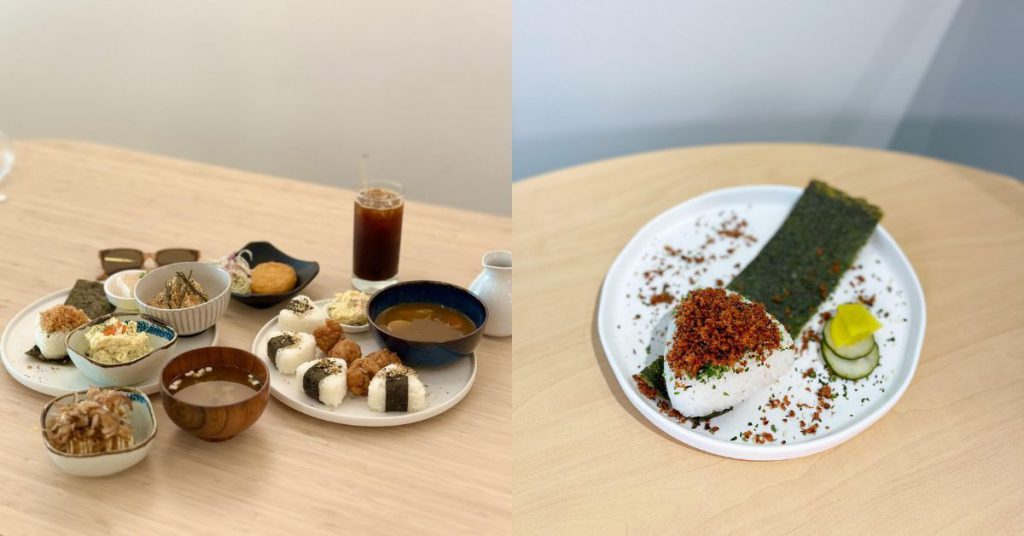 And the team doesn't plan on stopping there, as they're working to continue adding new flavours to the menu. Inspiration for new offerings come in the form of online research, cookbooks, and experience from previous jobs.
Onigiris aside, the café serves a variety of other Japanese dishes such as curry udons, including one with potato korokke (croquette). There are also sides such as takoyaki, edamame, miso soup, and gyoza.
For those looking for dessert, there's a selection of croffles available. 
With a side of espresso
While onigiris—and many Japanese dishes in general—are served with tea, ONI COFFEE subverts expectations by serving it with coffee.
The coffee beverages here include all the usual suspects—espresso, flat white, long back, cappuccino, macchiato, mocha, and an assortment of lattes. There's also a yuzu tonic made with Japanese yuzu lemon fizz topped with coffee.
"I'm a coffee person and I wouldn't have it any other way," Dave shared. "I believe there are many like me who yearns for a great cuppa to start the day right (or any time of the day)."
With that, Dave believes it was a no-brainer as to combine his onigiri concept with a coffee shop to create ONI COFFEE.
There are non-coffee drinks too, such as various matcha lattes, chocolate beverages, kombuchas, as well as sparklers.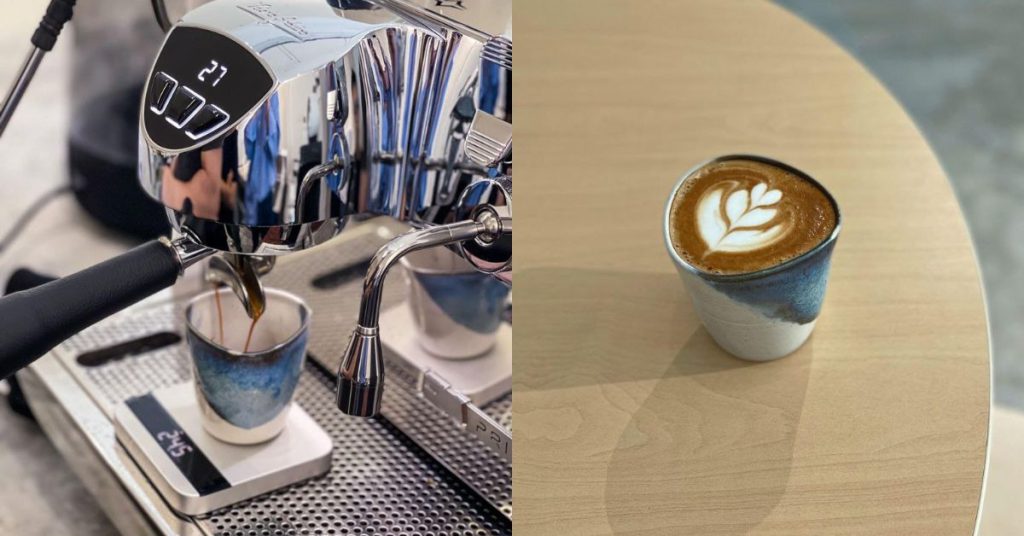 An interesting detail is that the brand uses triangular cups to serve its hot beverages too.
"We came across this Malaysian cup maker on Instagram, and I knew I had to get it, as it matches our onigiris concept perfectly and the name of these cups also call O-NI-GI-RI," Dave said.
Called Prêt à Potter, they worked with ONI COFFEE to create customised coffee cups that perfectly compliment the coffee shop's concept and offerings.
A new take on onigiris
Now a staple in convenience stores, it's clear that onigiris are something Malaysians seem to enjoy.
However, this enjoyment might hinge on the very thing ONI COFFEE does not really offer—convenience. Convenience could be why many of us still enjoy the subpar premade versions.
But perhaps this different take from ONI COFFEE might be what's needed to revamp onigiris as a treat that goes beyond accessibility, though, and give it its due appreciation.
After all, this concept seems to be going well for the café so far. While it's more of a neighbourhood coffee shop for now, it does have dreams that lie beyond.
"Our plans have always been simple—to share what we love to all beloved Malaysians starting from our first outlet, and eventually to other states throughout Malaysia," Dave said.
Featured Image Credit: ONI COFFEE