If you're anywhere on the internet right now, you would have heard of Threads, a sister app of Instagram and Meta's new Twitter rival.
Like Twitter, Threads is more of a text-focused platform rather than a photo or video one.
If you're not on the platform yet, here are a number of Malaysian personalities who are already actively "threading" on the latest social media site.
Politicians, politicians, politicians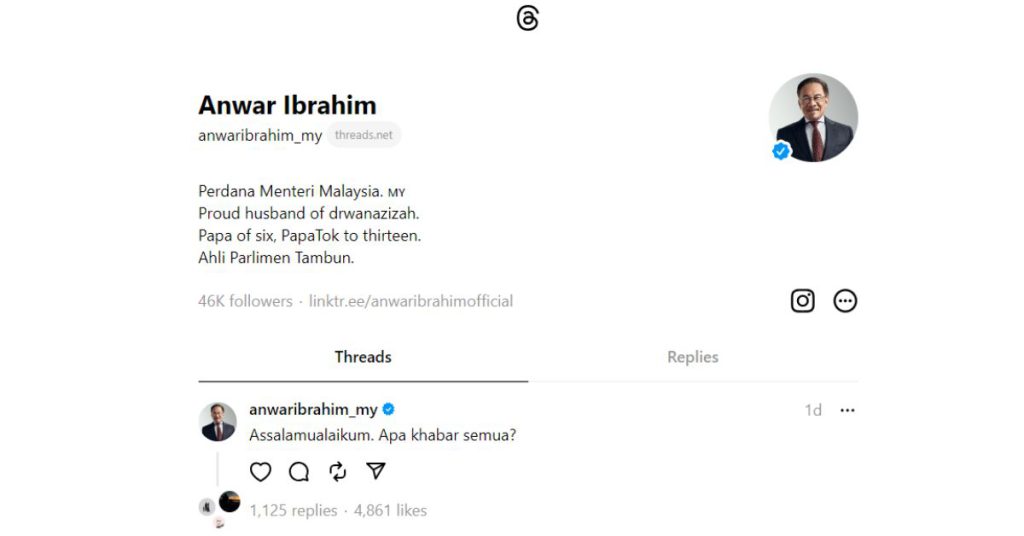 Our prime minister has spoken, making his debut on Threads with a simple greeting. "Assalamualaikum. Apa khabar semua?"
PM10 has already garnered thousands of replies and even more likes with this simple post. We can only wait to see what other great threads (strings?) he'll drop here.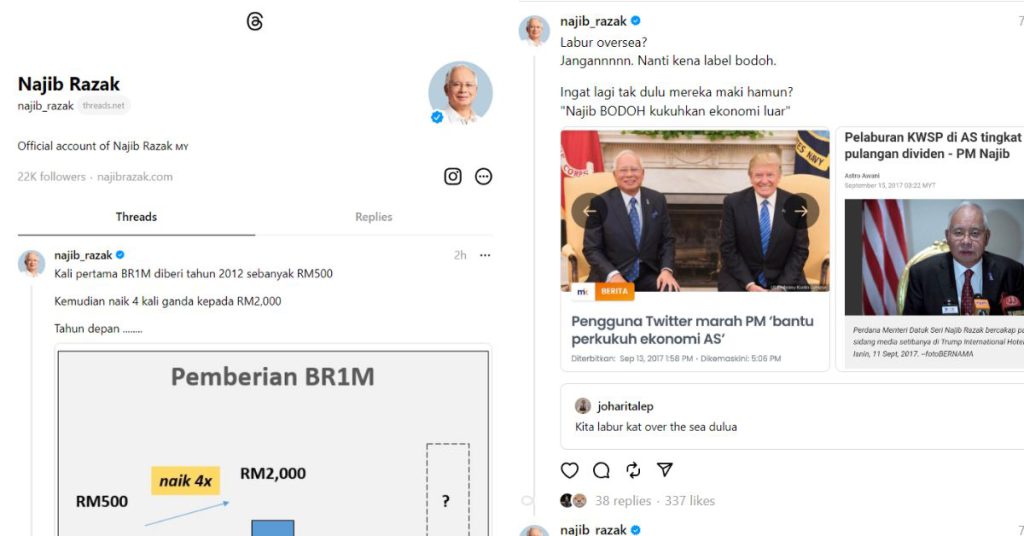 Although currently imprisoned, Malaysia's former prime minister Najib Razak continues to connect to his supporters, with his newest platform being Threads.
The 69-year-old has posted a series of interesting threads, the most humorous one is one that references a football meme of Cristiano Ronaldo with the caption of "Siuuuuuuuu".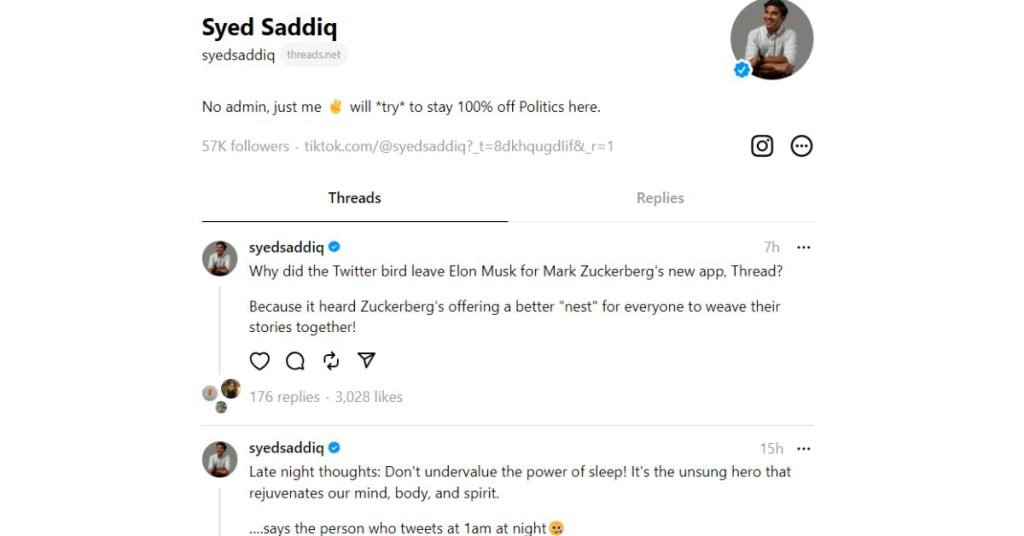 "No admin, just me," the Muda president said in his bio. He also promised, "Will *try* to stay 100% off Politics here."
Instead, after posting a picture of him photoshopped on Captain America's body, the member of parliament has been posting random trains of thoughts, even one at 1AM.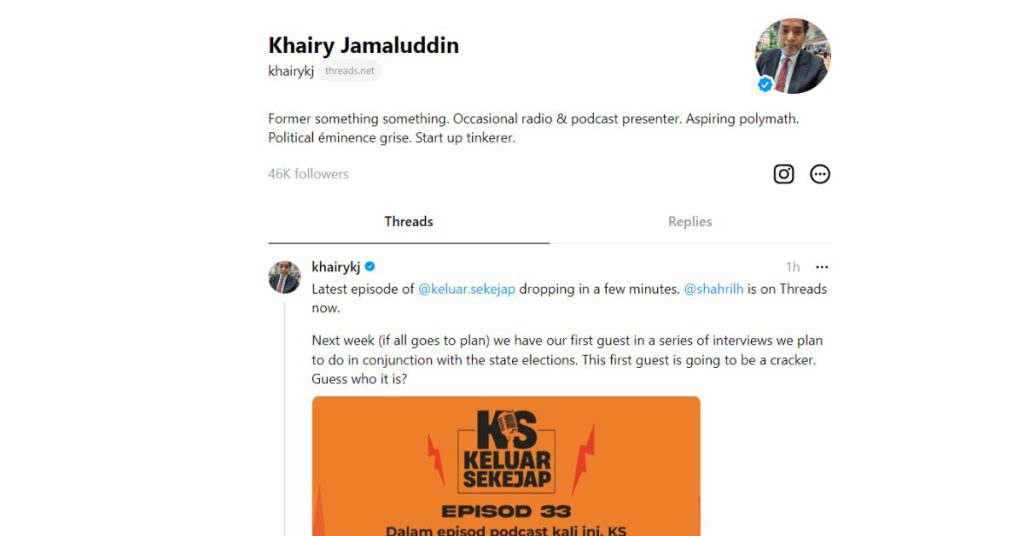 This "former something something" (his own words) has also joined Threads.  
So far, he's been using his platform to post about his career as a radio presenter and podcaster, providing plenty of updates to his show, Keluar Sekejap, which already has a Threads account, too.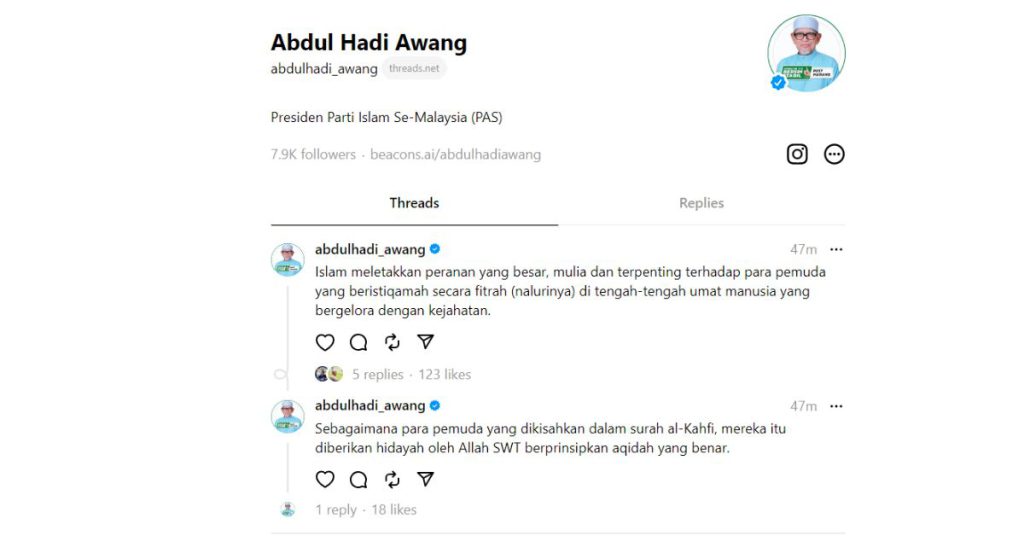 The 7th President of the Malaysian Islamic Party, this 75-year-old is already quite active on Threads. In his 10 posts, he's been discussing politics, the economy, and religion.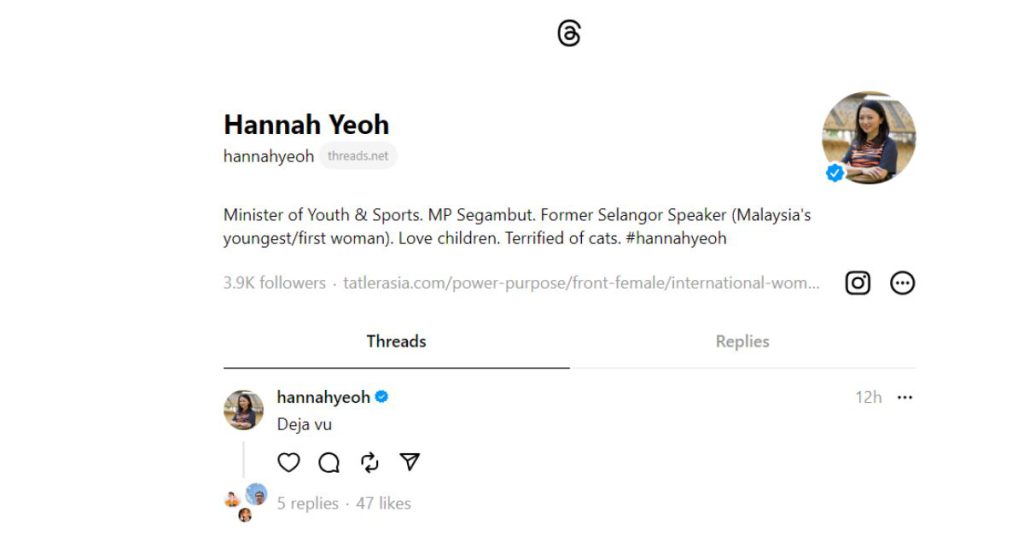 Minister of Youth & Sports, Hannah hasn't said much on Threads, just a simple message of "Deja vu". Whatever could she mean?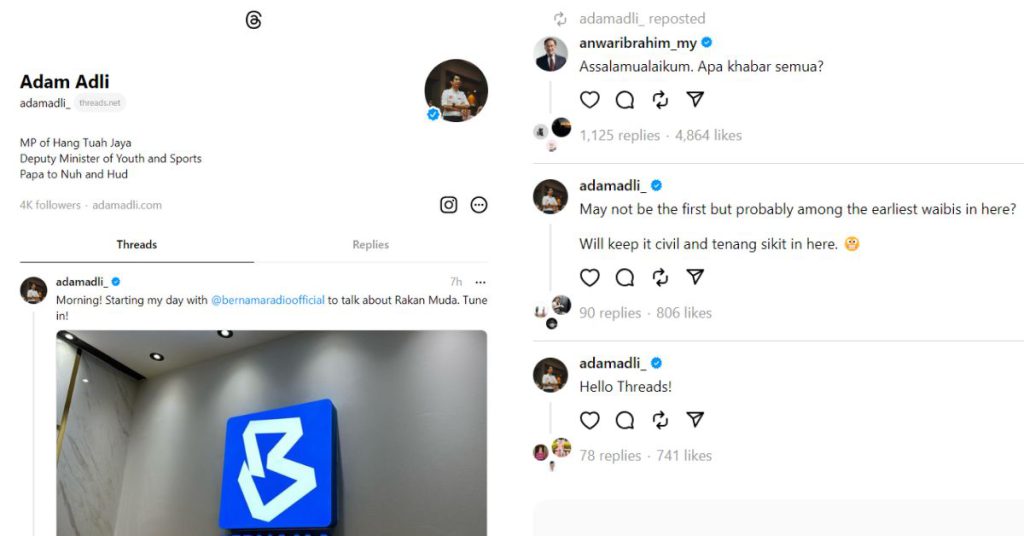 Joining Threads, the MP of Hang Tuah Jaya in Melaka shared that he will strive to "keep it civil and tenang sikit" (a bit more chill) on the new platform.
Influencers & celebs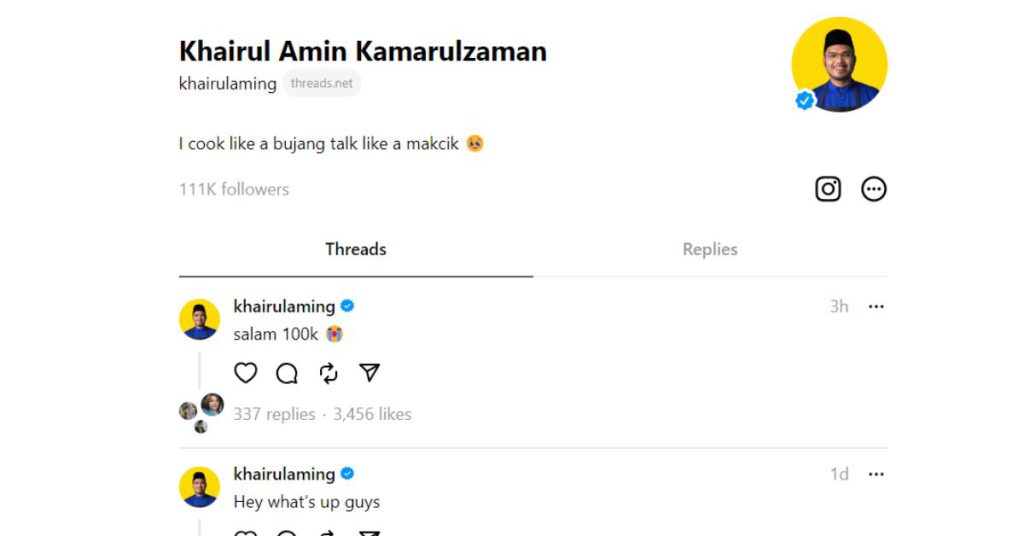 Influencer and foodpreneur Khairul Aming made his debut on Threads with a simple "Hey what's up you guys" but has already garnered over 100k followers.
His bio states "I cook like a bujang, talk like a makcik" which is significantly a lot more casual than his Instagram one, which just includes his email and Shopee link.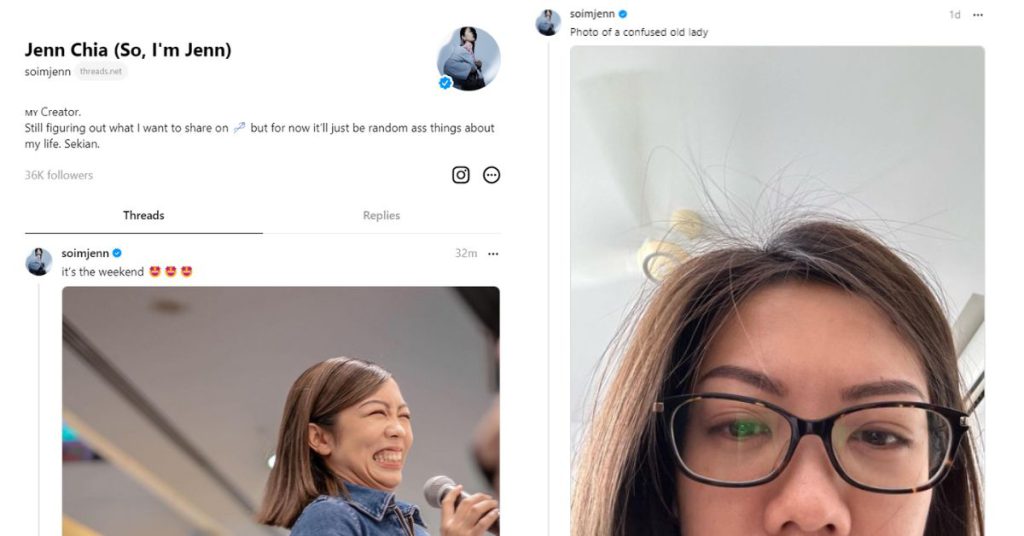 Also known as So, I'm Jenn, this creator has been quite active on Threads by posting pictures of herself and her partner, Jon Liddell.
Known to be quite the candid character, she's even posted some video content of her and Jon getting their marriage certificate to Threads. That said, it's also cross posted to other platforms such as Instagram.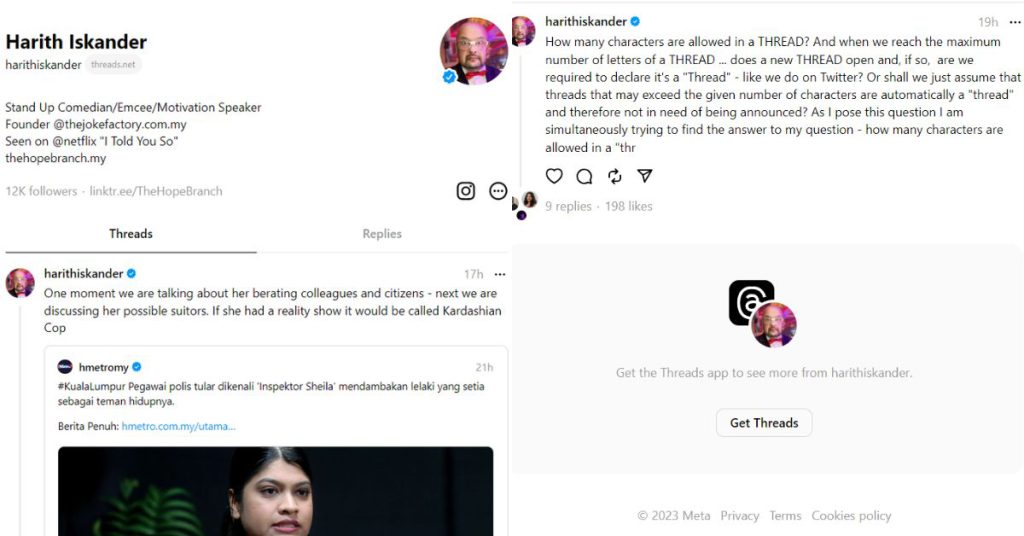 Having always been quite active on Twitter, the Malaysian comedian now takes to Threads to share his thoughts too.
His first post muses the maximum number of words the new app allows per post.
The answer is 500 characters, by the way. Twitter allows for 280, unless you pay for Twitter Blue. In that case, you can post entire essays with an allotment of 10,000 characters.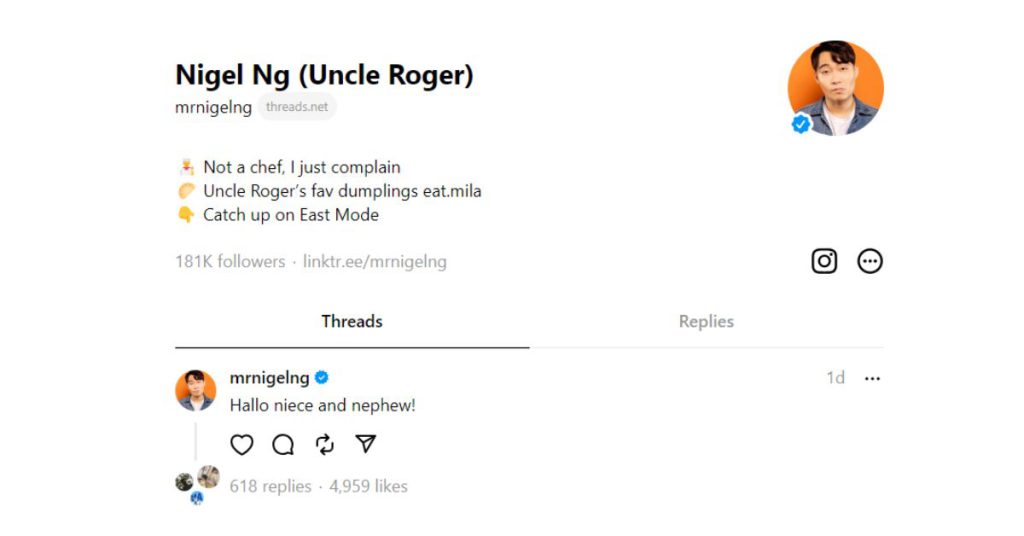 Another Malaysian comedian and known for his Uncle Roger character, Nigel can now be found communicating to his "nieces and nephews" on Threads.
He has very quickly accumulated more than 160k followers at the time of writing.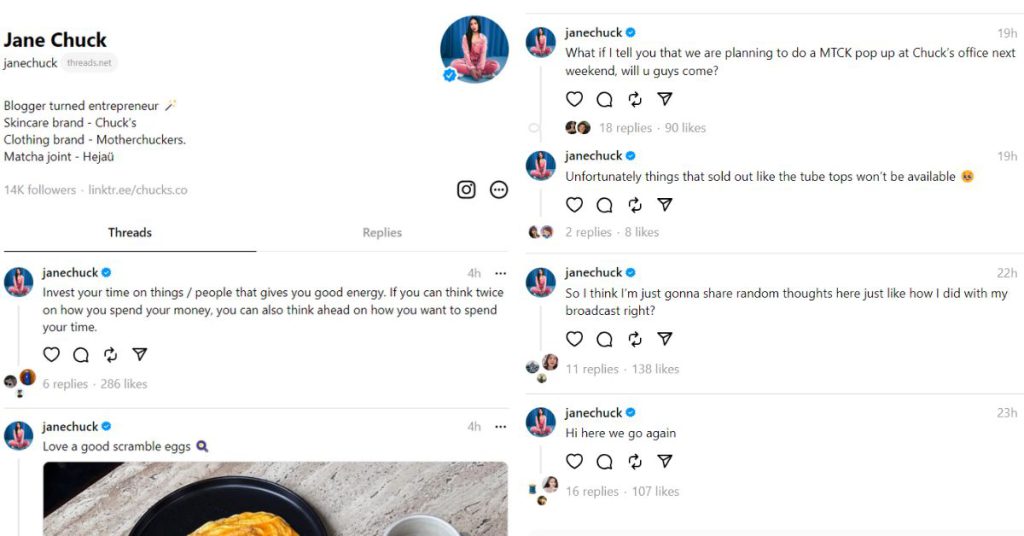 Blogger turned entrepreneur and influencer Jane Chuck, who is behind brands such as Chuck's, Motherchuckers, and Hejaü, hasn't been that active on Twitter.
However, she has been quite actively posting on Threads.
"So I think I'm just gonna share random thoughts here just like how I did with my broadcast, right?" she posted.
She's referencing Instagram's other feature that was also launched this year, i.e. broadcast channels. These are a public, one-to-many messaging tool for creators.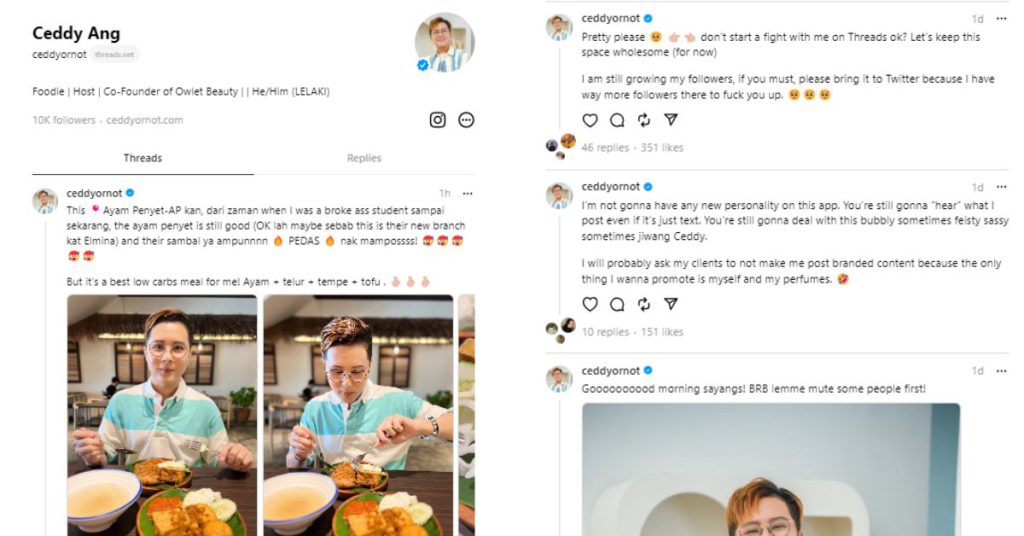 Ceddy, a content creator and the co-founder of Owlet Beauty, has shared that he's "not gonna have any new personality" on the new Threads app.
He also said that he might ask clients not to make him post branded content on this new platform, as all he wants to do is promote himself and his own brand. He also shared that he hopes to keep the Threads space wholesome, at least for now.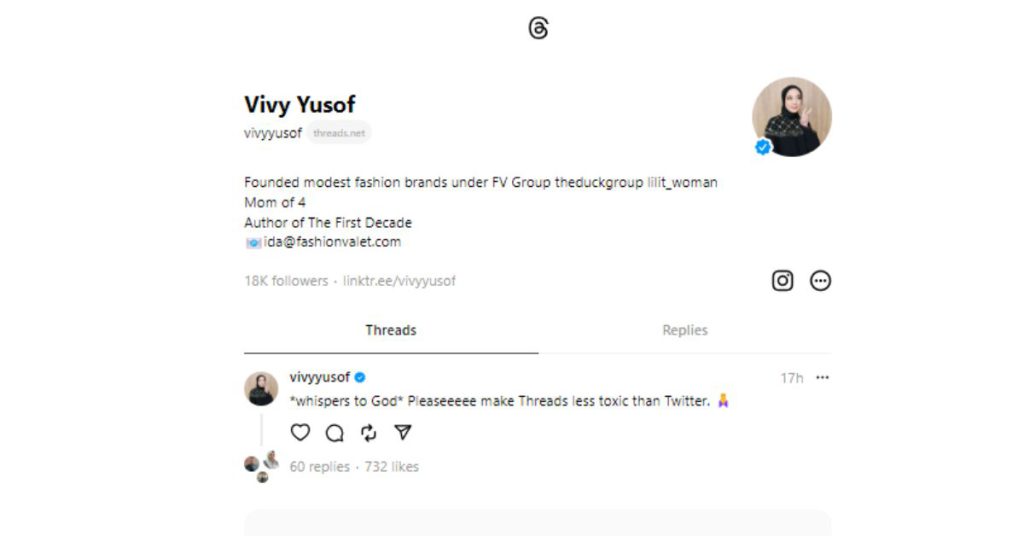 The founder of dUCK and LILIT's first Threads post was more of a plea than anything else.
It reads, "*whispers to God* Pleaseeeee make Threads less toxic than Twitters". Prayer hands.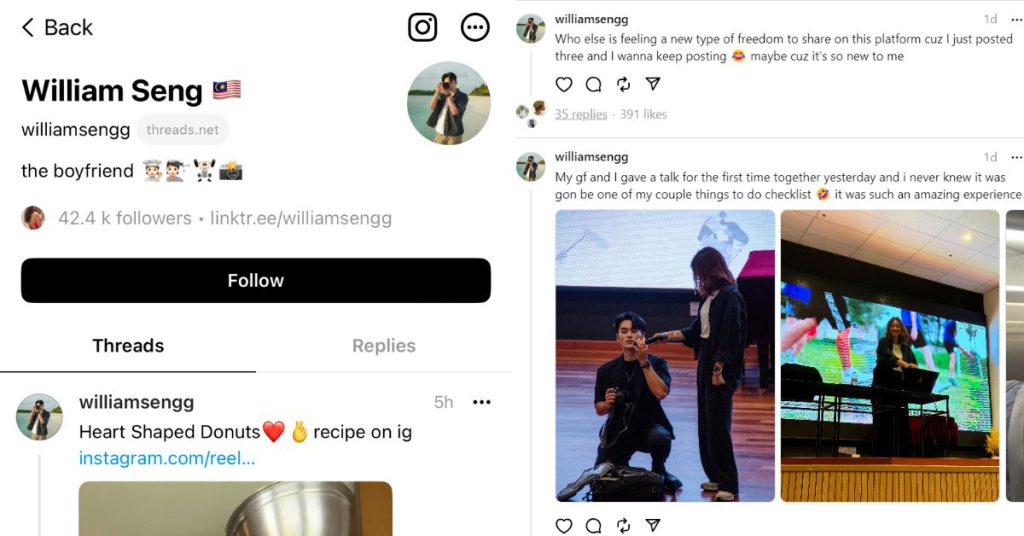 Malaysia's "internet boyfriend" has arrived on Threads and has already posted quite the number of photos. He said that he feels a new type of freedom to post on the app, perhaps because it's so new.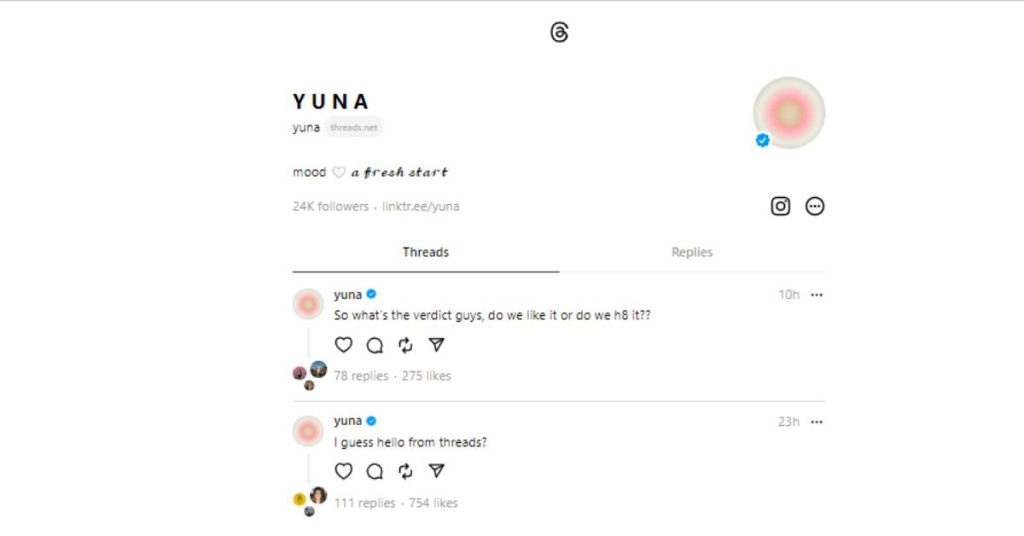 Singer-songwriter Yuna is now on Threads too. So far, she's asked her 23.5k followers how they're liking the app. Commentors have replied that they seem to be enjoying it, and for now, that appears to be the general consensus of most users too.
-//-
With the making of an account on Threads being so frictionless and easy (since you just need to link it to Instagram), it seems like everyone and their mums are starting to make an account there.
So, forgive us if we missed some of your favourite celebrities and personalities—we're still curating our own feed of people to follow, too.
Launched on July 6, Threads already has at least 30 million sign-ups, according to the main source, @zuck (Mark Zukerberg) himself. Other news sites are saying it's gone beyond 50 million.
With these explosive numbers, people have been calling it a "Twitter killer", but only time will tell whether or not people will actually stick to this new platform or if it'll just be a momentary fad like Clubhouse or even Bondee.
Especially with Threads being part of something called the "fediverse", we're not sure whether people will continue to be on board with the new Meta app. A portmanteau of "federated" and "universe", the fediverse is supposed to be a group or alliance of interconnected servers that can communicate with each other.
Plus, there's also the fact that Twitter is now threatening to sue, claiming alleged "systemic, wilful and unlawful misappropriation of Twitter's trade secrets and other intellectual property".
We'll be continuing our explorations in this new digital Wild, Wild West, so be sure to stay tuned for our review and deep dive into the app and its possible future.