There's no shortage of good food in Malaysia, more so when it comes to Malaysian cuisine that's well-loved by our countrymen and beyond.
There's the classic nasi lemak, roti canai, asam laksa, and char kuey teow. All of which are easily found around kopitiams in your area.
But did you know that there's another equally classic kopitiam dish that's 100% Malaysian despite its chic(ky) English name and "Western food" categorisation?
That's right, I'm talking about the old-school Hainanese chicken chop.
So how was it invented and what are some notable restaurants known for their Hainanese chicken chop?
A brief history lesson on Hainanese chicken chop
During the local tin mining boom in the 19th century, droves of Chinese ancestors migrated to Malaysia in search of fortune abroad. This included the Hokkiens, Cantonese, Teochews, and Hakkas.
From Fujian and Guangdong, they eventually settled and dominated the tin mining and plantation industry.
But one group of migrants late to the party was the Hainanese. Hailing from the land of Hainan (which literally translates to "south of the sea"), they opted for service work after being shut out of the other two fields.
As such, they would be found working as domestic helpers and kitchen assistants to wealthier Chinese families and the British, who were still colonising Malaya at the time.
This gave them the opportunity to familiarise themselves with Western cooking techniques like making roasts, cooking fried chops, and dishing out cream soup.
Eventually, the Hainanese opened up their own eateries and coffee shops, which would come to be known as kopitiams. Adopting some of the Western ingredients they've used before, the group created Hainanese chicken chop; a blend of Eastern and Western flavours.
First, the chicken leg is coated in egg wash and deep fried to a golden brown before being doused with tomato demi-glace. Its secret ingredient is Lea and Perrins' Worcestershire sauce. Finally, it is served with a side of carrots and peas, cooked onions, and sliced potatoes.
This is how the hearty meal for generations to enjoy is made.
10 eateries to satisfy your Hainanese chicken chop cravings
Now that we're all better versed in this Malaysian dish's origins, here are some notable restaurants and establishments to get your fix of Hainanese chicken chop.
1. Yut Kee Restaurant, KL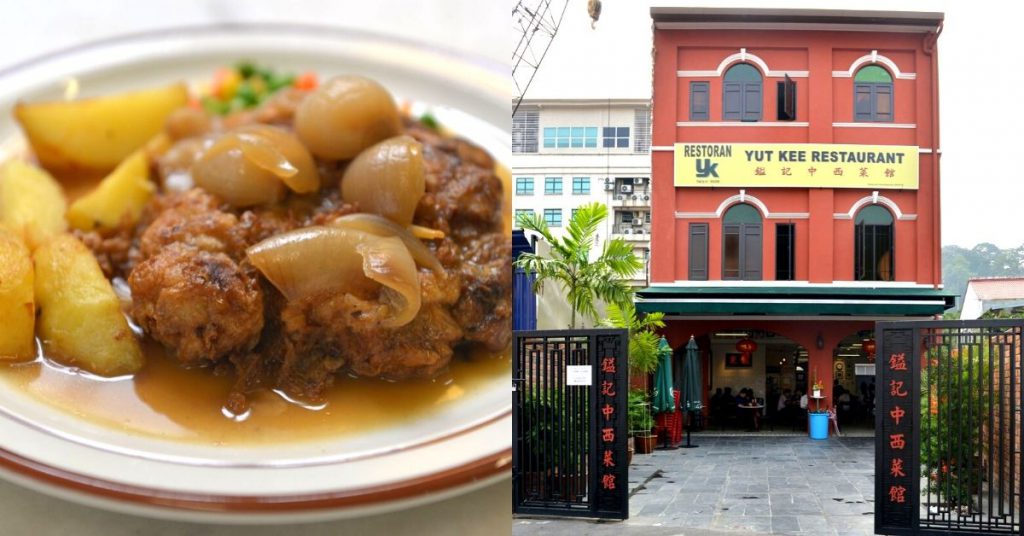 Having been in the business in 1928, Yut Kee Restaurant is a household name in KL since its inception by first-generation Hainanese immigrant, Lee Tai Yik.
The coffee shop has been serving Hainanese chicken chop since it first operated, along with other notable staples like fried mee hailam, roti babi, and beef noodles.
Location: 1, Jalan Kamunting, Chow Kit, 50300 Kuala Lumpur, Wilayah Persekutuan Kuala Lumpur
Operating hours: 7.30AM to 3PM (open daily except Mondays)
2. Sun Sun Nam Cheong, Kuala Kubu Bharu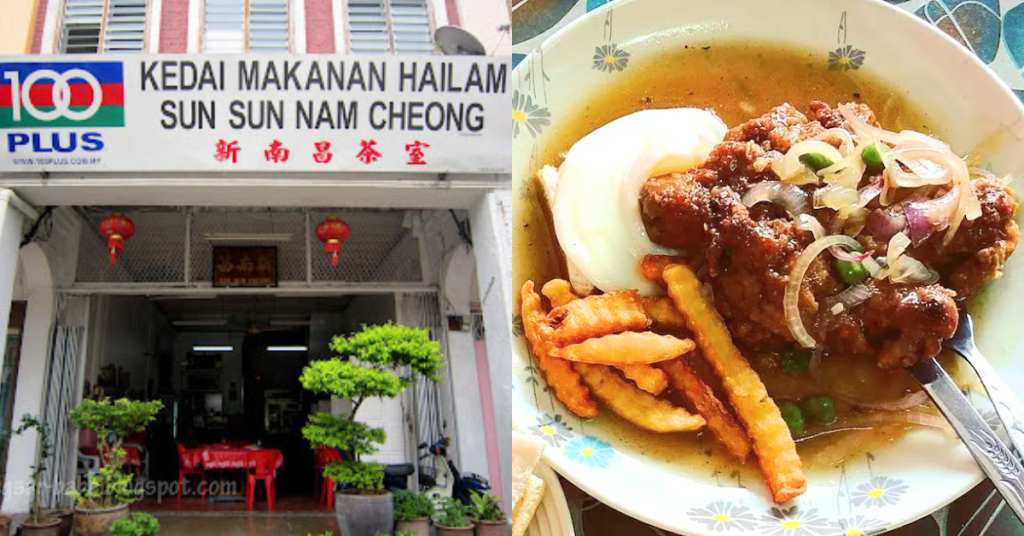 Located in the historical town of Kuala Kubu Bharu is Sun Sun Nam Cheong, a popular breakfast spot for both travellers and locals alike.
The pork-free eatery has been serving traditional treats like kaya puff and Teochew cuisine for generations. And its Hainanese chicken chop recipe is reportedly just the same as it was 103 years ago when they first started serving it.
Location: 8, Jalan Mat Kilau, Pekan Kuala Kubu Bharu, 44000 Kuala Kubu Baru, Selangor
Operating hours: 7AM to 3PM (open daily except Mondays)
3. Coliseum Cafe & Grill Room, Klang Valley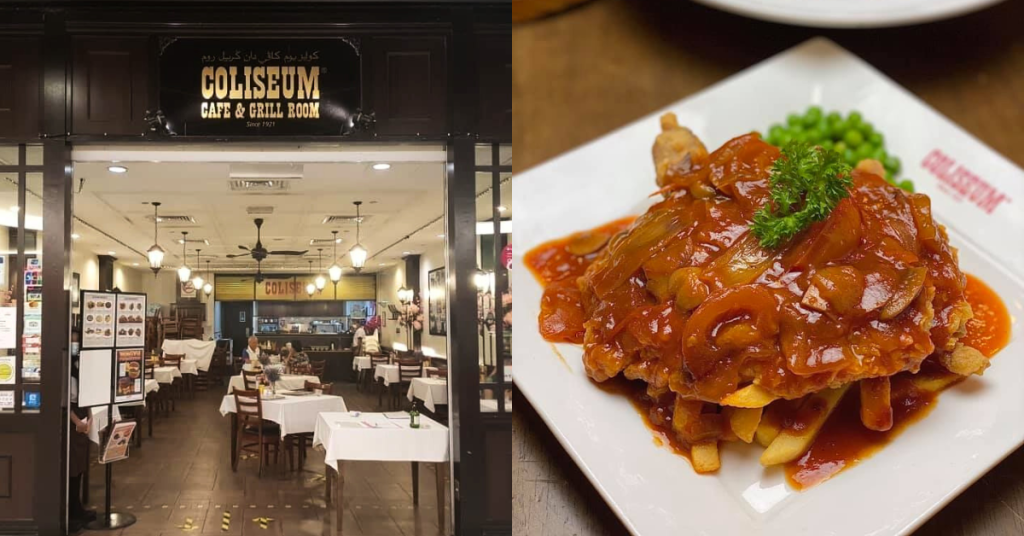 A standing reminder of a bygone era, Coliseum Cafe & Grill Room was once a famous spot frequented by the British.
Opened in 1921, the colonial-styled restaurant offers a mix of Western and local delicacies, such as ox-tail soup, baked crabmeat, steaks, and Hainanese chicken chop, of course.
Locations:
Plaza 33; PG-02 Plaza 33, No.1 Jalan Semangat Section 13, 46100 Petaling Jaya, Selangor
Mid Valley Mall; LG216, The Gardens, Mid Valley Mall, Kuala Lumpur
IOI City Mall; LG-51, IOI City Mall, 62502 Putrajaya, Selangor
Operating hours: 10AM to 10PM (open daily)
4. Sin Kee Restaurant, KL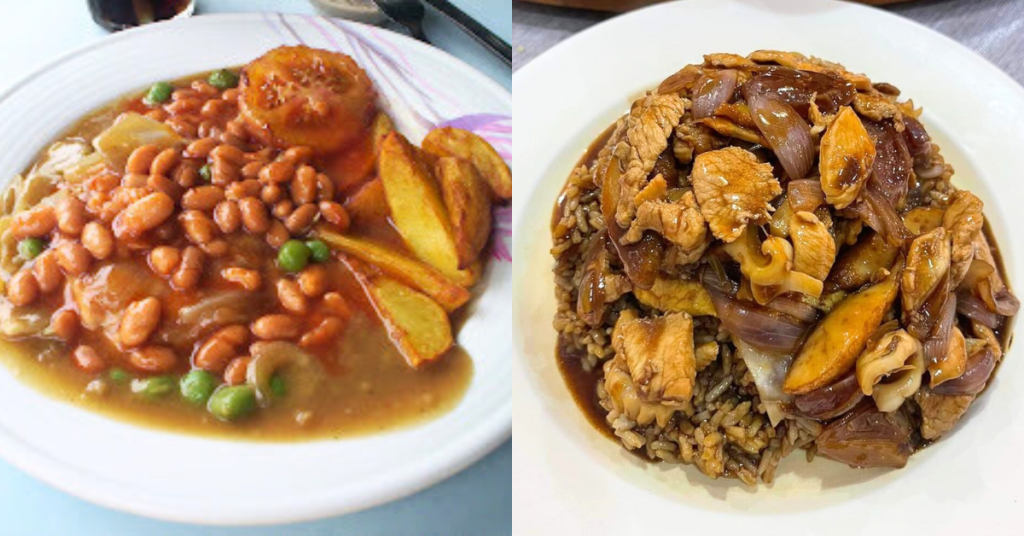 First opened in 1974, Sin Kee Restaurant was founded by David Foo who was once employed as a chef in the British Army Camp in Melaka.
It's a neighbourhood favourite that continues to dish out a mix of Western and Chinese dishes. Aside from Hainanese chicken chop, the eatery is also known for its mun fan (braised rice) that's loaded with proteins.
Location: 194, Jalan Tun Sambanthan, Brickfields, 50470 Kuala Lumpur, Wilayah Persekutuan Kuala Lumpur
Operating hours: 12PM to 2PM, then 6PM to 8.30PM (open daily except Monday and Tuesday)
5. Yik Mun, Klang Valley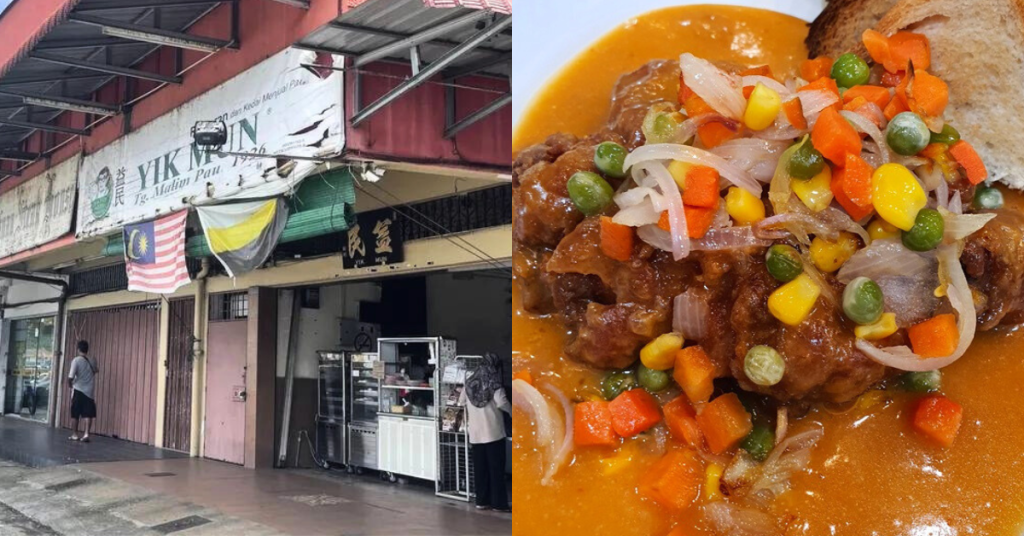 Lauded as the restaurant that made Tanjung Malim a foodie pitstop, Yik Mun was started by Kok Ee Chun in 1926.
Now run by the third generation, the eatery remains a local favourite amongst travellers and residents alike for its pao (that come in a variety of flavours), Hainan mee, and also Hainanese chicken chop. 
Locations:
Restaurant: 6043, Persiaran Slim Permai 8, 35900 Tanjung Malim, Perak
Cafe: 60, Jalan Sri Hartamas 1, Taman Sri Hartamas, 50480 Kuala Lumpur, Wilayah Persekutuan, Kuala Lumpur
Operating hours:
Restaurant: 8.30AM to 8PM (open daily)
Cafe: 10AM to 9PM (open daily)
6. Sin Kok Thye (New Cathy), Klang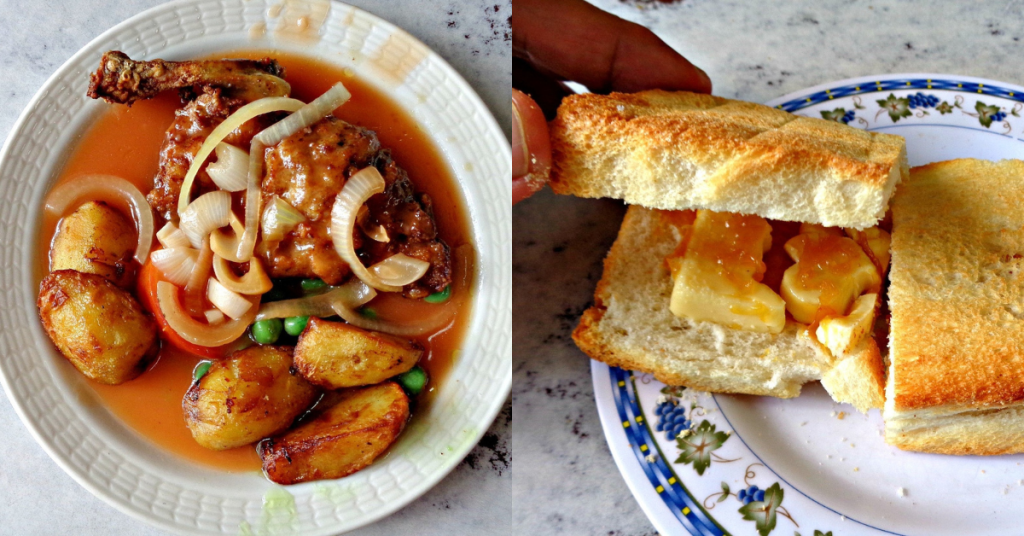 A coffee shop in the quiet town of Port Klang, Sin Kok Thye is one that has been operating for decades. Its recipes are so traditional that its Hainanese chicken chops still have thigh bones in them.
Said to be run by the third generation, this family-friendly establishment dishes out pork-free food and is one of the few notable old-school gems in the area.
Location: 23, 180, Kawasan 13, 42000 Port Klang, Selangor
Operating hours: 7AM to 6PM (open daily except Sunday)
7. Hua Mui, Johor Bahru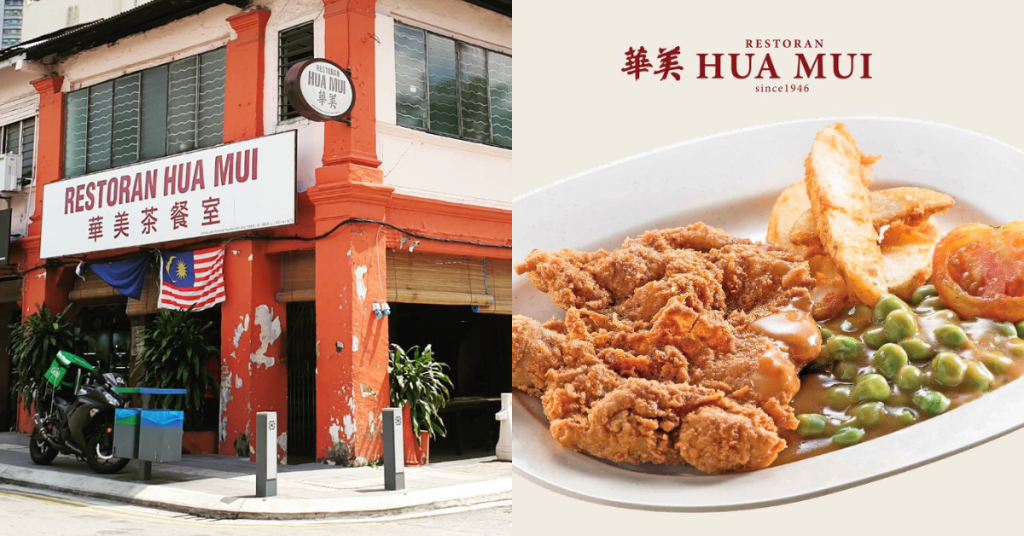 Started in 1946, Hua Mui is considered one of the landmarks for original Hainanese chicken chop in Johor.
A popular spot amongst locals, its visitors also include the Johorean Sultanate. The eatery has since expanded to six outlets within Johor and its central kitchen recently received its halal certification last May.
Location: 131, Jalan Trus, Bandar Johor Bahru, 80000 Johor Bahru, Johor
Operating hours: 8AM to 5PM
8. Cathay Restaurant, Ipoh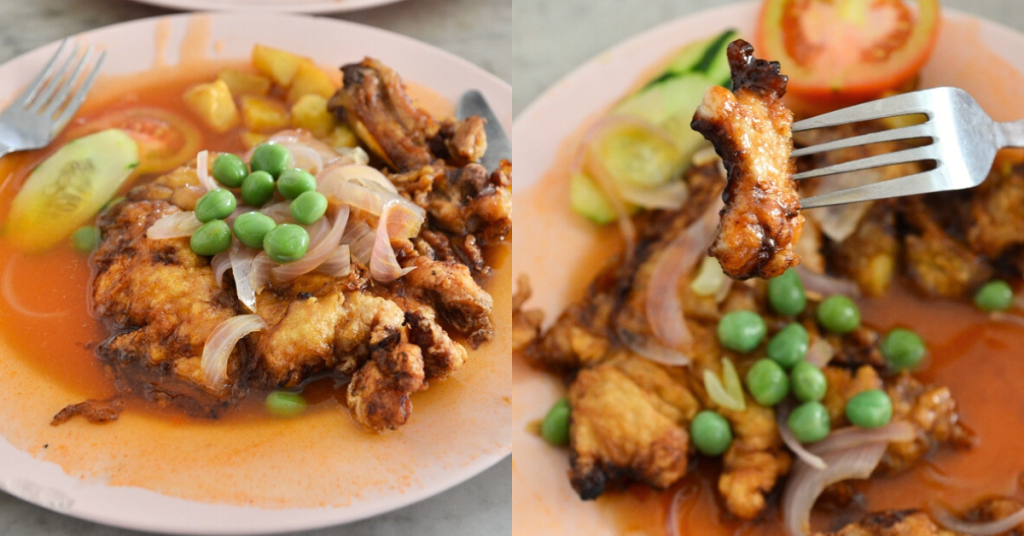 Located along Osborne Street in Ipoh, Cathay Restaurant is a quaint kopitiam that's been around for decades.
Slightly different from the others on this list, the establishment offers four variants of the Hainanese chicken chop. Customers can opt for a protein of their choice, namely pork, fish, beef, and chicken.
Location: A17, Jalan Dato Tahwil Azar, Taman Jubilee, 30300 Ipoh, Perak
Operating hours: 7.30AM to 4PM (open daily except Friday and Saturday)
9. Hai Onn Restaurant, Penang
Tucked into the bustling town of Georgetown is Hai Onn Restaurant which serves no-frills traditional Hainanese-Malaysian dishes, including chicken chop.
Currently run by the second generation, this local coffee shop is over 80 years old and remains an old foodie gem. Similar to Yut Kee Restaurant in KL, it also bakes the classic roti babi.
Location: 53, 55 Burmah Road, George Town, Malaysia
Operating hours: 11.30AM to 4.45PM (open daily except Monday)
10. Wan Li Restaurant, Taiping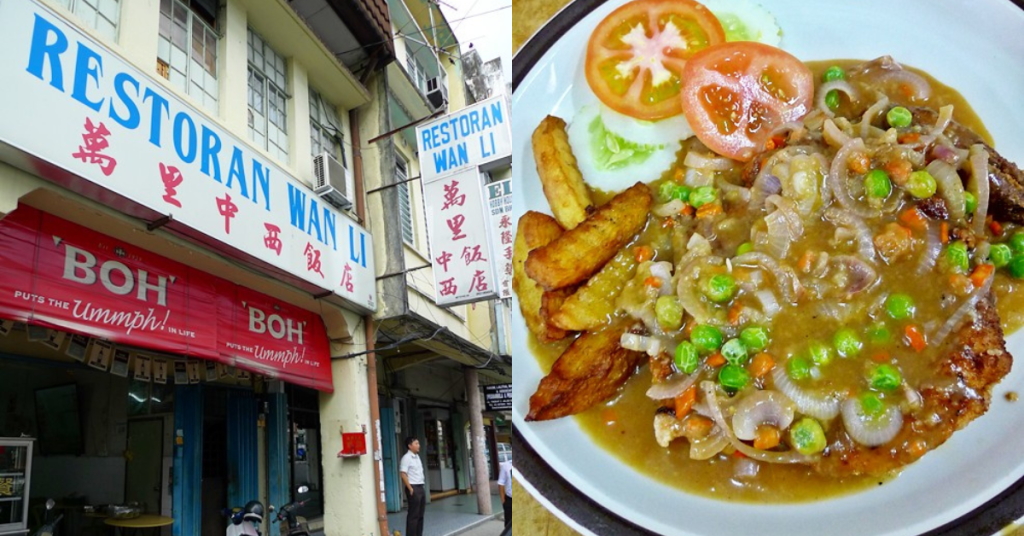 One of the newer restaurants compared to others in this list, Wan Li serves two kinds of chicken and pork chops—the Hainanese style and the standard black pepper sauce.
Opened in 1997, the Taiping eatery is also known for its Hainan spring rolls, lamb stew, and assam fish. And like most places in Taiping, its prices are also affordable and mass-friendly.
Location: No. 48, Jalan Kota, 34000 Taiping, Perak
Operating hours: N/A
Read articles we've written about Malaysian startups here.
Featured Image Credit: Jimmy Chan / Kelvin CC / Yut Kee Restaurant / Coliseum Cafe & Grill Room