Whenever a company launches its initial public offering (IPO), it tends to be the talk of the business world and makes big splashes on news sites.
An example of this locally is brands like AgapeATP who filed an IPO in the US market and Farm Fresh who filed for an IPO in the Bursa market last year. The hype also extends to companies who are gearing up to list an IPO in the near future, like Pet World International and Eatcosys.
So what is the big deal with IPOs and why does it seem to be the goal for businesses?
To put it simply, reasons why businesses go public are because it enhances the brand's image and visibility, provides valuable currency for future acquisitions, and raises the business's capital for expansion.
Going public through an IPO also allows early investors to cash in on their investments. This includes family, friends, and angel investors who have pumped money into the business before it grew to be as established as it currently is.
But how does all this work?
What exactly is an IPO?
The term IPO refers to the process of offering a private company's shares to the public through the stock exchange. This is in the form of new stock issuance for the first time in the company's history.
Usually, companies tend to be established business entities that have achieved unicorn status, or reached a private valuation of approximately US$1 billion.
Although according to Investopedia, private companies of different valuations that have demonstrated profitability potential could also qualify for an IPO. 
Typically, each nation will have its own marketplaces for securities where IPOs happen. You might already be familiar with some of them, like the London Stock Exchange (LSE) and the New York Stock Exchange (NYSE).
In Malaysia's case, the institution in charge of operating and regulating the Malaysian capital market is Bursa Malaysia.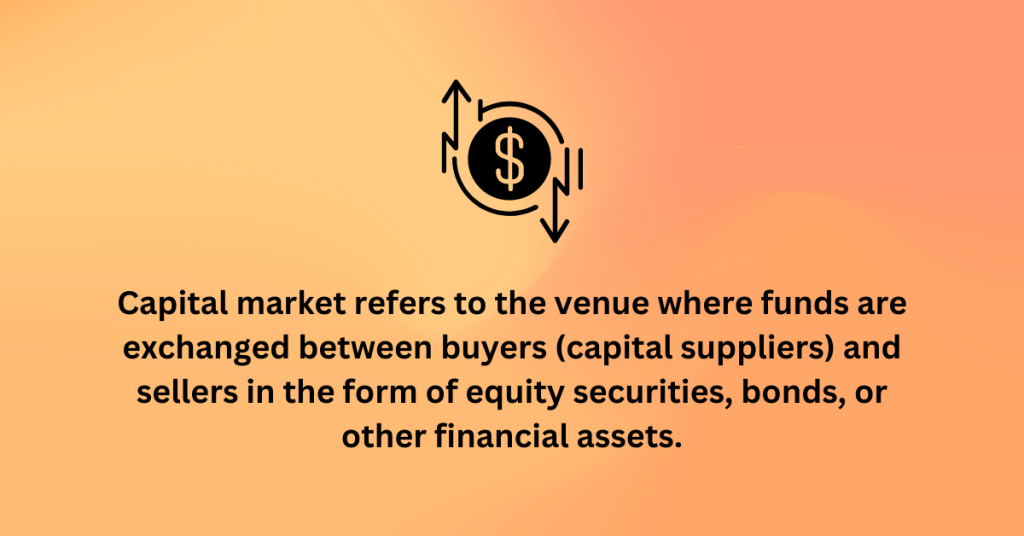 Under Bursa Malaysia, there are three markets for companies seeking to list in Malaysia—Main Market, ACE Market, and LEAP Market.
Main Market is a prime market for established companies that have met the required standards in terms of quality, size, and operations. This includes achieving a minimum profit track record or minimum size that's measured by market capitalisation.
Dictionary time: Market capitalisation refers to the total value of all a company's shares of stock. It is calculated by multiplying the price of a stock by its total number of outstanding shares.

Source: Fidelity Investments
ACE Market (also formerly known as MESDAQ) is a sponsor-driven market designed for companies with growth prospects. 
Some aspects that are taken into consideration when assessing companies include business prospects, corporate conduct, and adequacy of internal control.
In essence, Main Market and ACE Market provide companies with a clearly defined platform to raise funds from both institutional and retail investors. And according to Bursa Malaysia, it's only accessible to sophisticated investors.
Dictionary time: Sophisticated investors are generally (i) accredited investors, such as a unit trust scheme, an Islamic bank licensee, a CEO or director of specific corporations, etc., (ii) high-net worth entities, such as a registered trust company under the Trust Companies Act 1949, corporations that manage funds of their related companies with assets of more than RM10 million, etc., and (iii) high-net worth individuals, such as someone with total net personal assets exceeding RM3 million, someone with gross annual income over RM300,000, etc.

Source: Securities Commission
On the other hand, LEAP Market is an advisor-driven market that aims to provide emerging companies (including SMEs) with greater fundraising access and visibility via the capital market.
What qualifies a business to list an IPO on Bursa Malaysia?
To list an IPO on Bursa Malaysia, companies would first need to meet its quantitative and qualitative requirements:
Quantitative criteria: Profit test, market capitalisation test, infrastructure project corporation test, and public spread.
Qualitative criteria: Sponsorship, core business, management continuity and capability, financial position and liquidity, moratorium on shares, and transaction with related parties.
But the exact amount and categories of criteria that need to be met are entirely dependent on which market the applicant seeks to list.
For example, applicants to list on the Main Market will have to prove uninterrupted profits of three to five full financial years (FY), with aggregate after-tax profit of at least RM20 million.
Its after-tax profit needs to be at least RM6 million for the most recent FY, and the company needs to be operating in the same core business over the profit track record prior to submission.
However, these requirements are not necessary for those wanting to list in the ACE Market and LEAP Market. The full list with specifications for those markets can be found on Bursa Malaysia's website here.
All IPO applications are subject to the approval of the Securities Commission Malaysia (SC) in accordance with Section 212 of the Capital Markets and Services Act 2007 (CMSA).
As part of the review, the SC might expose the prospectus for 15 working days to get public feedback, as well as conduct site visits to better understand the business.
In general, though, a company needs to be in a good place financially, have an identifiable business core, and have good business prospects to be considered.
What is the IPO listing process like for Bursa Malaysia?
To list an IPO on Bursa Malaysia, there are four stages in total (three for LEAP Market). The listing process usually takes between four to twelve months and starts from the time a company engages with an advisor.
This advisor (or rather a team of advisors) will handle most of the documentation process, with the consultation of the company, of course.
In the pre-submission stage, advisors will conduct due diligence and internal control reviews of the applicant, substantial shareholders, promoters, and key senior management. Afterward, lawyers will draft the prospectus.
During the regulatory approval stage, Main Market applicants will have a consultation session with SC, while ACE Market applicants will have a session with Bursa Malaysia. This is all before the prospectus is formally sent in.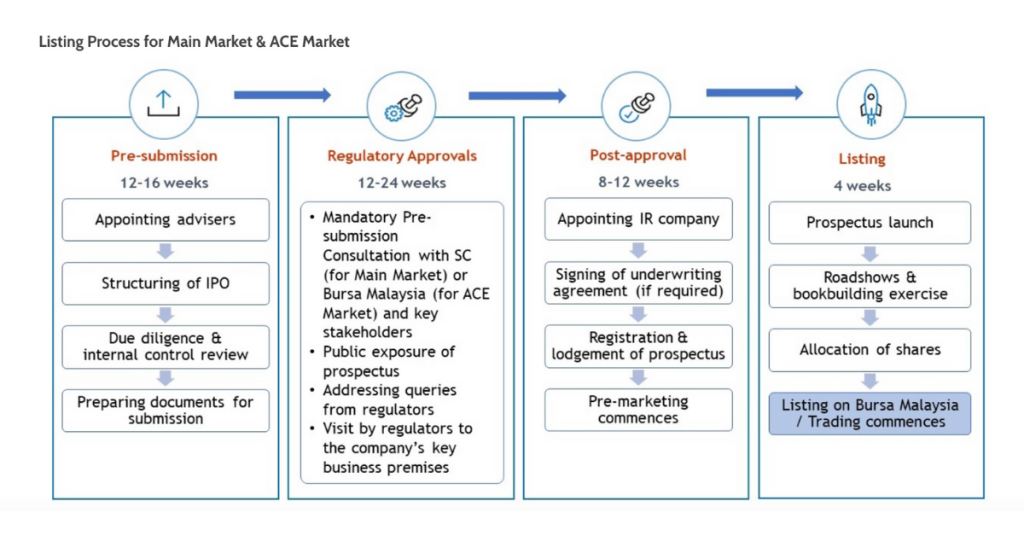 A copy of the prospectus will be published on SC's website, welcoming comments from the public. This stage also allows SC and Bursa Malaysia to dig a little deeper and ask more queries.
Once approved to go public, the business is tasked with appointing an investor relations (IR) company that works to provide investors with an accurate account of the business's affairs.
The signing of the underwriting agreement (if required) also takes place at this stage. Only then can the registration and lodgement of the prospectus take place.
For context, sometimes companies also hire an underwriting group (a temporary association of investment bankers and broker-dealers) to purchase a new issue of securities in order to distribute them to investors at a profit.
The underwriting agreement is to ensure that all of the players understand their responsibility in the process, thus minimising potential conflict.
Before the IPO is launched, there will also be pre-marketing efforts conducted to help it gain buzz. This is where you can find a stream of news coverages and interviews detailing the company's IPO intentions.
Upon approval from the SC, companies will then be given six months to complete their IPO exercise. This means that by the end of said period, the public should have some stakes in the business.
The current listing requirements of the Main Market state that a listed issuer must have at least 25% of its shares in the hands of the public.
At this point, you may be wondering…
What about the financial aspects of an IPO?
Before an IPO is made public, an investment bank is recruited to figure out the company's value and its shares. This is done based on their knowledge of the exchange market and recent trends.
The goal is to get all shares available sold on the first day of trading. To achieve that, the price is usually set low enough for early investors to see a return on investment (ROI) when stock trading prices go up.
Companies should also note that there are various fees and charges applied when going public. At Bursa Malaysia, the amount varies depending on the chosen market: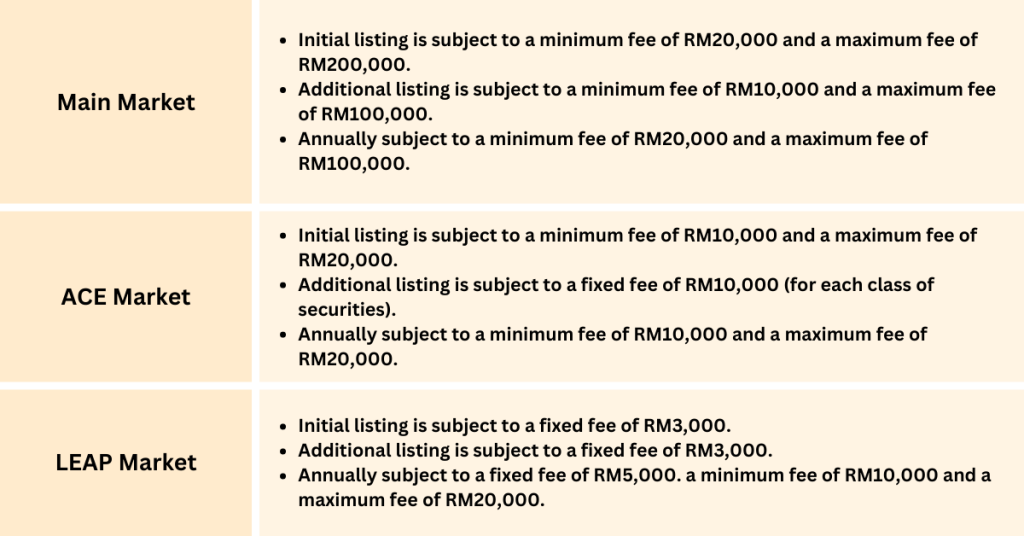 However, regardless of the market chosen, the annual IPO listing fees are calculated based on the number of months that the shares are available for trading. If shares are listed for only a few months, the fees will be lower compared to listing them for a whole year.
Once a company's IPO has launched, its shares will be traded and it will be part of the largest stock exchanges in Asia. This will be the start of a new beginning for the business and with that comes new obligations as well.
For example, a company is required to keep track of and disclose information on activities related to its share prices and trading. There's also the responsibility of adhering to corporate governance standards.
A company that has gone public may undergo several other changes to the control of the business. Besides the dilution of ownership stakes, shareholders receive voting rights that are proportionate to share size.
This provides them with the right to vote on important matters affecting the company, including the election of the board of directors and significant corporate decisions.
If initial investors and shareholders of the company wish to remain in control of the business, aside from having majority stakes, they can include certain provisions like a dual-class share structure and supermajority voting rights.
-//-
An IPO is usually a significant milestone that signals a new era for the business.
At the same time though, an IPO is not a guarantee of a brand's success. The market is volatile and can change at any moment. Factors such as investors' appetites and economic conditions could drastically affect a public company's prospects.
Not to mention, public companies will have to compete more intensely with industry players. Navigating these challenges requires active proactive strategic planning, innovation, and execution.
Read articles we've written about Malaysian startups here.
Also Read: Early-stage startups, here's how you can get a cut of RM36K from Sidec's 2023 accelerator
Featured Image Credit: Vulcan Post