While successfully getting listed on a stock exchange is a feat worth commending, considering the strict and complex processes that must be done prior, it does not necessarily point to a company's continued success in the long run.
In fact, it may be quite the opposite. Under much more scrutiny, the now-public company needs to continuously perform well (and perhaps even exceed expectations) in order to remain successful.
Otherwise, it faces the possibility of being delisted.
What is delisting?
Delisting refers to the act of a company's shares being removed from the stock exchange.
But getting delisted can be either a voluntary or mandatory action depending on the circumstances.
As pointed out in our IPO explainer, companies must meet certain requirements called listing standards before they can get onto the stock exchange.
For Bursa Malaysia, each of its three markets (Main Market, ACE Market, and LEAP Market) has its own set of conditions. This includes maintaining a minimum share price, a minimum market capitalisation, and regularly publishing financial reports.
Aside from those, there are also other factors that could lead to a company being removed from the stock exchange: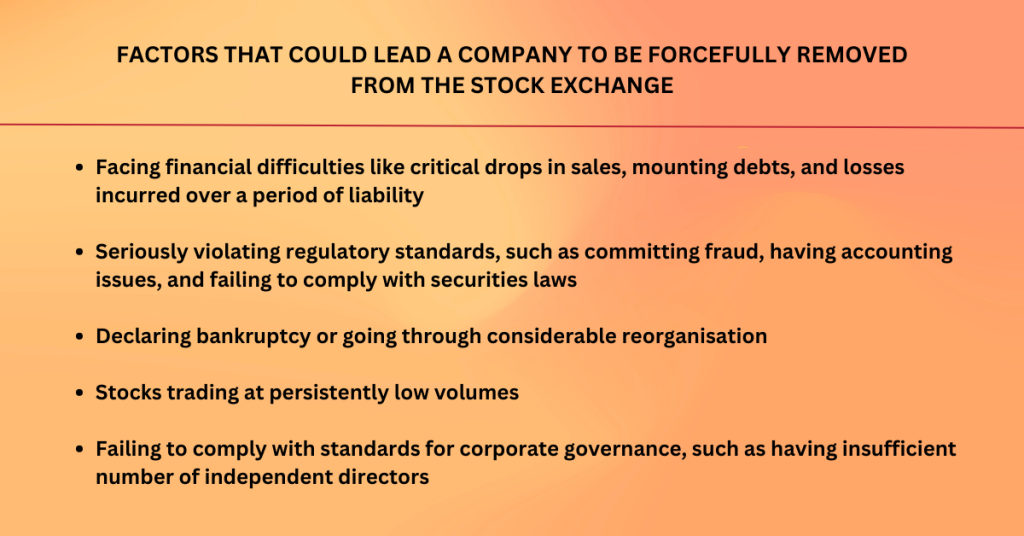 Generally, though, the listing standards covers the key points of interest to ensure companies are able to meet the financial and corporate obligations necessary. Should a company fail to do so, it will be involuntarily delisted.
Some examples of companies that were involuntarily delisted by Bursa Malaysia include Scomi Group Bhd who failed to settle a sum of RM8 million owed to Malayan Banking Bhd (Maybank), and Anzo Holdings Bhd as its revenues were less than its share capital.
Dictionary time: A company's share capital is the money it raises from selling common or preferred stock.

Source: Investopedia
But on the flip side…
You can also request to be delisted
Sometimes companies may find that being privately owned far outweighs the benefits of going public. In such cases, opting for delisting might be wiser.
This could be when a company's management is confident that the company is undervalued, or that they could save substantial money by operating as a private enterprise.
Then there are also instances where a listed company (Company A) is taken over by another company (Company B). This has the potential of causing it to be delisted if either of these scenarios happens:
If Company B acquires all the shares of the target company through a compulsory purchase. This means that Company A's shares are forcefully bought over and Company B becomes the sole owner.
If Company B has not obtained acceptances from other shareholders (amounting to at least 90% of total shares) of Company A before the takeover offer begins, but Company B's offer becomes unconditional (the conditions of the offer are met).
That said, a company requesting to delist needs to also meet another list of requirements. Companies can't just choose to be on the stock exchange one day and change their minds the next.
Otherwise, the interests of investors will be up to the whims of businesses which would also reflect badly on Bursa Malaysia.
Main Market, ACE Market, and LEAP Market each have their own set of conditions for companies requesting to be removed from the stock exchange. But these are the basic terms that need to be met: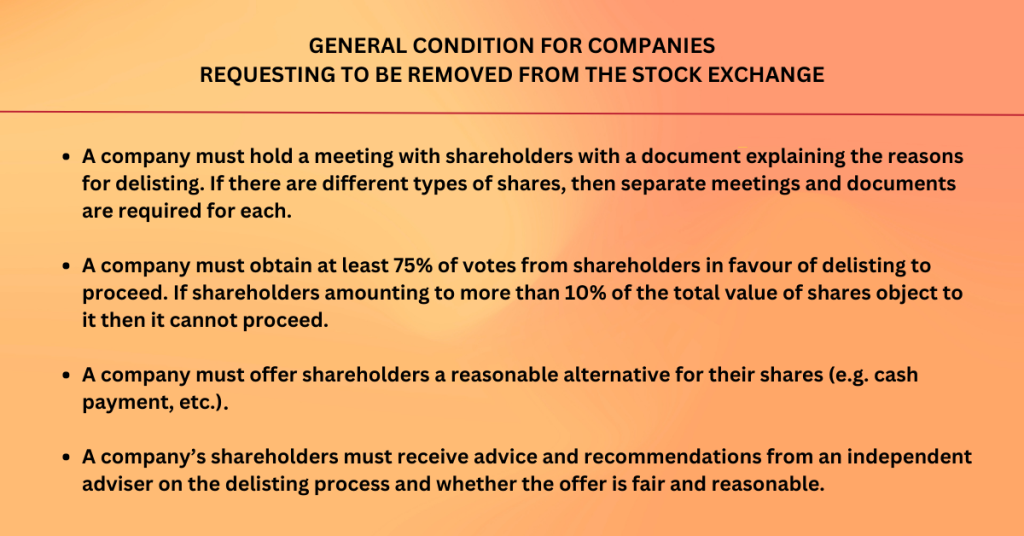 This way, shareholders will also be given a respectable chance to exit their investments in the company. An example of a company that voluntarily chose to go private again is Hovid Bhd in 2018, as it no longer met the requirement of at least 25% of its total shares in the hands of public shareholders.
What happens after a delisting?
Generally, though, companies are more inclined to be delisted (either voluntarily or involuntarily) when suffering from poor liquidity, high leverage, a sharp decline in market price, and low trading activity.
Dictionary time: Liquidity is a company's ability to convert assets to cash or acquire cash—through a loan or money in the bank—to pay its short-term obligations or liabilities.

Source: Business Development Bank of Canada
Of course, delisting is not an overnight process. When a company fails to meet all the necessary listing requirements, Bursa Malaysia will issue adequate warnings.
Similar to personal banking issues (e.g. missed loan repayments), companies are given time to get their affairs together. Companies can also appeal for an extension of time to do so.
However, if the noncompliance persists then the stock exchange is left with no other option but to proceed with delisting.
Now you may wonder, if a company is delisted from Market A on Bursa Malaysia, can it downgrade to Market B instead of being completely removed from the stock exchange?
For example, can a company previously listed on the Main Market immediately move to the ACE Market?
The answer is no. The delisting process involves entirely removing a company's shares from trading on the stock exchange. And each market under Bursa Malaysia has its own preliminary requirements.
What you meet for one market might not be enough to enter the other markets. As such, "downgrading" to another market is not possible as far as we're informed.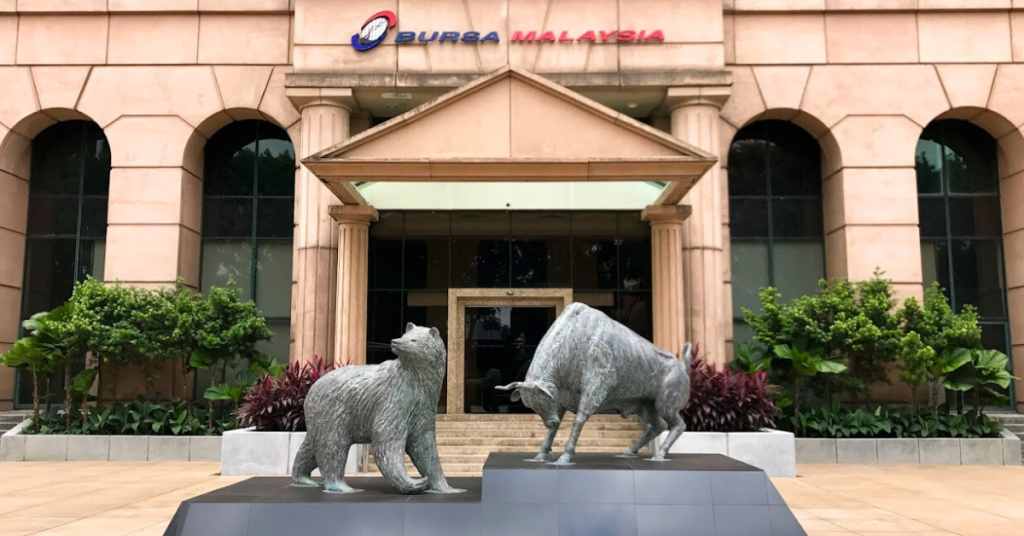 After a company's stocks are removed from the trading market, its shares are no longer recognised by Bursa Malaysia. The company's securities (which are currently deposited with Bursa Malaysia Depository Sdn Bhd) may remain deposited.
Dictionary time: Securities refers to a financial asset or instrument that has value and can be bought, sold, or traded. Some of the most common examples of securities include stocks, bonds, options, mutual funds, and exchange-traded funds (ETFs).

Source: The Street
"Alternatively, shareholders of the company who intend to hold their securities in the form of physical certificates can withdraw these securities from their Central Depository System (CDS) accounts maintained with Bursa Depository at any time after the securities of the company have been delisted from the official list of Bursa Securities," Bursa stated.
Delisting from the stock exchange does not change the ownership structure of the company itself. Shareholders will remain in possession of their stakes and their ownership rights, as well as entitlements.
As explained by Zul Rafique & Partners in 2021, "Shareholders are left to receive whatever, if any, distribution of capital on completion of liquidation."
Dictionary time: Liquidation is the process of selling off assets to generate cash, both within an investment portfolio and for a business that needs additional capital.

Source: About U.S. News
Regarding the company itself as a business entity, its operations should generally not be affected by the delisting. It will continue operating (depending on its circumstances) and shareholders will be rewarded accordingly.
Taking the delisting of TH Heavy Engineering Bhd last year as an example, the Malaysian bourse reported, "Upon the delisting of the company, the company will continue to exist but as an unlisted entity."
"The company is still able to continue its operations and businesses and proceed with its corporate restructuring and its shareholders can still be rewarded by the company's performance. However, the shareholders will be holding shares which are no longer quoted and traded on Bursa Securities."
-//-
All that said, getting delisted from the stock exchange is not the most atrocious situation for a company. Although it does have its setbacks (like illiquid stocks, reduced visibility, and investor confidence), it's not the end of the road.
Dictionary time: Illiquid stocks are shares of publicly traded companies that are difficult to buy or sell due to a lack of interested buyers or sellers in the market.

Source: IND Money
If one so chooses, a company could still relist on the stock exchange again. An example of this is Johor Corp Bhd (JCorp) which is planning to relist again by 2024 after voluntarily delisting back in 2016.
It still depends on a case-by-case basis on what caused the initial delisting to occur. And, of course, this is all subject to the approval of Bursa Malaysia.
Read articles we've written about Malaysian startups here.
Also Read: Early-stage startups, here's how you can get a cut of RM36K from Sidec's 2023 accelerator
Featured Image Credit: Vulcan Post