Earlier in the year, the International Trade and Industry Minister (Tengku Datuk Seri Zafrul Abdul Aziz) announced that the government will be launching a framework on ESG (environmental, social, and governance) standards.
This is expected to be ready by the end of the year to help local SMEs transition into renewable energy, and is said to help in terms of funding and capacity building for export.
But what exactly does ESG mean, and why does it matter to businesses?
What is ESG?
ESG is a framework used when assessing an organisation's practices and performances regarding sustainability and ethical issues.
The three pillars (environmental, social, and governance) represent the main topic areas that will be focused on.
According to the Corporate Finance Institute, the environmental criteria refer to how a company safeguards the environment. This includes its greenhouse gas emissions, stewardship over natural resources, and its overall resilience against climate risks like flooding.
On the other hand, the social criteria looks at how human-to-human relationships are managed. This could be internally within the company's direct operational line (like employees, suppliers, and customers), as well as with those beyond the brand (like local communities).
The governance aspect touches on how a company is being led and managed by the people up top. This is in terms of shareholders rights, board diversity, compensation for executives and how this aligns with the company's sustainability performance.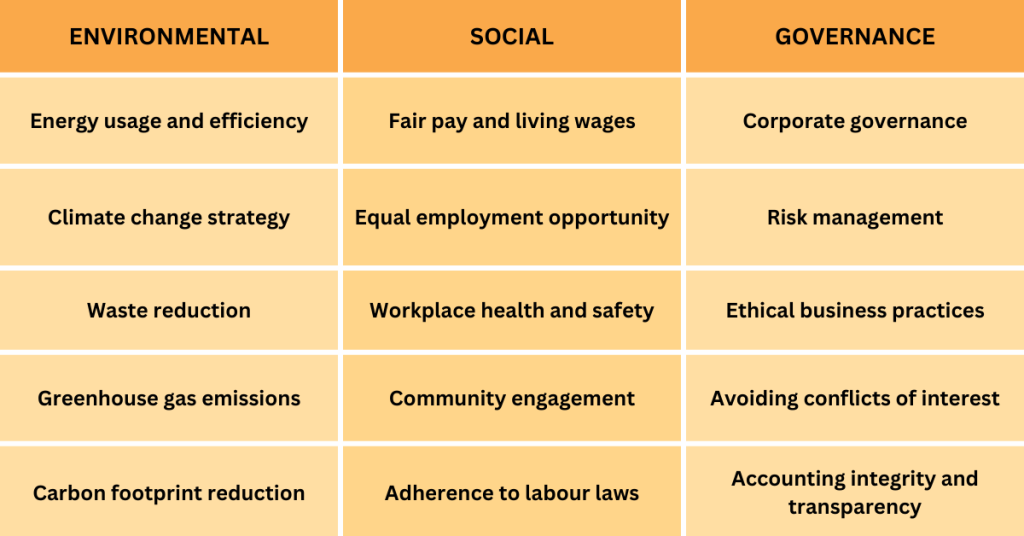 Put simply, Deloitte explained that the goal of ESG is to capture all the "non-financial risks and opportunities" essential to a company's daily activities.
Why does ESG matter to businesses?
Aside from the obvious reasons, the ESG framework serves as a good guideline to evaluate a company's social consciousness.
An organisation that has comprehensive ESG practices and strategies tend to appear more attractive to investors as they have a broader, more holistic view of who they are backing.
And with investors showing more interest in finding valuable investments to put their money in, it might be necessary for brands to improve their performance in the three pillars.
During an interview with Forbes, the CEO of USA Financial (Mike Walters) explained that identifying a company's impact based on the ESG framework can be used to identify the strength and sustainability of the company itself.
He further stated that companies who put in the work to balance the benefits for its stakeholders end up becoming well-run companies. And as a result of that, the company turns into good stocks to own.
This is also reflected in the Malaysian market. Research by PwC found that companies listed in FTSE4Good Bursa Malaysia Index which have demonstrated strong ESG practices were also able to deliver higher valuation multiples and investment returns.
Dictionary time: Valuation multiples are financial measurement tools that evaluate one financial metric (e.g. share price) as a ratio of another (e.g. earnings per share), in order to make different companies more comparable.

Source: Corporate Finance Institute
Besides that, companies that invest in green technology could apply for various tax incentives, including Green Investment Tax Allowance (GITA) and Green Income Tax Exemption (GITE).
These initiatives are under the Malaysian Green Technology and Climate Change Corporation (MGTC), with the goal of further boosting the local green economy.
How do businesses get started with ESG?
"To meet stakeholder demands, organisations should broaden the scope of their (ESG) reporting and seek new ways of communicating strategic performance with both nonfinancial and financial metrics," EY stated on its website.
Considering that, one of the simplest ways to get started with ESG is by incorporating ESG factors into your business operations. This could also involve engaging with stakeholders and being more mindful of the social impacts business decisions may cause.
And of course, adopting more transparency and responsibility when it comes to business procedures exemplifies good governance.
There are countless ways to go about it so long as the ultimate purpose of applying a more comprehensive approach to conducting business is met.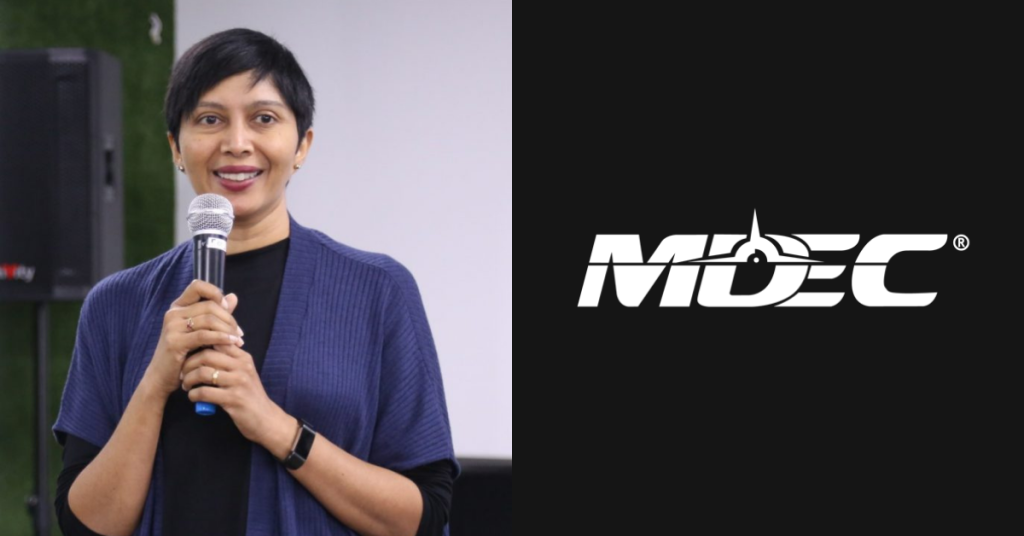 During an interview with Smart Investor last year, Dr Sumitra Nair from MDEC determined that the four keys to successfully deploying ESG in Malaysia are:
Having a strong commitment from a firm's leaders as it should be driven from the top management, across the organisation;
Having a shift in company culture and mindset as practising ESG should not be a separate set of responsibilities, and instead a way of doing business;
Having a strong emphasis on long-term gains instead of short-term ones to manage business performance. An example is cutting costs in the short term which results in non-ESG compliant decision-making;
Having a tracking system to measure and manage the company's ESG performance and impacts.
As each business has different operations and inner workings, there's no one-size-fits-all approach to adopting ESG practices. But the factors shared by MDEC above should serve as a good starting point.
However, if you'd prefer to consult professionals, there are a number of bodies in Malaysia that can advise you specifically on ESG. This includes MRANTI, SME ESG Hub, Bursa Malaysia, PwC, and e-Latih by HRDCorp.
-//-
With Malaysia Budget 2023 geared towards driving the country's green economy, it would be beneficial for companies to implement ESG if they haven't already done so, especially since there are financial incentives for those who adopt ESG practices.
For example, BNM's Low Carbon Transition Facility allocates RM2 million in loans for SMEs who adopt low-carbon practices; and Khazanah Nasional has allocated RM150 million for SMEs involved in nature-based carbon credit projects.
Read articles we've written about Malaysian startups here.
Featured Image Credit: Vulcan Post