By now, you've probably heard of the term "unicorn" bouncing around in the business world quite a lot.
According to Investopedia, unicorns are privately-owned startups with a valuation that exceeds US$1 billion. This doesn't mean that it has US$1 billion in the bank, but rather that it potentially has economic value measuring up to (or more than) US$1 billion.
Some ways to measure a company's valuation include market capitalisation, the times-revenue method, earnings multiplier, discounted cash flow method, book value, and liquidation value.
It's not an easy feat as most of these companies typically need to innovate a new idea to the point of disrupting the current market, have a clear vision for growth, and a rock solid business plan.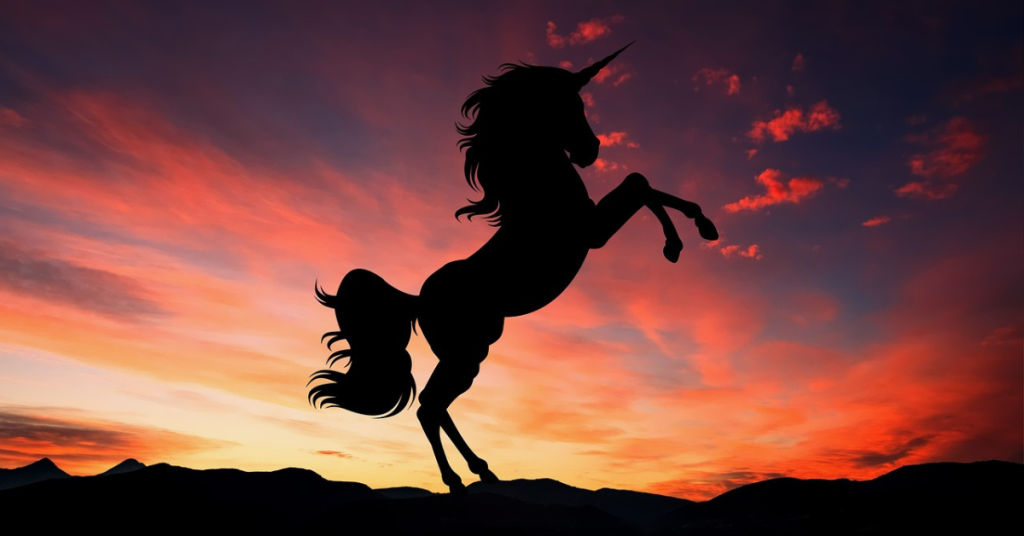 That said, the term has been widely associated with tech-based companies that are known for growing rapidly. Some companies that you probably didn't know were unicorns include global brands such as ByteDance, SpaceX, J&T Express, Reddit, and SHEIN.
Fun fact: A Malaysian startup that's popularly been recognised as a unicorn is CARSOME. The company is an app-based C2B marketplace for used cars.
Unicorn startups are mostly backed by private investors or venture capitalists, including well-off investors and investment banks. But besides funds, support could also come in the form of technical or managerial expertise.
In exchange, Forbes explained that investors typically expect returns in the form of equity. So one disadvantage (or risk) is that founders won't have full ownership over the company.
Aside from that, serial entrepreneur and angel VC, Greg Shepard, mentioned that another issue unicorn companies face is the requirement to raise large amounts of capital and the need to satisfy an ever-growing array of benchmarks set by investors.
These benchmarks may be different from what the company itself is seeking, as it may have different goals from the investors. But from an economic standpoint, there's the concern that there may be an unhealthy focus on businesses achieving uni​​corn status.
One argument made by a Forbes contributor stated that when companies are obsessed with growth, it could drive entrepreneurs to cut corners and engage in "various irresponsible and unethical behaviour" in order to maintain their high valuations.
Another observation by Harvard Business Review in 2016 stated that notable successful unicorns like Facebook and LinkedIn typically have a "winner takes all" strategy, whereby there's not much room for other players in the market.
So in lieu of that, there's been some discourse online about why companies and investors should consider camel startups instead.
What do camels have to do with startups?
Following the COVID-19 pandemic and the economic challenges it imposed on the business world, Alex Lazarow (a global venture capitalist) coined the term "camel startups".
Just like a camel is able to survive the desert on little to no water through long periods of time, camel startups refer to companies that do not require a constant stream of investment to sustain themselves.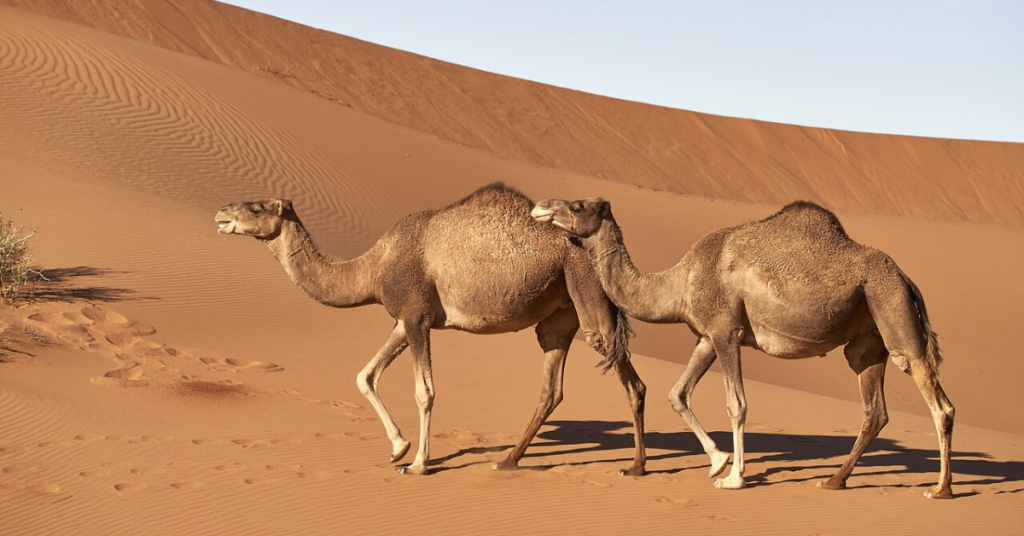 As emerging businesses, Garrigues (a Spanish firm that provides tax and legal advisory) explained that camels do aim for growth, but keep survival and profitability as their priorities.
It further stated that this means having greater control over expenses, preparation to cope with threatening factors, and commitment to the long-term game plan.
Alex Lazarow also wrote in the Harvard Business Review back in 2020 stating that camels have no interest in rapid scale-ups. "They are as ambitious to grow as any Silicon Valley enterprise, yet they take a more balanced growth path."
This approach looks at three key elements, mainly:
Charging customers for the value of their products from the start
Managing costs through the life cycle of their companies to align with a longer-term growth curve; and
Managing burn throughout the life cycle of a company to weather tough conditions over a sustained period
Essentially, this means not shying away from feasibly pricing products from the get-go and creating a company that is resilient and can withstand losses should ventures not work out as hoped for.
Abdullah Snobar, the Executive Director at DMZ (a Canadian tech incubator), argued that when operating within a strict budget, founders could focus on mindfully building up their companies and surviving without support, "Just like a camel."
The race is not about who will go to market first, but rather who will survive the longest in the industry.
On the flip side, others in the entrepreneurial field have also been talking about another alternative to unicorn startups that was introduced around the same time—zebras.
Wait a minute, what are zebras?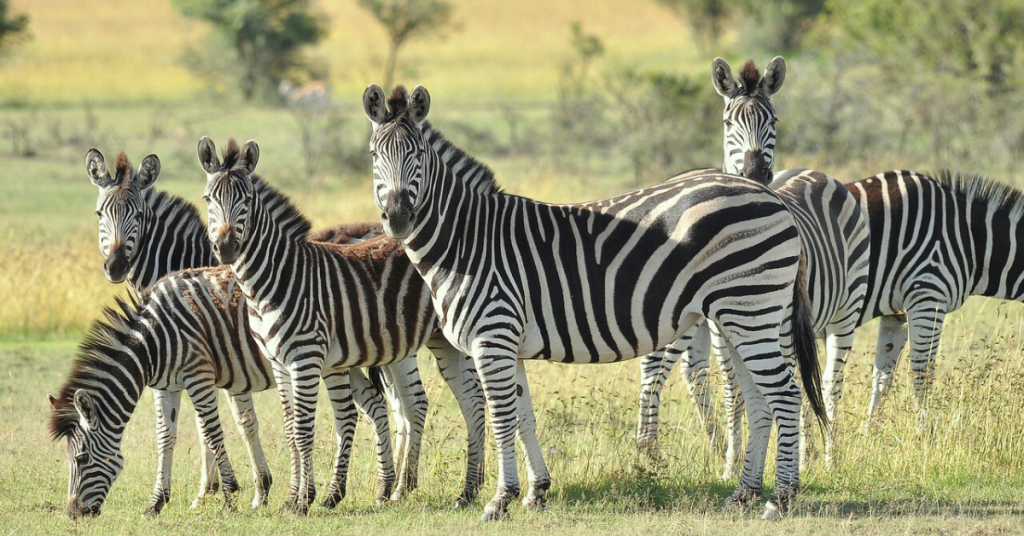 The business term was coined by a group called "Zebras Unite" in 2017 with the goal of being "a founder-driven, grassroots effort, grounded in a different set of ideals."
In its self-written article, "Zebras fix what unicorns break", the Zebras Unite team explained that Zebra companies are both black and white—"They are profitable and improve society. They won't sacrifice one for the other."
As such, zebra startups are said to be the next generation of "healthy businesses", dedicated to balancing profitability and reparations to the world. Zebras is best described as startups that prioritises values such as sustainability, social responsibility, and community.
This is quite different from unicorn startups, whose main premise is to disrupt the current industry through their innovations and scale up substantially as soon as possible.
Some other factors that differentiate zebra startups from unicorn startups are their approach to funding and how they measure success.
Venturra Unfolded explained that instead of relying on venture capital funding for growth, zebra startups are more likely to seek it in other forms that better align with their values. This could be in the form of crowdfunding, impact investing, and the like.
In terms of success metrics, zebra startups measure achievement based on their social impact, business sustainability, and community engagement.
To elaborate, the founders of the zebra movement stated that zebra startups are mutualistic. "By banding together in groups, they protect and preserve one another. Their individual input results in stronger collective output," the article wrote.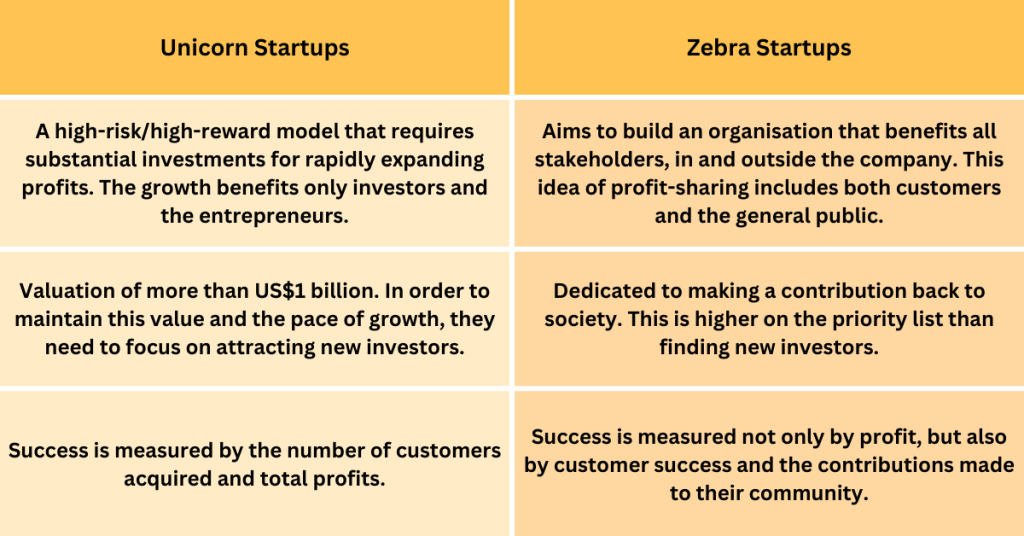 In other words, zebras focus more on long-term growth over short-term gains, as well as valuing security and balance over speed.
-//-
With all that said, each kind of startup classification has its own set of advantages and disadvantages. And just like the tech ecosystem and how ever-changing the industry is, there will continue to be new startup categories and new "animals" in the startup scene.
So it's not so much about which is better than the other, but more about which approach aligns better with a business and its end goals.
Read articles we've written about Malaysian startups here.
Featured Image Credit: Vulcan Post