If you're on TikTok, you might have come across a business by the name of Sausage Sizzle, where they have amassed more than 20K followers at the time of writing.
Most recently, its founder, Nazri, also went viral for his video about the cancellation of Good Vibes Festival, where Sausage Sizzle was a vendor.
But for those who haven't come across the videos, Sausage Sizzle describes itself as an "urban hot dog stand" that primarily functions as roadside stalls, much like Ramly Burger stands.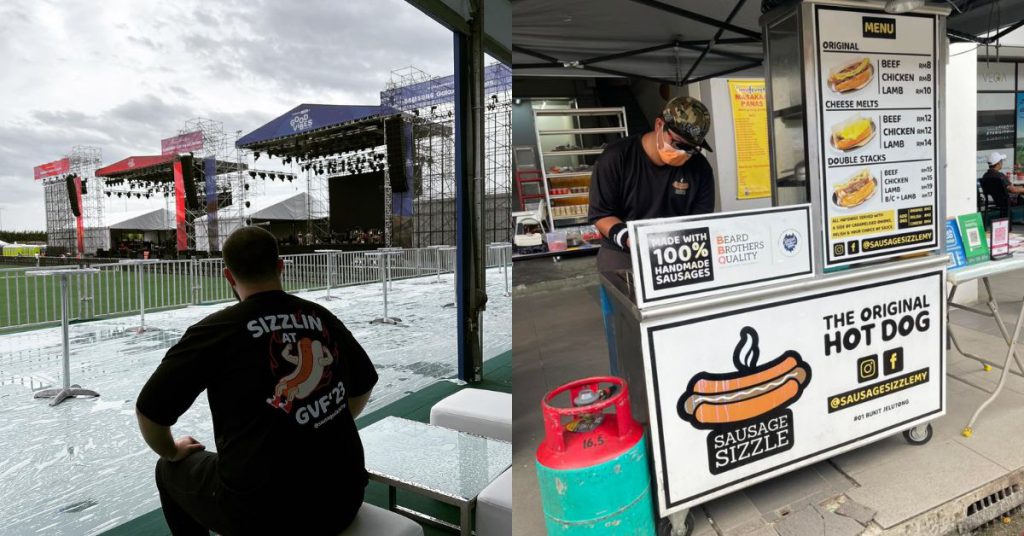 It focuses on using real sausages, not the frozen hot dogs many might buy to cook at home for convenience.
With this concept, the brand has grown to 14 stalls, which is certainly not a small feat. Thus, we reached out to learn more about the story and the people behind the business.
Behind the sizzle
Not just the face of the business, Nazri is the founder and co-owner of Sausage Sizzle.
A British-born Malaysian, the 29-year-old has an English heritage from his mum's side and Malay roots from his father's side.
The team shared with Vulcan Post that when Nazri was 13, he ended up moving to Malaysia, pursuing his secondary education and SPM here before furthering his studies in the UK.
There, he got his Diploma in mechanical engineering as well as welding and fabrication. Although he was accepted at the University of Leeds to study chemical engineering, he didn't end up completing his undergraduate studies.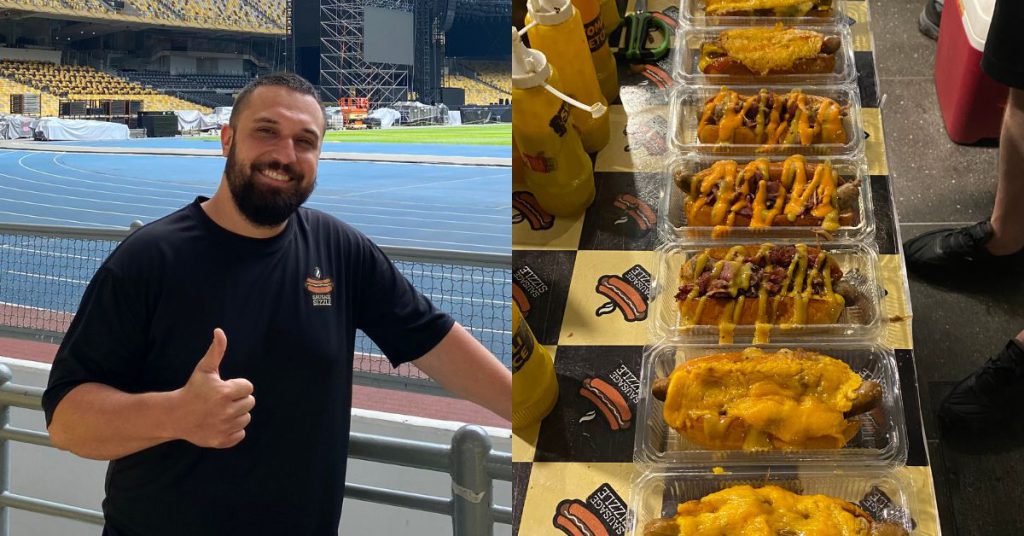 Despite his engineering background, Nazri has always had an entrepreneurial edge, having sold chocolate bars and energy drinks at school when he was 11.
Apart from that stint, in 2014, the then-21-year-old officially began his entrepreneurial journey through a business called The Yard. It was a pie and shake kiosk with three locations between 2017 and 2022.
"Specialising in handmade pies made with quality ingredients, Nazri gained his experience and learnt the ins and outs of the F&B industry over eight years of running the business," the team shared with Vulcan Post. "The Yard still operates today, but without any physical outlets."
Then, in March 2019, Nazri was given the opportunity to curate the F&B experience for Spartan Race Malaysia. Wanting to provide attendees with an easy yet delicious on-the-go snack, Nazri got the idea to sell hot dogs.
With that, Sausage Sizzle was born.
In the same year, Nazri went on to open the first Sausage Sizzle outlet in Tapak TTDI, knowing that there would be a demand for hot dogs made with real sausages.
"Based on our research, at the time Sausage Sizzle would be the first and only hot dog brand to use real sausages," the team revealed.
"We tried a range of different sausages from different suppliers and also tried foods from existing well-known brands selling hot dogs in Malaysia. From there we understood that we had a USP strong enough to enter the market."
About the sausage
To create a sausage with a specific meat-to-fat ratio, Sausage Sizzle works closely with a local producer.
The sausages are also encased in natural casings, otherwise known as lamb intestines. These cases are imported from Australia and certified halal by JAKIM, Nazri assured.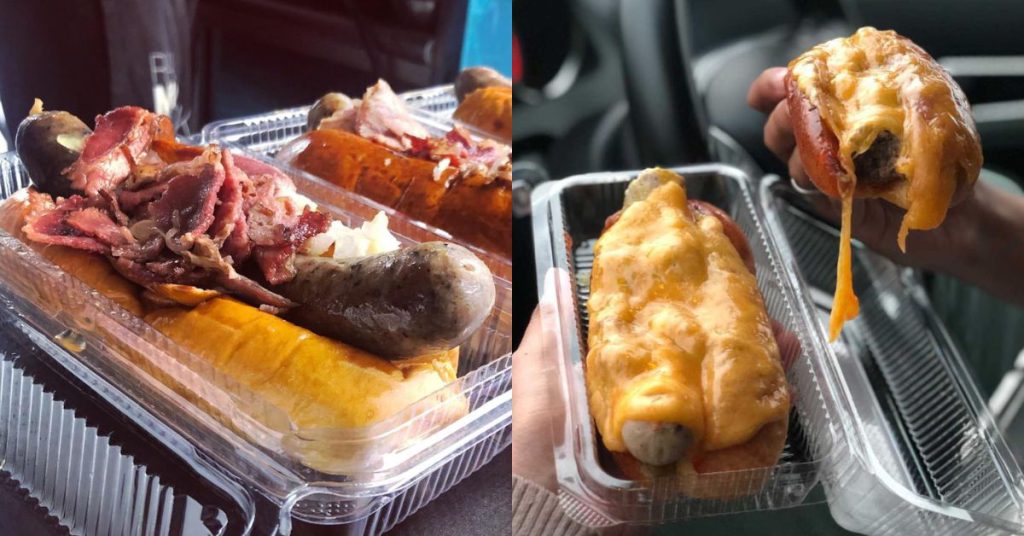 Combining the natural casings, specific ratios of meat-to-fat, and rubs and spices, Sausage Sizzle's team said that their sausages are unique and uphold international standards.
Sausage Sizzle's prices range from RM8 to RM16 depending on the toppings and meat options. They have chicken, beef, or lamb for meat options, and toppings can be Original, Cheese melts, Jalapeno salsa with sriracha mayonnaise, or Streaky beef with honey mustard chicken.
Customers are also welcome to mix and match toppings and sauce, or even stack sausages to create the ultimate hot dog.
While Sausage Sizzle does offer some unique flavours, sausages, in general, aren't exactly hard to find in Malaysia, though, with established brands like Nathan's Famous and A&W present locally.
To that Nazri shared, "The biggest difference is definitely the overall quality of our product. We pride ourselves in providing our customers with a premium hot dog at affordable prices."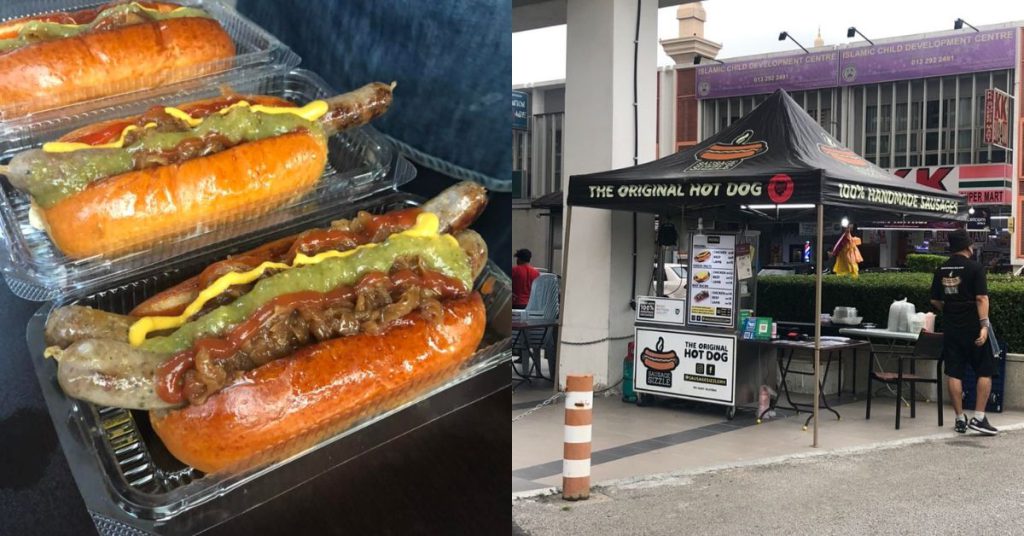 In addition to the sausages, the team also uses artisanal hot dog buns made by a local baker, while preparing their own caramelised onions, sauces, and toppings.
To ensure the quality is consistent, Sausage Sizzle also has a centralised kitchen that manages production and distribution.
"Having experience in F&B, at Sausage Sizzle we understand how important quality assurance is across the board, especially when expanding aggressively," they said. "Our central kitchen team follows strict SOPs in order to maintain recipes and tastes for all of our products."
The business also provides a 12-day training scheme to all licensees and new staff on-ground to not only maintain product quality, but also to ensure the full customer experience is the same no matter which outlet you visit.
Bringing the heat to the rest of Malaysia
Leveraging existing facilities from The Yard, Sausage Sizzle had started off with RM10k, Nazri said, adding that in 2022, the business was able to generate RM500k in revenue.
Building off this momentum, the team plans to double this number within the next year with the help of strategic partnerships, more outlets, and expansion into different market segments.
The team has already received a huge number of interested parties across the country who have filled out their 'Become a Licensee' Google form.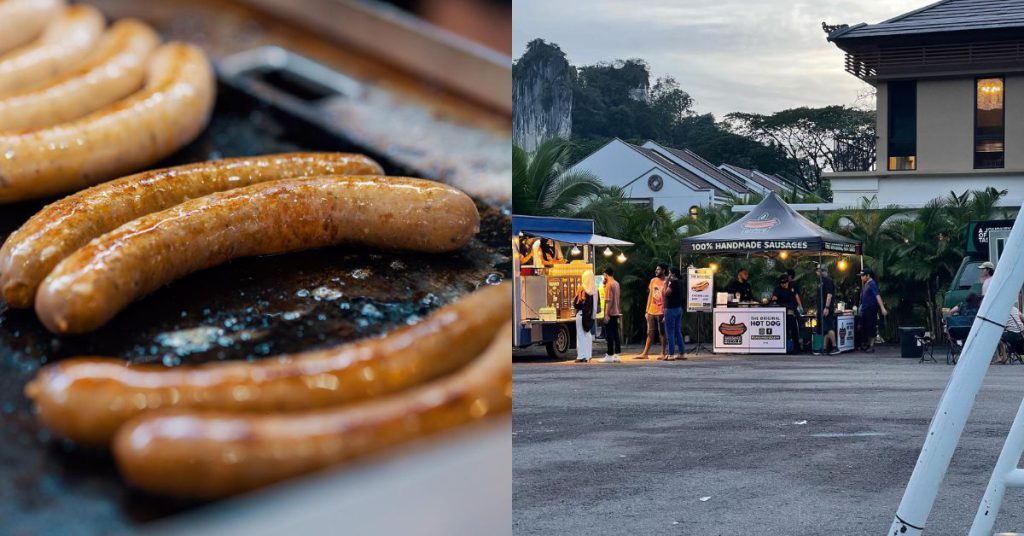 That said, Steve and Nazri are carefully screening the list for those who are serious about the venture and can work closely with them to bring Sausage Sizzle to the next level.
"We understand this is not a sprint and are in no rush at this point in time," Nazri said. "However, soon we will be opening our 15th outlet in Johor Bahru."
Although the business has made a lot of headway, Nazri shared that there are still plenty of challenges that the team is facing.
"As we have grown and hit our internal targets, we've been tasked with new unforeseen challenges that test us from different aspects."
For one, Sausage Sizzle boasts a range of locations that have very different demographics, environments, and spending habits. This means the team must figure out ways to ensure they can cater to the masses.
Furthermore, there's also the fact that hot dogs aren't really seen as a staple food in Malaysia.
"Generally, our product is perceived as a snack," Nazri pointed out. "Our aim is to position Sausage Sizzle as a meal which anyone could consider having for lunch or dinner, as well as a snack for tea time or supper."
To change the perception, the team has added new menu items such as nachos and fries.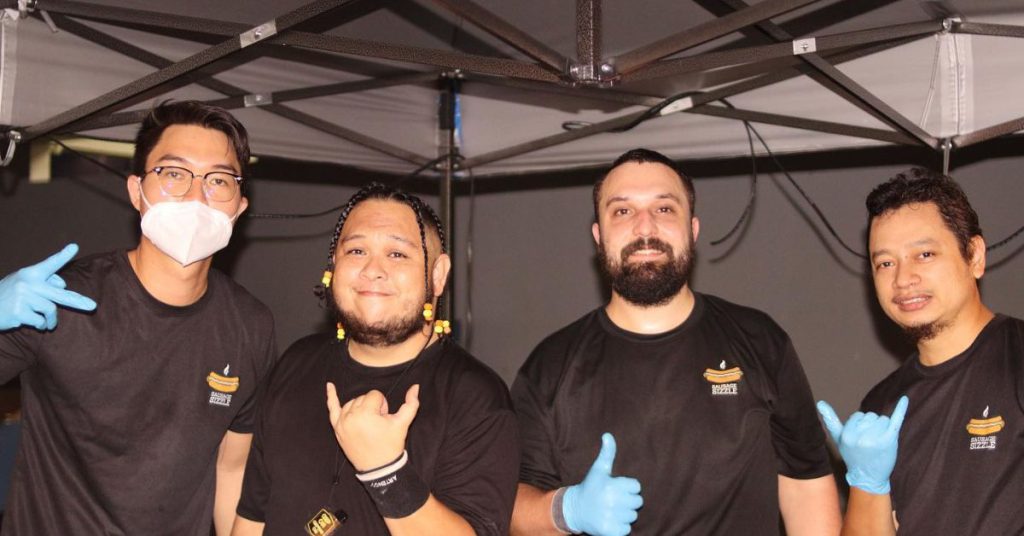 Functioning primarily through the roadside stall format brings on an array of challenges too. When looking for locations, the team must think about where to hold stock, whether there's sufficient power supply, and whether the area has good visibility and traffic.
Other issues include protecting team members from the weather, maintaining hygiene and cleanliness, and providing easy access to customers.
Juggling high raw material costs whilst maintaining an affordable price point has also been a constant challenge for the team. While there are workarounds for that, such as sacrificing certain ingredeints, Nazri said that they are determined not to compromise on the quality of the product.
"In the grand scheme of things, Sausage Sizzle is still very small," Nazri said. "We are yet to reach a level whereby we can bargain with suppliers. In the near future, we understand that there will potentially be economic factors that affect spending habits and therefore sales performance."
Going forward, the team aims to obtain halal certification for the business, which will help the business expand its opportunities within Malaysia and perhaps beyond.
In the long term, the team has ambitions that will bring Sausage Sizzle all over the country, with a footprint in both East and West Malaysia, and locations in supermarkets, petrol stations, theme parks, and more.
"We want this to be something Malaysians can be proud of, similar to the likes of Ramly," Steve quipped. "The Ramly of this era, perhaps?"
Learn more about Sausage Sizzle here.
Read other articles we've written about Malaysian startups here.
Featured Image Credit: Sausage Sizzle