iPrice Group (iPrice), the Malaysia-based ecommerce technology platform, has launched its platform in Australia, an August 30 press release stated.
The launch of iPrice.au marks the first significant expansion beyond Southeast Asia and comes four months after Indonesian tech unicorn Bukalapak acquired iPrice.
As a price comparison website, iPrice lets users search and compare the prices of specific items with the aim of helping them get the best deals. According to the press release, the platform helps 130 million shoppers each year to save money online.
The press release also stated that more and more Australian retailers have launched their own websites and begun operating their own marketplaces, which means the ecommerce landscape in Australia is becoming increasingly fragmented.
"With the launch of iPrice.au, iPrice is responding to a growing demand to streamline the shopping experience for Australian consumers by offering a more effective way to save money shopping online," the release stated.
Karl Loo, the senior vice president of business development and internationalisation for iPrice, also said in the statement that iPrice's entry into Australia comes at a time when inflationary pressures have been making shoppers more cautious about spending.
Built based on iPrice's market knowledge, iPrice.au uses a blended approach, adding human curation on top of its technology platform.
"With large teams of category experts constantly reviewing the catalogue, they are able to quickly intervene where offers might be too-good-to-be-true," the release explained.
"This human touch is missing in other tools, and ensures iPrice users don't just see the cheapest price, they see the best offers available at the time of their search."
Catering to the Australian market
According to the press release, iPrice aims to provide a tailored shopping experience to Australians, backed by detailed market research to understand the unique needs and preferences of Australian consumers.
"As a technology company, we're able to leverage our current processes to benchmark pages, brands and marketplaces to compile a detailed market evaluation," Philip Anderson, iPrice's vice president of traffic, shared with Vulcan Post.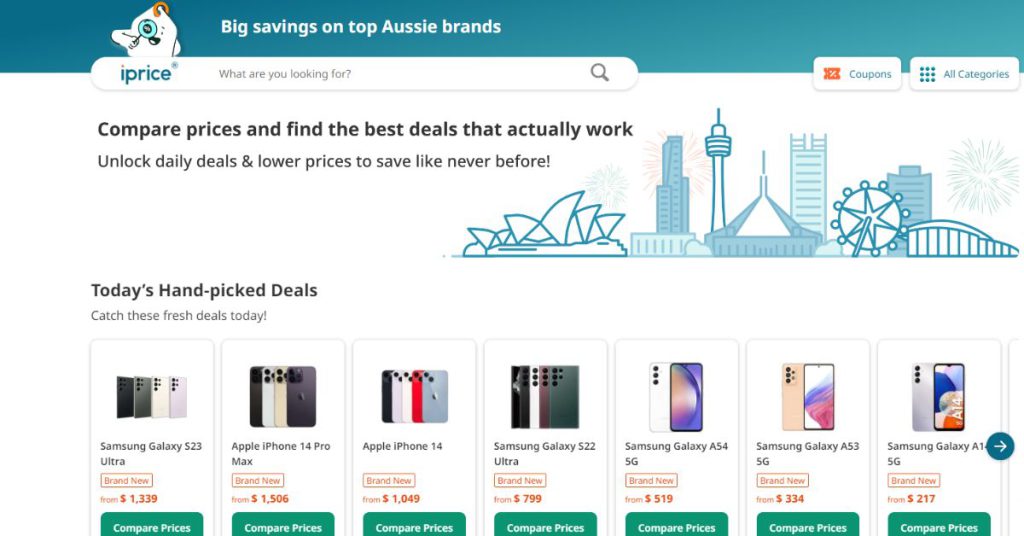 Through continuous AB-test new features across regions, iPrice often finds that markets can respond quite differently to various tests. As such, the team will continue to conduct such tests with iPrice.au and deploy tests with the best results.
That said, iPrice is going up against other price comparison platforms that have already been active in Australia, such as GetPrice and PriceMe, just to name two.
To that, Philip said that the team sees two key differentiators with their offering. First is the scale at which iPrice is able to process and sort offers.
"We're capable of processing huge numbers (billions) of unique offers on a daily basis in each market and have been doing this at scale across seven countries/regions in Southeast Asia for over eight years," Philip pointed out.
iPrice also has teams of category experts who apply human curation to the products and offers surfaced to users. One key objective of these category experts are to stop too-good-to-be-true deals from getting through to shoppers.
Philip also shared that conversations with Bukalapak's development team in Melbourne were helpful in defining iPrice's go-to-market approach.
Levelling up
For now, the Malaysia-based company's focus is to to test and develop features across its core sites, of which Australia is now one.
"There are no current plans to expand beyond these markets," Philip added.
Another thing the company said it has been working on is expanding into the gaming vertical, an effort it announced during the Bukalapak acquisition.
Philip shared that since April, there's been a lot of work going into the backend to compile and prepare the catalogue and building the foundational technology layer to sort through in-game items and currencies across marketplaces.
"We are now working on refining the user experience to surface features and filters that are proving most important to our gaming category users," Philip said.
Featured Image Credit: iPrice Group