This is a workcation series where we personally visit and review hotels, resorts, and more, to find out how well they cater to digital nomads and hybrid professionals.
Hotel highlights:

✓ Designed to be a cosy home away from home

✓ Five types of artist lofts crafted for creative nomads that allow you to indulge in art, music, books, food, and gardens

✓ Good range of food and shopping options around the hotel's vicinity, most of which are in walking distance

✓ Event space is a flexible venue for smaller, more intimate gatherings
Home to 85 rooms and located in Bukit Bintang is a three-star boutique lodgings called KLoé Hotel Kuala Lumpur (KLoé). Describing itself as a safe haven for those in an unfamiliar city, KLoé is all about providing spaces for visitors to explore their creative impulses.
Curious to find out how exactly the hotel lived up to its promises, we were invited for a 3D2N workcation to test them out for ourselves.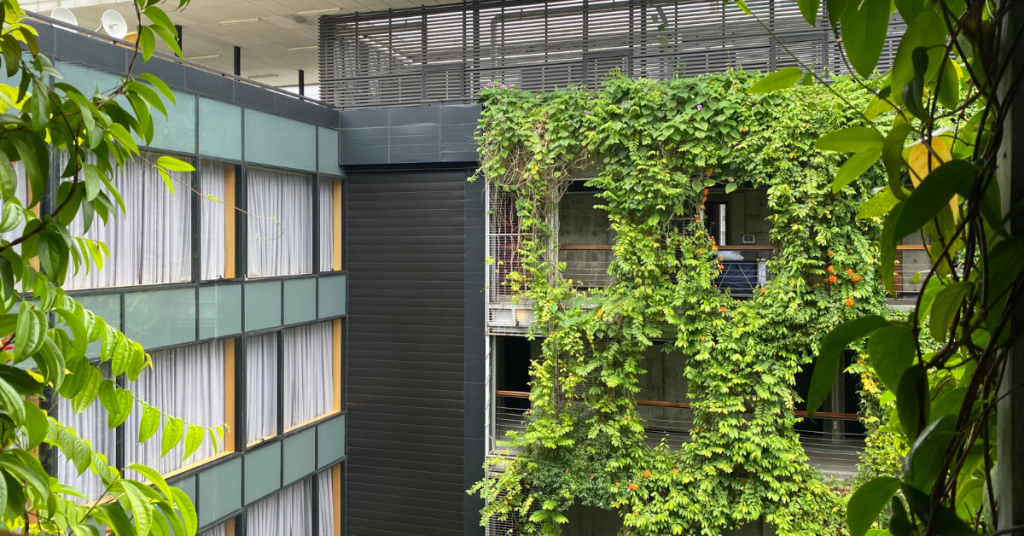 A hidden gem in the city
As dubbed by its General Manager, Mark Burkhardt, KLoé is somewhat like a speakeasy hotel. My colleagues and I learnt this firsthand when we first arrived.
This is because the hotel itself is quite hard to spot the first time. Not to mention, the space next door was undergoing construction during our stay and blocked the hotel's signage, making it hard to notice when you're driving.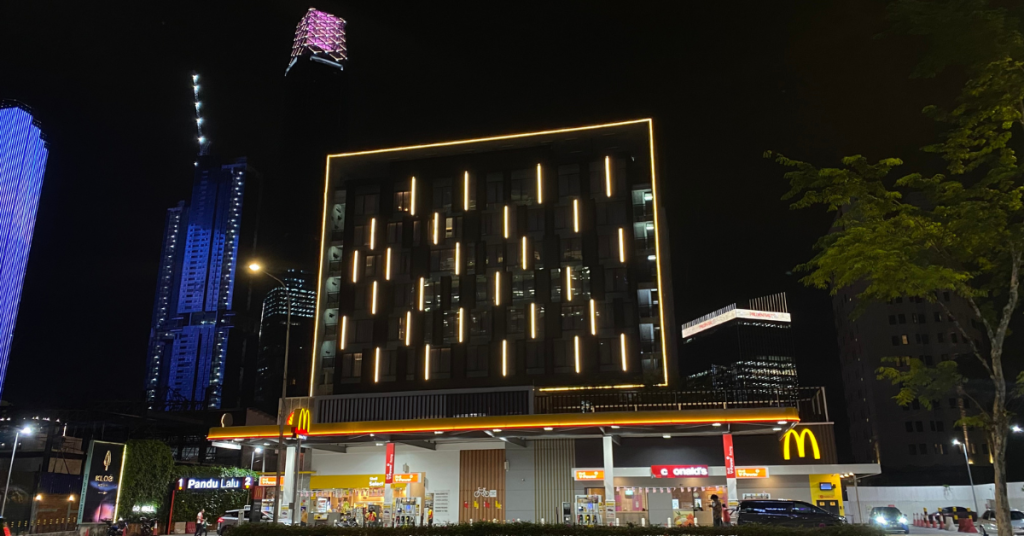 Even with my GPS guiding me and my colleague, Matt giving me a heads up on the hotel's rather "secretive" entrance, I still missed it. The first time, at least.
Tip: If you're planning to visit soon, we highly recommend that you slow down a few minutes before nearing the hotel's location, as the entrance is a nook right before a Shell petrol station.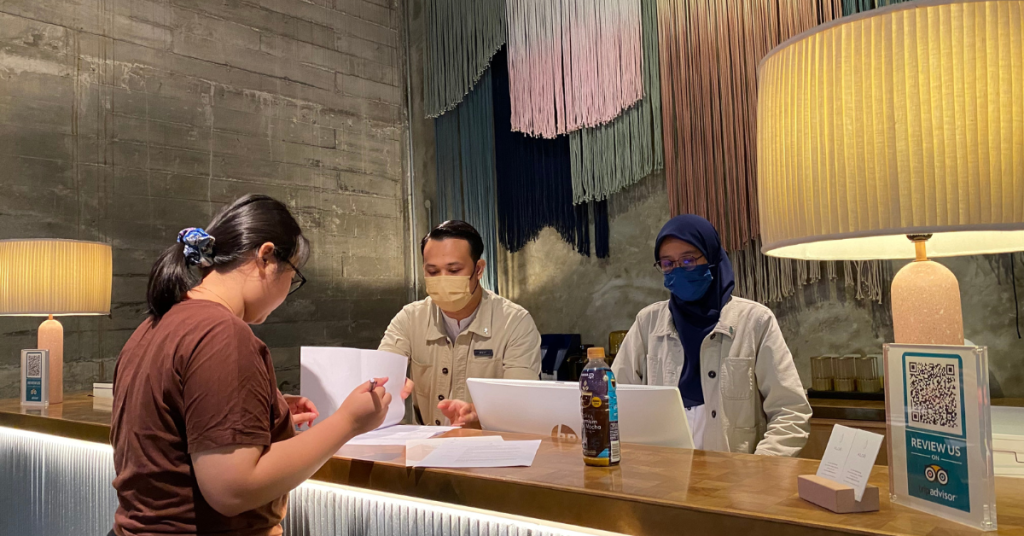 The hotel has two levels of basement parking space. You'll be charged a flat rate of RM10 per stay. So if you're planning to drive elsewhere during the period of your stay, just go to the reception desk and have the ticket validated.
Upon entering KLoé, we were welcomed into the Living Room, which is basically the hotel's lobby area. In the space was a long communal table and several sofas where guests could convene and hang out.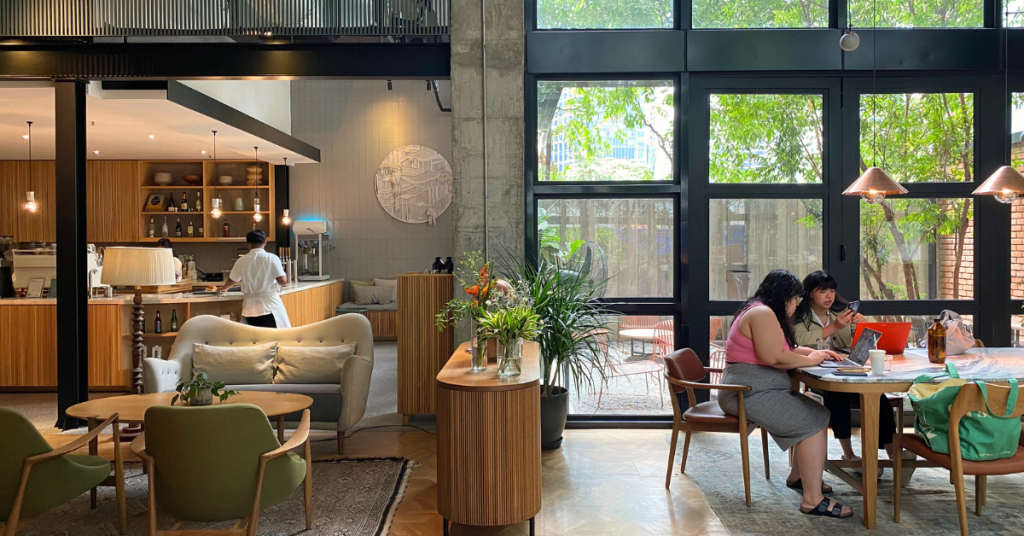 Right next to the reception desk is its in-house cafe called Lucky Coffee Bar. It's open daily from 8AM to 6PM and serves coffee brews alongside artisanal sandwiches, nitro drinks, and pastries.
But we were there to get some work done, so we headed off to our room on the fourth floor (there's a total of eight floors) and got down to business.
A place to call home the next few days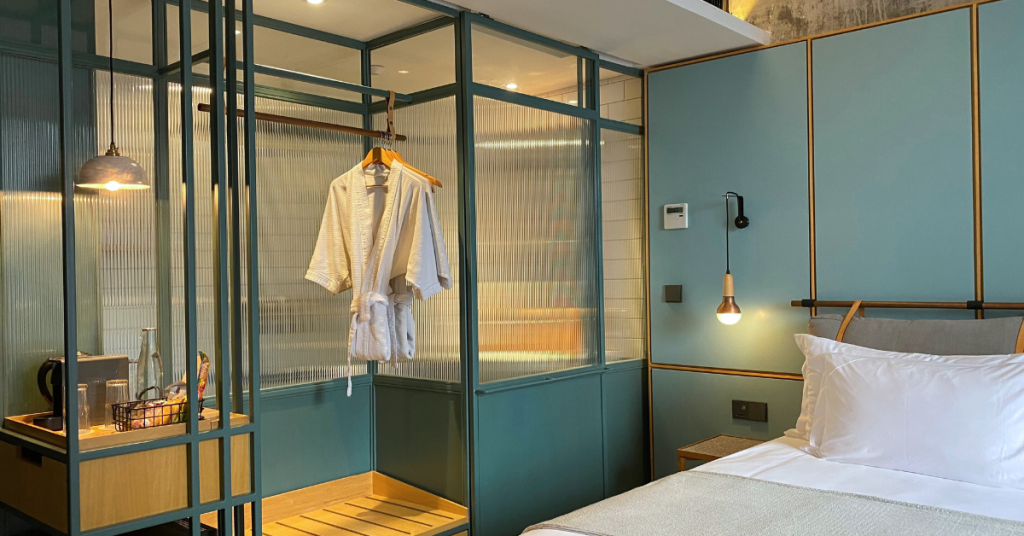 As there were four of us, we were treated to two of its Courtyard Rooms (25sqm), which is slightly larger than the other standard albeit smaller lodging, City Room (22sqm). Their names come from the view each type offers.
The minibar had a basket of complimentary snacks filled with popular Malaysian childhood treats, like PoPo's Fish Muruku, APOLLO's Chocolate Layer Cake, and Haw Flakes candy.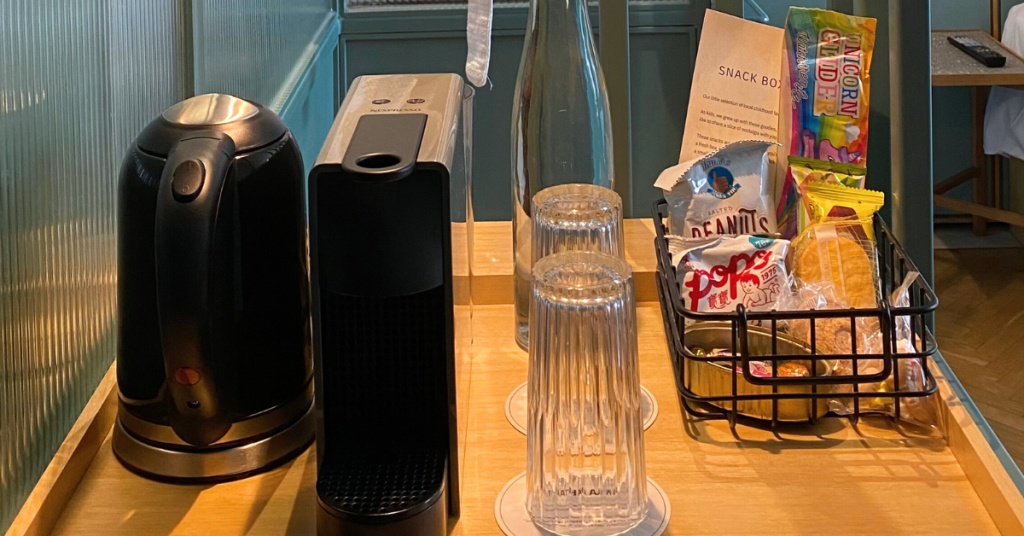 For beverages, guests can choose to brew their own coffee capsules or tea in the rooms. There are also two bottles of mineral water (one on the minibar and one in the bathroom) which housekeeping replenishes frequently throughout your stay.
The bottle of water in the bathroom threw me off initially. But Claudia suggested that it could be a gentle reminder to international guests that the tap water isn't drinkable, which is a thoughtful gesture by the hotel.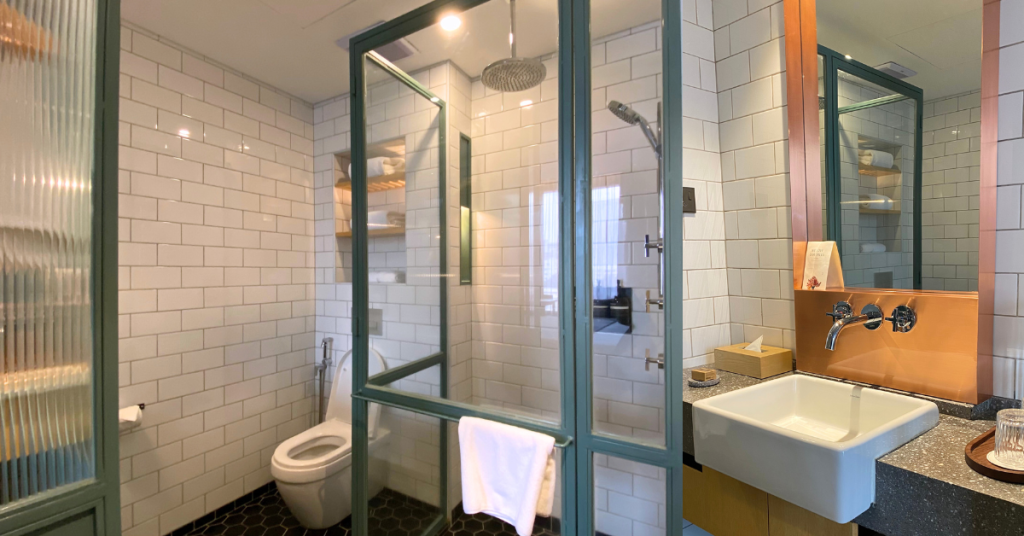 The Courtyard Room we stayed in had a long working desk with an attached sofa situated by the window. This turned out to be great for our situation as two chairs would have made it a tight squeeze.
There were a number of plug points throughout the room, including by the desk and the bedside tables. But we'd recommend bringing your own extension cord if more than one of you are working.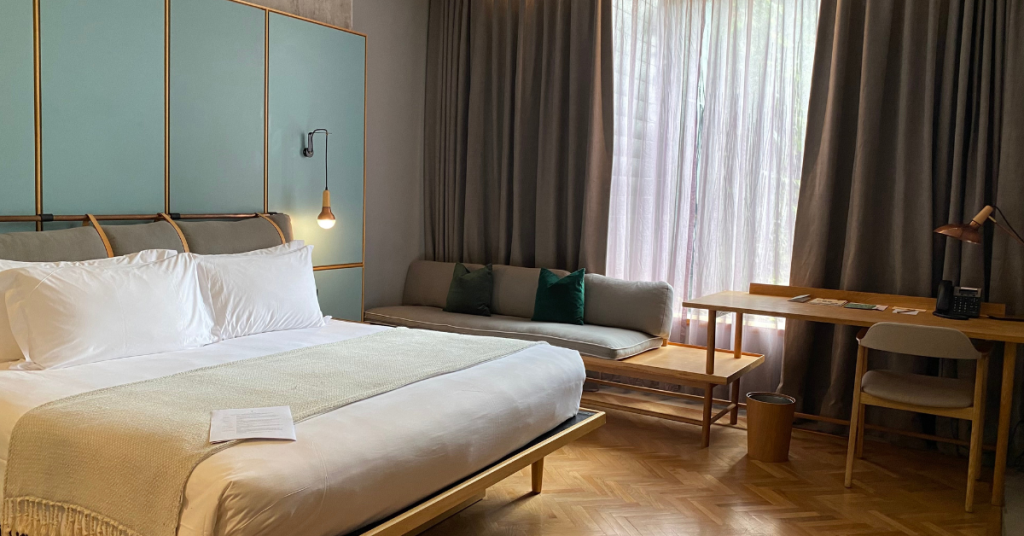 Aside from that, there was an electric kettle, a mini-fridge, a smart TV with Chromecast, an en-suite bathroom with Aēsop toiletries, and a king-sized bed.
Do note that all of KLoé's rooms only come with king-sized beds, so if you're travelling with others and prefer your own sleeping space, it's probably a better idea to book a room for each visitor in order to get a better experience.
While the spaces we could work in felt conducive to our creative tasks, the hotel's Wi-Fi was a bit too slow for us. I struggled to edit photos on the Canva website as it took too long to upload and save changes.
And all of our devices had to constantly reconnect to the Wi-Fi after closing our laptops, which isn't something we usually experience. The one person who didn't face this problem was Matt, who was using the HUAWEI MatePad 11″ PaperMatte Edition tablet.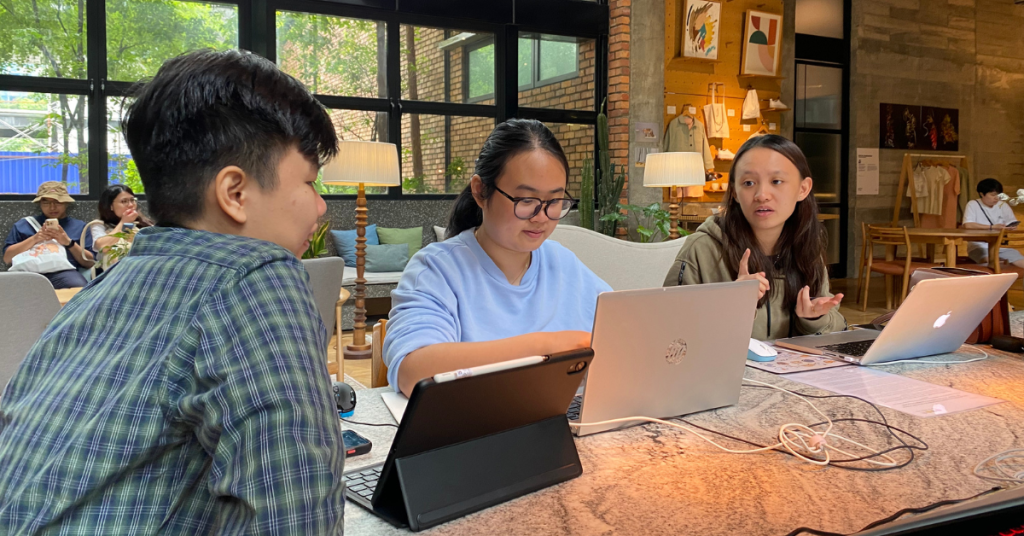 We also tried working in KLoé's Living Room and made good use of its communal table. Surprisingly, despite the slight hustle and bustle of people having their breakfasts and checking out of the hotel, I found that it wasn't too distracting.
The spacious area and natural light that came through the hotel's large windows made it a refreshing change of scenery. And it was designed well enough that it felt more like a home away from home, rather than the lobby of a hotel in KL.
From the furnishings and decorations to the lighting and also calming scent found throughout the hotel's spaces, it evoked a more welcoming scene to work or play in.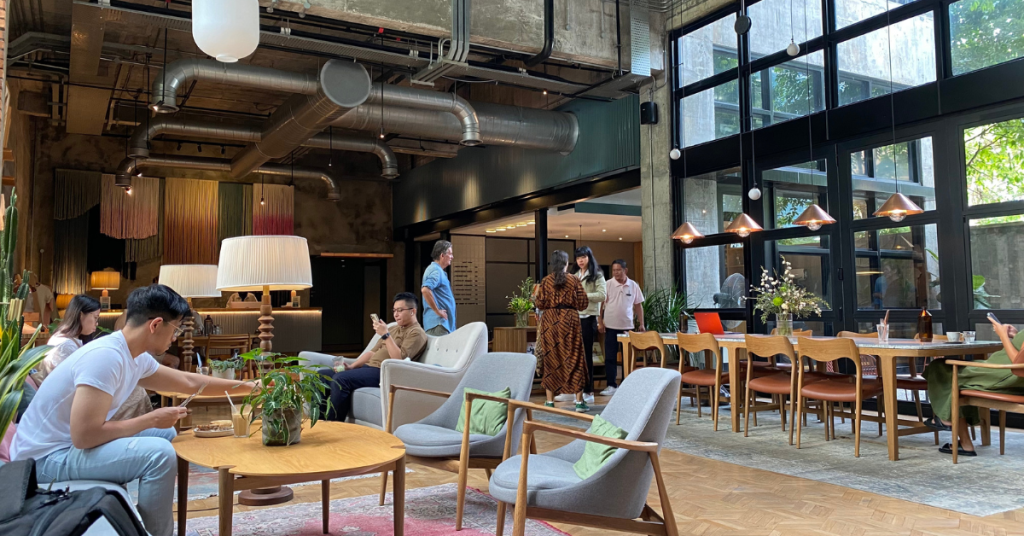 A creative getaway for nomads
Seeing as KLoé is known for its Artist Lofts that are crafted by creative nomads for creative nomads, we requested for a tour of them.
Themed hotel rooms are not exactly new, but KLoé takes it a step further by equipping these Artist Lofts with tools to match each theme (i.e. art, music, plant, food, and literature). Visiting creatives can then get inspired and let their imaginations run wild before getting to work.
In total, there are five Artist Lofts. But we were only able to sneak a peek into two of them, namely Room to Grow and Room to Draw, as the others were occupied.
Sized at 44sqm, the layout of each room is unique in its own way and aligns with their themes nicely. The sleeping and bathing quarters are separated from the living area, so you don't have to worry about dirtying up the space.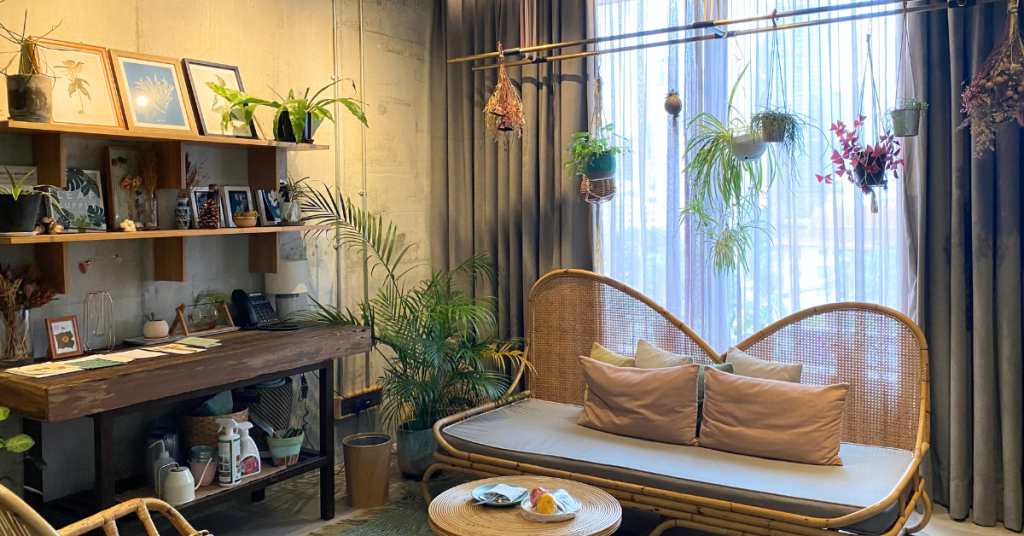 Room to Grow is essentially a makeshift greenhouse. It's filled with a variety of potted plants, some on shelves and others hanging by a rod overhead. We even found tiny pots of cacti by the bedroom's windowsill.
The space was curated by and features terrariums by Malaysian startup Ohsum Mossum, and has concrete floors so you can actually do some gardening without fuss.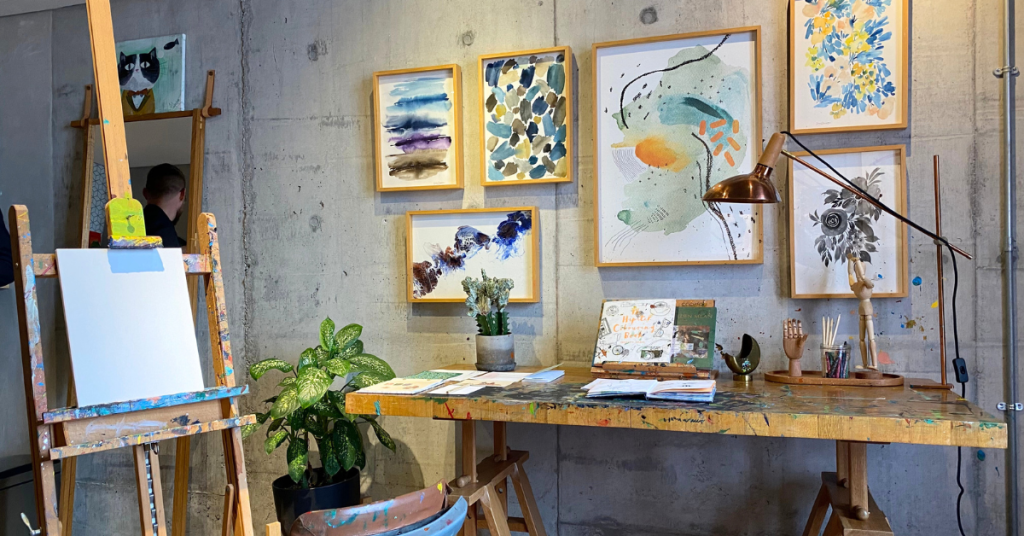 On the other hand, Room to Draw is built as a cosy work studio equipped with brushes, watercolour and acrylic paint, canvas, and sketchbooks. Curated by local artist Joee Cheong, it's a creative space where you can get inspiration from the works left behind by past guests.
What I find to be the best part is how tidy yet organically decorated the space is. You'll find paint splatters on the chairs, desks, and even the carpets. According to Mark, this was an intentional effort by the hotel to make it less scary for guests to create their artworks.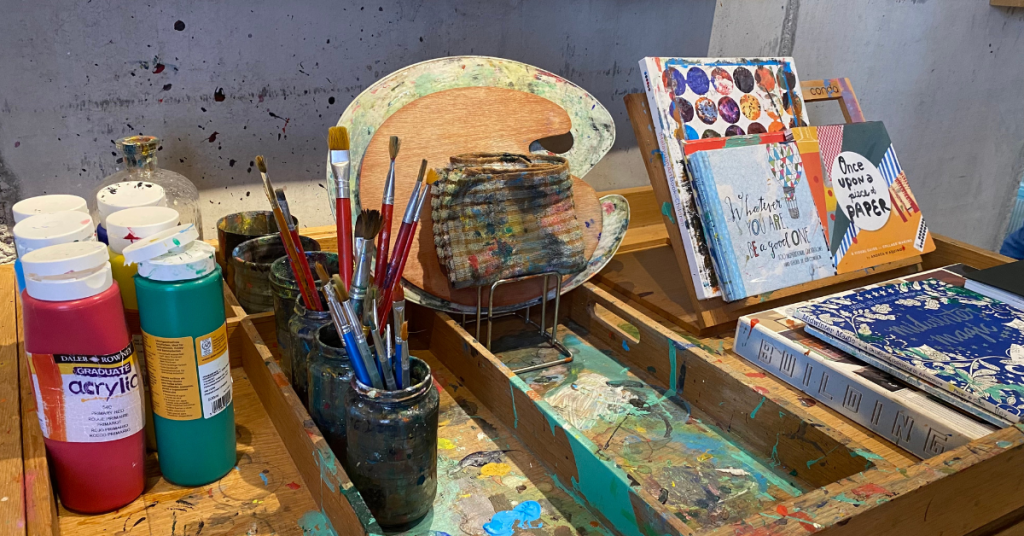 In terms of general facilities, KLoé has a flexible event space (called Studio) for small and intimate gatherings. Flexible in the sense where the hotel can convert the venue to suit your needs, be it a workshop, a yoga class, or even a music session.
You can contact the hotel directly or via its website to request the pricing of Studio.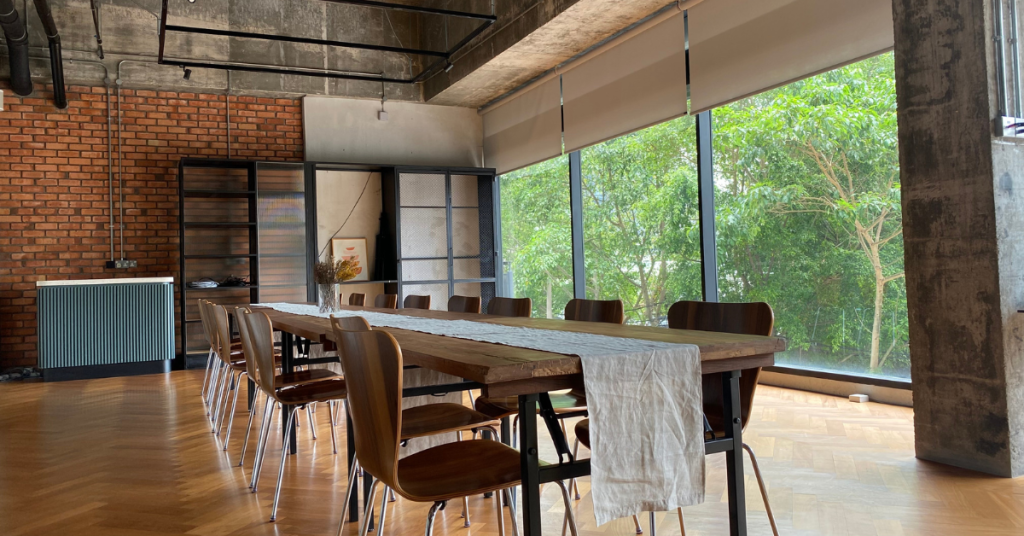 There's also an outdoor pool with several lounge chairs and sofas surrounding the area. So if you're not up for a swim and just want to enjoy the outdoor scenery, there's plenty of room for that.
Surprisingly, the hotel doesn't have a gym, which might be a slight inconvenience to guests who want to keep up with their fitness regime. But personally, I believe the walk to visit popular spots in the Bukit Bintang area (such as Pavilion KL and Eslite Spectrum) to be sufficient exercise while on holiday.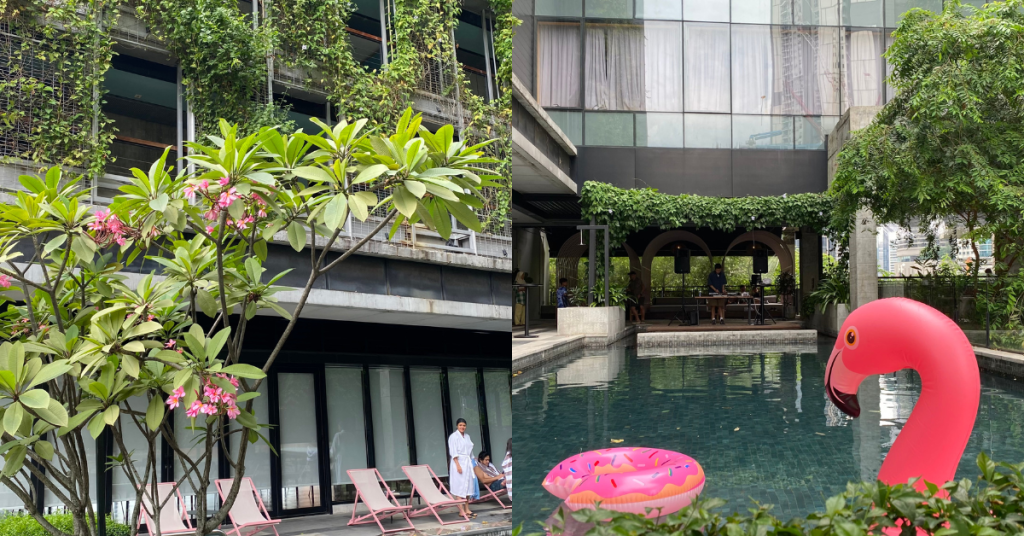 An American gastronomical journey
On our first night at KLoé, we were served dinner at its in-house modern American-styled restaurant called Monroe. The eatery dishes out comfort food inspired by America's melting pot of immigrant culture and influences.
The interior design here is loosely based on classic NYC diners, providing a cosy and warm ambience.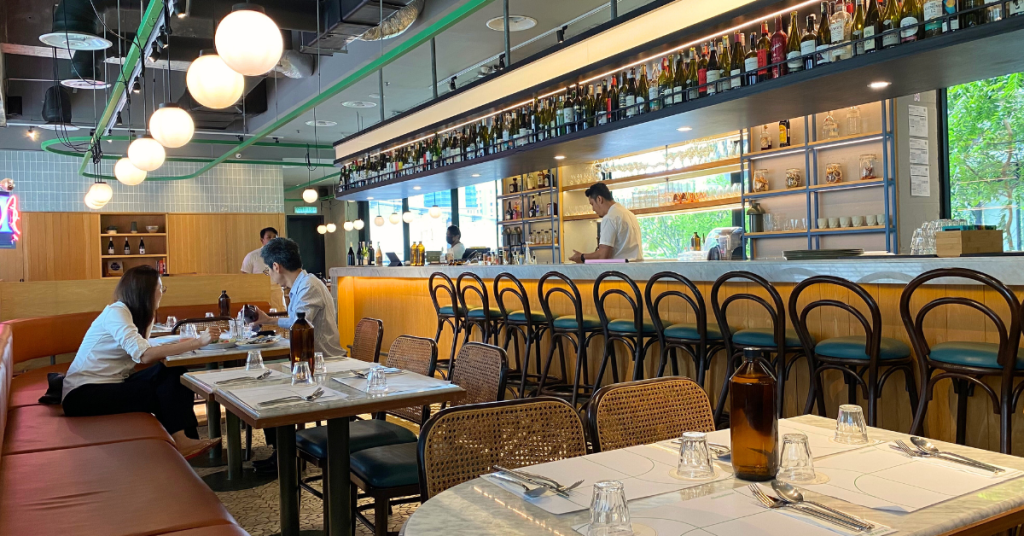 As part of our workcation, KLoé provided us with a menu featuring their most recommended dishes, with appetisers, mains, and desserts.
We shared the restaurant's Sweet Potatoes, Kale Chopped Salad, Prawn Linguine, Angus Rib Eye, Hot Fried Chicken, Sea Bass Chowder, HK French Toast, and Banana Split.
At the end of the meal, everyone had their own preferred dishes and each was different, so you could say that there's something for everyone here. Price-wise, it's similar to most Western restaurants you find in KL.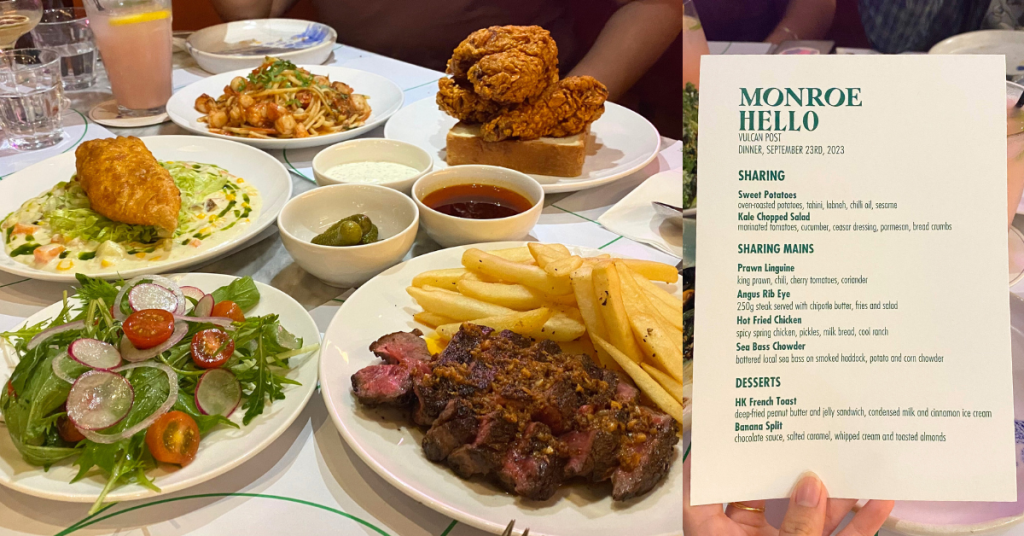 Come breakfast the next morning, we headed downstairs to Lucky Bar Coffee to get our choice of sandwiches and drinks.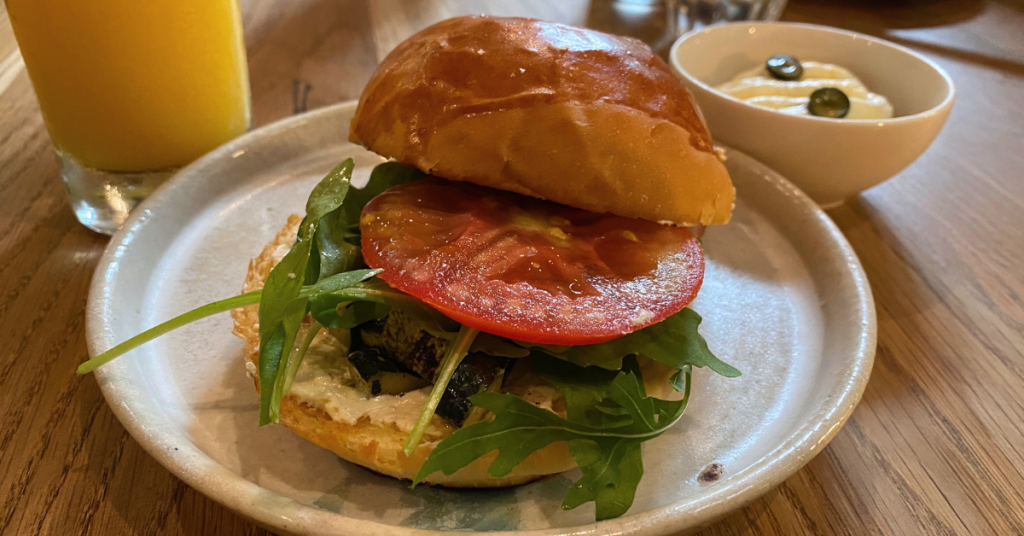 For our other meals, we ventured around the area and found easily accessible restaurants and cafes, with a good selection of cuisines and price ranges.
A great & homey workcation spot
Even with construction works happening next door and being a stone's throw away from the main road, the hotel was still peacefully quiet.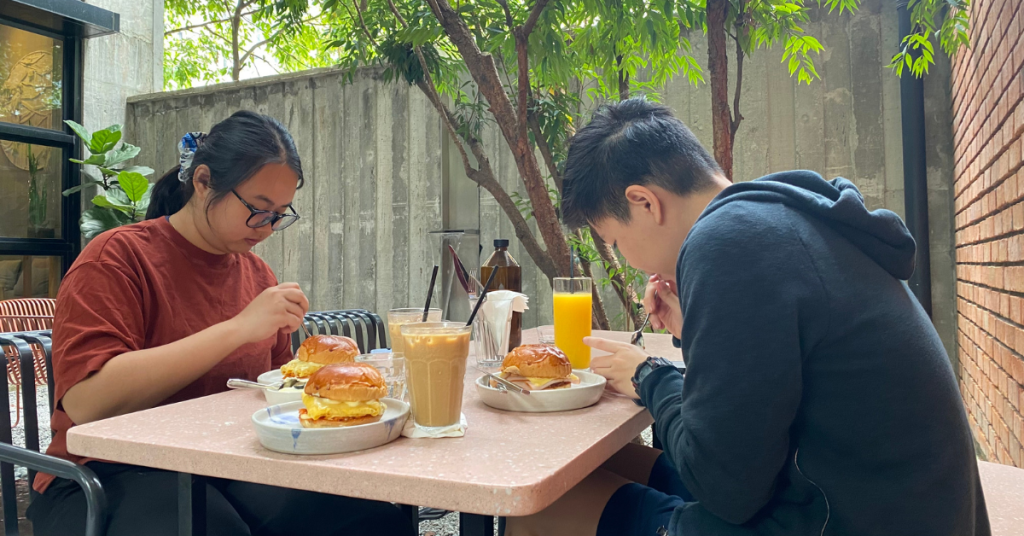 I felt like the Courtyard Room was definitely an ideal room choice for a workcation as well, as it wasn't too small for two people and neither of us got in each other's way. While the layout had no physical separation between work and rest, we were still able to concentrate with relative ease.
The bed was comfortable enough for rest, with all of us dozing off rather quickly on both nights.
The dining options here are worth coming back for, plus the hotel's location means you could easily explore the Bukit Bintang area in search of other options too.
| | |
| --- | --- |
| What workcation crowd is KLoé Hotel Kuala Lumpur suitable for? | Pro tip |
| Solo hybrid workers | For inspiration, try working in different areas of the hotel, such as the Living Room. |
| Creative nomads | Book an artist loft that fits your hobbies if you're looking for a one-of-a-kind stay. |
| Couples | Make use of the versatile event space, Studio, for personalised gatherings or business meetings. |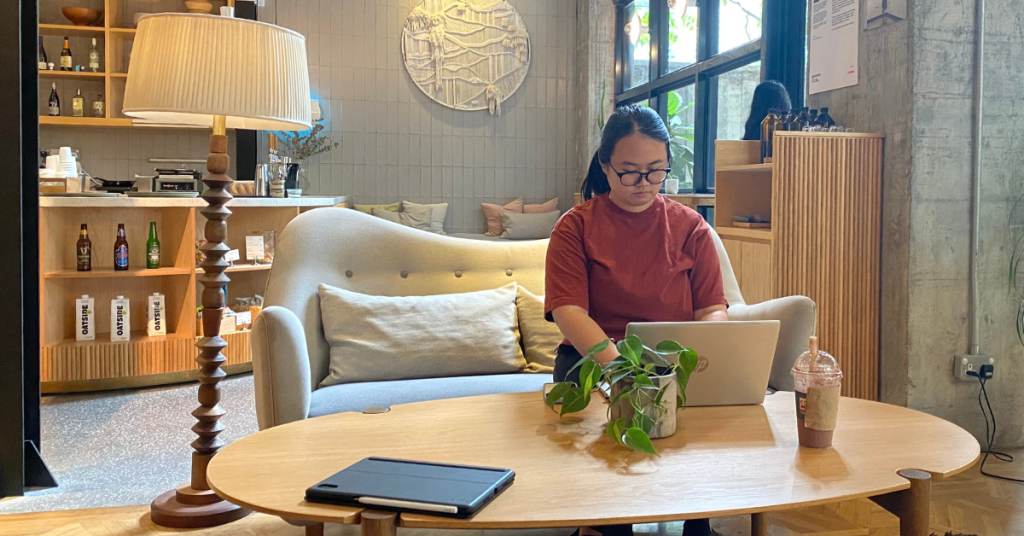 Read our other reviews of workcations we've been to here.
Learn more about KLoé Hotel Kuala Lumpur here.
All images credit: Vulcan Post