Hailing from Ipoh and Kuala Terengganu respectively, Ili and Siti first met in London. Ili was working, having studied actuarial science at the London School of Economics, while Siti was studying biotechnology at University College London.
So, how did these two with unrelated fields come together to start a vegan milk concentrate business by the name of In The Pink Co., of all things?
This is especially curious since the two aren't strictly vegans, but flexitarians who make choices that "align with a plant-based lifestyle", since they appreciate its positive impact on personal health and the environment.
"While our educational backgrounds are not directly related to the F&B industry, we bonded over our shared passion for entrepreneurship, health, and sustainability," the two shared with Vulcan Post.
Prior to In The Pink Co., though, the two also ventured into the world of business, co-founding a digital agency that provides content creation, digital marketing, and online presence management services.
Although In The Pink Co. is quite a different kind of business, the duo shared that the experience has certainly boosted their confidence in creating the In The Pink Co. brand.
Putting people in the pink
While living in the UK, both Siti and Ili got hooked on nut milks. But upon returning to Malaysia, the duo was surprised by the expensive prices.
Plus, having grown to be more health-conscious, they were disappointed to find that most nut milks on the market contain a measly 2-3% actual nuts, the rest being fillers.
"That just didn't sit right with us," they said. "So, we started making our own nut milks at home. It turned out to be one of the best decisions we've ever made because the taste and health benefits are on a whole different level."
However, the process was long and tedious. They would have to soak the nuts overnight, blend them in a high-speed blender, then strain the liquid before being able to enjoy the milk.
So, Siti and Ili turned to creating their own solution through plant milk concentrates.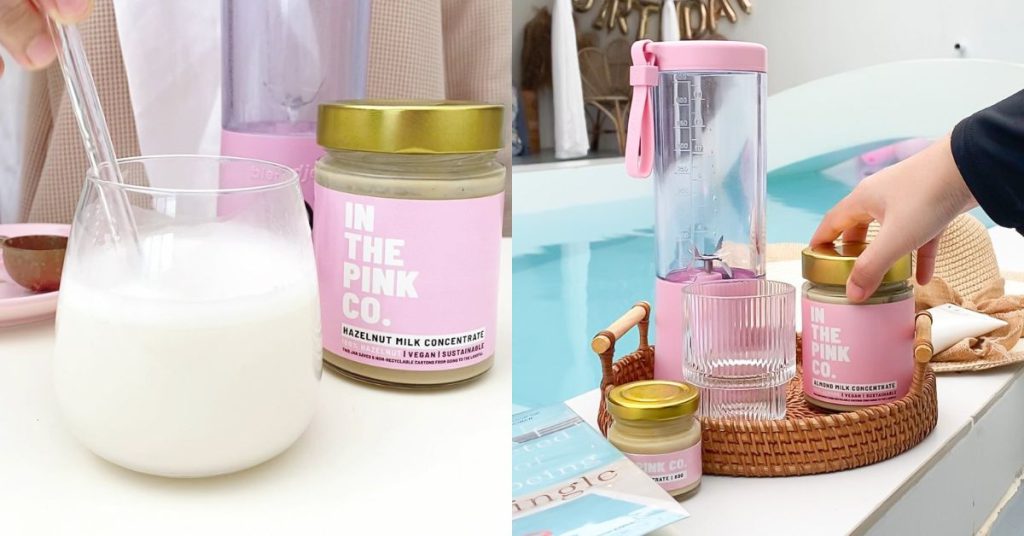 Going through a combination of online research and hands-on testing, they explored various machines and methods to achieve the desired texture profile, which needed to be smooth enough to avoid any grittiness in the throat.
"It took us 18 months to get these amazing jars of goodness from idea to a product that we actually love, showing just how much research, innovation, passion and care we put into the process," they proudly shared.
The duo also sent samples off to a lab for analytic testing, helping them nail down the exact nutritional values of their products.
Their technique involves soaking the nuts for up to 12 hours. They also use a dehydrator (another 12 hours) as well as a food processor to break down the nuts.
"But here's where the magic happens: we have a special secret machine that we use for five hours to achieve the exact texture we're after," they revealed. "It's a crucial part of our process that brings our plant milk concentrate to life."
Sustainable in more ways than one
Made 100% of nuts, In The Pink Co.'s plant milk concentrate contains no "nasties" like preservatives, stabilisers, emulsifiers, or thickeners.
You just need to mix (using a blender or frother) one cup of water to one tablespoon of concentrate to enjoy the milk.
In The Pink Co.'s concentrate is RM59.99 per jar, and each jar makes five litres of milk, which makes one litre of milk RM11.98. There are three flavours available currently, which are cashew, hazelnut, and almond.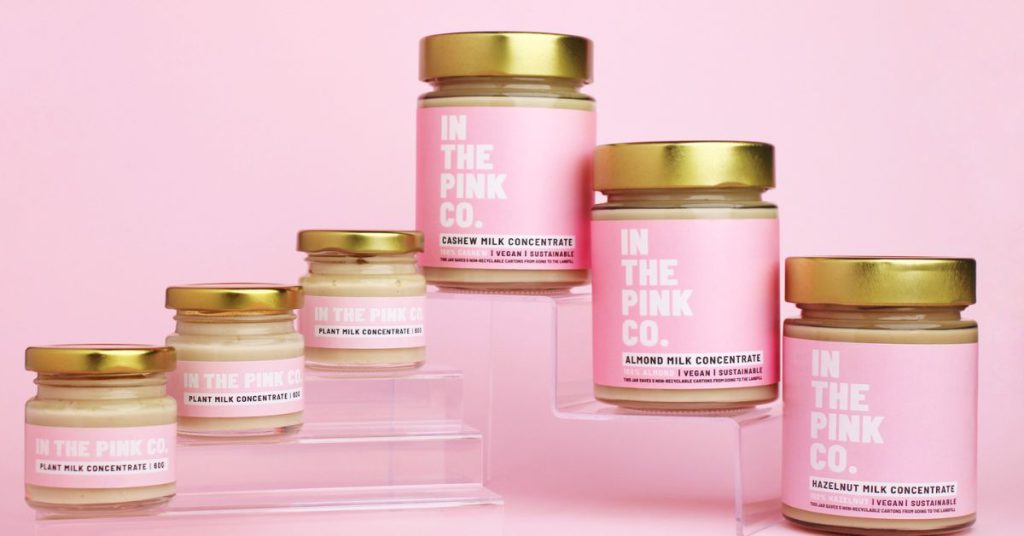 "The plant milk concentrate is the ultimate dairy alternative," the co-founders said. "You can use it not only as a standalone drink but also as a fantastic addition to any recipe that calls for traditional milk—dairy or plant-based."
Other than in coffees and smoothies, the concentrate can be used as a base for salad dressings to add a nutty twist, Ili and Siti said.
Another thing that makes the plant milk concentrate stand out is its sustainability factor.
According to the team, one jar of In The Pink Co.'s plant milk concentrate saves five non-recyclable cartons from going to the landfill.
Having no water in the concentrates also means an extended shelf life despite not having preservatives and additives.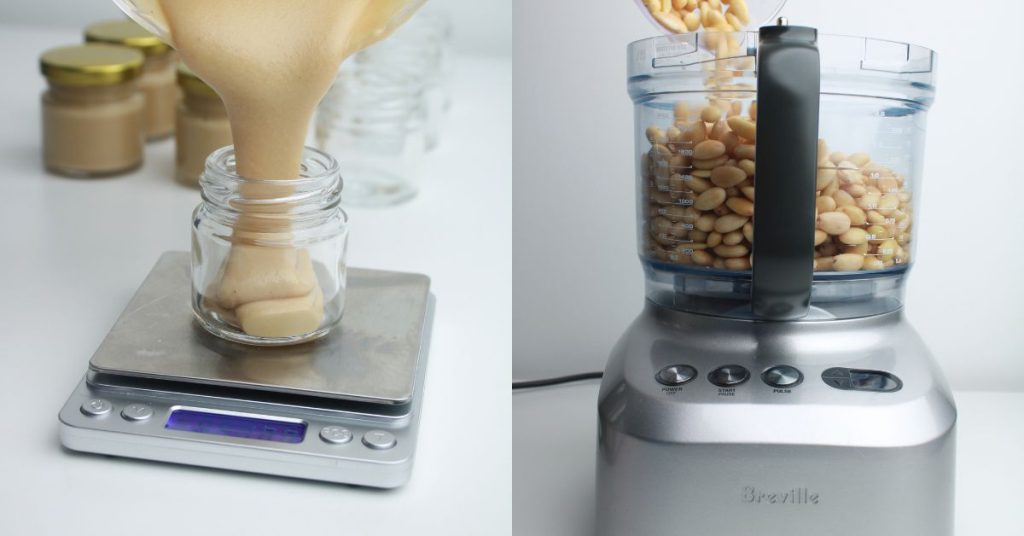 Furthermore, the team uses glass jars with aluminium lids, which can be infinitely recyclable.
"We also have a closed-loop reuse program to give the jars a second, third, fourth, nth life," they said. Upon receiving the used jars, Siti and Ili clean the jars thoroughly with soap and boiling water. Next, the jars are heat sterilised in an oven before being reused.
To incentivise customers to partake in this, the brand offers a free product on their next purchase after they return their jars.
At the moment, In the Pink Co. accepts return jars at certain events they attend. But the co-founders said they're working on the logistics to collect jars from customers in selected Klang Valley areas.
In the future, they also hope to extend this to postal returns nationwide.
Concentrate vs liquid
While the product makes sense on a sustainable level, mixing up a concentrate still takes more work than just pouring out liquid plant-based milk from a carton.
But the co-founders believe that "the added step is a small compromise considering the significant benefits the product offers".
They also claimed that their milk is superior in terms of the health benefits as they contain plant nutrients without artificial ingredients.
To overcome the friction of using these concentrates over liquid plant-based milk, the co-founders suggested that customers can make milk in batches, producing a quantity that customers know they can finish a few days in advance and keep it in the fridge so that they have milk readily available.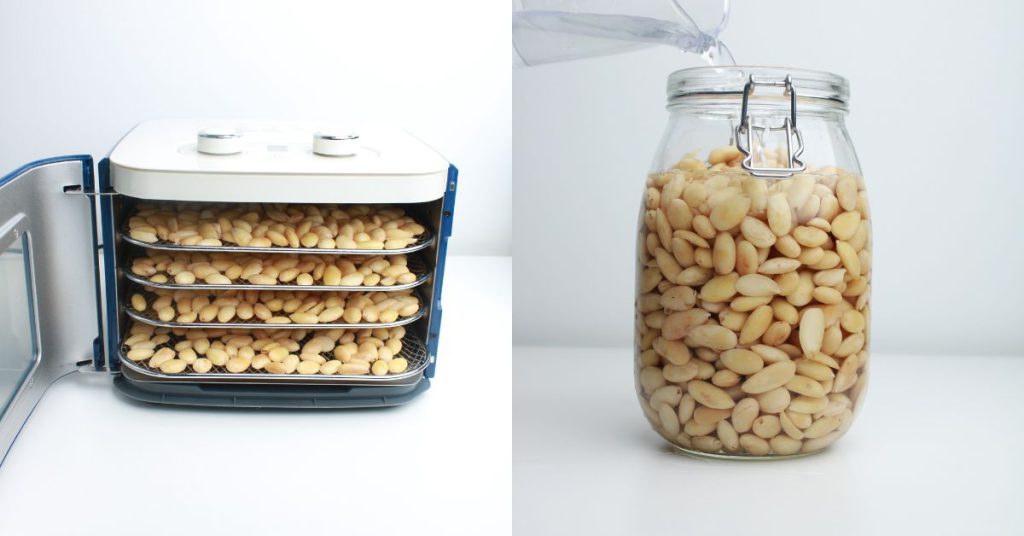 "The concentrate is also easier to store as it doesn't require refrigeration once opened," they continued.
They shared that they've seen customers who frequently travel enjoy the product since it allows them to continue their plant-based routines uninterrupted while on the go.
"Ultimately, it's up to the customer to weigh the pros and cons between carton-ready milk and concentrate, choosing the option that best suits their needs and preferences," they said.
"We offer mini starter sets (RM39.99 for the equivalent of one litre of milk) that customers can buy so that they can try the products to see if they work for their specific lifestyle. It's a little change that packs a big punch in terms of sustainability and overall well-being."
The future is nuts
Today, Siti and Ili balance running the agency alongside In The Pink Co., which is based out of their own home kitchen.
Believing that In The Pink Co. is the first to bring such a product to the local scene, the two are optimistic that the plant milk concentrate niche will continue to gain popularity in Malaysia.
"It might seem like there has not been a lot of interest but we think it's just down to the fact that plant milk concentrate is kind of a newbie here in Malaysia," they said. "In fact, many people that we talked to were hearing about this concept for the very first time through our conversations."
Still, building awareness about the product has been a big challenge. One way they've been gaining visibility is through physical events such as the recent VEG FEST 3.0 to spread their products.
At these events, In The Pink Co. typically sets up its 'Pretty Healthy Drinks Bar', which the co-founders say have been a hit. Here, they serve up drinks made with their plant milk concentrates.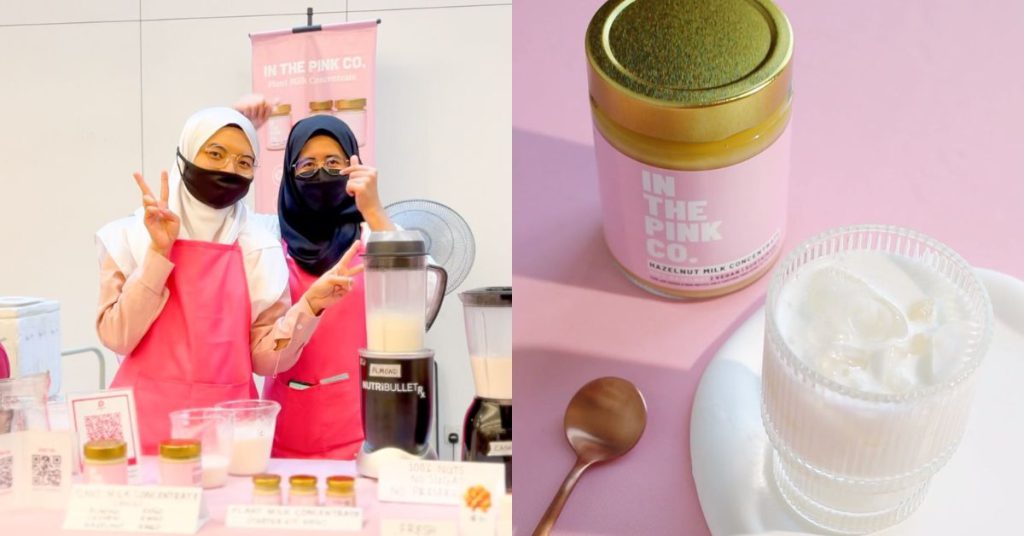 Going forward, the co-founders revealed there are many things in the pipeline, including new varieties of plant milk concentrates. On top of that, they're working towards making the products more accessible to more people, so getting them into shops will be crucial.
"We're also dreaming of our very own 'Pretty Healthy Café'," they said. "But hey, that's down the road a bit. We're taking it one step at a time."
For now, customers can purchase In The Pink Co.'s products online, through messaging via Instagram DM and WhatsApp.
Learn more about more In The Pink Co. here.
Read other articles we've written about Malaysian startups here.
Featured Image Credit: In The Pink Co.