Google, Temasek, and Bain & Company have released the 8th edition of their e-Conomy SEA report on November 6, 2023. The research leverages Temasek insights, Bain analysis, Google Trends, primary research, expert interviews, and industry sources.
Titled "Reaching new heights: Navigating the path to profitable growth", the report stated that funding has declined across the board in Malaysia, even in previously popular sectors like ecommerce and digital financial services (DFS).
H1 of 2023 saw 47 deals happening in Malaysia, with US$200 million in private funding transacted. Comparatively, H1 of 2022 had 77 deals with a private funding value of US$500 million.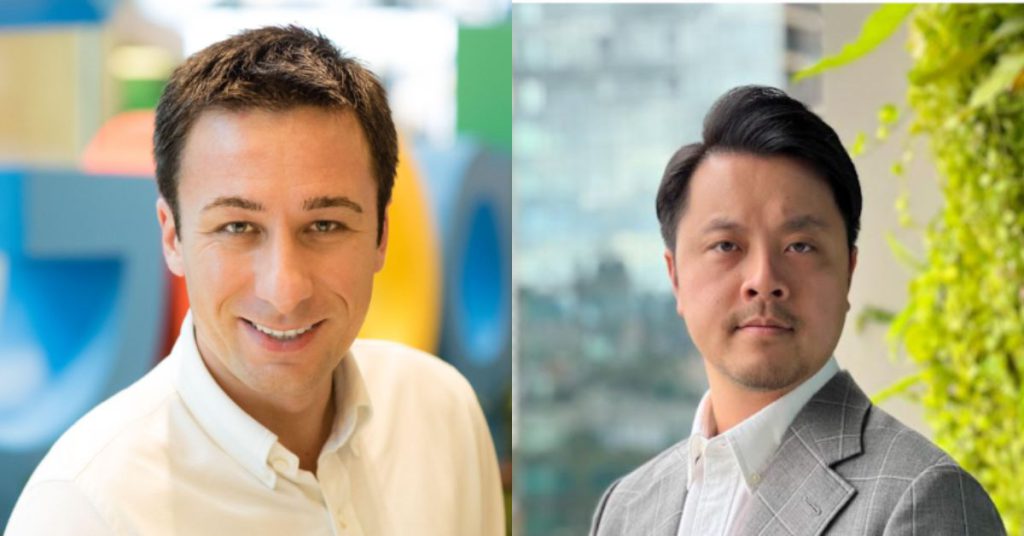 A region-wide trend
This decline in funding is not unique to Malaysia. Drops from 2021/2022's peaks have been common across Southeast Asia, with private funding reverting to 2017 levels after a record high in 2021. Late-stage deals (Series D & E+) in specific slowed the most, declining by 77%.
This is in line with global shifts towards higher costs of capital and issues across the funding lifecycle, e-Conomy SEA reported.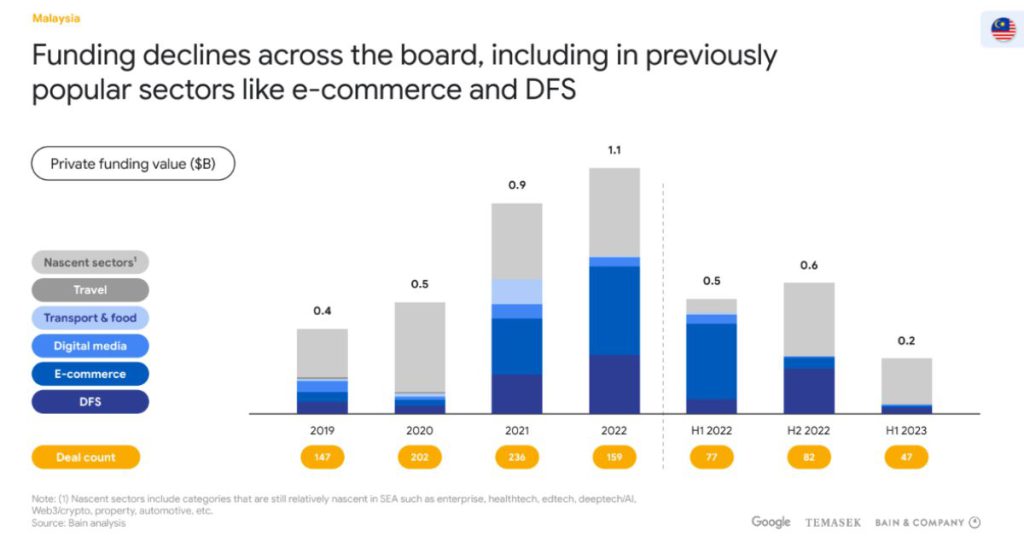 Prior to 2023, the pace of funding in recent years had been "extraordinary", the report stated.
"In 2016, we expected US$40 billion–US$50 billion of investments that would take gross merchandise value (GMV) to US$200 billion in 2025. By 2022, the region had raised double that amount—US$101 billion—as it hit the US$200 billion GMV milestone three years ahead of schedule."
However, this pace has slowed to a six-year low due to higher costs of capital. And compared to funds focused in other regions, SEA funds have returned less capital to investors.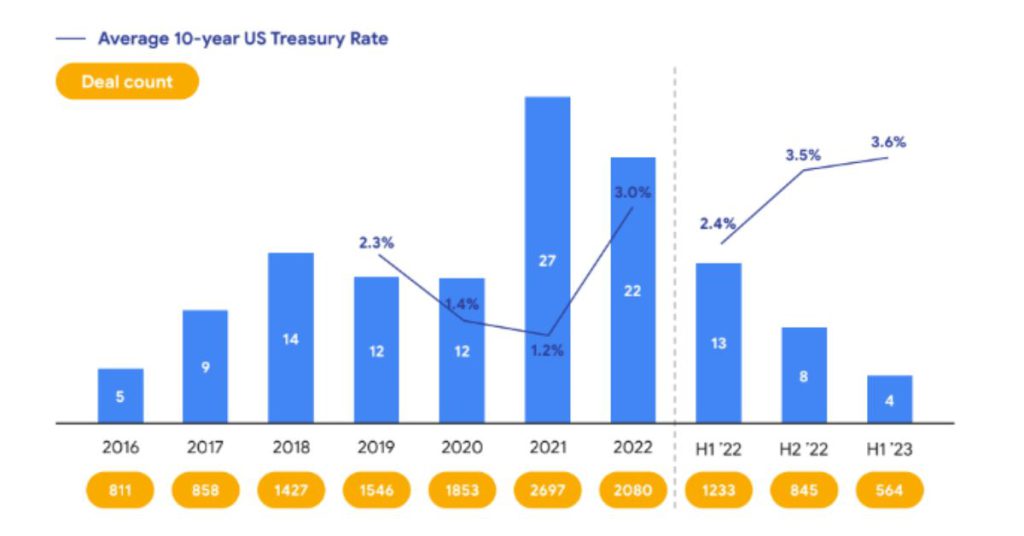 Believing that investors are now recalibrating their expectations, e-Conomy SEA states that there has been a shift towards self-sufficiency whereby digital players are looking to extend their runways by spending more efficiently, in favour of healthier long-term growth.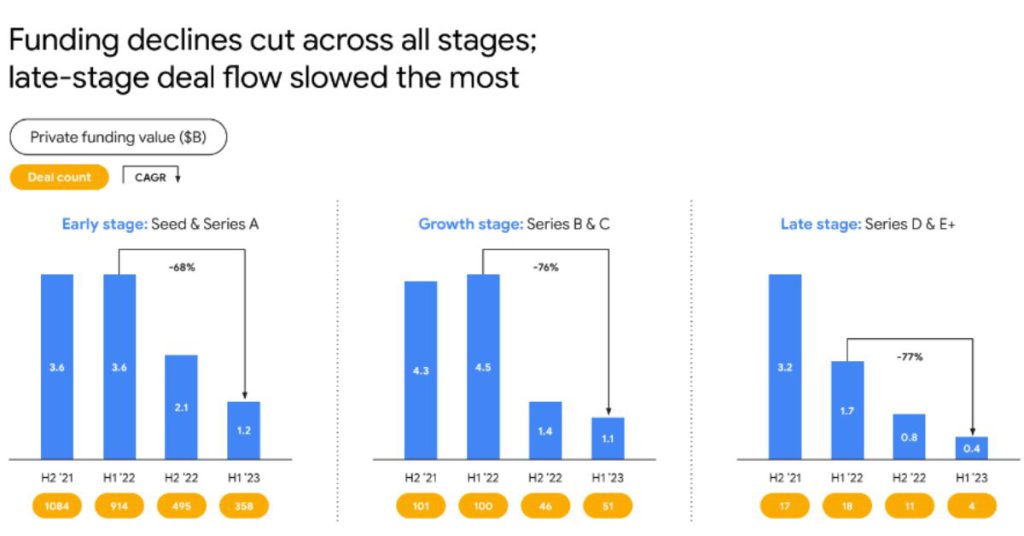 Exiting the funding winter
With data from the Bain SEA Venture Capital Investors Survey from Q3 2023, e-Conomy SEA found that investors are facing difficulties across all stages of the investment lifecycle, especially with exits and distributions.
87% of investors find that fundraising has become more challenging, and 88% of them feel that they are facing a more difficult exit environment.
According to the report, funds that started in the mid-2010s are now in the late stages of harvesting, putting pressure on delivering returns. 50% of investors only partially met or did not meet their divestment targets.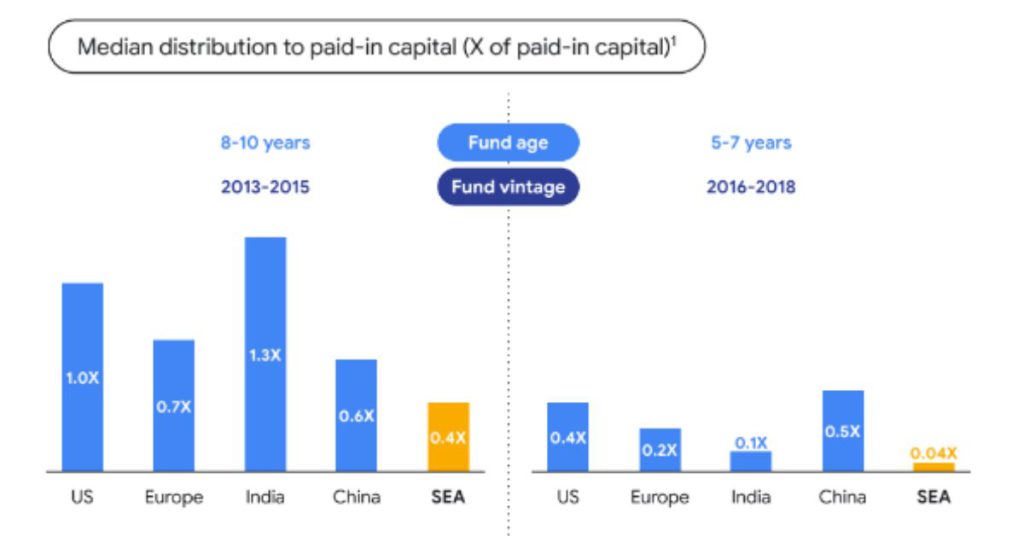 The report believes that distributions have also become limited by scarce IPOs.
Rather, distributions have been concentrated on a few big-name listings, primarily on US exchanges, but that has also been affected by interest rate hikes. This has subsequently reduced IPO appetite and the number of listings on regional exchanges.
"To leave the funding winter behind, SEA will need to prove its digital companies have a clear pathway to profitability, and investors have dependable exit pathways," e-Conomy SEA advised.
Having realistic and rational entry valuations, proven monetisation models, clear paths to profitability, and dependable exit pathways are some ways e-Conomy SEA believes the region can exit the funding winter.
The future of Malaysia and SEA
The good news is that digital businesses have been focusing on monetisation to achieve profitability targets, and these efforts are starting to see success, e-Conomy SEA reported.
Adoption of digital financial services also continue to rise in Malaysia and Southeast Asia at large, with digital payments now making up 50% of total transaction value in the region.
In any case, according to e-Conomy SEA, there remains significant headroom in SEA. This is due to favourable demographics, growing wealth, and an increasingly urbanised population that set the stage for future digital economic growth.
A growing portion of deal activity has been going into nascent sectors, which are sectors that are relatively new in SEA. e-Conomy SEA also counts industries such as enterprise, healthtech, edtech, deeptech/AI, Web3/crypto, property, and automotive, among others, in this category.
This is a signal that investors are diversifying, which is a good thing.
"SEA's digital economy can reach its full potential given broadened digital economy participation, the emergence of nascent sectors, physical infrastructure investments, and policy and regulation at the regional level," the report concluded in its executive summary.
Learn more about the e-Conomy SEA 2023 report here.
Read other articles we've written about Malaysian startups here.