There's a kombucha brand in Malaysia that goes by the name of Uncle Jeff Drinks. I don't know about you, but the name "Uncle Jeff" evokes the image of some middle-aged gentleman who might not be caught up with the trends.
Yet, there's nothing quite "uncle" about the brand's founder Jeff Lau.
The name, not-so-Uncle Jeff explained to Vulcan Post, simply came from the fact that his godchildren and friends' children started to call him Uncle Jeff.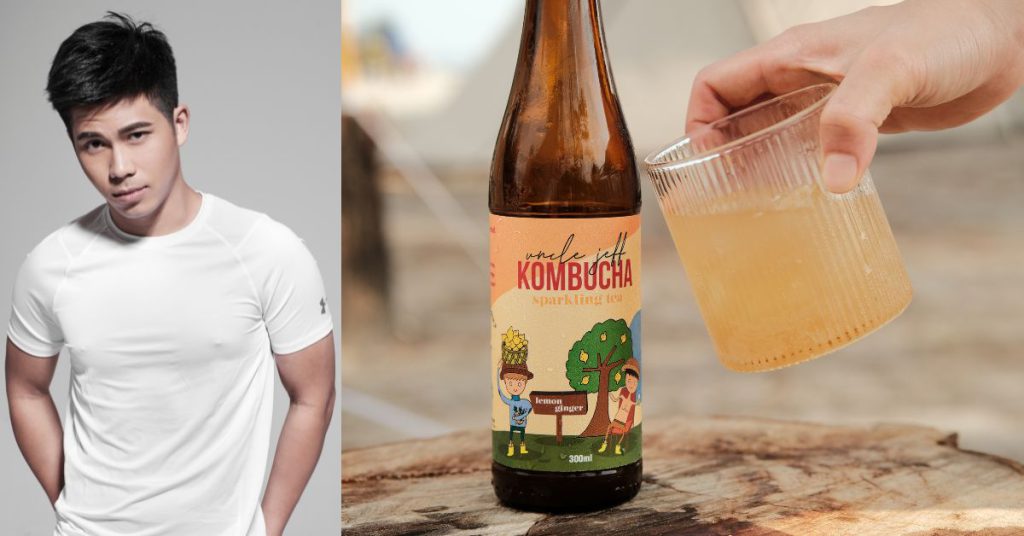 "And I am not getting any younger in the future, so might as well call it 'Uncle Jeff Drinks'," he concluded.
Having graduated from communication design, this first-time entrepreneur also runs an illustration brand called Mr. Vegetabird where he draws and creates stationery.
Oh, and did we mention, he's also an ultramarathon runner?
(I had to look up what an ultramarathon is. It quite literally is a marathon, but make it ultra hard and ultra longer than a normal marathon.)
The man has even completed 10 back-to-back Iron Man triathlons in 10 days back in 2019. Talk about commitment.
Nowadays, though, Jeff is bringing that commitment and focus to the entrepreneurial scene. Currently considering Uncle Jeff Drinks—or UJD for short—to be his full-time job, here's what the ultramarathon athlete's kombucha brand is all about.
Turning a hobby into a business
It started during the pandemic, like many other businesses established in the past couple of years.
While stuck at home, the athlete started to "play with food". After watching YouTube videos and reading recipe books on it, he decided to start brewing beverages.
"To be honest, I hadn't tried any kombucha before I started to brew kombucha, hence I have no idea and don't know what to expect from tasting it," he shared.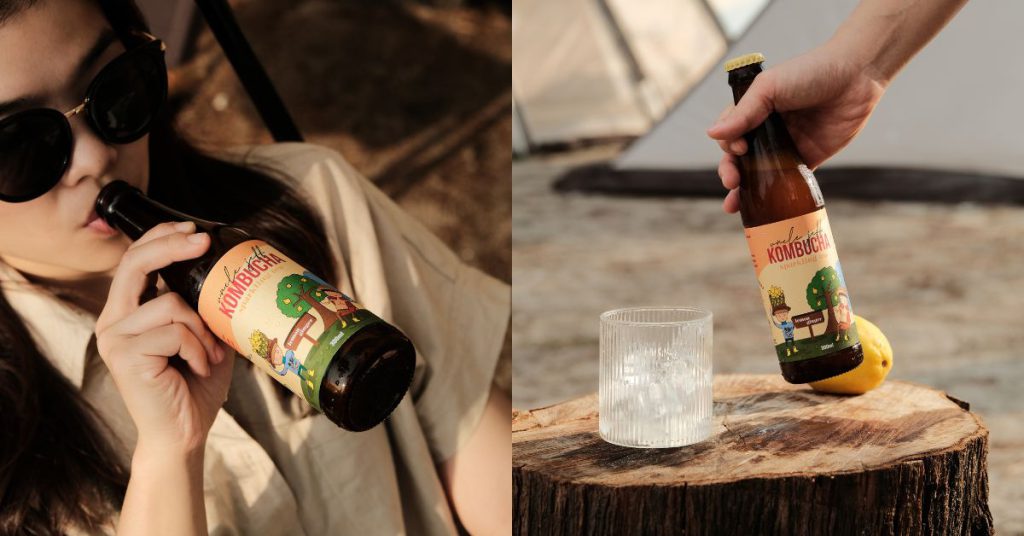 With that, he faced a lot of failures, even experiencing kombucha explosions that left glass shards everywhere.
"It burst out when I opened the kombucha," he explained. "I over-fermented it, and it taste awful."
It took the athlete one year of experimentations before he launched UJD.
Mixing up unique flavours
Handling the production process all by himself, Jeff caringly brews every bottle of kombucha from scratch. The whole process of brewing sweet tea to waiting for it to ferment into kombucha will take two to three weeks, depending on the flavour.
UJD's fixed menu includes original, mix berries, lychee, pineapple, lemon and ginger, blueberry, and strawberry.
Every month, though, Jeff will come out with a limited new flavour that complements the timing. For example, during Chinese New Year, he brewed up some Mandarin orange kombucha and grapefruit kombucha.
Jeff has also come up with some more uniquely named beverages, such as Kopitiam (starfruit-flavoured) and Mamak (featuring notes of calamansi).
"I love food and drinks, so whenever I taste something nice and interesting, I will note down and try similar ingredients with kombucha," Jeff said about his inspiration. "Sometimes, it tastes really awful but sometimes it's incredibly tasty. I enjoy this 'lab experience'."
Sourcing his ingredients from hypermarkets and wet markets, UJD uses all natural ingredients, with no artificial flavouring, he claimed.
"At the moment, I'm still doing 100% of the labour, no machines involved," he clarified. "Once the kombucha is ready to bottle, I will sanitise all the bottles and bottle them one by one."
Taking his business offline
Starting out, Jeff had supplied his kombucha as a white label product to a cafe, as well as completed corporate orders.
From his own savings and the profit from those efforts, he was able to start his own stall at Eslite Spectrum, the department store in Starhill KL.
According to the entrepreneur, it was Eslite Spectrum that reached out to the UJD team to become a vendor at their location.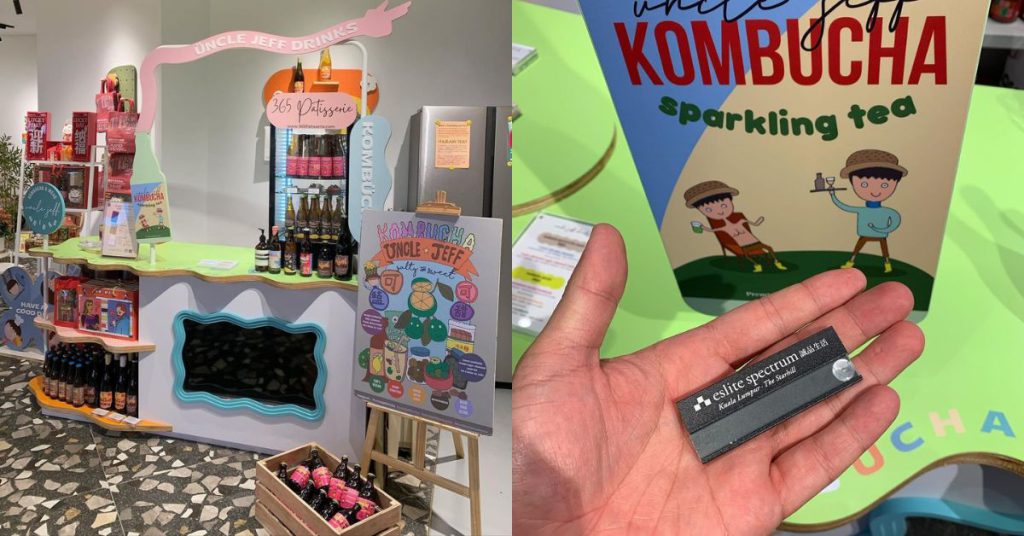 While the production side is a one-man show, Jeff works with a marketing staff as well as one full-time and two part-time employees to run the Uncle Jeff Drinks booth.
He shared that the startup capital for the stall (including the fridge as well as ingredients) was around RM40,000.
"We have been at Eslite for 100 days and have sold 2,000 bottles," he said. Each bottle is priced at RM16.
Currently, UJD kombucha can only be found in Eslite Spectrum, but customers in the KL area can also reach out via Instagram to purchase the beverages.
Jeff doesn't plan on having an online store for now due to lack of manpower.
Putting his design prowess to work
Flavours aside, something special about UJD's products is the quirky designs on its packaging, designed by none other than Jeff himself.
"I love colour, and I like to give every flavour a different theme and design," he shared. "Hopefully customer who bought it, they can enjoy the illustration while drinking the kombucha."
The charming packaging paired with the flavours seem to help different UJD's products from the many other local kombucha brands that have popped up over the years.
Some of the more well-known ones include WonderBrew, ChaCha Kombucha, Boocha, Brew by Root Wild Kombucha, and more.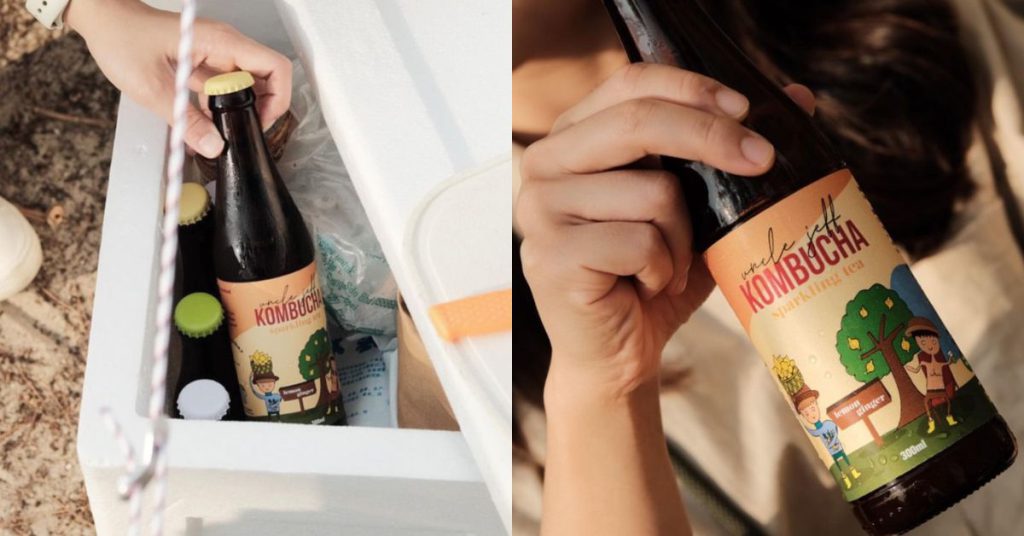 "Honestly I don't have a strategy to set UJD apart from other kombucha brands, I just do what I like (I know it is very capricious)," Jeff commented.
And what he likes is a sparkling, super fizzy kombucha that's on the less sweet side. To ensure that the products' flavour profiles align with customer preferences, UJD offers tasting sessions for customers before they decide to purchase a product.
The team also explains to customers how to properly store kombucha so it won't explode, since Jeff himself has been there and done that.
Breaking out the bubbly
Eyes set beyond KL, Jeff hopes to bring UJD to pop-up markets in areas such as Penang and Johor. The team is also looking forward to working with different cafes and brands, and perhaps enter retail stores.
But before embarking on all those projects, the plan is to shed awareness on kombucha first. Apparently, six out of 10 people who visit UJD's stall still have no idea what kombucha is.
Of course, Jeff would know that life's a marathon, not a sprint. So, hopefully we'll be able to witness UJD continue to grow sustainably down the road.
Learn more about Uncle Jeff Drinks here.
Read other articles we've written about Malaysian startups here.
Featured Image Credit: Uncle Jeff Drinks