Recently, there have been quite a few well-known F&B establishments that obtained the halal certification, such as KyoChon 1991 and FamilyMart's cafe (FamiCafe).
It was reported that as part of the process, the latter ceased its alcohol sales and adopted a different store layout.
This got us wondering—what does it actually take for an F&B establishment to be certified halal in Malaysia?
The process can be a little complicated on paper, so let us break it down to you in simple terms.
But first, what is "halal" and who determines it?
In essence, halal translates to "permissible or lawful" in English. The word pertains to what Muslims are allowed to do in their lives. The opposite of this is haram, which means "forbidden".
How Muslims determine what is halal or haram is based on the commandments stated in the Quran.
This doesn't mean that there's an exhaustive list of what's permissible or forbidden. Rather, it serves as a guideline to help determine what can or can't be done.
The guidelines include what sort of food, clothing, activities, and other lifestyle choices get a nod of approval from the religious authorities.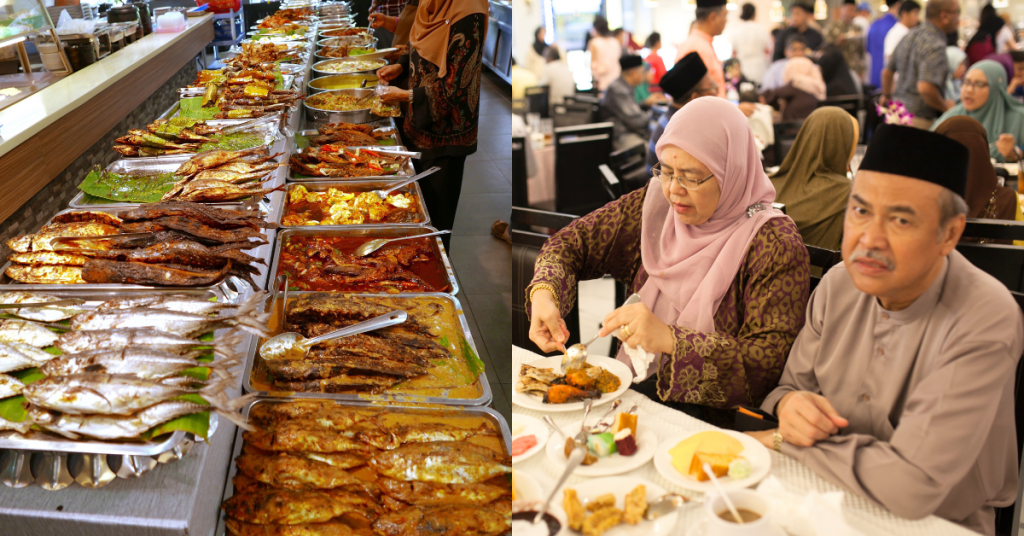 To make it easier for fellow Muslims, there are governmental bodies around the world that grant halal certifications to establishments.
For Malaysia, it's the Department of Islamic Development Malaysia (JAKIM).
Besides general food products, though, some other commodities and services that can be halal certified include (but aren't limited to):
Food premises (e.g. restaurants, hotels),
Cosmetics and personal care products,
Pharmaceuticals, and
Slaughterhouses
Naturally, each industry has different scopes of assessments and application processes. And they're also categorised under different halal certification schemes.
But for the purposes of this article, we'll narrow it down to an industry that's often heavily scrutinised for halal standards: F&B establishments.
What are the criteria for F&B establishments?
First things first, there are a few criteria that qualify F&B establishments to apply for a halal certification under the Food Premise Scheme. Mainly:
The establishment needs to be a registered company under the Companies Commission of Malaysia (SSM).
The establishment needs to be licensed to operate under the local authorities (PBT). So this means if the business is in Klang, the owner should get licensing from MPK.
The establishment needs to be a licensed food premise (Perakuan Pendaftaran Premis Makanan) under the Food Safety and Quality Department (BKKM).
The establishment's food suppliers and ingredients used need to be certified halal by JAKIM.
If an F&B establishment sources ingredients from outside of Malaysia, then they should ensure that the supplier and product(s) are also halal certified in their own country.
The latest list (at the time of writing) of foreign halal certification bodies and authorities that JAKIM recognises can be found here.
But these are just the general requirements. There's a lot more to it than that.
After digging around a little further, we found the complete procedure manual to halal certification in Malaysia, and discovered some of the more interesting requisites that are lesser known to the public.
The food products sold at F&B establishments must not resemble animals that are deemed haram for consumption, such as pigs and dogs.
The premise of F&B establishments must have strategic layout plans in place. The layout should avoid cross-contamination, facilitate cleaning activities, facilitate the process of extracting or handling raw materials and products, as well as comply with worker safety and health requirements.
F&B establishments must meet the minimum number of Muslim employees (who are Malaysian citizens) to appoint and work in the processing area throughout the operation period or shift. The number depends on the business's size.
All employees at F&B establishments must be sent for Halal Awareness Training within three months upon recruitment.
F&B establishments must compile and periodically update all of the halal application-related documents into a file, which will be requested when audits are conducted.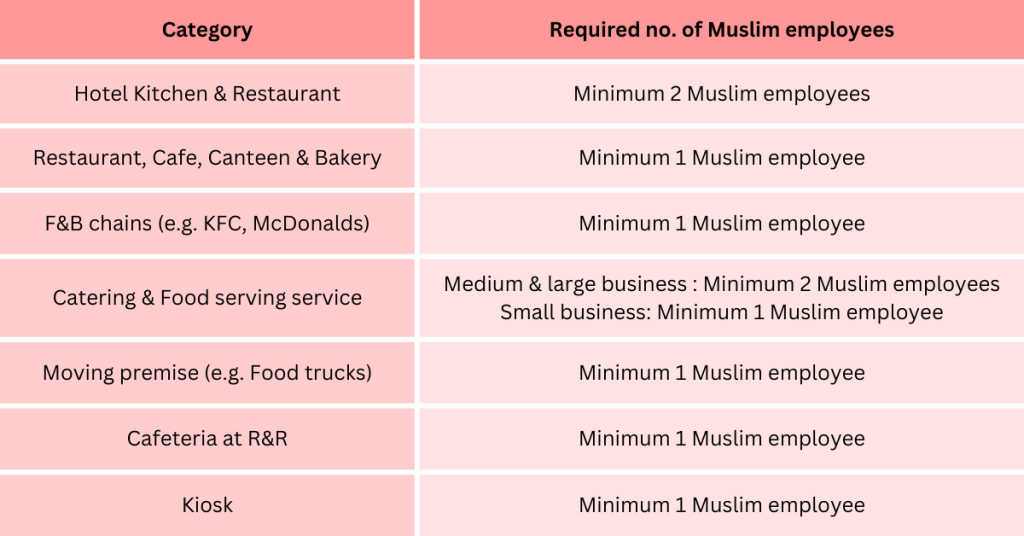 Once an establishment has fulfilled the necessary requirements, only then can they submit an application at JAKIM's online portal called MYeHALAL here.
What happens after submitting an application?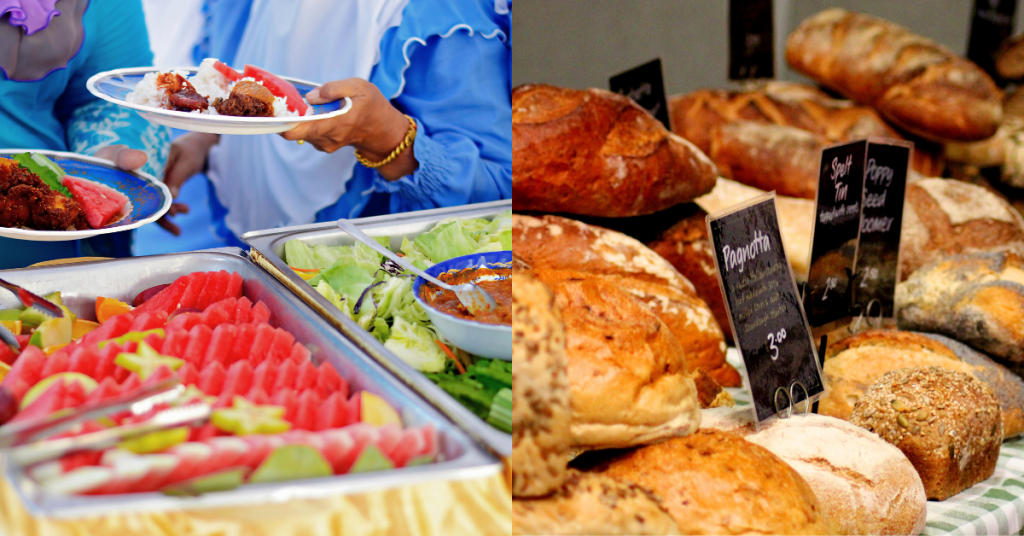 Should things look good on paper, JAKIM will proceed to conduct an on-site inspection of the restaurant's premises.
During this time, the inspector may take product samples for laboratory analysis. Some of the samples taken are to check for traces of alcohol, protein, and DNA found within the premises.
If everything checks out, the establishment will finally get the stamp of approval from JAKIM and be recognised as a halal-compliant F&B establishment.
The certificate will be valid for two years. When it expires, the establishment will have to renew their licence online. But do note that owners will have to apply for its renewal at least three months before the expiration date.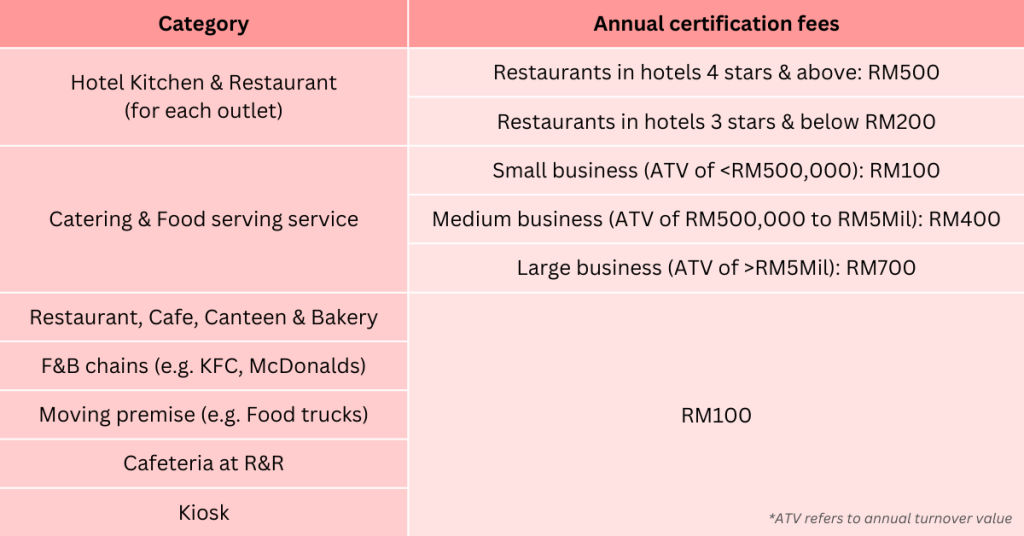 All that said, it's clear that there's a lot more to acquiring halal certification than simply serving foods and drinks made with halal ingredients.
It could be why some establishments in Malaysia choose to stay just Muslim-friendly, as the preparation prior to applying for halal certification can be demanding for a smaller restaurant.
Read articles we've written about Malaysian startups here.
Featured Image Credit: Vulcan Post