The dissatisfaction that many working professionals may have about their jobs is all too common, and it's safe to say that the corporate rat race is not for everybody.
That feeling is precisely why partners Ashley and Joel took the gamble to quit their careers working as actuaries to launch their tea-based artisanal gelato business, Koe Gelato.
Calculating the risks
Prior to Koe Gelato, the duo had been working in the actuarial department within the life insurance industry.
"We felt unfulfilled and struggled to maintain a work-life balance since we constantly had to study for our professional papers while working full-time," Ashley explained.
Wanting work that gave them more autonomy and fulfillment, the two began seeking a different path. This path eventually led them to the idea of starting a gelato business.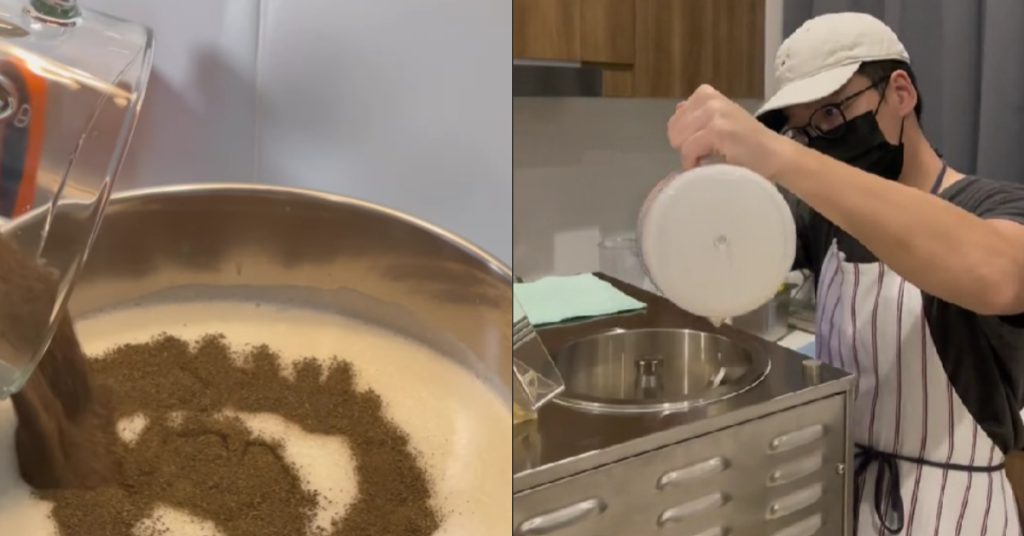 "Initially, we had reservations about leaving our careers to run our own business," Ashley elaborated. "However, as we delved deeper into research, the business idea became increasingly compelling."
Having invested their time doing extensive research, it also became difficult for them to abandon the idea.
Initially, they intended to make and sell the gelato as a side business, but progress was slow due to their demanding full-time jobs and exams.
Thus, they made the decision to quit their jobs, despite their lack of experience in the F&B industry and the fact that this meant they would lose a stable stream of income.
Churning their future
But why gelato, of all things? Ashley shared with Vulcan Post that the inspiration came from a personal experience she had during a trip to Taichung, Taiwan, five years ago.
"I visited a renowned ice cream parlour with an impressive range of 60 different flavours, 15 of which were dedicated to tea-infused creations."
The variety and quality of the tea flavours had made an impression on her, and eventually gave rise to the idea of starting a tea-based ice cream shop.
When she shared this idea with Joel two years ago, he suggested learning and making tea-flavoured ice cream during their free time. Since it was the MCO, they were stuck at home anyway and thought it would be a fun activity.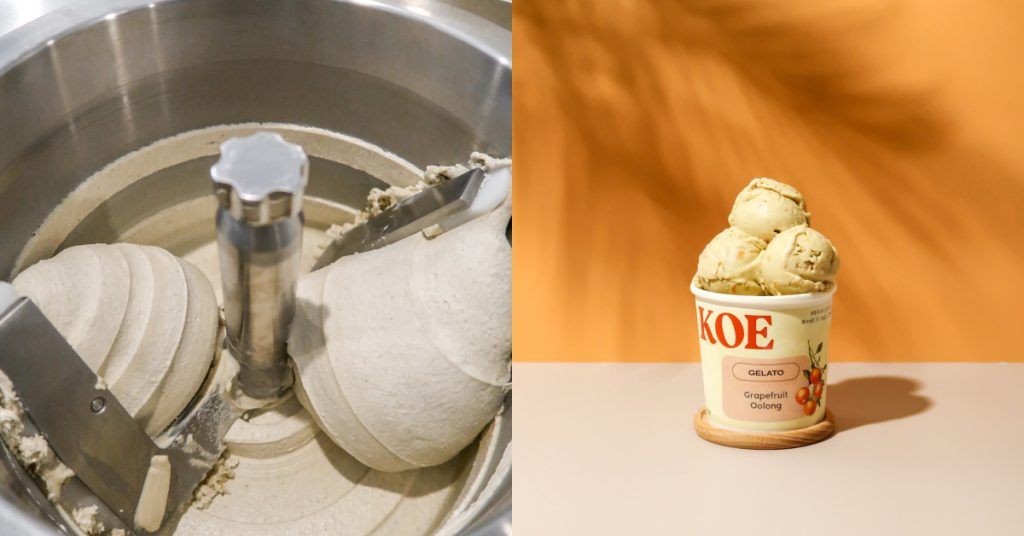 "While gelato may not have been our lifelong obsession, we developed a growing interest in it as we explored various flavours while visiting different ice cream and gelato shops as we went on dates," Ashley said.
Their desire to focus solely on tea-based gelato was due to their "deep appreciation for the complexity and versatility of tea."
As they did not have much experience in gelato making, Ashley shared that they initially struggled to achieve their desired results whilst experimenting with no-churn ice cream recipes.
However, things finally broke through when they invested in a home ice cream machine.
"As we continued testing and refining our recipes, we realised the need for more advanced and efficient equipment and upgraded to a commercial gelato machine to further advance our development process."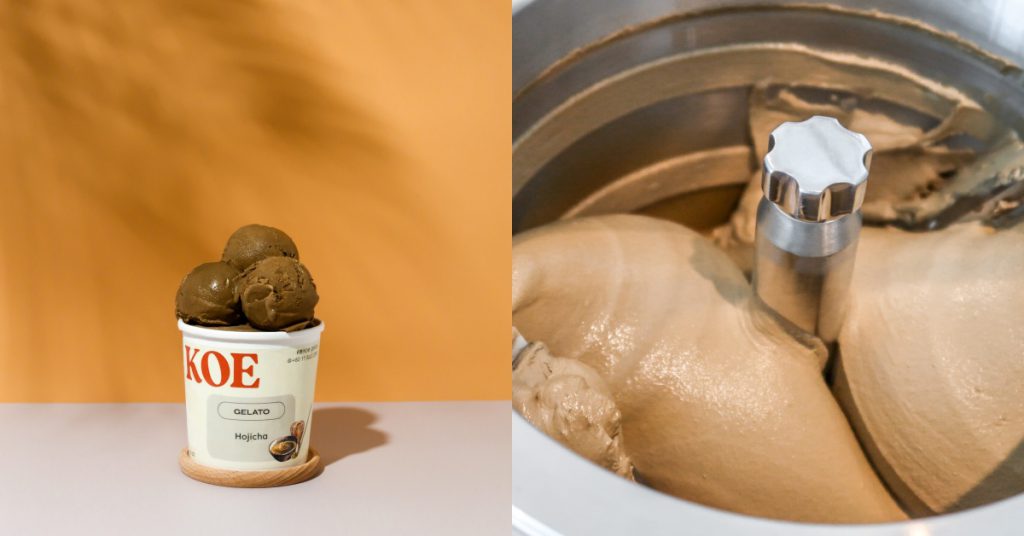 She explained that with the commercial machine, they could explore and fine-tune various factors such as air incorporation, freezing temperature, and consistency to achieve the optimal balance of taste, texture, and fat/sugar content.
Overall, the R&D to develop the base recipe and experiment with numerous flavour combinations took approximately six months.
In total, the duo invested a five-figure range's worth of their savings to carry out the R&D and purchase the machine and other equipment, such as the fridge, kitchen appliances, tools, and furniture.
Focus on the quali-tea
Currently, Koe Gelato has a curated menu selling only two distinct flavours: Hojicha and Grapefruit Oolong.
Ashley said that their Hojicha flavour uses darker-than-regular roasted green tea sourced from Uji, Kyoto. Meanwhile, their Grapefruit Oolong flavour came from their desire to create a refreshing and tangy option.
"The quality of our gelato is greatly influenced by the ingredients, mainly the tea leaves we use. We source the finest tea leaves from various regions of the world to ensure the tea flavours are authentic and fragrant," she explained.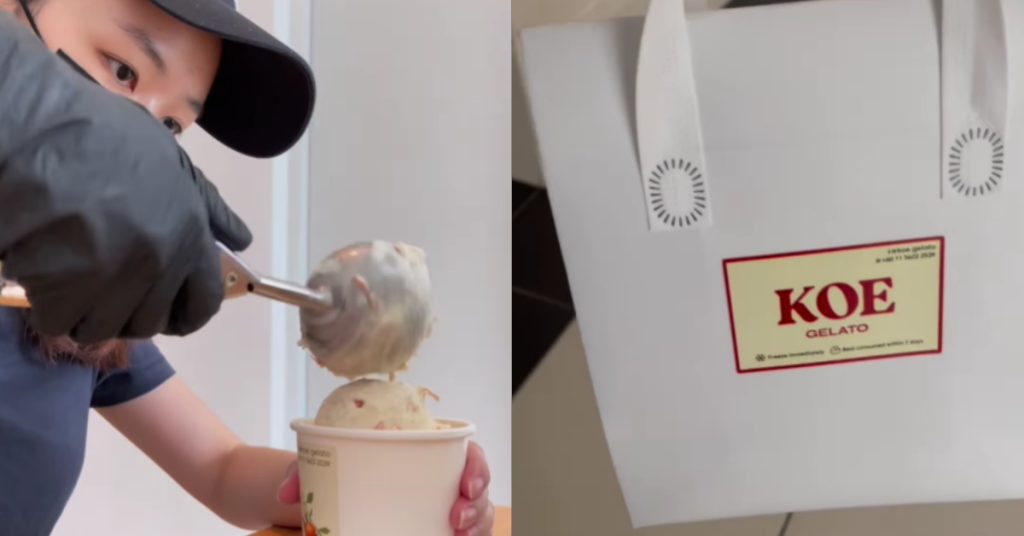 But the initial development of new flavours was also where they faced one of their biggest challenges.
With limited culinary experience, they had to rely on extensive experimentation to find combinations that resonated with their customers. This involved a lot of trial and error and significant investments in time and resources for testing.
It's been a worthwhile challenge though, as this specialisation in tea-based flavours is how they believe they stand out from their competition.
Although there is no shortage of new gelato and ice cream businesses such as Hummingbird & Mallows Gelato and The Unusual Greens (TUG), Koe Gelato's uniqueness lies in their devotion to focus on infusing tea with gelato.
That said, other tea-based gelato parlours have cropped up too, most notably Cheras-based Forest Floor.
Pricing-wise, Koe Gelato's products cost RM30 for a 12oz tub which is similar to the prices of its competitors.
Keeping it brewing
Although they currently only sell online and have a limit on the number of delivery orders in one day, the duo has big plans for the brand's future.
In the short term, they intend to expand their menu by introducing new gelato and sorbet flavours, including alcoholic ones, and to collaborate with local cafes and restaurants.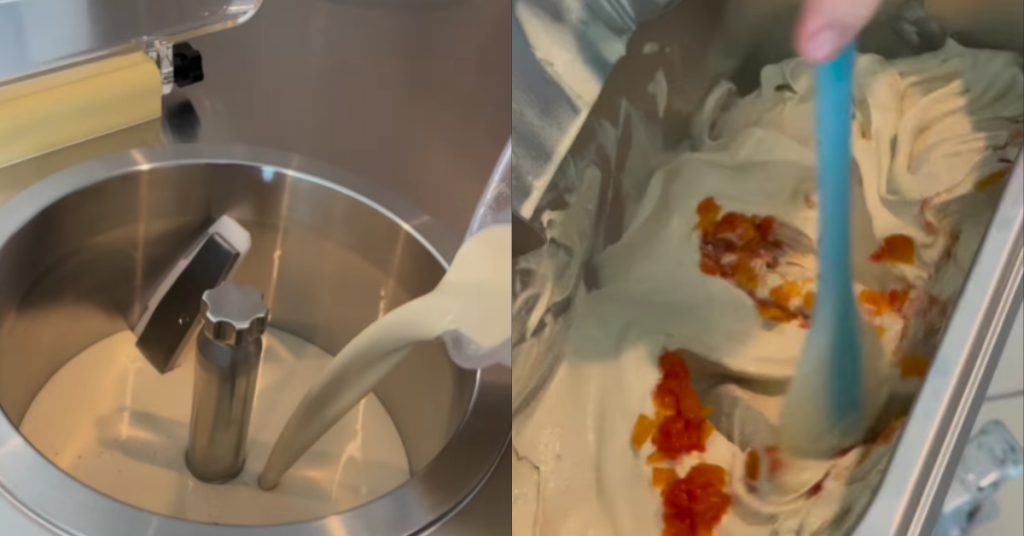 Eventually, they do plan to establish a gelato parlour.
"This will provide a physical space for customers to indulge in our gelato while having a space to hang out with friends and family," she said.
For now, though, they have upgraded from being a home-based business to renting out a dedicated space to churn their gelato, helping their production capability.
Featured Image Credit: Koe Gelato