Malaysia is undoubtedly a food haven with a seemingly endless list of culinary offerings across various cuisines and cultures.
With that in mind, what better way to celebrate our heritage than through food? Miniature, polymer clay food, that is.
Whether you're looking for gifts for your foodie friends, accessories for your Barbie dolls, or souvenirs celebrating our local foods, here are seven Malaysians who create just that for you.
1. 1/12 Space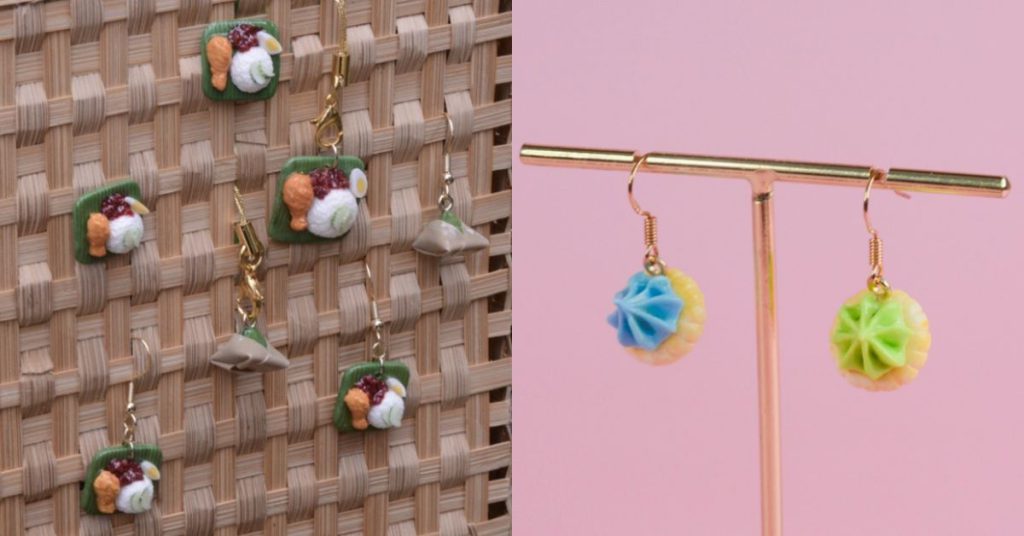 This local artist's miniature creations include local favourites such as nasi lemak and roti canai, as well as teh O ais limau. Ikat tepi, of course.
You can now relive your childhood memories through snacks such as ice gems biscuits and keropok roda. The mini kuih kapit looks particularly realistic and flaky. These snacks come in the familiar plastic container with the red lid, or encased in a plastic baggie.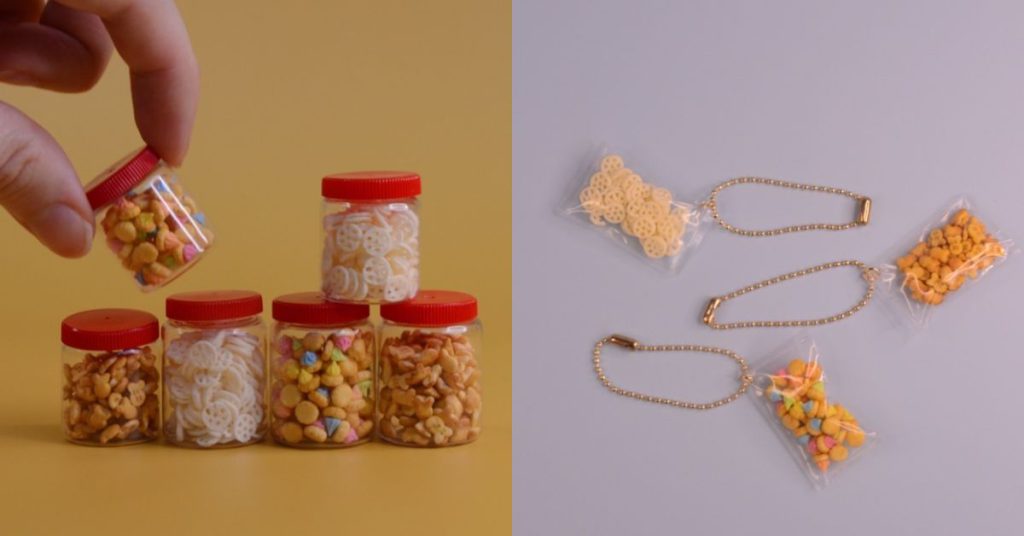 Other than keychains, 1/12 Space also sells their clay art in the form of earrings and magnets.
Based on their social media, they seem to have other unique Malaysian treats such as ice cream potong, but these haven't graced their online shop yet.
Price: RM15 to RM45
Ships from: Kuala Lumpur
2. TinyPinc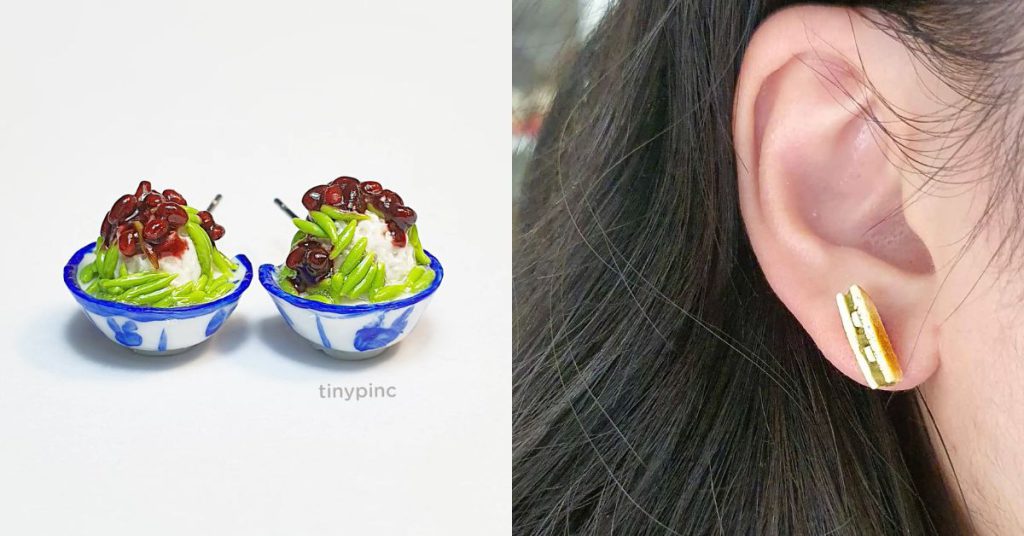 Previously featured on Vulcan Post, the woman behind TinyPinc Miniatures, Ling Hooi Yin, has been moulding polymer clay into various delightful trinkets since 2010.
Her expertise and creativity have landed her work in Mcdonald's ads and collaborations with Milo, AirAsia, and Malaysia Airlines.
A master of her craft, TinyPinc creates very intricate pieces of Malaysian dishes. Some may recognise her Nyonya kuih and chendol miniatures, but she also makes some more unique items such as yam cake, golden pomfret, and cold tofu with shallots to boot.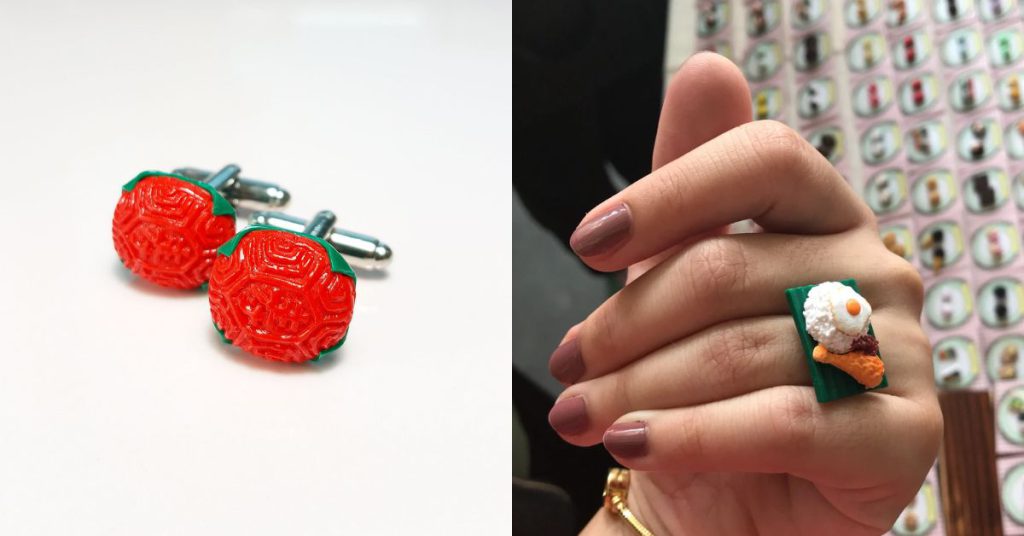 Another thing about TinyPinc is that some creations come in the form of unique items such as cufflinks, brooches, and even rings, other than the usual keychain and magnet options.
Price: RM30 to RM150
Where to buy: Website
Ships from: Petaling Jaya
3. Tin's Craft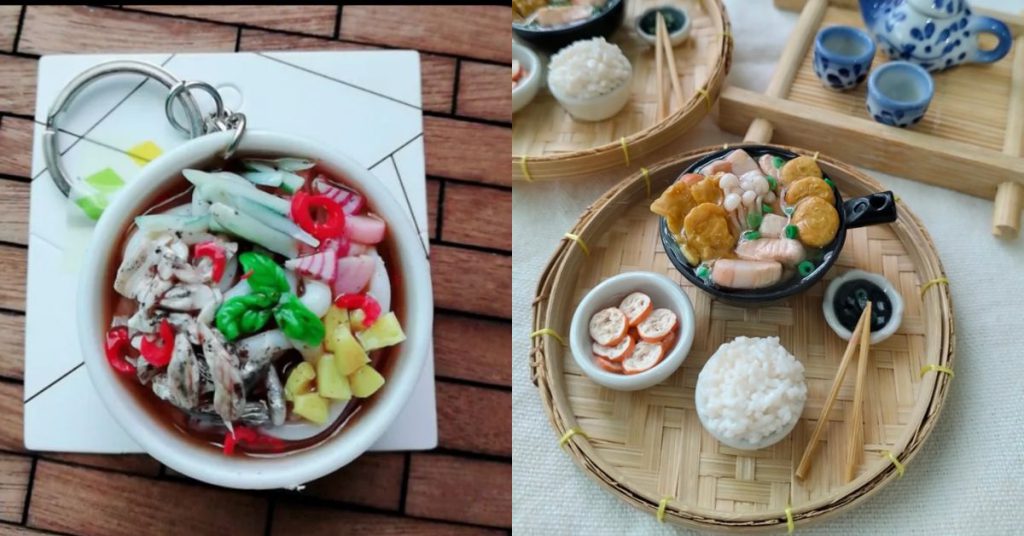 Scrolling through Tin's Craft's social media, it appears that their specialty lies in creations that involve lots of different items to result in a robust platter.
For example, there's the Nyonya kuih platter and the dim sum ones, as well as bak kut teh sets.
Perhaps one of the most heartwarming meals Tin's Craft has made is its homecooked set that includes steamed fish, sweet and sour meat, bak choy, and ABC soup.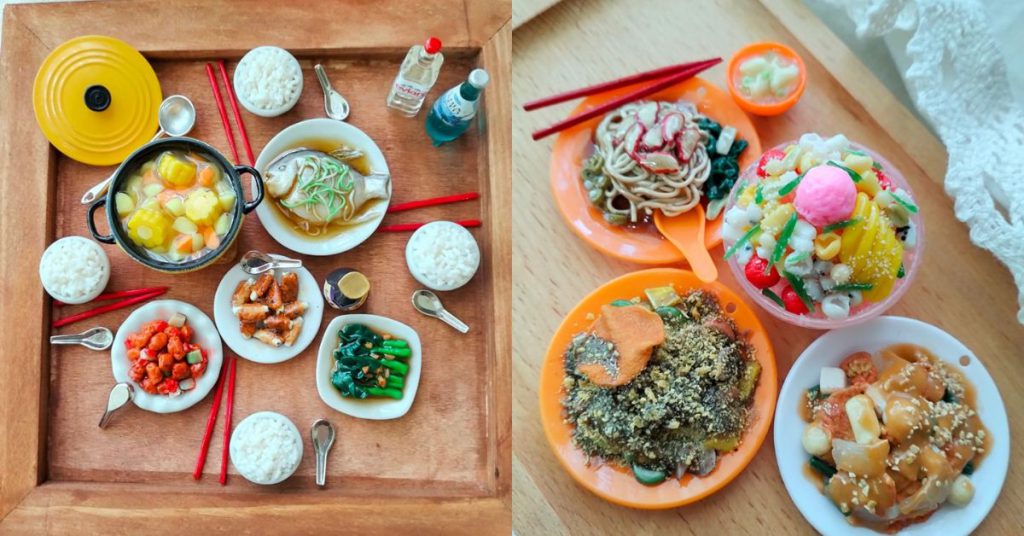 Other unique items from Tin's Craft are yong tau fu, pasar malam foods, rojak, and herbal chicken, amongst others. Most of their clay art come in the form of décor, magnets, or keychains.
Price: RM10 to RM280
Where to buy: Shopee
Ships from: Perak
4. Doreminiatures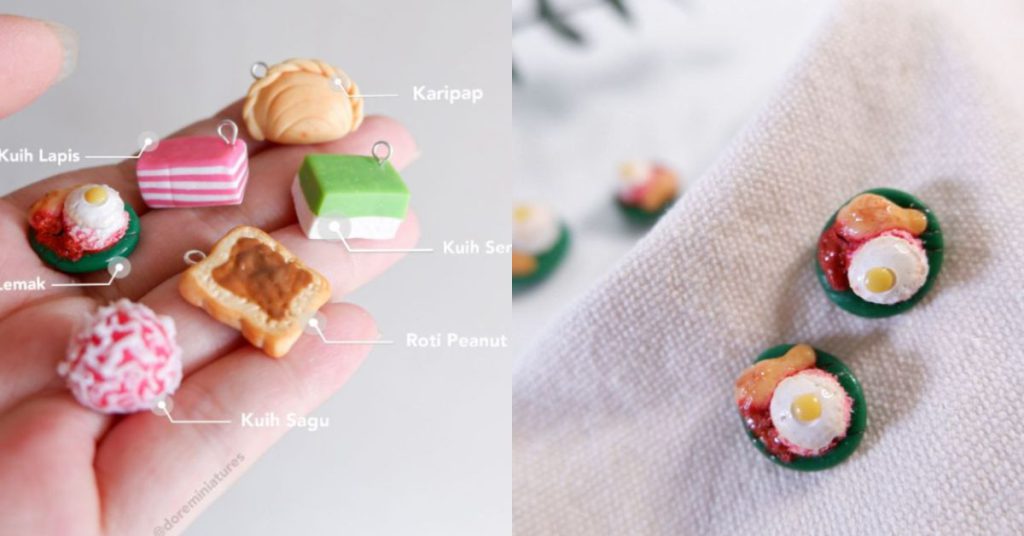 While Doreminiatures focuses more on cute designs from animals to cupcakes, they also have a line of keychains resembling Malaysian foods.
"Dishes" they offer include nasi lemak, karipap, roti peanut, kuih lapis, kuih seri muka, and kuih sagu. Only the nasi lemak one comes as a magnet, while the others are charms.
Doreminiatures also ships worldwide, but sadly Malaysian foods aren't in the international shop.
Price: RM9.90 to RM15.90
Where to buy: Shopee
Ships from: Negeri Sembilan
5. Honey Melon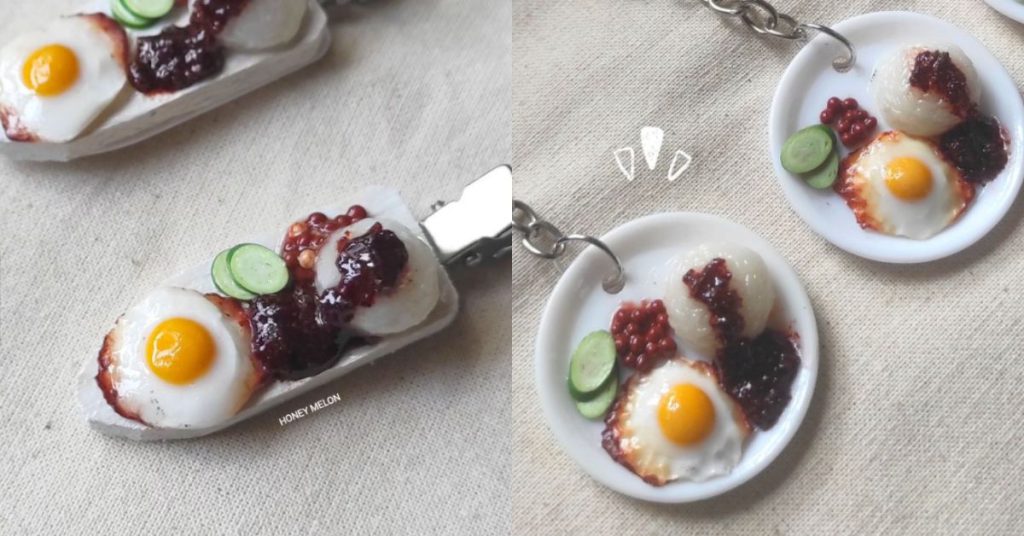 Described as a local artist who loves to create art from clay, Honey Melon's polished creations include nasi lemak, potato buns, and biskut "Mama Carey", which is a popular kuih Raya.
While their clay keychains look very well-made, more interesting is arguably Honey Melon's nasi lemak hair clips. Featuring a fried egg, spicy-looking sambal, rice, cucumbers, and nuts, this hair clip is certainly what we would call a statement piece.
Honey Melon also takes commissions for custom clay earrings. While the most expensive product in the store at RM210 isn't related to local food, we felt it was worth highlighting.
Called Cannibal, it's a one-of-a-kind wall clock that has different clay miniatures instead of numbers, resembling, erm, human parts plated as food.
Price: RM20 to RM30
Where to buy: Shopee
Socials: Instagram
Ships from: Terengganu
6. Miniaturesworld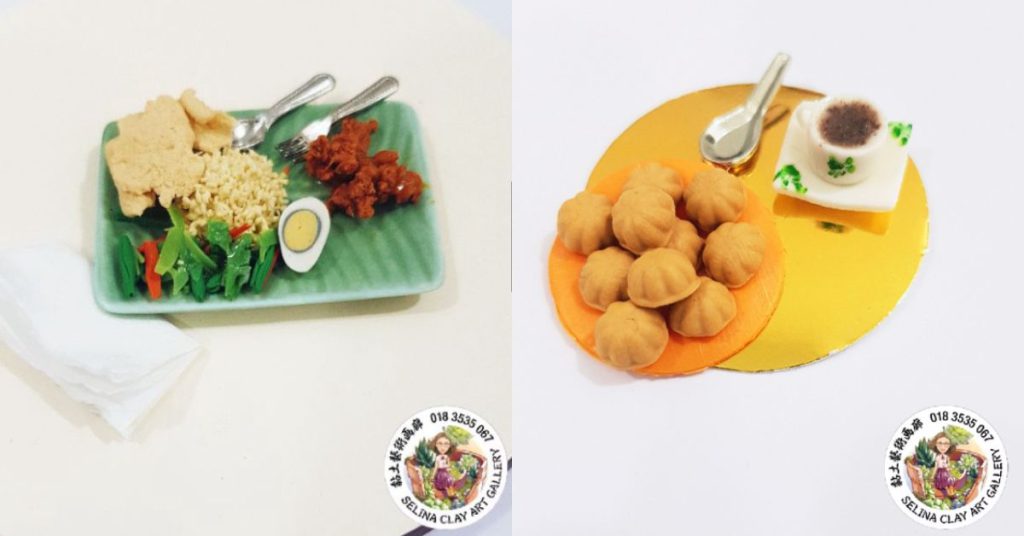 Created by an artist named Selina, Miniaturesworld's uniqueness comes through in the offering of less mainstream foods.
This includes things like kuih bahulu, roasted pork, lok lok, nasi kandar, sweet and sour pork, porridge, pan mee, and so much more. Just looking at the creations would make you hungry for some local delights.
Beyond these individual dishes, though, Miniaturesworld actually creates full-on shops such as Ramly burger or yong tau fu stalls, but you'll have to part with upwards of RM500 to get these caringly handmade sets.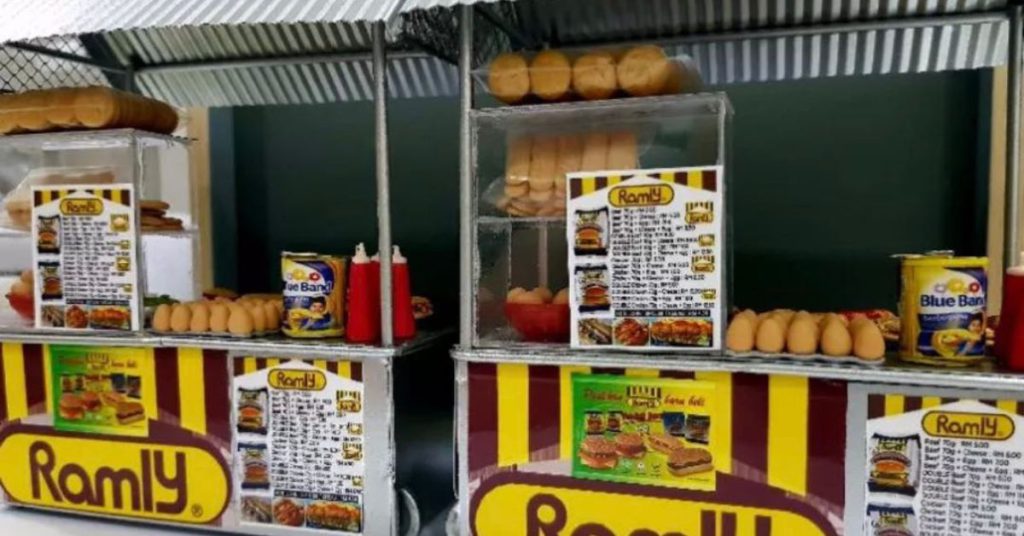 Miniaturesworld's Shopee listings are ready-stock products, so orders can be dispatched the very next day.
Price: RM28 to RM580
Where to buy: Shopee
Socials: Facebook
Ships from: Kuala Lumpur
7. Donato d'miniature
Created by Fercy Lee, Donato d'miniature seems to be less active nowadays, but her clay creations are still worth sharing.
Unique to Donato are the "dabao" miniatures, whereby dishes such as nasi lemak and char kuey teow are packed in familiar plastic containers to add some realism. And guess what? You can actually open and close the lid of the container.
Price: RM18 to RM55
Where to buy: Shopee
Ships from: Negeri Sembilan
Read other articles we've written about Malaysian startups here.
Featured Image Credit: Honey Melon / Tinypinc / Tin's Craft