In July 2023, Joel Neoh and Audra Pakalnyte launched First Move, a founder-led early-stage fund for consumer-focused startups across Southeast Asia.
Joel is the Malaysian serial entrepreneur behind startups such as Fave, while Audra is the former head of FavePay Later.
Among the first cohort of startups that received pre-seed funding from First Move was Collektr.
A collectibles marketplace launched in March 2023, Collektr has already gotten famous names in the startup ecosystem like Joel himself and Carsome's Eric Cheng using its platform.
Plus, other than the pre-seed funding from First Move, Collektr told Vulcan Post that it's backed by "prominent names who are household names in the global tech space", though they've remained private for now.
Already making waves in the startup ecosystem, who exactly is behind Collektr, and what does it do?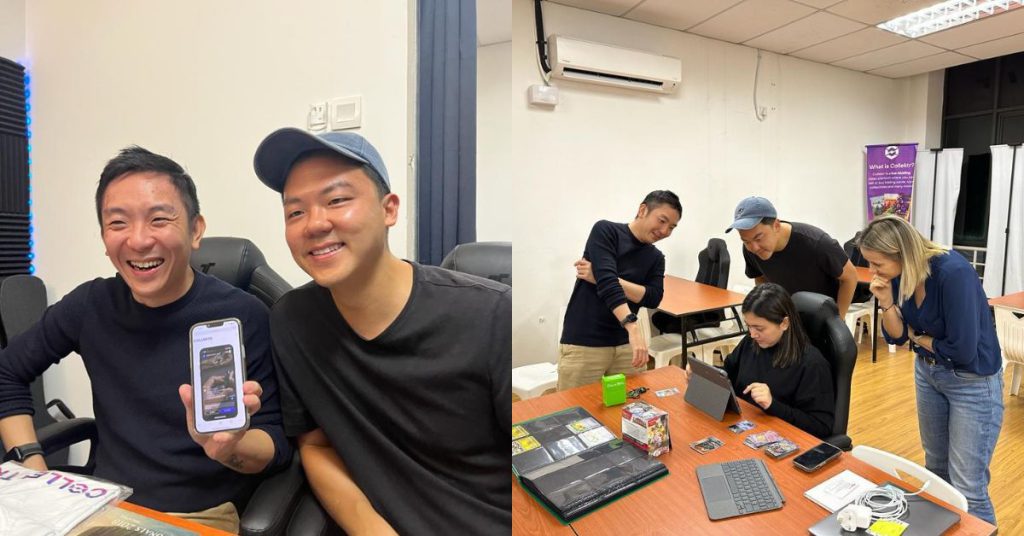 Starting a new chapter
25-year-old Saida first met Collektr's founders—who are choosing to remain anonymous—through a sharing session at her previous role.
"Our connection grew through shared interests in Pokémon and slowly into other TCGs (trading card games), but more importantly, all of us recognised the immense potential of creating a platform that could redefine the world of collectibles in Southeast Asia," Saida, who is the co-founder, shared.
During a conversation, one of the founders proposed the idea of starting Collektr to Saida.
The idea was to solve challenges faced by collectors in the Southeast Asian market, particularly with counterfeit items, which have been a significant issue.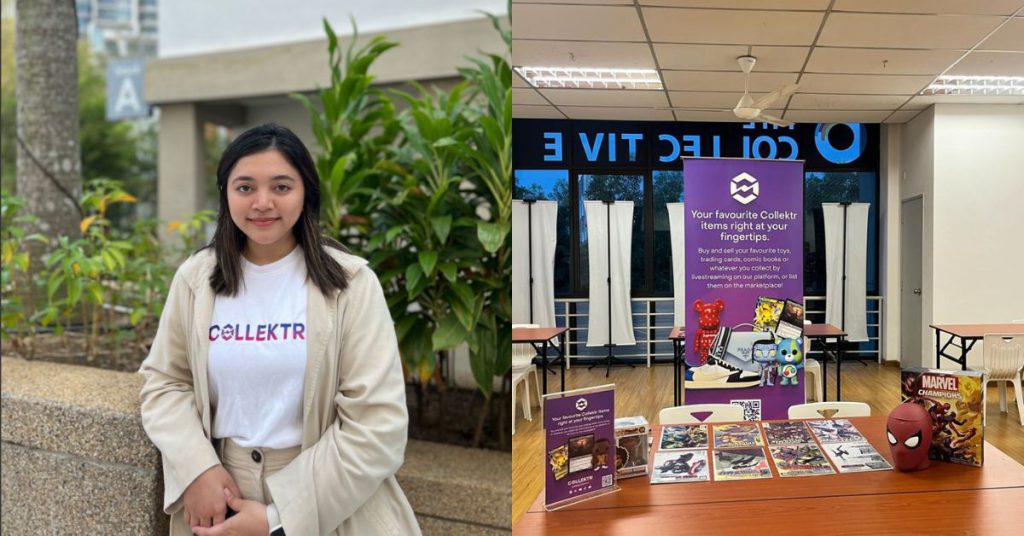 When the opportunity to co-found Collektr arose, Saida said it felt like the stars aligned.
"Our passions and aspirations aligned perfectly, making it the ideal opportunity for us to collaborate and build something extraordinary," she added.
How it works
There are already existing online platforms utilised by collectors, from specialised ones to more general ones such as eBay and other ecommerce sites.
However, Saida believes that other platforms have certain limitations and challenges when it comes to supporting the collectible community.
"Some of these platforms are well-known for their general marketplace features, while others focus on social interactions and content sharing," the co-founder said. "They do not fully cater to the unique needs and authenticity concerns of collectors in the region."
Thus, the goal of Collektr is to redefine the region's collectibles landscape, offering an immersive live bidding experience that aims to "rival the most successful platforms in the US", such as Whatnot.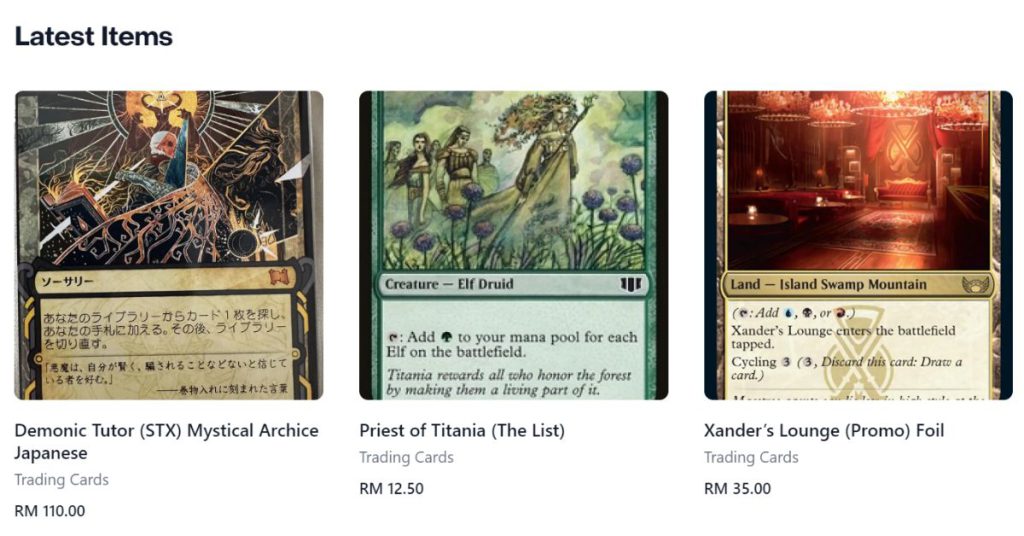 "Our vision is to become the go-to destination for collectors in Southeast Asia, where they can indulge in their passions, connect with like-minded enthusiasts, and celebrate the joy of collecting in a safe and inspiring environment."
Verifying authenticity
As a collectible marketplace, authenticity is key for Collektr. Understanding the frustration of collectors dealing with counterfeit items, the startup places importance on verifying sellers and providing a secure environment for transactions.
Saida said that Collektr implements a meticulous vetting process for its sellers and collaborates with respected authenticating institutions across various collectible categories.
"This dual-pronged strategy not only reinforces the credibility of our platform but also fosters a sense of trust within our rapidly expanding collector community," she said.
As Collektr continues to grow and facilitate the sale of more kinds of collectibles, though, there may be more and more unique categories of items that require expertise to verify.
One example is the live animals—namely goldfish—listed on the site. Saida shared that Collektr works closely with veterinary professionals and licensed pet shops to ensure it upholds the well-being of animals and the expectations of collectors within legal boundaries.
Into the realm of social commerce
Another way that Collektr aims to verify sellers is through its live-bidding system.
"After all, you can't fake a face (or voice), and that's a level of trust we value greatly," Saida pointed out.
Describing it like a "virtual auction house" where collectors can bid on items they love alongside peers, these live auctions intend to bring sellers and buyers together in real time, creating an interactive and thrilling experience for everyone involved.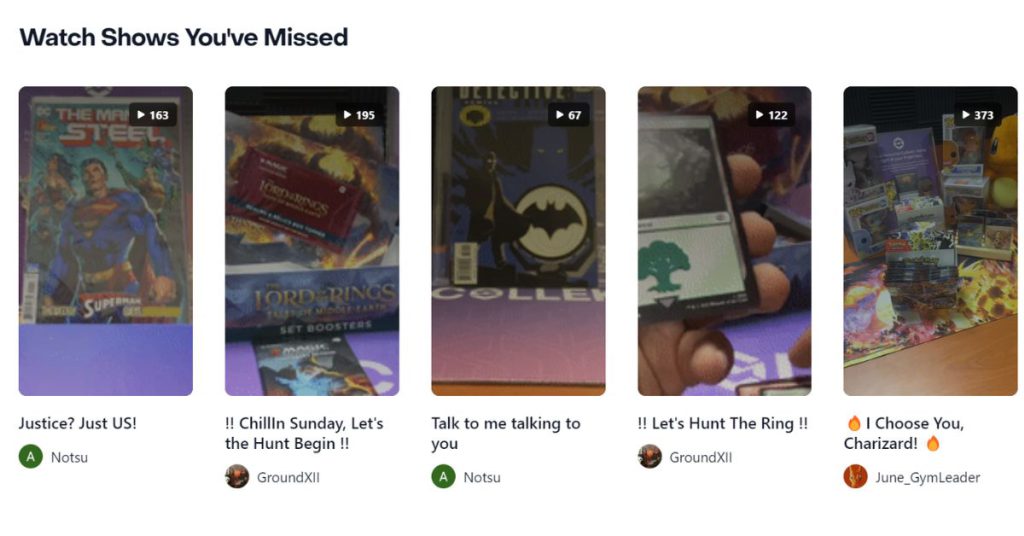 On top of authentication purposes, though, the livestreaming function also helps to facilitate a sense of community and engagement.
"When we initially ventured into Magic: The Gathering livestreams, we realised that personal engagement was pivotal," she said. "Authenticity mattered, necessitating the involvement of community representatives rather than just corporate entities."
Plus, she also believes that the culture of collectibles goes beyond the items themselves. Rather, the experience and camaraderie between collectors are what really solidify the hobby.
"The thrill of unboxing videos and the allure of real-time interactions during purchases and bidding endeavours resonated profoundly," she said.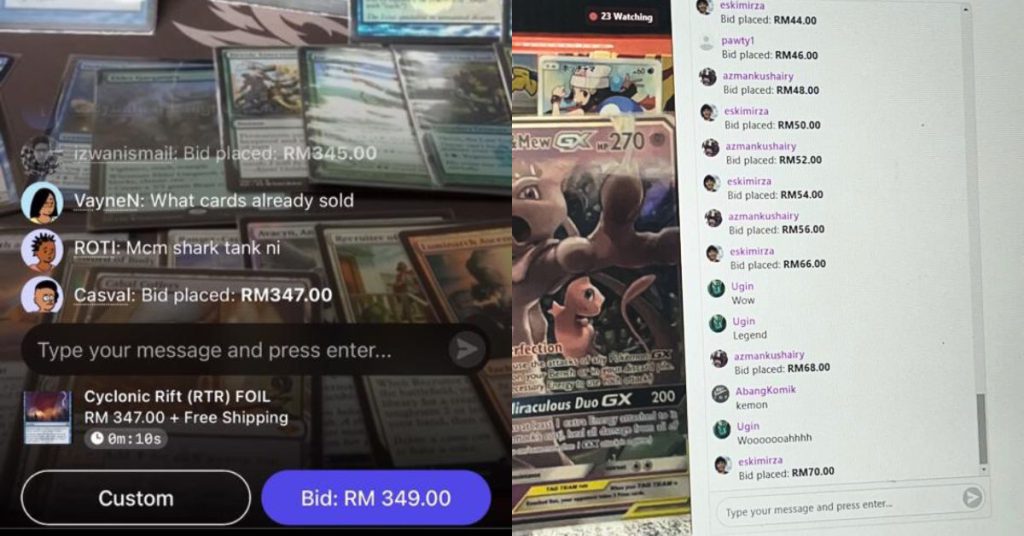 While numerous livestreaming sites from Twitch to TikTok already exist out there, Saida believes that those platforms are too broad to fulfil the needs of collectors.
"With Collektr it's hyper curated, you'll find the best products you'd want to buy with deep selection and product expertise; it's like going to a five-star hotel that has a concierge that knows who you are and what are your preferences," she elaborated.
Overcoming a stream of challenges
However, streaming is not as easy as it seems. To facilitate live broadcasts, the team would need to have sufficient server capacity as well as personnel to handle all the content moderation. These happen to be two areas that Collektr faces some challenges, especially as it grows as a platform.
Some struggles regarding server capacity include slow load times, crashes during peak traffic, as well as lag and latency.
To solve these struggles, the team has implemented caching strategies, traffic shaping, and the use of queueing mechanisms and content prioritisation.
"As we scale, we look forward to collaborating with more experts and service providers that can make us the leading platform for live-bid collectibles for collectors in Southeast Asia," Saida added.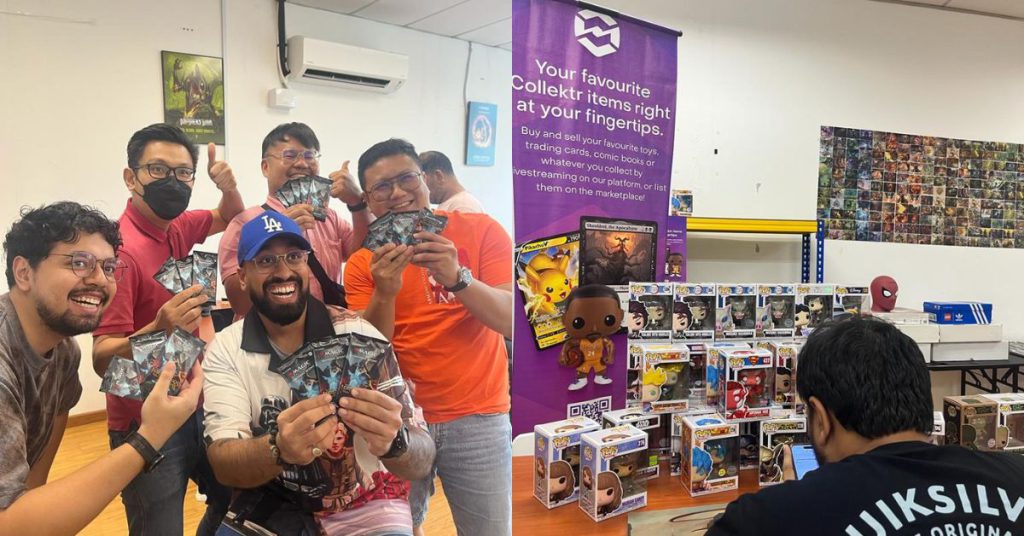 When it comes to content moderation, the co-founder shared that Collektr has and will rigorously vet its sellers to mitigate spamming and scamming risks.
That said, the team is mindful of potential challenges in areas such as inappropriate content, copyright violations, hate speech and harassment, privacy concerns, and false information.
"Rest assured, we're actively strategising and collaborating with experts to strengthen our content moderation, reporting mechanisms, and user privacy safeguards," Saida added.
Looking ahead, Collektr also aims to leverage advanced AI algorithms to pre-emptively detect and address prohibited content. Meanwhile, it's also investing in user-friendly reporting tools.
Beyond collectibles
Currently, Collektr mainly facilitates the sale of TCG, Funko Pop figurines, comics, and hot wheels.
As someone who isn't in the community, I find the collectible buying and selling scene to be quite a niche one, which begs the question of just how scalable Collektr is.
To that, Saida pointed out, "Collaborative success stories like Sneakerlah or CNCRD demonstrate the power of tapping into specialised communities."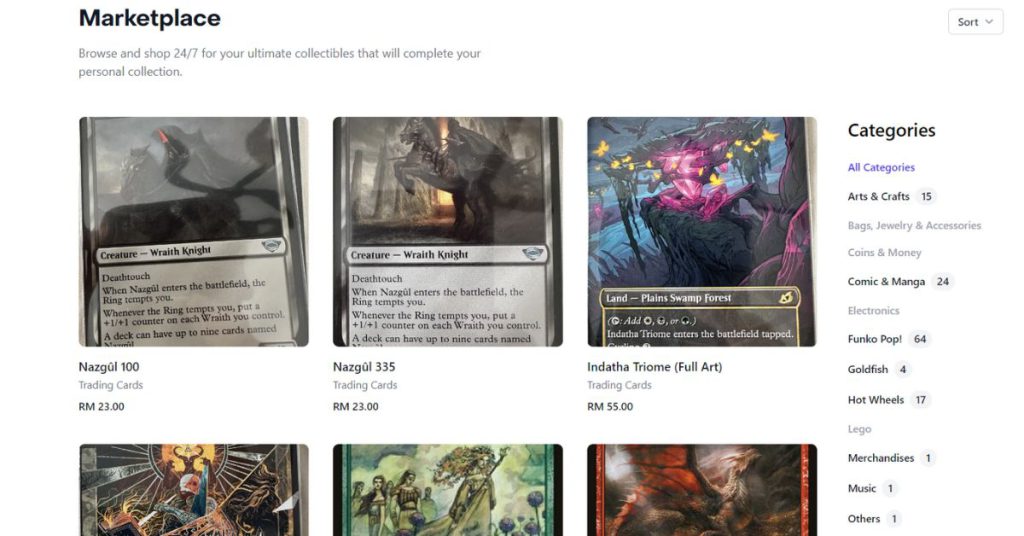 Speaking of Sneakerlah and CNCRD, Collektr also houses other categories such as sneakers and clothes (as well as goldfish, as we mentioned earlier).
However, since there are specialised platforms like Sneakerlah and CNCRD out there, how does Collektr aim to compete with them?
On that, Saida believes it all comes back to the community it fosters.
"Our data reveals that users are drawn to our community-centred approach," she claimed. "We've garnered a community of thousands of hyper-sticky users. Our platform witnesses a consistent stream of hundreds of daily active users, each contributing as active transacted buyers."
The co-founder also said that Collektr's Gross Merchandise Volume (GMV) is growing at a rate of 2x month on month.
"Today what we used to transact in a month, we do in a day. These numbers reflect the vibrant momentum our platform has achieved within the collector community."
In any case, Collektr's intent isn't to compete with those established brands. Rather than being a competitor, it aims to be a collaborator, allowing brands to leverage its platform to expand their sales and reach, Saida said.
Sharing the story of The Collective, an affiliated hobby shop of Collektr in Denai Alam, the co-founder said it has been "rejuvenated" through Collektr, transformed into a hub where individuals unite during livestreams.
"We envision this growth extending to smaller-scale hobby shops in rural areas, such as Kajang, Terengganu, and Ipoh," the co-founder elaborated. "We're a provider, platform, and supporter, aiming to create a robust local presence before venturing into regional markets."
As the team expands into other countries down the road, it aims to keep its core principle constant— community comes first.
"Whether it's partnering with hobby shops, participating in events, collaborating with established collectible providers, or empowering independent sellers, our focus remains on fostering and engaging with the community at the heart of our growth strategy."
Featured Image Credit: