As Hari Kebangsaan approaches, many Malaysian businesses have been pulling out all the stops to celebrate our country's Independence Day.
MR.DIY's way of celebrating, for one, had been through a social experiment that ended up showing just how kind Malaysians are to one another.
Another unique way businesses have been celebrating is through collaborations with each other. Here are some team-ups we've spotted between homegrown brands that Malaysians can support this August 31.
1. Inside Scoop x ZUS Coffee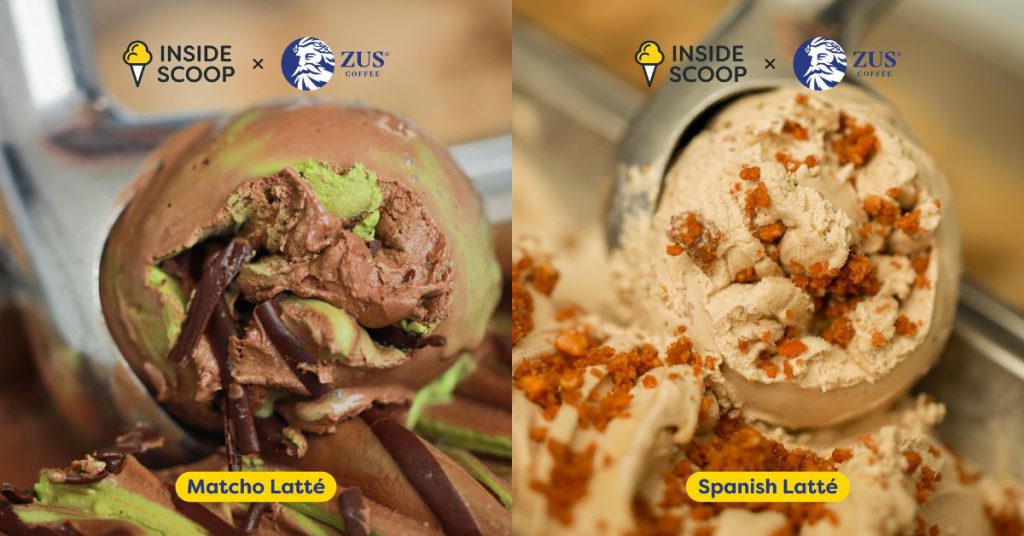 Ice cream meets coffee flavours through this collaboration between ZUS Coffee and Inside Scoop.
For Hari Kebangsaan, the homegrown ice cream chain has introduced three special flavours based on some of ZUS Coffee's bestselling flavours—Buttercrème Latté, Spanish Latté, and Matcho Latté.
The three flavours will be available in all Inside Scoop outlets till September 17, 2023. Pints (473ml) of the flavours can also be purchased online for RM34 each.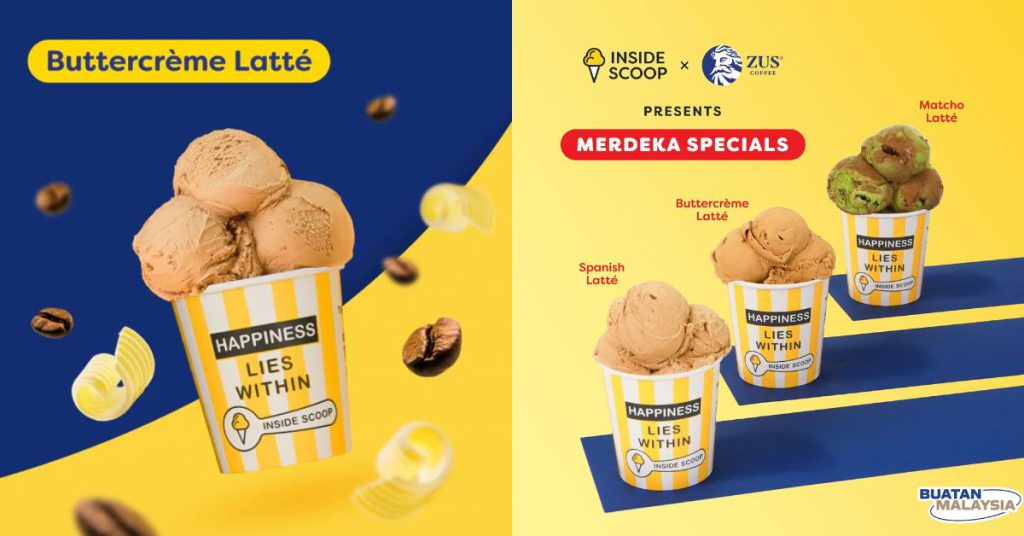 2. Kejap Food x MonKiddo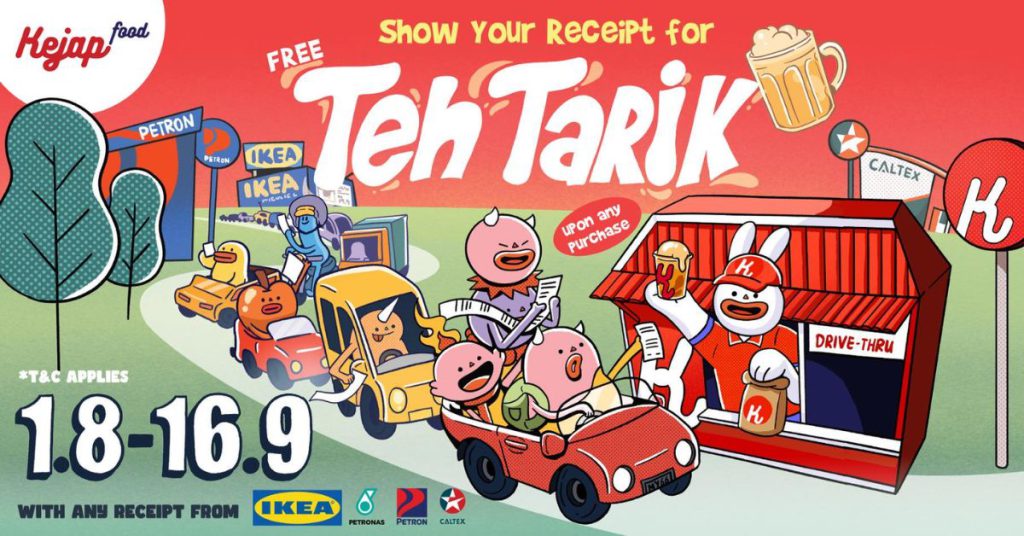 Malaysian drive-thru brand Kejap Food is working with MonKiddo, the character IP of local illustrator, Jay Ee.
A startup that has been featured by Vulcan Post, Kejap Food specialises in serving local delights in the drive-thru format.
The collaboration between Kejap Food and MonKiddo stems from a packaging design competition the drive-thru brand hosted last year.
Although MonKiddo had not won the competition, the synergy between both brands has resulted in this year's collaboration.
According to a press release from Kejap Food, Jay's character designs and storytelling "mirror our Malaysian dynamic lifestyles, relationships, and daily work encounters", which aligns with Kejap Food's branding and customer base.
As a part of this Hari Kebangsaan campaign, Kejap Food is giving out free Teh Tarik when customers present an IKEA or petrol receipt (Petron, Petronas, or Caltex) from the same day. The promo will be available from now until Malaysia Day on September 16, 2023.
3. The Loaf x Super Ring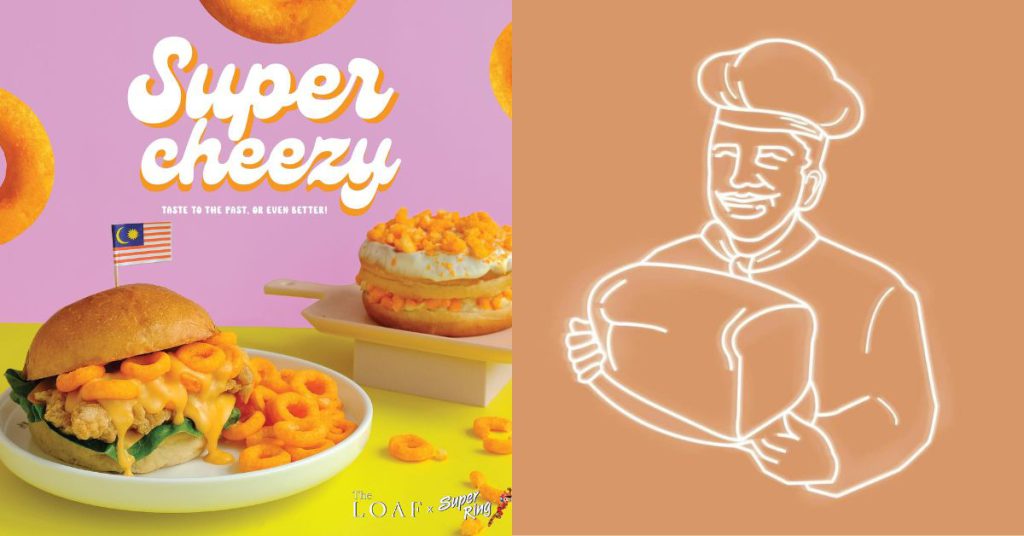 Presenting a unique culinary combination, bakery brand The Loaf has announced a collaboration with Super Ring, the beloved local snack brand from Oriental Food.
In an August 15 press release, the two brands unveiled two new dishes—the Super Cheesy Chicky Burger and Super Eggy Donut.
Both dishes make use of the savoury snack, the burger using the ring-shaped snack in its whole form, while the doughnut features a crumbled version of it.
The Super Ring-infused dishes are available for purchase exclusively at The Loaf, which has outlets in KL East Mall, NU Sentral, IOI Putrajaya, Central I-City, Seremban Gateway, and Eco Grandeur. Both dishes will be available till October 2023.
4. Timah x Concubine KL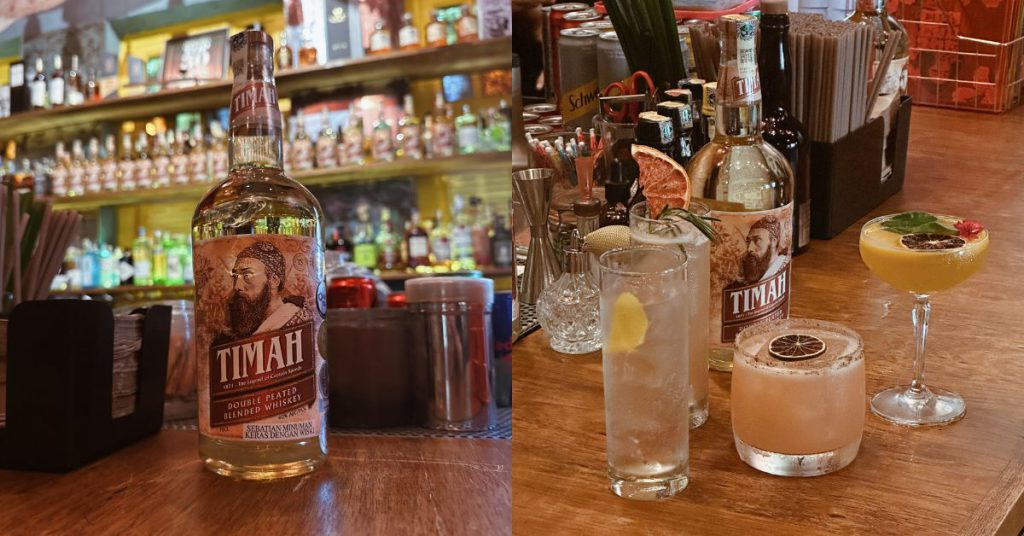 A whiskey brand proudly made in Malaysia, Timah has teamed up with Concubine KL, a bar nestled in KL's Chinatown.
From now until September 1, Concubine will be serving special cocktails using Timah's double-peated blended whiskey.
The cocktails include Spiced Captain Sour, Taiping Twist, Captain Speedy Adventurer, and Timah Signature, with prices ranging from RM30 to RM40, not including taxes.
Concocted by the head bartender at Concubine KL, the drinks are said by Timah to be specially crafted to highlight the distinctive notes of the locally produced whiskey.
5. Asian Scents Co. x Jid Kay Artworks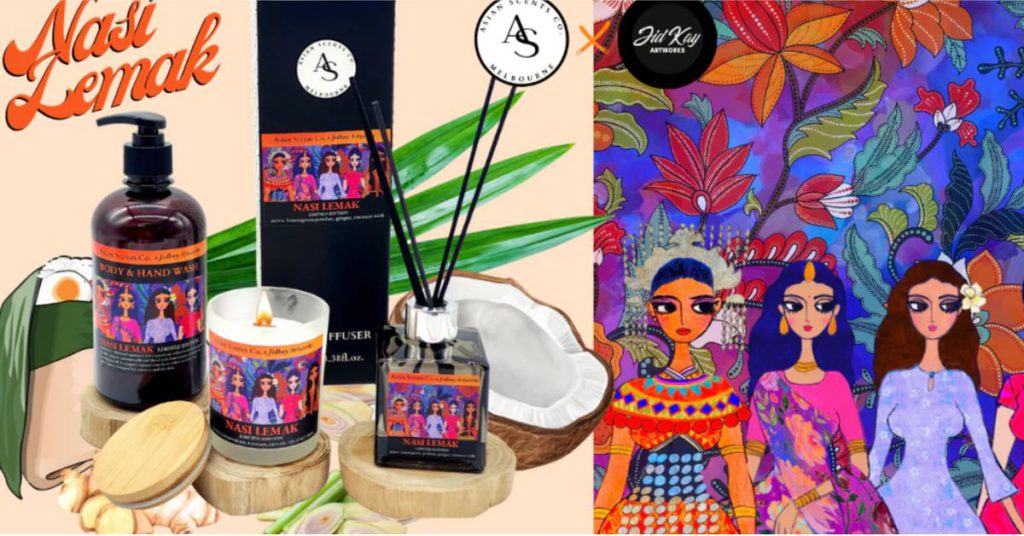 Recently featured on Vulcan Post, Asian Scents Co. is a local brand that sells home fragrances with unique Asian food-inspired scents such as Tom Yum and Teh O' Ais Limau, among other things.
For Hari Kebangsaan, the business has teamed up with local artist Jid Kay Artworks to launch a limited edition collection of home fragrance and bath products. This includes candles, reed diffusers, as well as body and hand wash.  
The dish used as inspiration? Nasi Lemak, of course, creatively reinterpreted through notes such as lemongrass, pandan, ginger, and coconut milk.
The packaging of the products features Jid Kay Artwork's Malaysia KITA, highlighting our multiracial nation.
The candles are priced at RM80, the reed diffusers are RM70, while the bottles of body and hand wash are going for RM45.
-//-
As Malaysia celebrates its 66th year of independence, it's great to see all these homegrown businesses band together.
More than just a show of unity and togetherness, these team-ups also offer unique and localised creations for Malaysians to enjoy.
We hope to see more local brands work together, even beyond our National Day. Selamat Hari Kebangsaan!
Read other Malaysian articles we've written here.
Featured Image Credit: Asian Scents Co. / Inside Scoop / The Loaf