At Vulcan Post, we've featured quite a number of local batik brands like inisaya, KITA MADE, Spirit Animal Co., batikTEKTURA, and North Village Artisan Batik.
Coupled with the countless other batik-based businesses we've not yet featured, it seems that the love of batik is still alive and well.
But it's been said that the labour-intensive craft has seen a decline over the years, and that not many from the younger generation want to learn it.
Going against that notion is Iris Vanessa, the 25-year-old founder of 2salmons Batik, who left her chef job to study the traditional craft in Terengganu.
Following that, she's been making and selling traditionally handmade Malaysian batik and hasn't looked back since.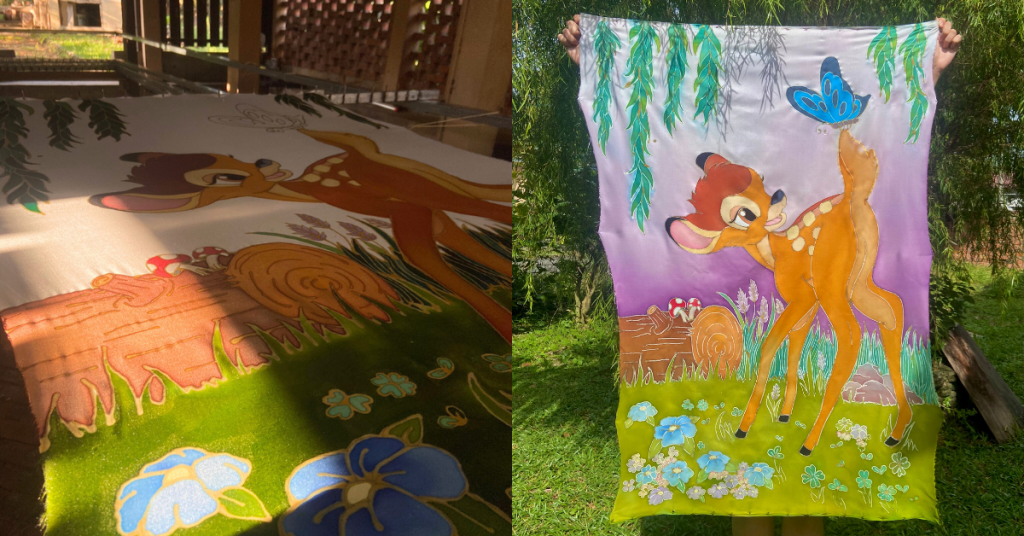 There's always a silver lining
Speaking candidly to Vulcan Post, Iris shared that her batik journey began in mid-2022 when working as a chef at her mother's Damansara cafe became too much for her.
"It wasn't worth it anymore," she confided. "I quit and headed to Terengganu within 24 hours to live with my biological dad."
This seemed like a drastic move in my opinion. But Iris explained that her dad had been persuading her to move to Besut, Terengganu with him to study the batik-making craft from someone in their hometown.
"My dad kept telling me he had a feeling that I would be great at batik-making," she said. So when she finally got there, her dad reached out to his good childhood friend Mek Lah to ask for batik-making lessons.
"She was actually a graduate from Institut Kraf Negara and had made a living in KL 30 years ago selling her batik paintings," Iris explained.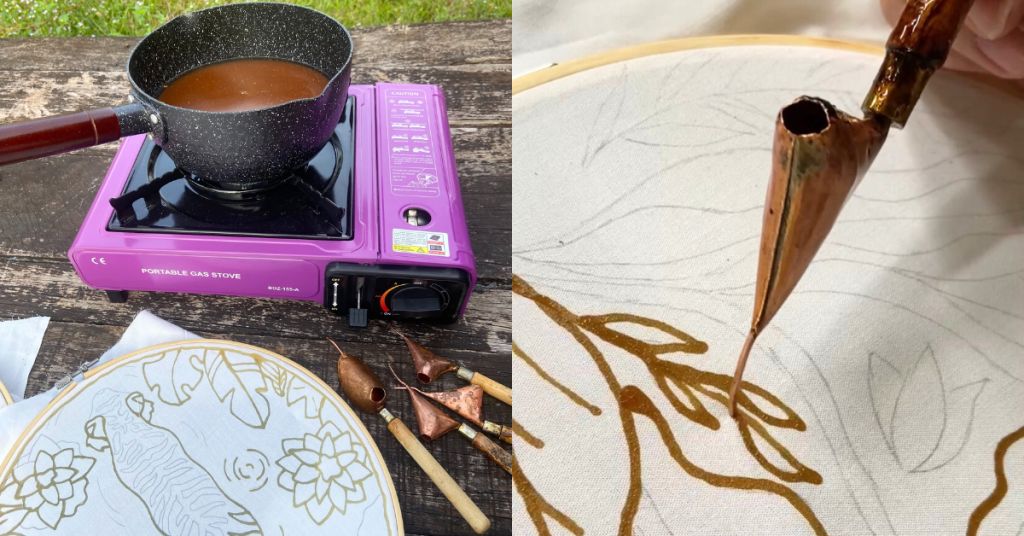 But as Mek Lah was too busy managing her restaurant in Gong Kepas, Besut, she had to decline. That's when she recommended a young local batik-maker by the name of Taqiuddin (Taqi) to teach her instead.
For context, Taqi has his own batik brand called "Qieyza" with his wife, Afizah. There, they sell their own handmade fabrics and batik kits. And occasionally they would visit local schools to educate the younger generation on batik-making.
"They also just built a small gallery in their compound, showcasing their handmade canting, terap (hand-blocked), and tie-dye batiks," Iris shared.
The batik lesson with Taqi only took a couple of weeks. The reason was that he told Iris the rest was down to practice.
"After my lessons with him, my dad immediately went out of his way to make sure I could have my own batik studio to create my own fabrics," she said.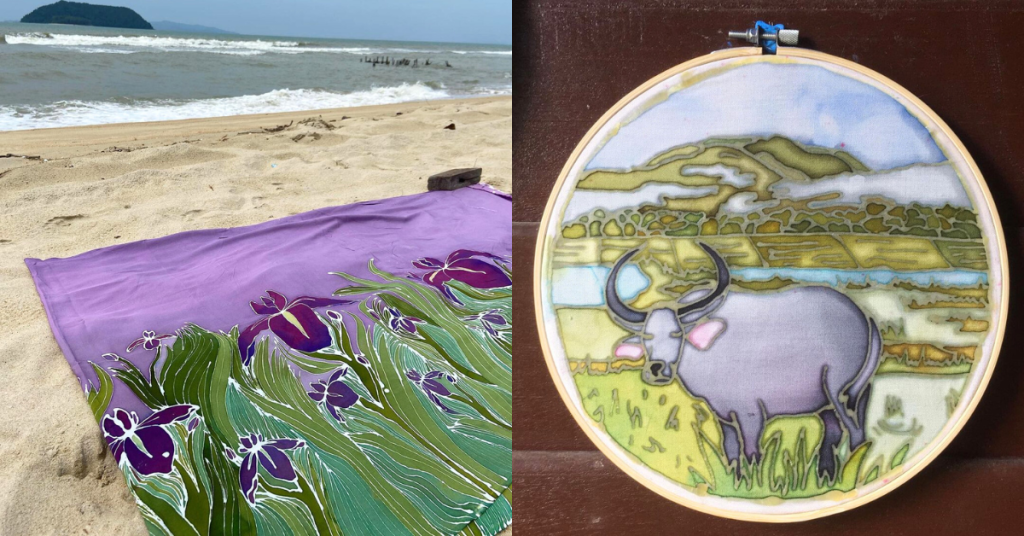 It's a struggle, but a fulfilling one
"The first time I tried making batik, I felt like it was something I really loved to do. In some other ways, I feel like I wouldn't want to do anything else," she shared.
The young entrepreneur's catalogue mainly consists of batik scrunchies (RM25 to RM30) and batik painting kits (RM45 to RM50). She makes all of them using the traditional canting batik method, as it's one-of-a-kind and "can never be replicated".
However, she also accepts commissions for:
Welcome signages for weddings (RM350 to RM500)
Custom batik paintings (RM300 and above, depending on design and size)
Custom batik fabrics (RM180 average for 2 metres, depending on design complexity)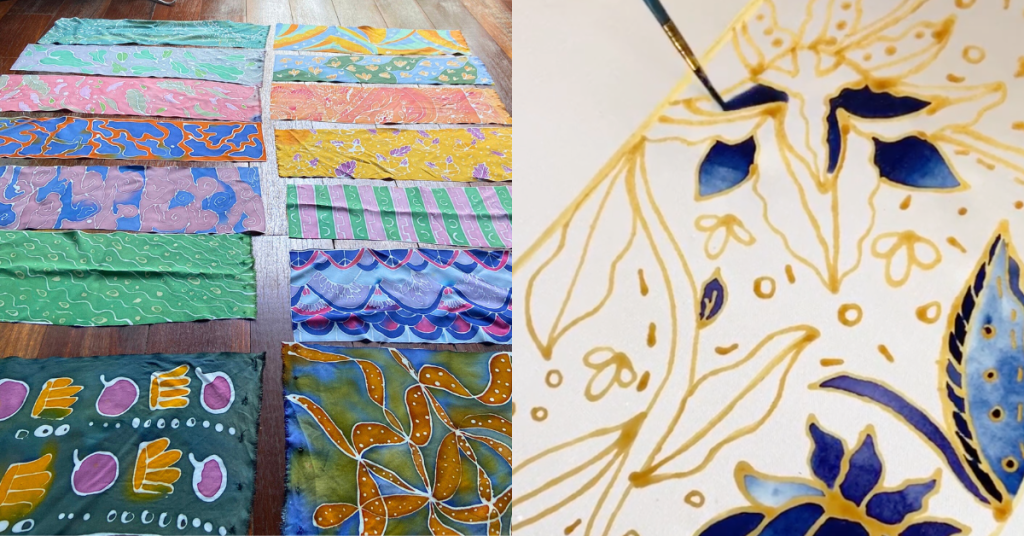 "So far, I've sold custom fabrics the most. Because my customers are looking for something unique and different to be made into clothes, like shirts, blouses, skirts, and pareos," Iris shared.
Looking at her batik designs, it's easy to see why people as far as in the US and Australia have flocked to 2salmons Batik for their fabrics and batik kits.
Besides the popular floral motifs typically found in Malaysian batik, Iris' work also features animals as well as cartoon characters like Bambi, as can be seen on their Instagram page.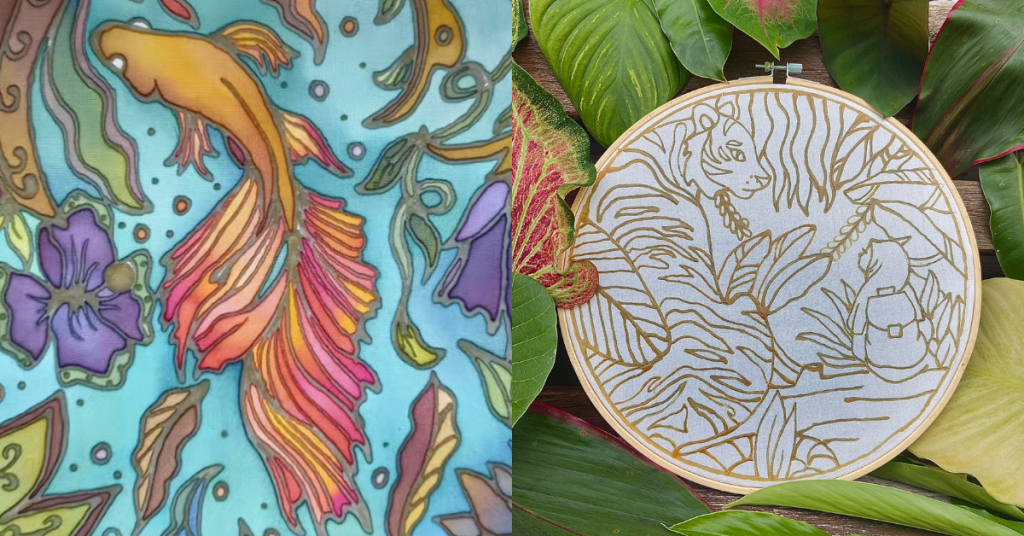 Starting and running the brand wasn't always easy. Iris shared that she left for Terengganu with only RM1,000 and no other savings to start the business. 
"At the time, my dad was a farmer who planted eggplants and cucumbers on a small scale. And he asked, 'Would RM500 be enough to help?'"
So 2salmons Batik began with only RM1,500. And with the help of one of her dad's farmhands, a batik frame was built to start her venture.
From there, Iris marketed her crafts on TikTok. Her first order was an old embroidery work she had initially advertised on Etsy. "From there, I would get three to four sales a month for the first four months," she said.
"It was hard on me, but I kept on going and creating. I started selling more batik kits and occasional commissions. I was barely getting RM1,000 a month," she shared.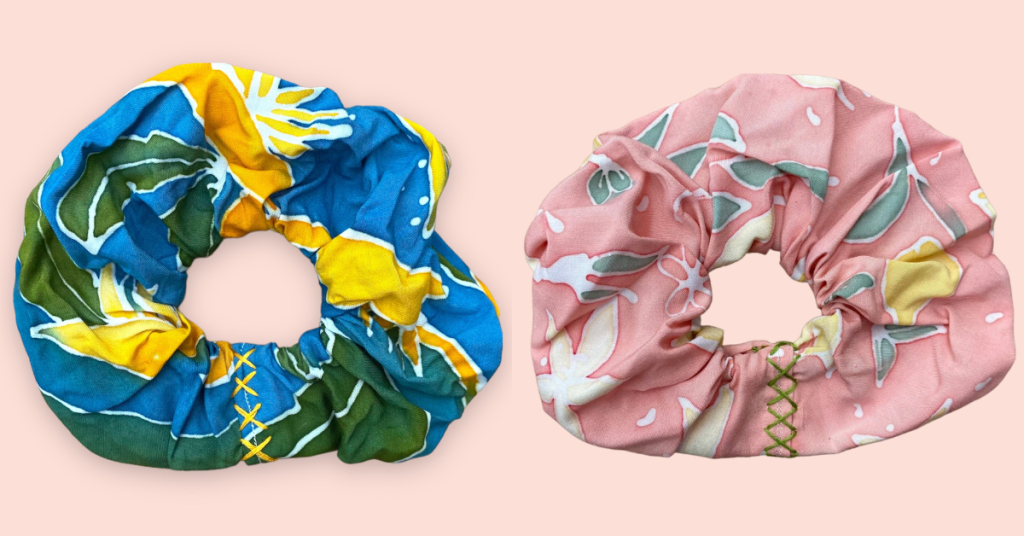 Drawing up a new path
Fortunately for Iris, things started picking up a bit this year when she received more bulk orders for batik kits and fabrics.
"I'm only lucky because I still had my grandma while living in Besut, so I wouldn't really have to worry about food. I'm still struggling, but still hopeful and I feel like there's definitely more to come!"
As of now, there are a few commission orders that will keep Iris busy at least until October.
The founder has also since relocated back to Damansara. The Terengganu-based batik workshop is still there, but she's working towards having workshops in the Klang Valley too.
As for the local batik landscape, she believes that the public's interest in the craft has definitely increased.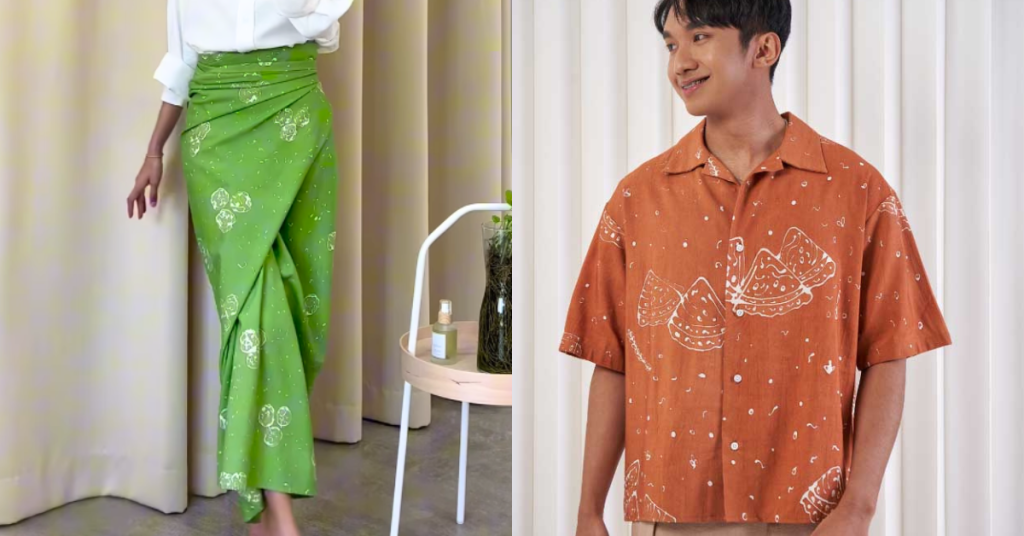 "I think more and more people get fascinated when they see a traditional art being created in a contemporary style, which isn't always seen in traditional arts."
However, she also finds that there should be more awareness of how to recognise our traditional crafts. This would go a long way in boosting batik appreciation.
From her personal observations, most people generally can't differentiate between hand-blocked batik and hand-drawn batik. This is the same case as identifying Malaysian versus Indonesian batik.
"I'm used to people questioning why batik is expensive, and why it is so repetitive and boring. [But] I think the people who think that way are just not exposed to the potential of what batik can be," Iris expressed.
You could say this education is part of the reason why she's hoping to save enough for a proper studio or gallery of her own. It will be a place where people can come and learn to make their own fabrics, kaftans, and paintings, and in turn, help preserve this traditional art.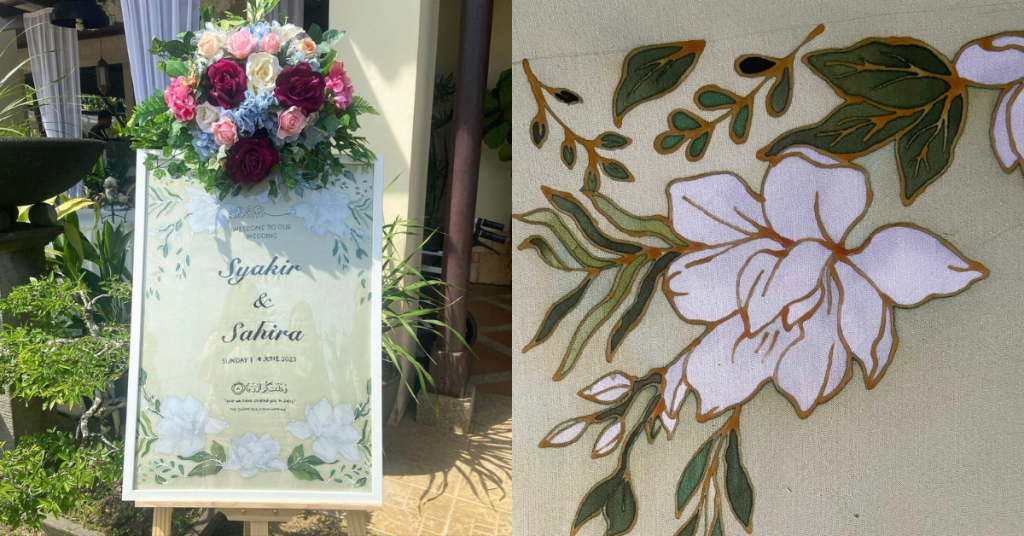 Featured Image Credit: 2salmons Batik