When talking about the local textile industry in Malaysia, it's hard not to bring up batik. It's available almost everywhere in the country and is known as one of our traditional crafts.
So it's not surprising to find Malaysian brands like Batikbynell and Spirit Animal Co. producing modern garments with the fabric. But instead of focusing just on the designing aspect of the clothes, Retno Batik chooses to preserve the craft while also uplifting the batik community.
How? By banding together with local batik and block makers from Kelantan and tailors from Selangor to create contemporary batik shirts.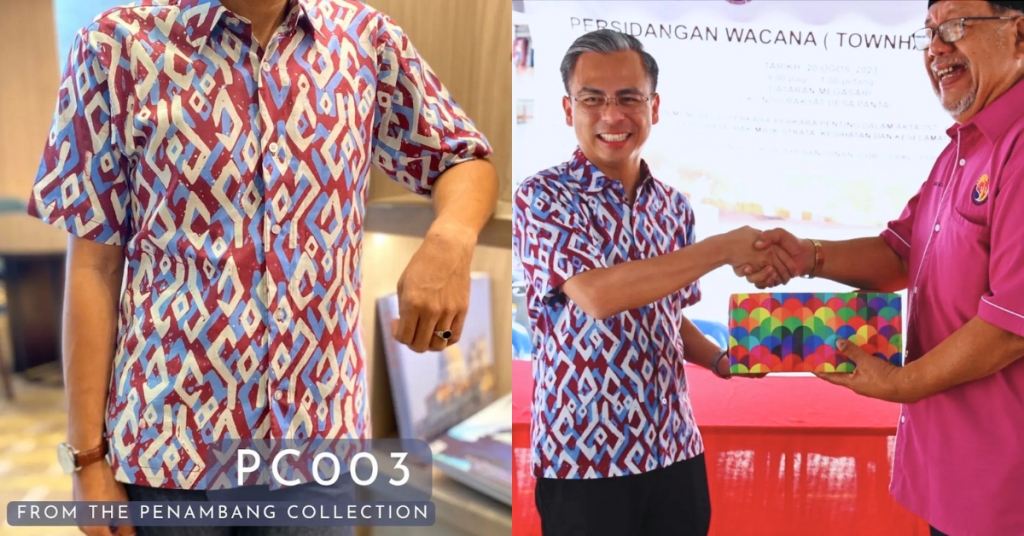 Started by Natasha MH in 2021, Retno Batik is all about craftsmanship, opportunities, and community impact.
"The intention of Retno Batik is not to prove we are the best in the business of batik. We are more interested in improving the existing business models and creativity regarding batik production and its identity-building," the founder shared with Vulcan Post.
"We want to ensure batik makers stay in business, batik-making remains sustainable, and more Malaysian men look good and dress well in high-quality cotton, handcrafted batik."
The idea is to highlight the people producing the brand's collections of batik shirts. So instead of having a middleman, the brand deals first-hand with the batik-making community. Which also means all communications and payments are done directly with the community.
Everyone in the production chain also gets a say in what's being produced.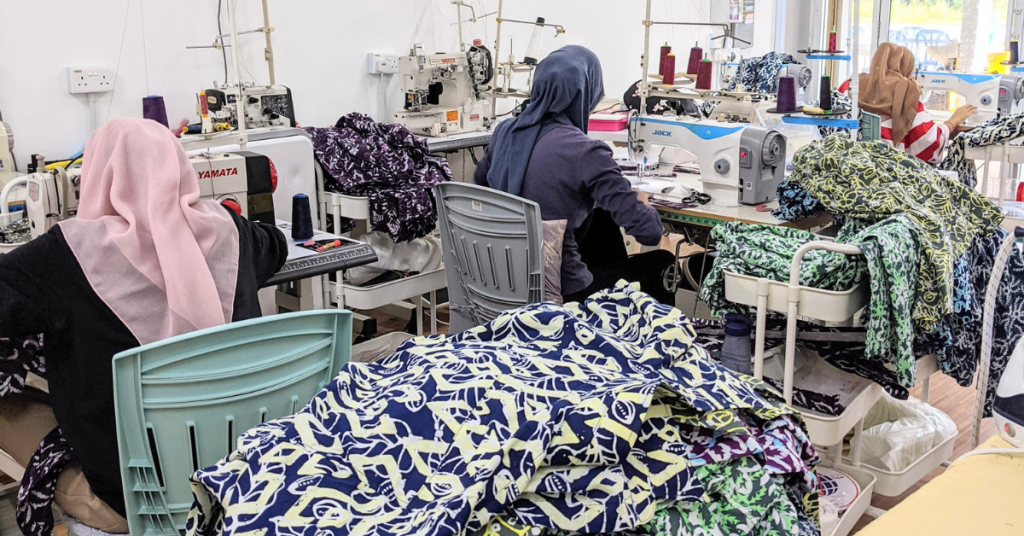 Making batik from scratch
At Retno Batik, each design begins with an original block commissioned by the brand to the partnering batik block-makers in Kota Bharu, Kelantan.
Why Kelantanese batik and batik block makers specifically instead of those elsewhere, you may ask? Natasha explained to us that Kampung Penambang in Kota Bharu has a rich history of over two centuries in batik production.
"It was so well-known in this sector that even batik was made here for the Indonesian market. Traditionally, batik would have a stamp that tells you its origin. Kelantan batik was highly respected and regarded for its skillful makers and cultural uniqueness. We at Retno Batik wanted to honour that origin."
As to the how the production chain works, she explained that sketches and the theme of upcoming collections would be shared with their partners in Kelantan. Many of the designs are inspired by motifs seen around Malaysia, ranging from the usual flora and fauna, to Kufic calligraphy and geometric patterns.
The blocks are made and handed to the batik producers, who refer to Retno Batik's ideation board before starting. During this time, the batik producers will give their respective ideas and professional feedback on the design, such as what works, what doesn't, and what can be better.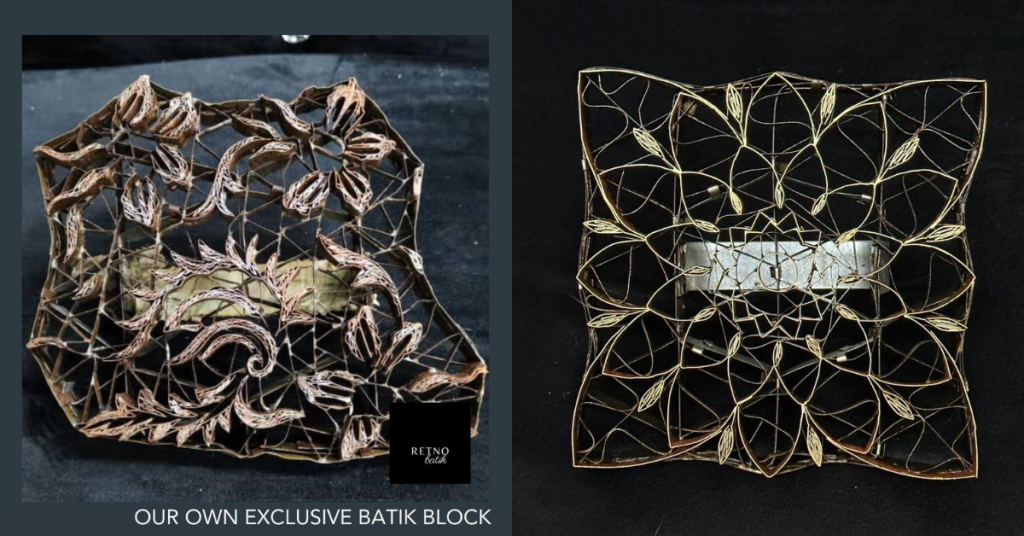 "Even the tailors are consulted on how a print can be on a regular shirt pattern. It's very democratic," Natasha said. "Everyone is free to disagree and offer suggestions."
The fabric designs are then handmade using Retno Batik's originally commissioned copper blocks.
"A piece of fabric fuses two to three block prints with pigments, added by a team of three to four batik artisans," Natasha explained.
The piece is patterned, cut, and sewn by local tailors. An average of eight people is involved in the making of each Retno Batik shirt. "This is why batik is known as a community-based craft."
Speaking candidly to Vulcan Post, the founder stated that the brand operates on a project basis, as their partners all have their own businesses as well.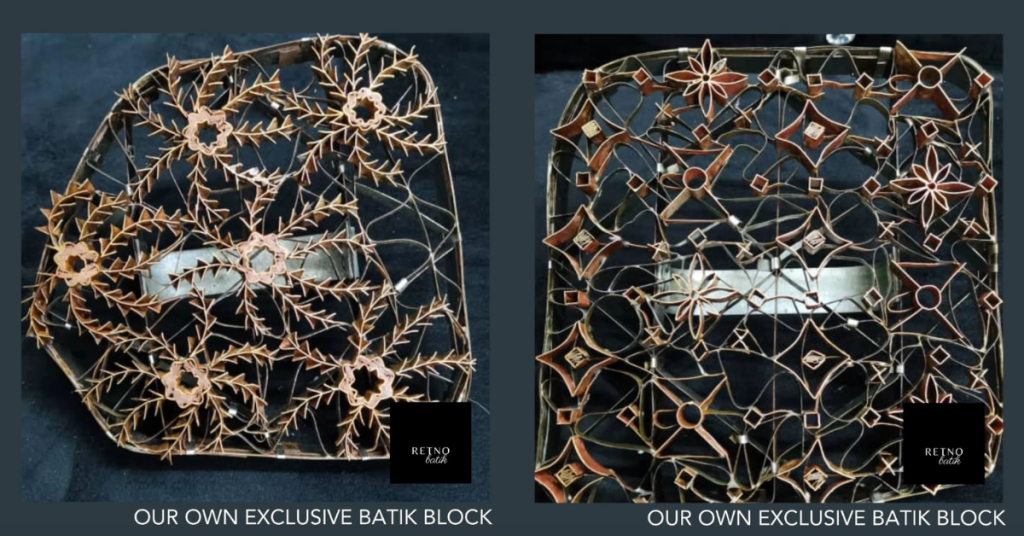 To work together on Retno Batik's products, the brand provides its partners with a master annual schedule, which includes all of its release dates and the number of collections.
"From there, it's about consolidation, fitting each other into our respective schedules," she said. "This approach is also empowering for the community as they learn about improving efficiency, consistency, and having a sustainable income."
Preserving batik's artisanal quality
All of the brand's pieces are made of 100% premium cotton and handmade by batik artisans and tailors. Many of its designs are colourful and pocketless, the latter being an intentional design choice.
According to its Instagram post, this was done to ensure the front of the shirt presents a smooth flowing design with no pockets to overlay the design.
Sharing with Vulcan Post, Natasha also stated that Retno Batik's collections have a limited stock as everything is made by hand. "We aim for eight collections per year with 10 to 12 prints per collection. It can be anywhere between 120 to 150 pieces per collection."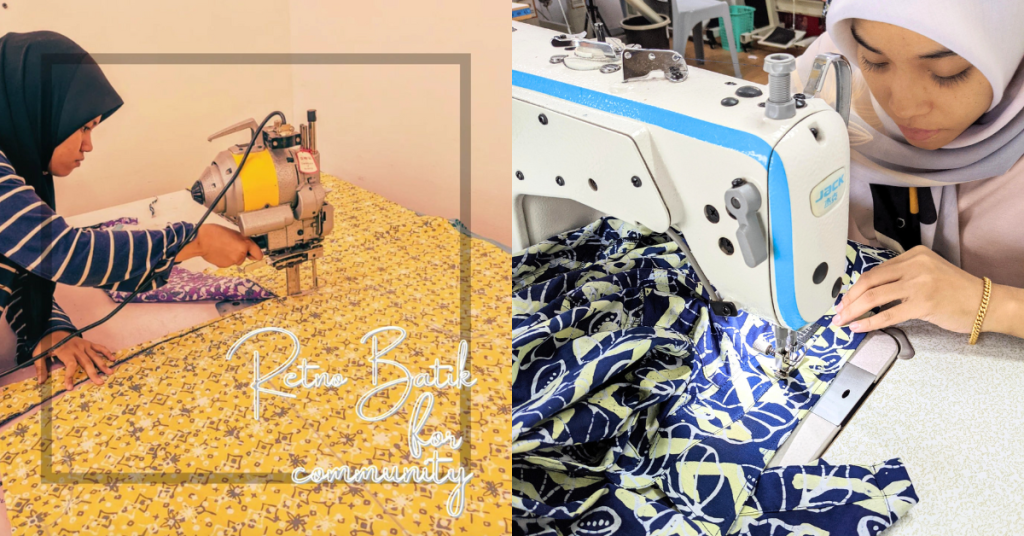 Another reason for producing in small batches is to retain batik's artisanal quality, as well as to avoid fabric wastage.
"With handmade batik, every inch matters and we want to avoid mass production problems. Excessive production means additional carbon emission and a deeper impact on environmental pollution." This is also one factor as to why the brand maintains an exclusively online presence.
Interestingly, when asked what the brand found to be the most challenging part of the whole hand-block batik-making process, Natasha talked about the weather.
"Handmade batik-making heavily depends on the weather. It needs the air, the sun, and plenty of open spaces for the breeze coming from the sea. [This is] why batik workshops are typically found by the coast," she described.
As such, the monsoon which brings with it endless downpours and flooding can make it tougher for batik makers to produce.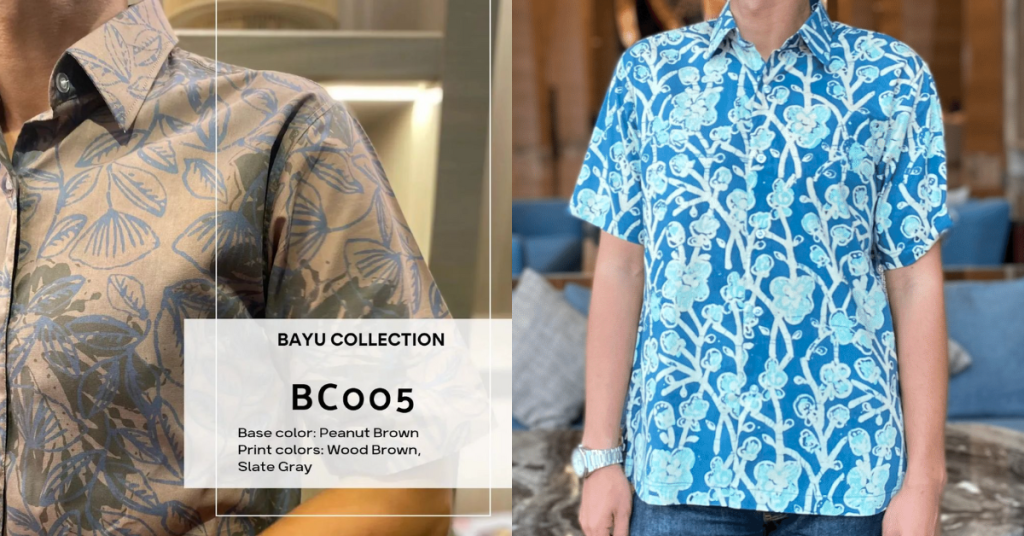 You might be thinking that a quick fix for this is to just move the craft indoors, preferably with air conditioning. But Natasha elaborated that this affects colour absorption and the drying process.
Altogether, these factors help to explain why the starting price for Retno Batik's hand-blocked batik shirts is at RM159 per piece (with sizes from S to 5XL).
"Batik is part of our local heritage, it belongs to the people."
This was one key point that Natasha emphasised during the interview with us.
So while I personally find it to be on the pricier end for a shirt, it's comforting to know that Retno Batik pays its batik makers and tailors directly at their own rate. This in turn helps boost the local batik-making industry and economy.
"We sell our products at an affordable price to ensure we won't inflate the entire batik landscape. That's been one problem resulting in many Malaysians not being able to afford them," the founder said.
"Profit-wise, Retno Batik makes enough to sustain supply and demand. We believe in social impact over profit."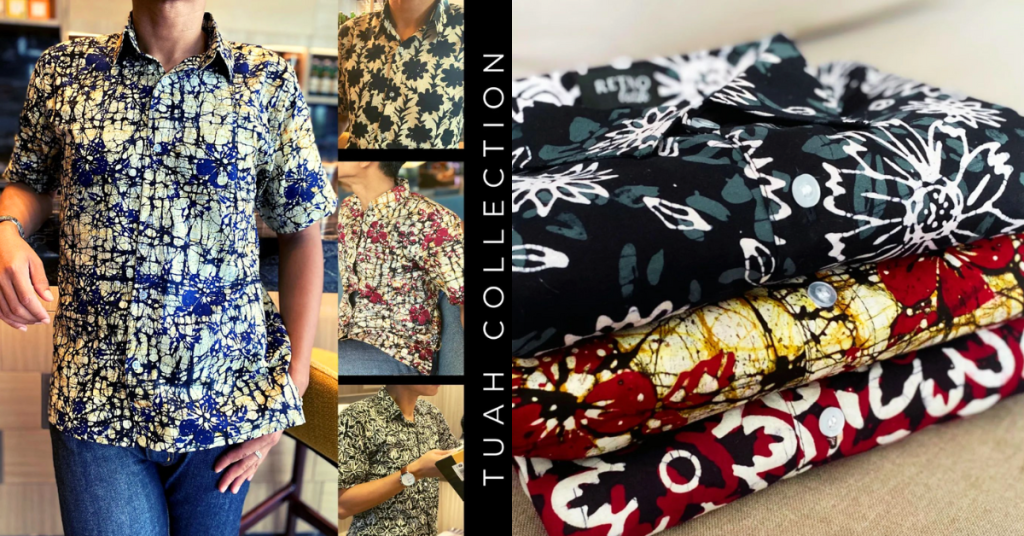 As someone who likes to shop locally, I noticed that batik has also grown beyond just clothing. Some Malaysian brands have repurposed the fabric to create jewellery and homewares.
Curious, I asked Natasha if doing so is actually helping or hurting the batik industry, as I personally find that it helps attract a younger demographic.
"We (Retno Batik) are open to innovation, but Malaysian batik has its own signature motifs. For example, if you see pua kumbu you think of the Ibans in Sarawak, or Borneo designs. Malaysian batik needs to have enough traditional signatures to make it identifiable anywhere in the world," she shared.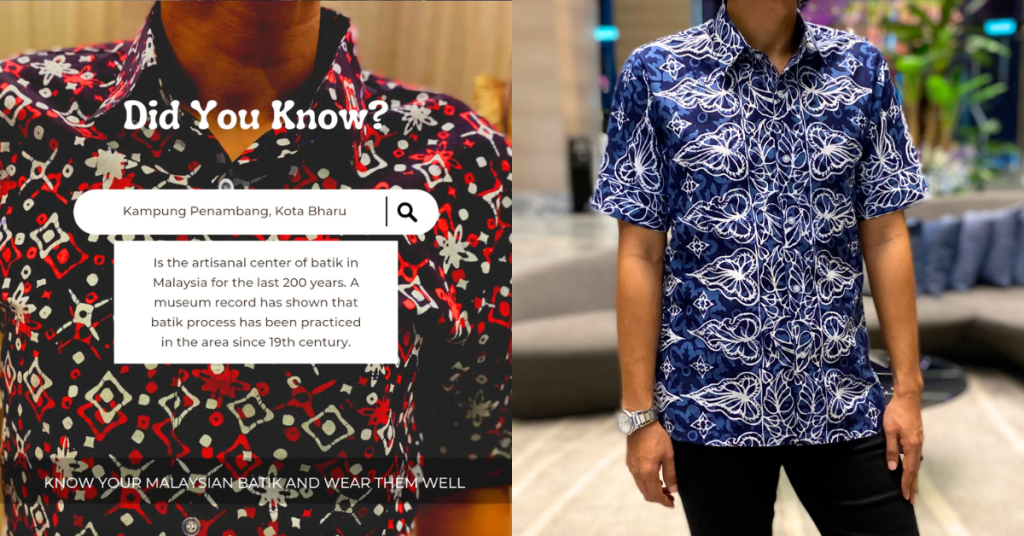 "Too much innovation and we become another fashion piece in the wasteful textile industry. We need to protect its quality, prestige, and identity."
So alongside selling its products, the brand also tries its best to highlight what batik means to Malaysia through its social media platform. "It's part of our narrative to educate what we can."
Featured Image Credit: Retno Batik