Turning a hobby into a full-time career is a story you'd hear quite commonly.
In fact, many of the brands we've featured in the past fall into this category, including Cotti Potty (a home-based pottery business), Kai Hung (a handmade bag brand), and Reka Baka (a cakery by an ex-architect).
Another brand we recently discovered is Pom Mom Co, a Singaporean-owned crafts business currently based in Malaysia.
Their specialty? Pom poms. And no, not the ones cheerleaders use while performing. I mean a decorative ball of fluff that's shaped like animals, cartoon characters, and even food.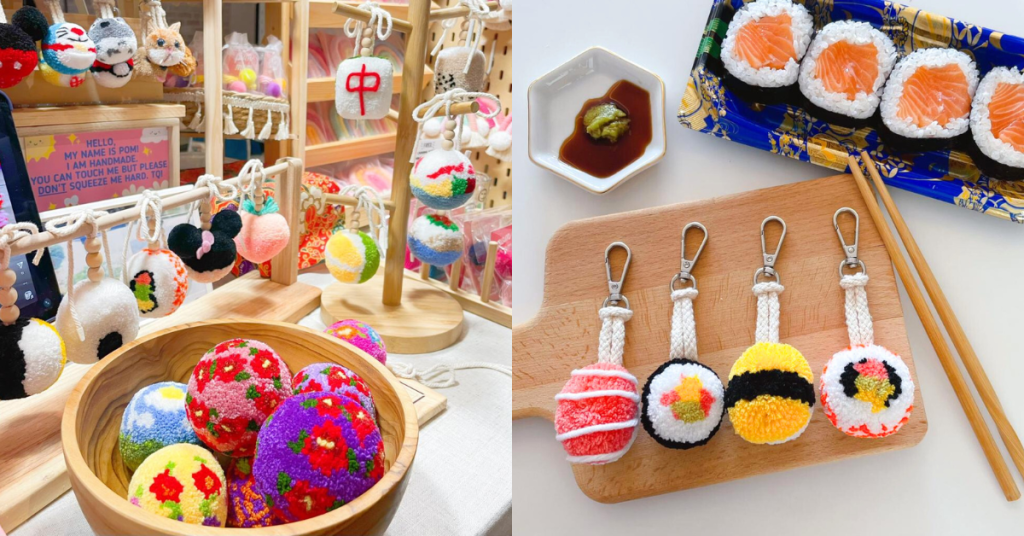 Crafting up a new career
While vacationing in Bali, Adele Tan came across craftsman shops which sold rows after rows of pom pom straw bags that came in various colours and sizes.
"The vibrancy of the pom poms was like a dopamine rush for me and could possibly be considered the trigger for me to try making my own unique pom poms," she told us.
The exact words she used to describe the feelings she felt at the time were "overwhelmed" and "over excited". The encounter prompted her to start learning the craft of making basic pom poms through online videos.
"It took a lot of practice and trial and error to create unique designs of my own," she said.
To improve her pom pom crafting skills, she even created and committed herself to a 30-day Pom Pom Challenge back in mid-2020 during the COVID-19 pandemic. For each day of the challenge, she created a new pom pom design.
Then gradually, the hobby turned into a side hustle when Adele's friends and relatives encouraged her to sell these pom pom creations.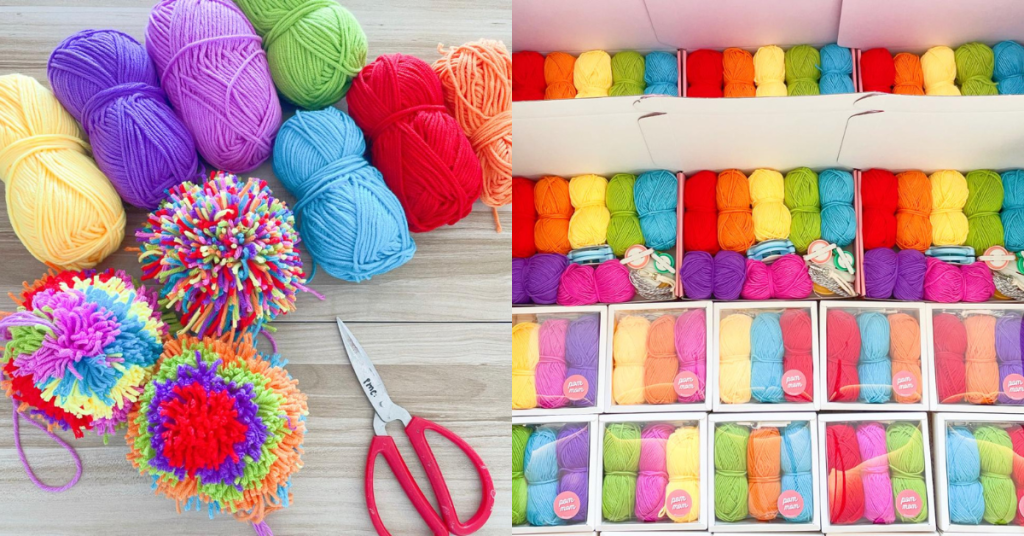 From key rings to hair accessories
Sometime afterwards, Adele's husband had to move from Singapore to Malaysia for his career. She tagged along and left her job as an office executive.
"After moving to Malaysia (in late 2022), I started to run Pom Mom full-time since I had more time on my hands," she shared.
Three years on, after many failed and successful attempts, pom pom making has become quite second nature to Adele.
"I am now able to conceptualise and create a range of interesting pom pom designs ranging from fruits to Japanese food, and even local delights such as cendol, bubble tea, and kuihs."
Aside from pom poms, the brand offers macrame crafts. Both of them are created in an array of products such as keyrings and bag charms, "pomssels" (pom poms and tassels), car charms, earrings, and hair accessories.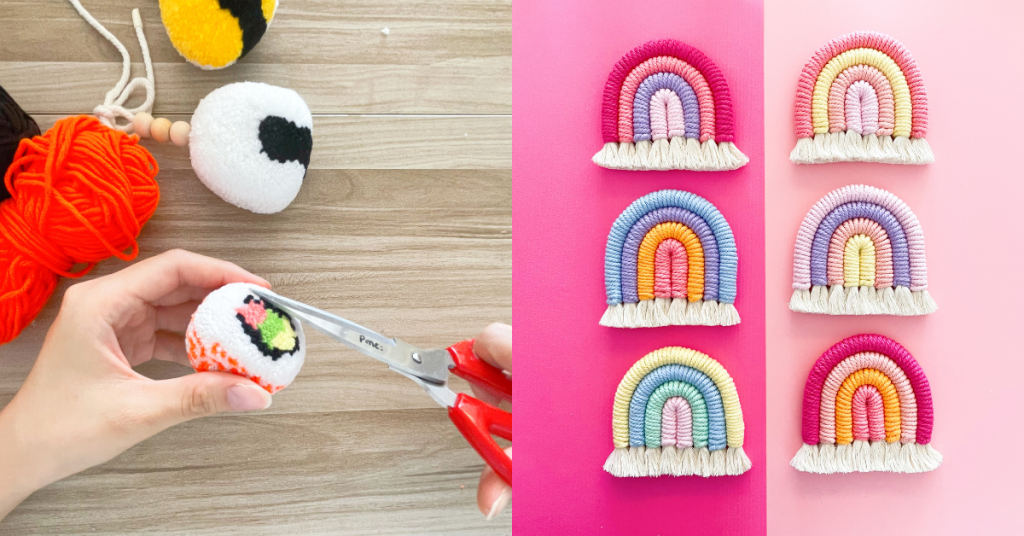 For the craft enthusiasts that prefer making their own accessories, Pom Mom Co also has:
DIY Craft Kits for pom pom accessories or macrame wall decor (starts from RM70)
Private Pom Pom Workshops for beginner, intermediate, and advanced levels (starts from RM106)
Public workshops that are hosted during pop-up events
"My workshop participants range from kids as young as four years old to seniors in their 60s. To date, I have taught over 200 workshop participants how to make pom poms," she proudly exclaimed.
It's not the cheapest trinket in the market…
With prices that start at RM21 and can go up to RM77 for a single product, Adele's creations might seem a bit pricey for what looks like a fluffball accessory. Adele herself stated that it's one of the biggest challenges the business still faces today.
But she explained that it's very time-consuming to make her pom pom products. "And yet, the price tag placed on them still needs to be reasonably affordable. This also means that it is difficult for me to create my products on a large scale."
For context, the entrepreneur shared that familiar designs would usually take an hour to complete, whereas newer designs could take up half a day for her to conceptualise and craft.
And what's more, she crafts each product herself and runs the brand alone, save for pop-up events and workshops, where her spouse would assist.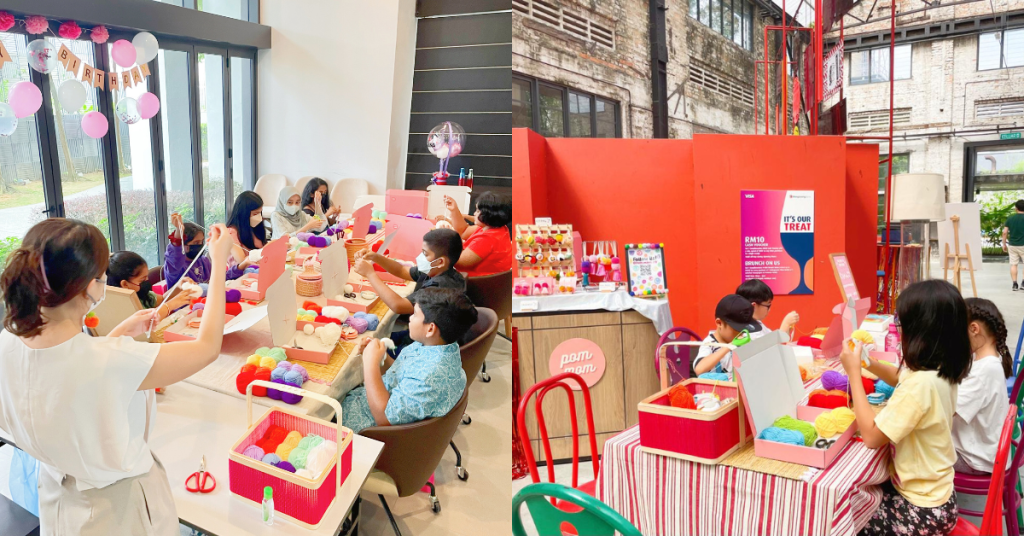 Nonetheless, she shared that receiving occasional praise and appreciation for her crafts makes her even more fulfilled than seeing profits.
Another way she tries to convey what goes into the making of each product is through video demonstrations of the crafting process. This is done through her social media pages or at Pom Mom Co's booth during pop-up events.
"As I started to become more confident and proficient in my pom pom craft, I wanted to share the crafting process with others. Thus, I began to upload videos and tutorials of the crafting process on my social media," Adele shared.
She explained that such videos also allow potential and existing customers to understand the work that goes into each handmade product. Now, the brand primarily markets itself to crafting enthusiasts and people who enjoy bohemian-style accessories and decor.
She has big plans for her small business
Since moving to Malaysia, Adele was happy to share that she still gets a mix of online orders from customers residing locally and in Singapore.
"I am very thankful for some of my long-term repeat customers who still support my handmade crafts even though I've moved across the border. I have also met many new customers from Malaysia and other nationalities from my pop-up events here," she said.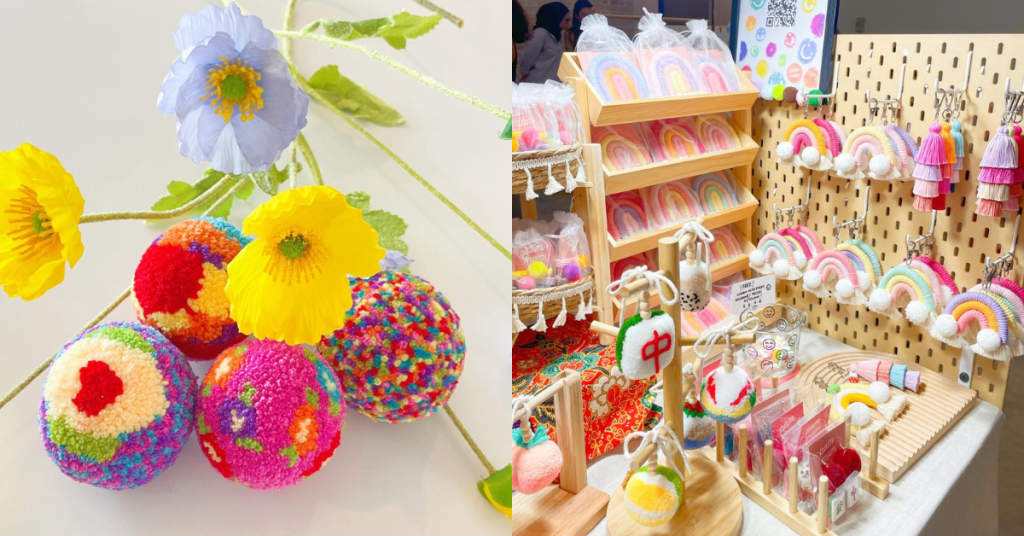 Interestingly, she shared that Malaysia has more artisanal events when compared to Singapore. In her experience, many local shopping malls in Malaysia have bazaars on weekends.
"From my perspective, this has allowed the crafts scene in Malaysia to flourish and allows crafters like myself to find their space among like-minded craft communities."
Though she did note that it's also important for her brand to be more selective when choosing which pop-up events to attend.
"At my first pop-up, I was sandwiched between two booths that sold imported accessories, which meant that their items were priced more affordably," she shared. As a result, she wasn't able to price her products competitively and barely managed to break-even then.
This was quite different from her more recent weekend pop-up event, where Pom Mom Co also held a public workshop and altogether achieved around RM4,000 in revenue.
In the future, Adele hopes to bring Pom Mom Co's products to more customers by consigning to artisanal stores in Malaysia. And one day, maybe even publish her own book on the making of different pom pom types, as well as having her own mini pom pom exhibition.
"Hence, I will continue to come up with new pom pom designs and also find innovative ways to incorporate this craft into more of our everyday lifestyle products."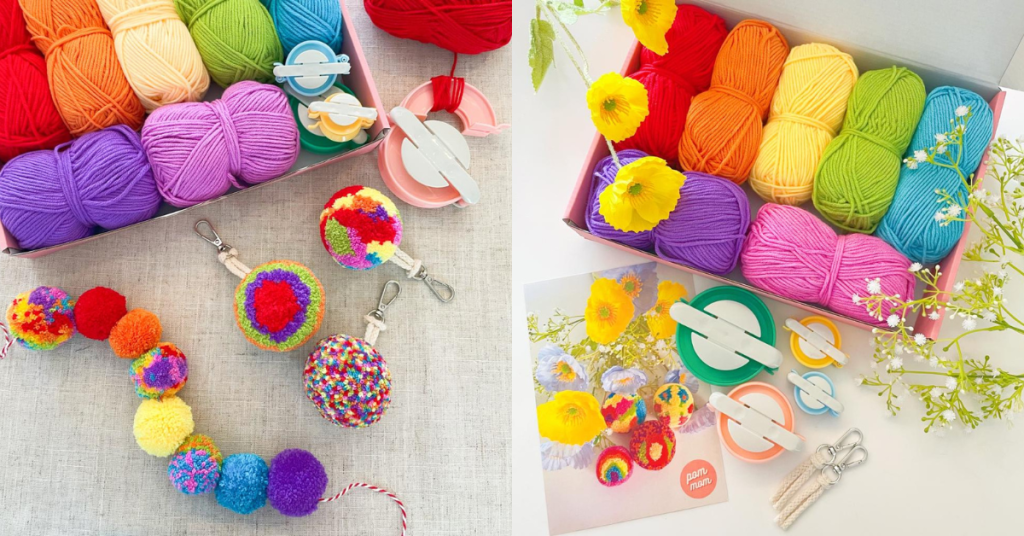 Featured Image Credit: Pom Mom Co