First impressions count, and given that it's humanly impossible to showcase every nook and cranny of your personality within a short span of time, many tend to make assumptions via one's physical traits.
No, we're not talking about if someone has a six-pack, or a 'perfect' body shape –  it's just more about how one is put together, and if he/she exudes positive vibes or not.
This is applicable not only to social situations, but to professional life as well. Networking events, meetings and interviews are also places that one needs to at least put some effort in.
These are a few areas that people subconsciously look out for when forming that first impression of you.
1. Skin
We all have our flaws, and the most obvious are those that appear on our faces.
From pigmentation, to overactive sebum production, to the scars that remind us of a time when Oxy pimple cream was our go-to, there's only that much that good lighting and mad makeup skills can cover.
Now, no one's asking you to have perfect skin, but having a face that looks clean is not only appealing, but it's also an indication that you can take care of yourself.
This is especially important when you're going for an interview, because the boss might get the impression that if you can't even take care of your skin, you'll probably be unable to take care of a project, or the staff under you as well.
For the ladies, a makeup look that complements your features as compared to heavy makeup will not only require fewer touchups, your skin will also thank you for letting it breathe!
For the guys who aren't into using BB Creams like Kpop stars, applying facial sunblock should be the minimum, because it doesn't only prevent the formation of pigmentation, it will also protect you from the UV Radiation from the sun which can potentially cause skin cancer.
The key lies in understanding your skin type and what it needs. For those with oily skin, bring along an oil blotter; for those with dry skin, have a facial mist or bottle of moisturizsr with you whenever you leave the house.
2. Clothes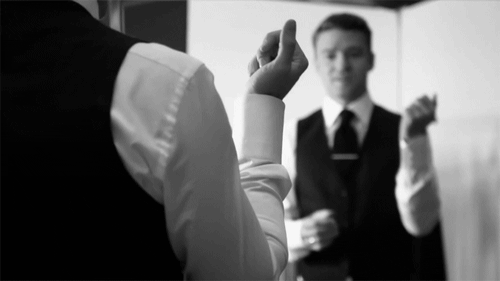 When it comes to what you wear, "appropriate" is the keyword to take note of.
Workplaces these days tend to come with slightly varied dress codes (for some, wearing shorts is not an issue), but the golden rule is always that "the more formal, the better".
Of course, no one's asking you to be in an evening gown or tux just for the daily grind, but dressing presentably shows not only respect for others, but yourself as well.
This is especially important for job interviews, because even if you had the best answers, many employers would still penalise your performance due to sloppy attire.
Putting effort into your dressing also helps give you a boost of confidence, which in turn makes you more attractive to others. This is especially so during networking.
Even the most introverted of us all can benefit from a heightened self-esteem, and who knows, that well-pressed shirt or dress might just clinch you a valuable contact!
3. Hair
It's been said that someone's head of hair is their crowning glory, and while there are many who love the clean-shaven look, and look great with it, some would prefer a full head of luscious locks.
However, when stress and age comes to play, many tend to find their once-full head of hair thinning strand by strand.
Now, there's nothing wrong with how your hair looks, but when its condition affects your self-confidence, that's when the impressions could go awry.
There are hair tonics in the market for those who prefer to DIY, but for those who prefer to not take the chance, professional help is sought.
Beijing 101 is one of the household names that comes to mind whenever one thinks about treating hair loss, and there's a good reason as to why their brand has remained popular over 4 decades and counting.
Relying on Traditional Chinese Medicine (TCM) Principles, the company offers an Award-Winning Herbal Hair Revitalising Treatment which promises to "restores nutrients to your hair and scalp quickly". The treatment also restores collagen, which has anti-ageing qualities.
On the whole, the treatment aims to regenerate your hair's structure, and going for it regularly also helps strengthen your scalp and make your hair manageable.
The best part? The treatment is currently on promotion, and only costs $39 w/GST (U.P $168) – cheaper than treatments at your regular hair salons! A free hair care kit worth $108 will also be given, so you can continue with your haircare routine when you're back home.
4. Manners And Mannerisms
Not just about minding your Ps and Qs, the way you carry yourself through your speech and mannerisms also plays a big part in making that first impression – positive or negative.
In a social situation, typically, the extreme ends of being either too aggressive or too meek don't work well – especially when you're meeting someone for the first time.
What is recommended, according to etiquette coach Maralee McKee, is a "five-step formula", consisting of standing up when you greet someone, not having any physical obstacles between both parties, shaking hands, eye contact and most importantly – smiling.
Think of yourself as making a pitch – except the item to 'sell' is yourself.
Thus, a solid introduction that makes a good, yet lasting impression is vital, especially when you're trying to stand out from the crowd, or a room of fellow interviewees.
It might seem like common sense, but many a times, it's hard to be aware of your behaviour, especially if you're used to behaving as such.
5. Smell
The last one is something that cannot be seen, but is equally as important as the rest.
In a humidity-ridden Singapore, even a person with the fewest sweat glands will be subject to perspiring heavily when outdoors. While that is a natural phenomenon that we can't prevent (though there are surgeries for that), we can prevent the inevitable smells with deodorant or perfume.
Logically, no one likes bad smells, but there's actually also science behind the link between scents and psychology.
In a study conducted by Haviland-Jones, 59 student volunteers were split into different rooms – some perfumed with a floral smell, and others only having non-scented air.
The volunteers were then asked to write about 3 life events, and then coded them for positive and negative words used. Results revealed that volunteers who were in floral-scented rooms used 3 times as many happiness-related words in their pieces.
So what this means is that you putting on a pleasant, not-too strong smelling scent might actually induce a more positive impression from others!
Make That First Impression Count
It has been said that it only takes 7 seconds for a first impression to be made, and those precious seconds could be the make-or-break when it comes to a friendship, business contact, or even a job opportunity.
The things to consider might seem troublesome, but once you get those gears set in motion, acing networking events and interviews will no longer be an issue.
What are some other things you look out for when making a first impression of someone? Let us know!
This article was written in collaboration with Beijing 101.
Feature Image Credit: Inc Asean