Perhaps one of the biggest obstacles that prevent people from committing to a vegan diet is the notion that plant-based foods seem to be limited in terms of options and flavours.
Thankfully, nowadays, there are many businesses out there that strive to ease the friction of adopting a plant-based lifestyle, including lots of homegrown ones.
One such business is the Rawang-based Meamo Foods (Meamo).
Meamo, which is a portmanteau of "Meatless Moments", sells fishless and meatless canned tuna and meat.
The founder, Sherry, holds a Bachelor's Degree in Mechanical Engineering and has spent the past six years in the fast-moving consumer goods (FMCG) industry.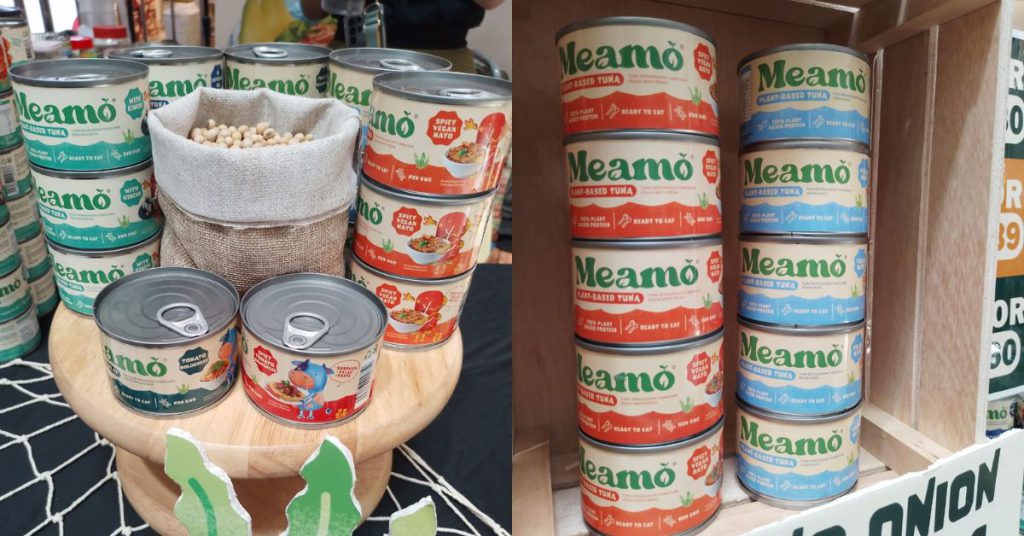 "During a visit to a fishery port along the South China Sea, I witnessed the daily disposal of tonnes of by-catch because the seafood didn't meet the ideal size or species criteria that fishermen were looking for," she explained.
This experience catalysed her and Meamo's mission to create plant-based seafood alternatives. From there, it took two years before she was able to bring Meamo and its products to life.
Sherry's experience in FCMG, specifically in the canned food industry, has certainly helped.
"I am in charge of the sales and marketing activities in my current company manufacturing canned food products for the mass market," she shared.
She pointed out that Meamo is connected with Sunstar, another local canned food company, and operates from the same facility as them.
"However, it's important to note that our plant-based range is produced on a separate production line, distinct from Sunstar's," the founder emphasised.
Sherry shared that the company behind the Meamo brand, Greenvent Food Sdn Bhd, is dedicated to introducing a range of sustainable plant-based products, starting with the shelf-stable canned goods Meamo is pushing out.
Fishless and meatless
So far, Meamo has launched seven different variations of its canned ready-to-eat food, comprising five plant-based tuna flavours and two plant-based meat ones.
Using textured soy protein as a key ingredient, Meamo is able to replicate the texture and mouthfeel of meat and fish in its products.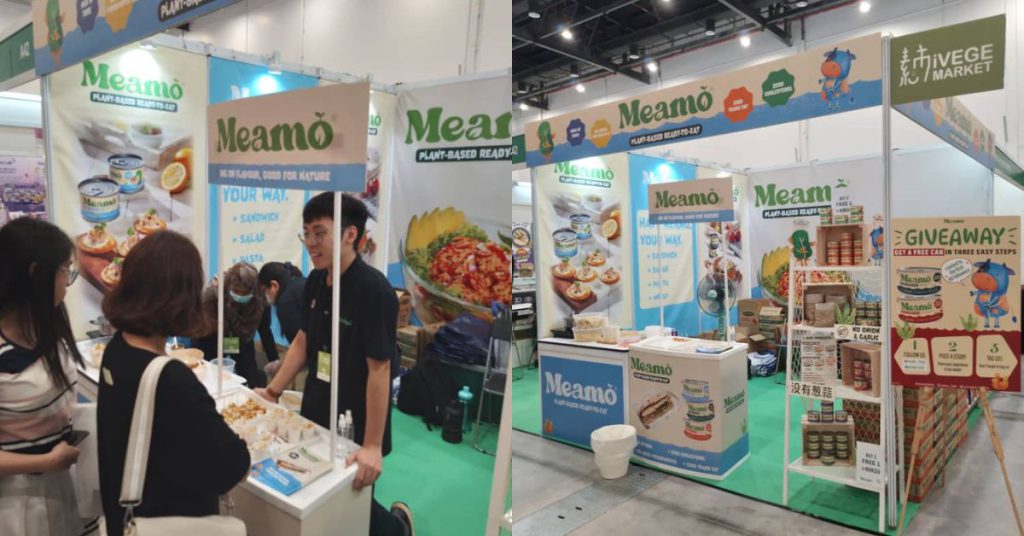 Sherry believes that going with the canned food concept is more environmentally sound, as compared to other packaging options such as plastic.
Canned food is also shelf-stable and easy to transport and ship, plus the ready-to-eat nature of the product may make it friendlier to non-chefs.
The R&D process for Meamo's products can take anywhere from three to six months, Sherry said. She explained that the products will undergo taste evaluations where feedback is gathered from the brand's internal teams as well as its plant-based community.
"Our R&D team and various suppliers work very closely together to obtain the right texture and flavour that our consumers expect," she said.
Having tried a sample myself, I can attest that the vegan tuna truly tasted like actual tuna.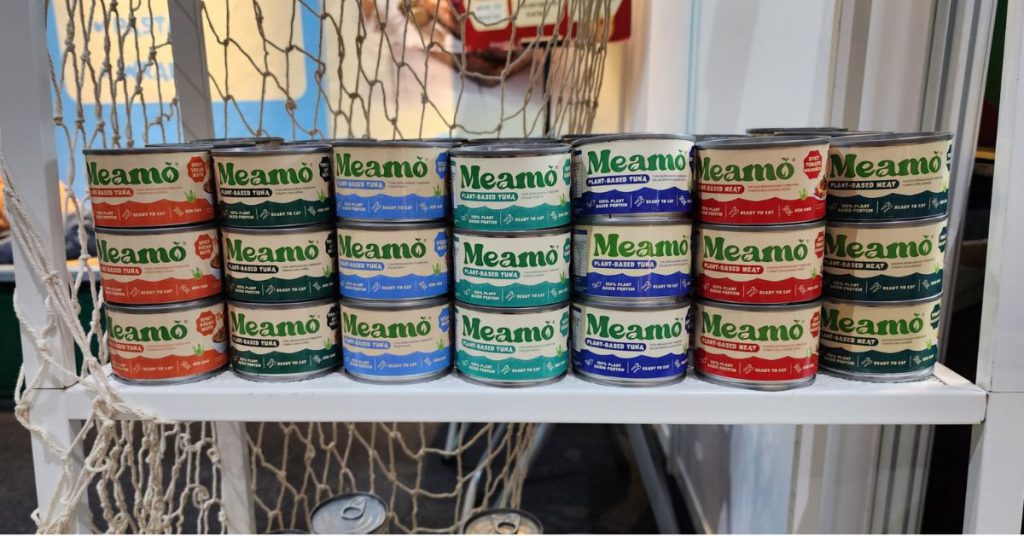 Sherry was proud to share that Meamo has also obtained halal certifications for five of its products, namely the Tuna Vegan Mayo, Tuna Spicy Vegan Mayo, Tuna Tomato & Herbs, Tomato Bolognese, and Spicy Tomato Bolognese.
"We will be applying for the halal cert for our newer SKUs in the upcoming months," she assured.
Meamo's products can be bought from Lazada and Shopee for RM8.50 per can. B2B customers can directly contact the business.
Having just launched Meamo this year, the team shared that it's actively seeking distributors, retailers, and HORECA partners to bring its products to consumers.
Sharing more meatless moments
As of late, we've been writing about a number of local plant-based businesses, such as VECO Burger and In The Pink Co. Like those brands, Meamo is also a brand we first noticed at a vegan and vegetarian festival, VEG FEST 3.0.
Having spoken to these brands as well as witnessed the event myself, I've learnt that the general consensus is that Malaysia's plant-based community is experiencing gradual and consistent growth.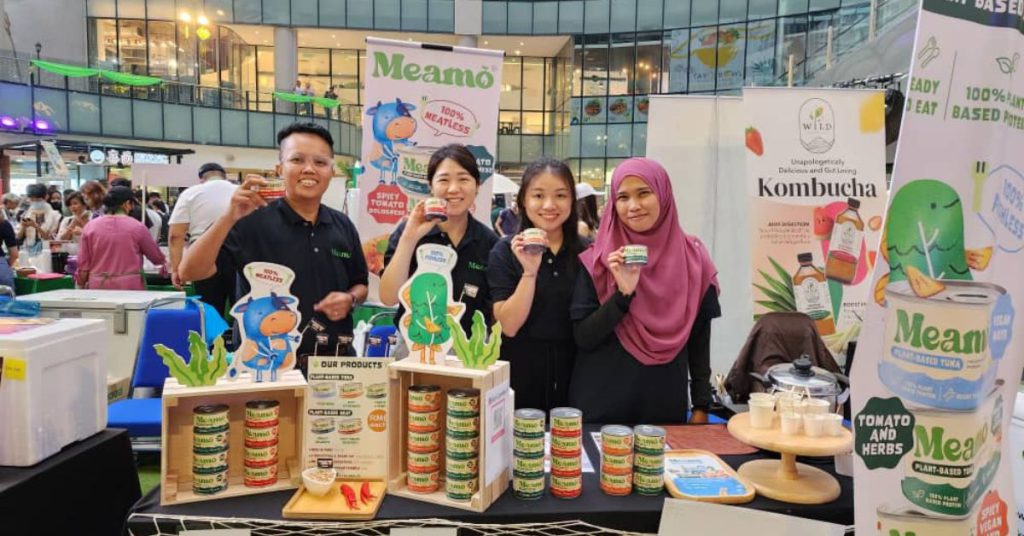 Similarly, Sherry expressed, "Although those following a plant-based diet still represent a minority in the country, there's a noticeable shift towards greater eco and health consciousness among the population."
Sherry shared that Meamo has been actively engaging with health and vegan lifestyle fairs (it had been a sponsor of VEG FEST 3.0, actually).
At these events, the team has observed a significant amount of enthusiasm and support from attendees, including both vegans and non-vegans.
Aligned with this observation, Sherry was proud to share that Meamo has hit RM100K in revenue within the first six months of its launch.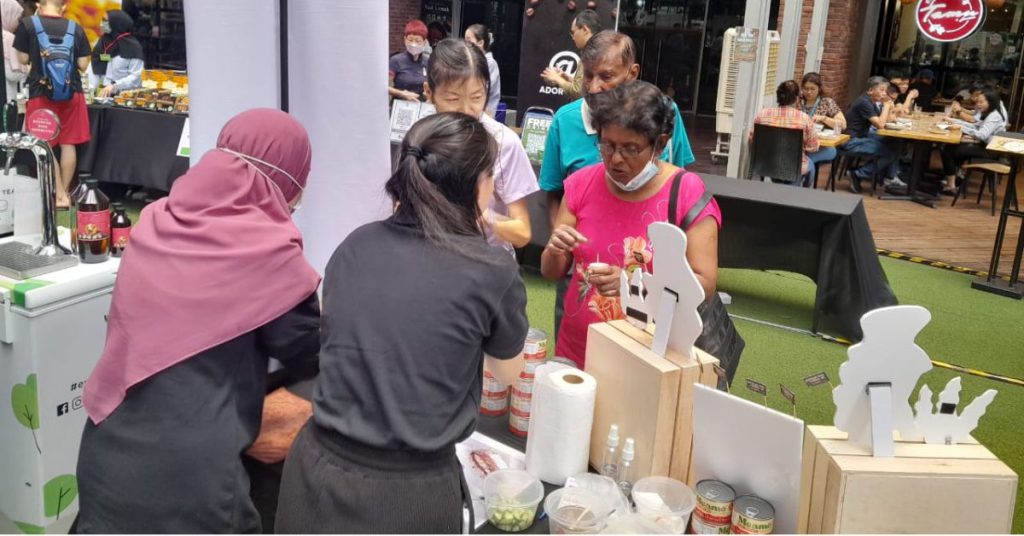 Following this success, beyond introducing more flavours and variations of its canned food, Meamo intends to introduce frozen foods and noodle ranges that align with the brand's commitment to producing products that have no added allium, MSG, and preservatives.
However, right now, a big challenge that the team is facing involves sourcing the right ingredients that can faithfully replicate the authentic taste of tuna and meat, while still maintaining shelf stability.
But it's a task they're committed to taking on, as Sherry concluded, "We firmly believe in the transition from meat to meatless for the benefit of our planet, and at the same time, we also believe that you deserve to enjoy your cravings without compromise."
Featured Image Credit: Meamo Foods